These have to be the prettiest muffins I've ever made! I guess they may not look like much from the photos, but I loved the way they looked when I pulled them out of the oven. I think it was the addition of a pop of green thanks to the pepitas.
I give you – Healthy Pumpkin Pie Muffins
Though, you may need to skip the streusel for them to be really-reeeally healthy. Of course the ingredients, when distributed over 12 muffins, may not be tooooooo bad. Eh?
Either way, the sweet & spiced scent of these baking away made my house smell amazing!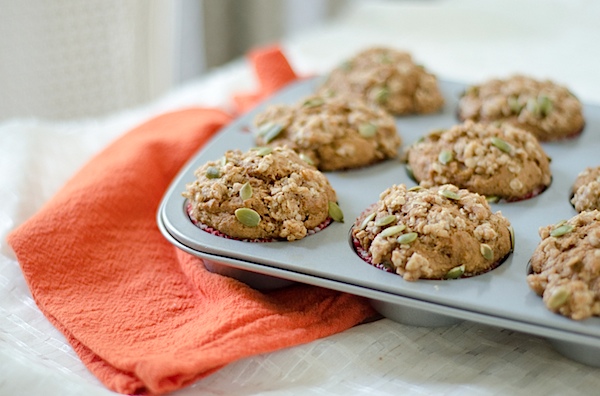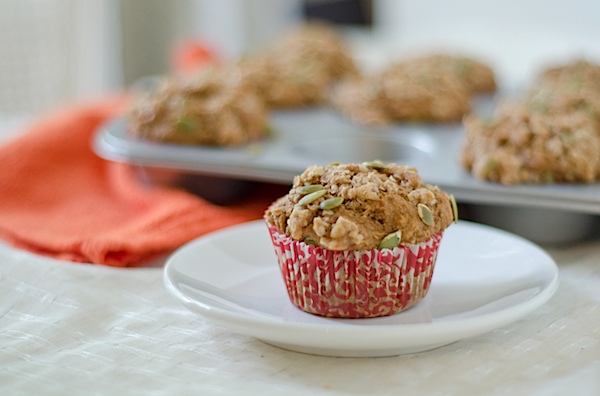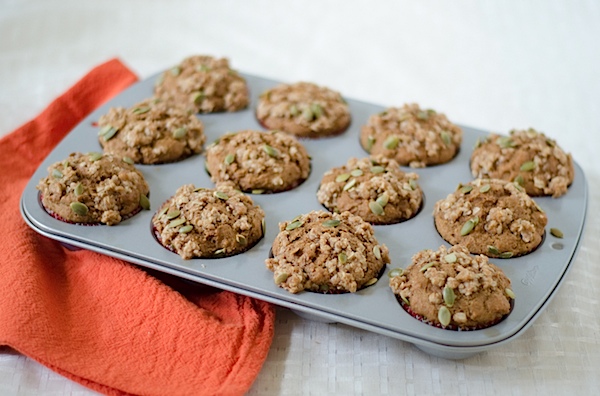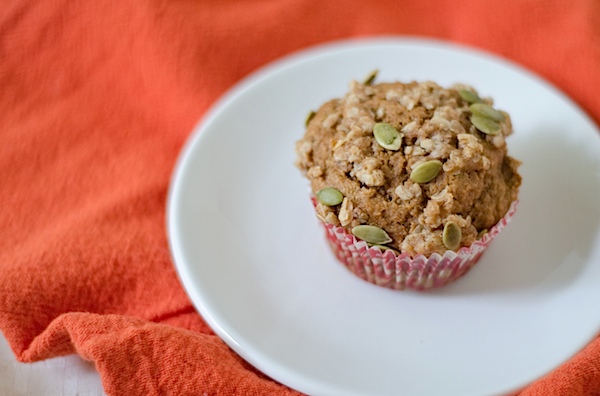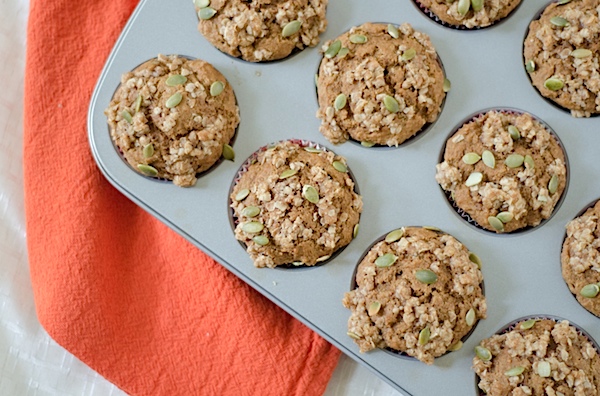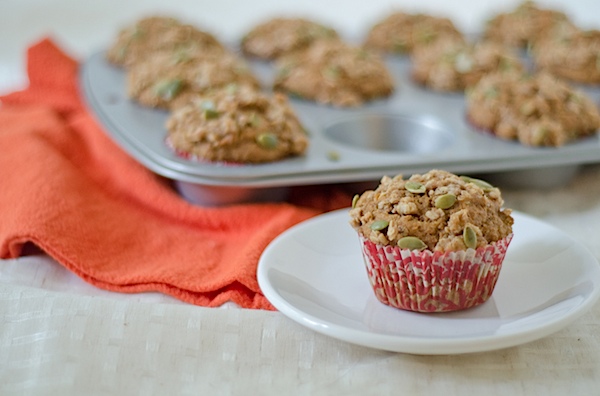 Healthy Pumpkin Pie Muffins with Streusel Topping
These pumpkin muffins are delicious, pretty, and healthy, too. Well, they may be more on the healthy side if you skip the streusel. It's up to you how healthy you want to be.

In lieu of pumpkin pie spice, I used a combination of a few different spices (cinnamon, ginger, nutmeg, and allspice), but feel free to reverse substitute.
Prep Time: 10 minutes
Bake Time: 16-20 minutes
Total Time: 26-30 minutes
Makes: 12 muffins
*Vegetarian, Vegan options*
Muffin Ingredients:
1 cup whole wheat flour (or sub flour of choice)
1 cup spelt flour (or sub flour of choice)
1 teaspoon baking powder
1 teaspoon baking soda
1 teaspoon cinnamon
1/4 teaspoon salt
1/4 teaspoon ground ginger
1/8 teaspoon freshly ground nutmeg
dash allspice
1 egg (or use vegan substitute, like a flaxseed egg – 1 tablespoon ground flaxseed mixed with 3 tablespoons water – let sit for about 10 minutes)
1/2 cup sucanat (or sub brown sugar for a sweeter flavor)
1 cup canned pumpkin
1 single serving applesauce (or 1/2 cup), preferably no-sugar added
1/4 cup milk (I used 2%) (or use vegan substitute, like soy, rice, hemp milk, etc.)
3 tablespoons canola oil (or other oil of choice)
1 teaspoon vanilla extract
streusel topping, see below
about 2 tablespoons pepitas (pumpkin seeds), raw
Streusel Ingredients (optional):
1/4 old fashioned oats
2 tablespoon butter, melted/softened (or sub vegan substitute, like Earth Balance)
2 tablespoon brown sugar
1 tablespoon flour of choice
1/4 teaspoon cinnamon
Directions:
Pre-heat oven to 350 degrees F and prepare a 12 cup muffin tin with non-stick spray or muffin liners.
Add whole wheat flour, spelt flour, baking powder, baking soda, cinnamon, salt, ginger, nutmeg, and allspice into a medium bowl and whisk together.
In a large bowl, whisk to beat egg and sucanat together till combined.
Whisk in pumpkin, applesauce, milk, canola oil, and vanilla extract.
Pour dry ingredient mixture into the wet ingredient mixture, and stir gently just to combine – careful to not over-mix.
Pour muffin batter into muffin tin cups – about 3/4 full each.
If using streusel topping, in a small bowl, combine oats, butter, brown sugar, flour, and cinnamon and stir together. Evenly distribute no top of the muffins.
Sprinkle pepitas on top of the muffins. Press pepitas (and streusel) lightly into muffins (if they're sticking up too much).
Bake for 16-20 minutes until centers set or a toothpick inserted in the center of a muffin comes out clean.
Cool at least 10-15 minutes, or until safe to eat, before serving. Enjoy!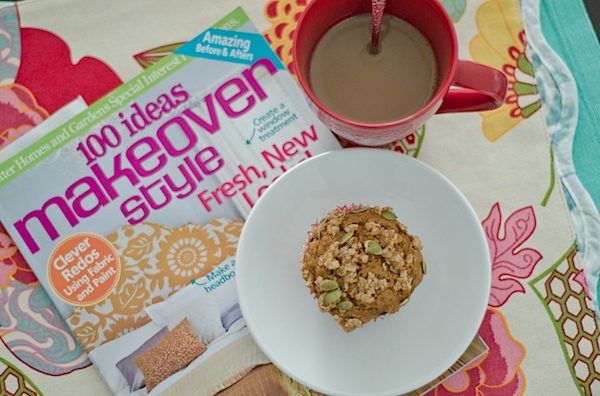 I whipped these up this past Sunday and enjoyed them with some nice, hot coffee and a new magazine. Ahhhhh! It was such a lovely start to the day. I should probably start waking up earlier every day so I can start each one like that!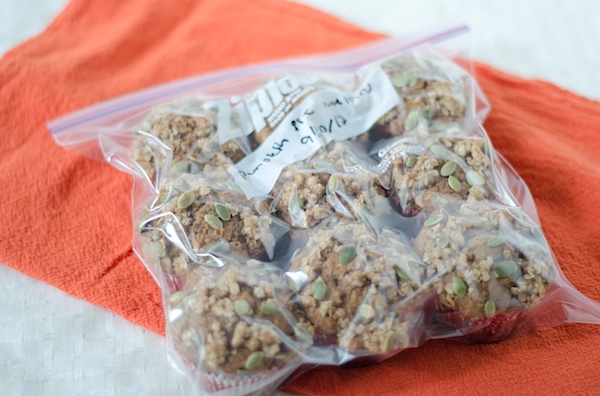 With frozen muffins being so easy to re-heat, I suppose I could actually pull this off. "Could" being the key word. Not sure I'm willing to give up my sleep, though!
***
Need a distraction? Check out this hilarious video I made of Bailey trying to get the paper. Makes me laugh every time I see it…
***
Did you like the post? Please consider clicking the Facebook-Like button or sharing it with your friends using one of the buttons at the end of this post.
Thanks for reading!