Trying to figure out what to do with leftover canned pumpkin post-Thanksgiving? Here's an easy idea. Try this Healthy Pumpkin Pie Oatmeal Recipe. It's naturally vegan, and it tastes delicious!
One of my favorite things to do with canned pumpkin is stir it into oatmeal. It adds an easy dose of veggies with little effort. And I think it tastes great, too, especially when you mix it with the right stuff. I know I've said that before here on the blog, but I also know there are some new readers here. And, some of my Zumba friends are now checking out TCL, so, I hope long-time readers will pardon the repetition.
This Healthy Pumpkin Pie Oatmeal Recipe combines some classic pumpkin pie flavors. Since I finally caved this year and bought pumpkin pie spice (instead of just mixing the individual spices together myself), I thought a bowl of oatmeal would be a good way to use up the leftover pumpkin pie spice I didn't put into the two pumpkin pies I baked last week (vegan tofu and coconut-pumpkin). Maple syrup as the sweetener and a drop of molasses give these oats a rich flavor.
And for the new readers – have you guys tried stove-top oats yet? If not, give it a go. It's so good! I spent the majority of my life making it in the microwave, but stop-top oats are super easy, and I love the finished texture.
Healthy Pumpkin Pie Oatmeal Recipe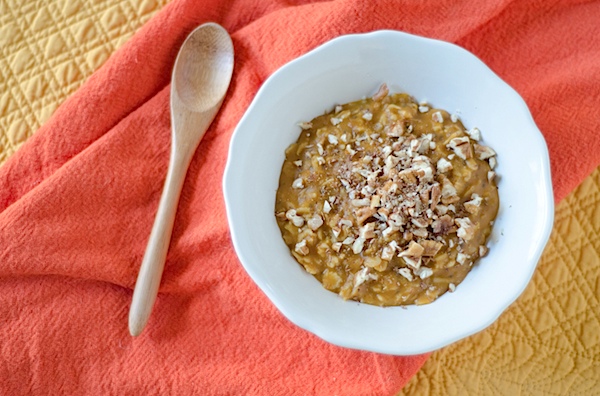 This Healthy Pumpkin Pie Oatmeal Recipe is an excellent, healthy fall food idea. Whether you're looking to cozy up to this hot bowl of oats with some steamy coffee or you want something for a Thanksgiving-y breakfast, you'll love this recipe.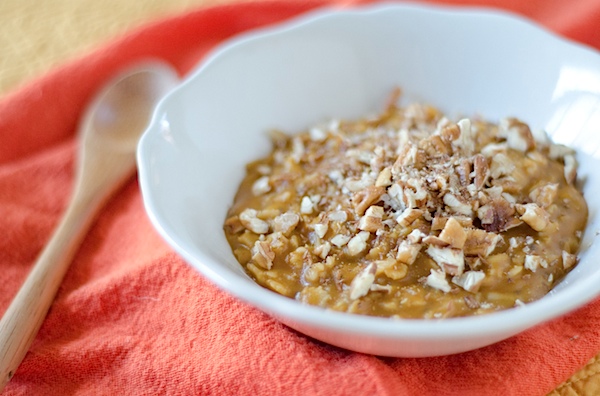 Print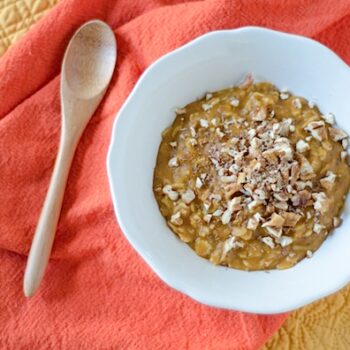 Healthy Pumpkin Pie Oatmeal Recipe
Author:

Prep Time:

5 mins

Cook Time:

15 mins

Total Time:

20 mins

Yield:

1

1

x

Category:

Breakfast
---
Description
Since I started making oatmeal on the stove, I've never turned back. It yields a better flavor and texture in my opinion, and the hippie in me doesn't like the microwave anyways. But, feel free to make this oatmeal in the microwave if you want – you'll still get a delicious bowl of oats. Since I think oatmeal is very easy to tailor to suit your tastes, I put a lot of ranges of measurements in the recipe so you can decide how you want your bowl to taste. Do I want it more or less sweet? More or less spiced? I give you the framework, and you control the results. *Vegetarian, Vegan*
---
1/3 cup

old fashioned oats

1/3 cup

milk of choice (I prefer non-dairy milks for stove top oats since they don't curdle as easy)

1/3 cup

water

2

–

3

tablespoons canned pumpkin

2

–

6

teaspoons maple syrup (or sub brown sugar)

1/2 teaspoon

chia seeds, optional

1/8

–

1/4

teaspoon pumpkin pie spice (depending on how much you like the spice – I used

1/8 teaspoon

for my first bowl and thought it was very lightly spiced)

1

drop molasses (if using maple syrup as sweetener)

2

–

3

tablespoons pecans, chopped
sprinkle of ground flaxseed, optional
---
Instructions
In a small pot, combine oats, milk, water, pumpkin, maple syrup, chia seeds (if using), pumpkin pie spice, and molasses. Stir together and turn heat to medium low.
Cook oats, stirring occasionally, until they reach your preferred texture & consistency, about 10 minutes. Note: There are many types of oats – the thicker, the longer they will take to cook. Check the cook time on your package to be more exact on preparation time.
Pour oats into a serving bowl and top with pecans and flaxseed (if using). Enjoy!
---
Recipe Card powered by
More Pumpkin Recipes
More Recipes from Around the Web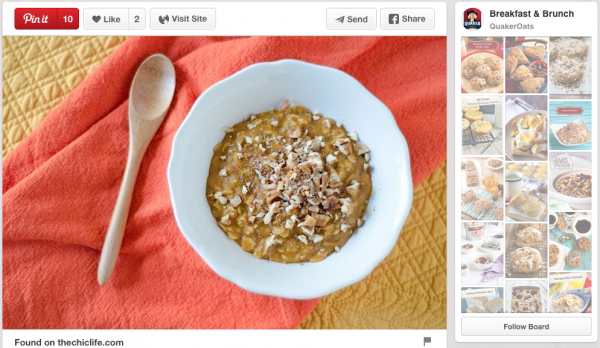 Shout out to Quaker Oats for pinning my Healthy Pumpkin Pie Oatmeal Recipe! Thank you! Click here to view the pin.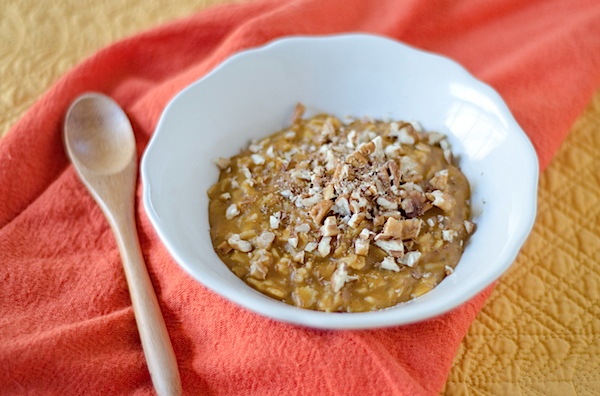 You get all the flavors of pumpkin pie (okay, except for the graham cracker crust), but in a healthier form with this Healthy Pumpkin Pie Oatmeal Recipe!
Want to see more oatmeal concoctions? Then, click the Facebook-like button to let me know.
Coming soon to TCL – Click here to check out my first cheesecake recipe (using leftover cranberry sauce!), brunch at 5 Church, and a new baked doughnut recipe!
Thanks for stopping by! Hope you enjoy this Healthy Pumpkin Pie Oatmeal Recipe!
***
Reader question: How do you cook your oatmeal? Stove-top? Microwave? Instant with hot water? Slow cooker? Rice cooker? So many good options!
And I made this pinnable graphic for you to share: