Hi friends! Boy do I have a delicious baking project for you to try ASAP – this Healthy Pumpkin Chocolate Chip Muffins recipe. I've had this recipe on repeat this fall season. Hungry for more? Let's jump in!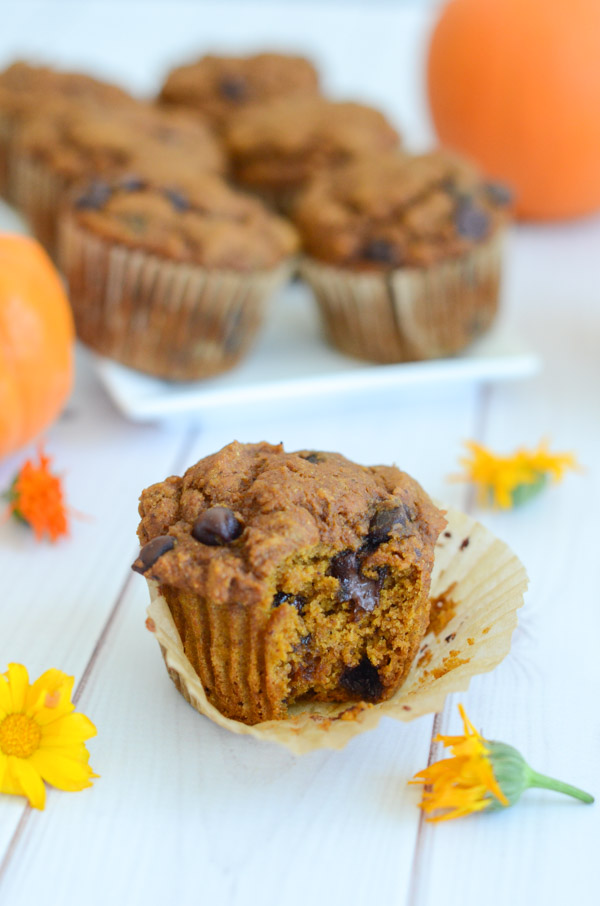 Whole Grains and No Refined Sugar
Here's the finished product. Moist, made with whole grains, sweet but not too sweet, and made without refined sugar. What's not to like?
Great Use of Leftover Ingredients
This recipe is a great use for leftover canned pumpkin (at least 1 cup), chocolate chips (since you only need a 1/2 cup), and/or pumpkin pie spice (you'll need 1 1/2 teaspoons).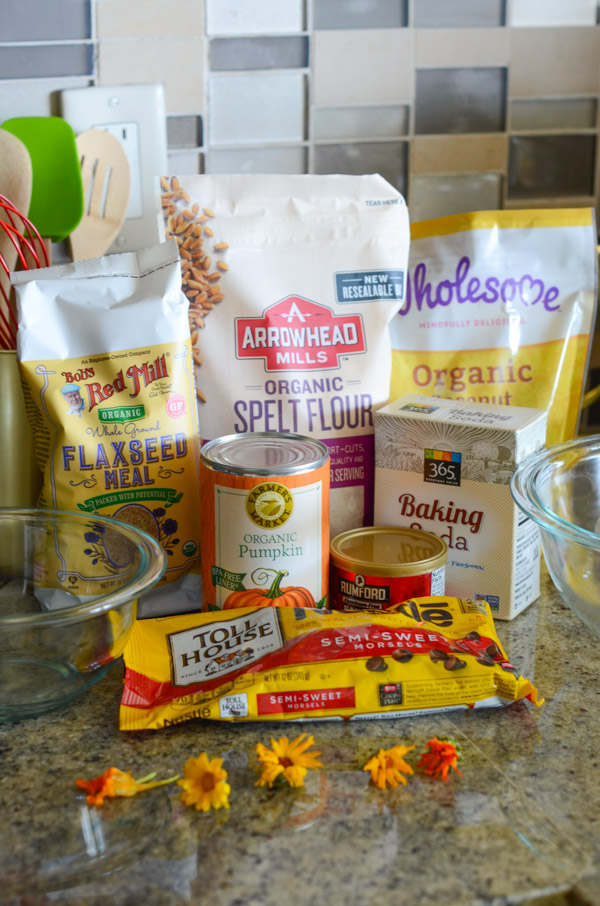 And you could use regular flour, but spelt is great in this recipe and makes it whole grain.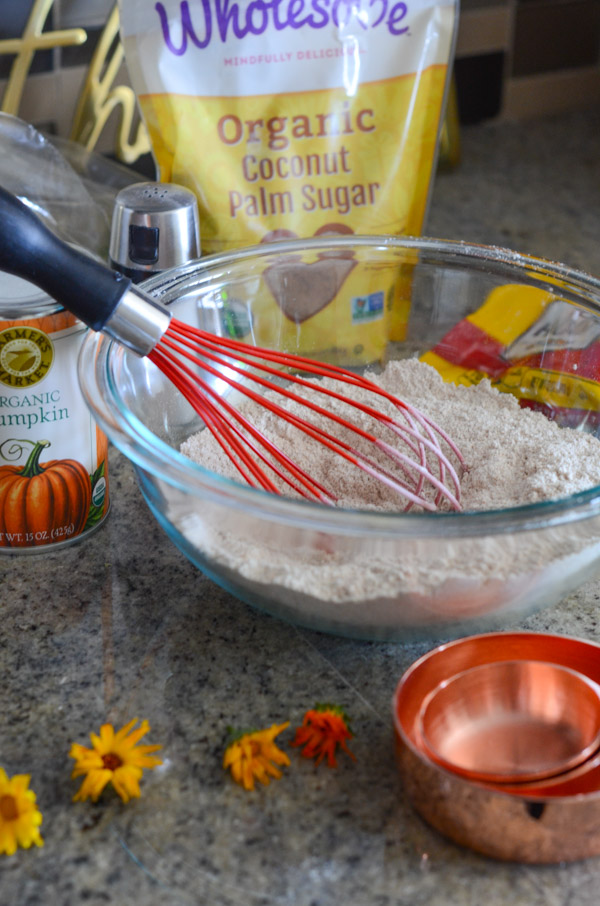 Muffin Recipe with Almond Milk
While dairy milk would likely work just fine, I used almond milk to make this batch of my Healthy Pumpkin Chocolate Chip Muffins recipe.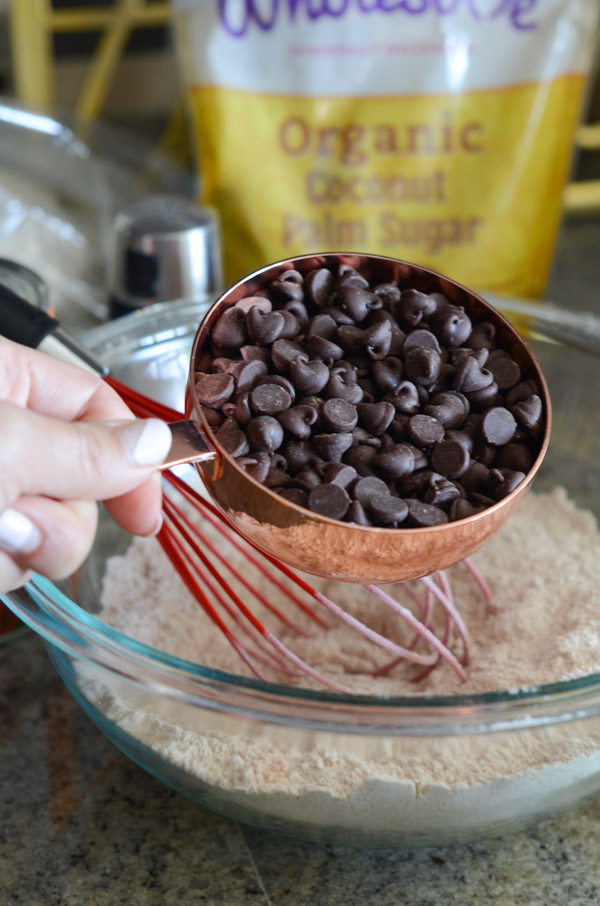 I used Tollhouse chocolate chips, but you'd need to make sure you use a vegan option to keep the recipe 100% vegan. And likewise that the ingredient list doesn't contain refined sugars to keep it refined sugar free. You can find great options at a health food store, like Whole Foods.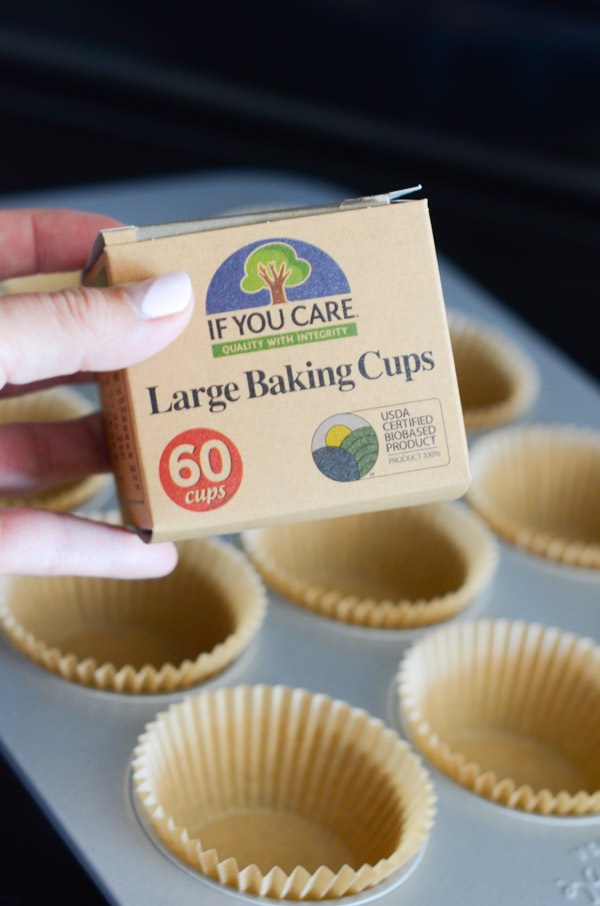 Have you guys tried these parchment-paper-like muffin cups? I love them!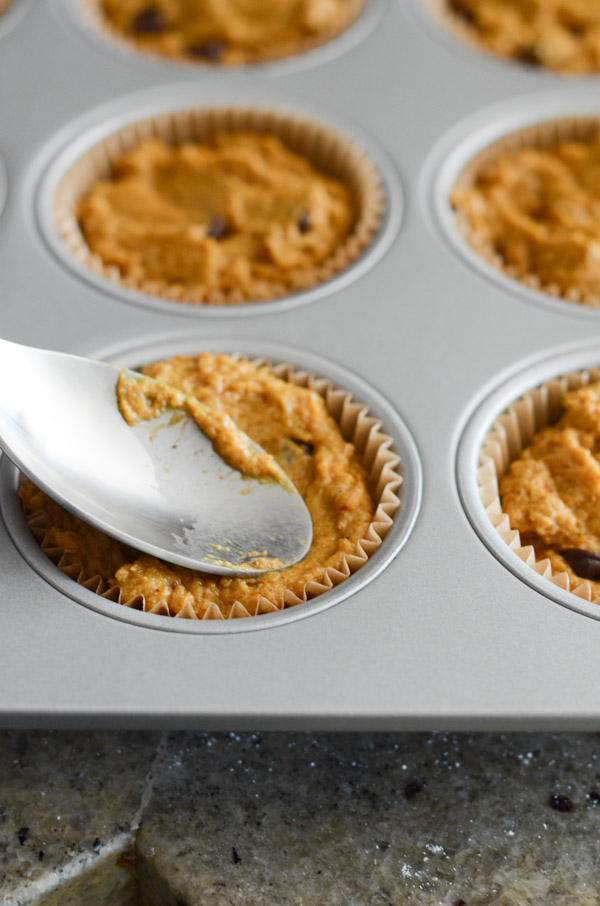 Two Versions of This Healthy Pumpkin Chocolate Chip Muffins Recipe
There are two versions of this Healthy Pumpkin Chocolate Chip Muffins recipe. One is made with more pumpkin and the other more almond milk. The above photo features the batter with more pumpkin. And as you can see, it's quite thick. If you check the notes in the this Healthy Pumpkin Chocolate Chip Muffins recipe, you'll see there's an option to make this with more almond milk instead of more pumpkin. The latter will yield a slightly more liquidy batter.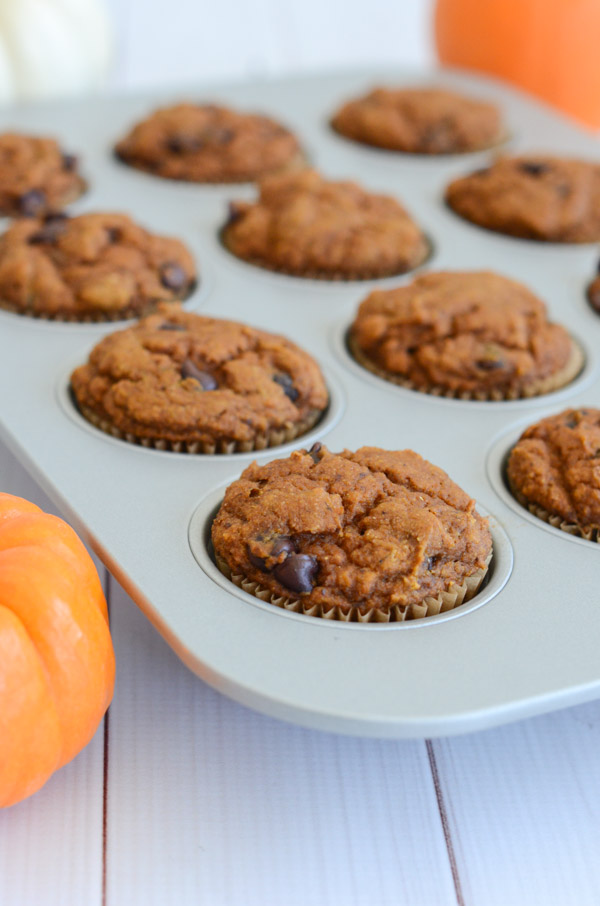 In fact all of the photos in this recipe are from the more-pumpkin version of this Healthy Pumpkin Chocolate Chip Muffins recipe.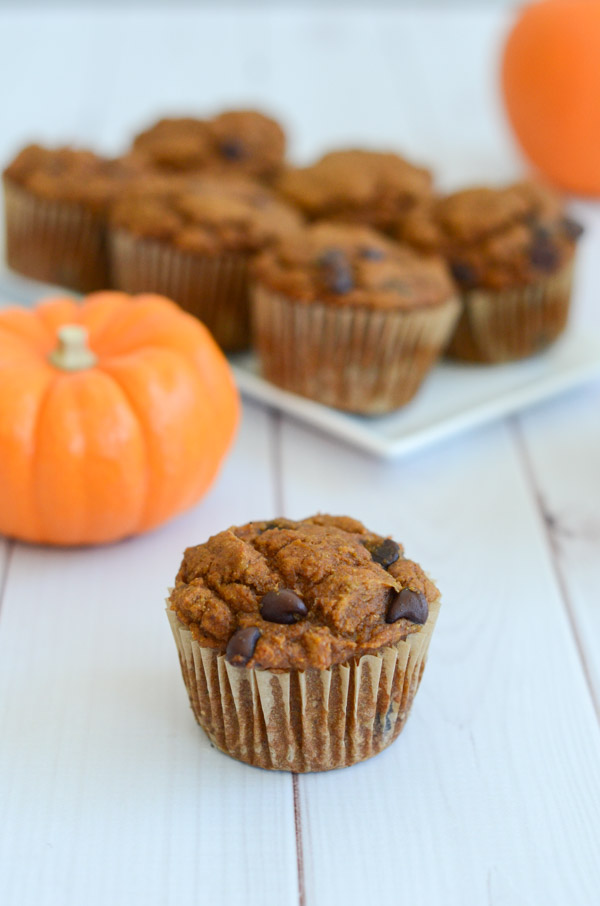 Because the batter is thicker, it doesn't rise as much.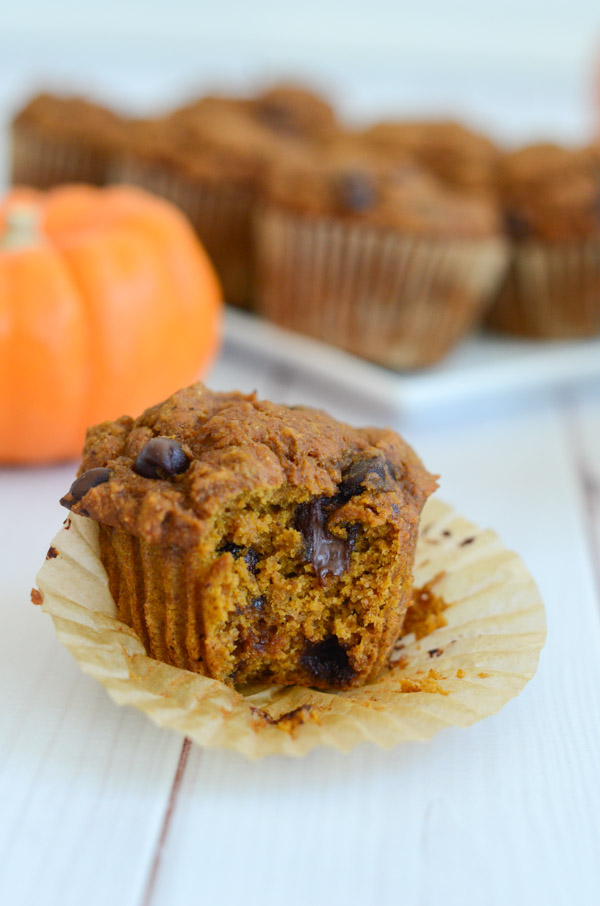 How to Get Extra-Tender and Moist Muffins
But the extra pumpkin makes this version of the recipe extra moist and tender. I think I like it better, though I wanted to provide another option in case you only had one cup of canned pumpkin.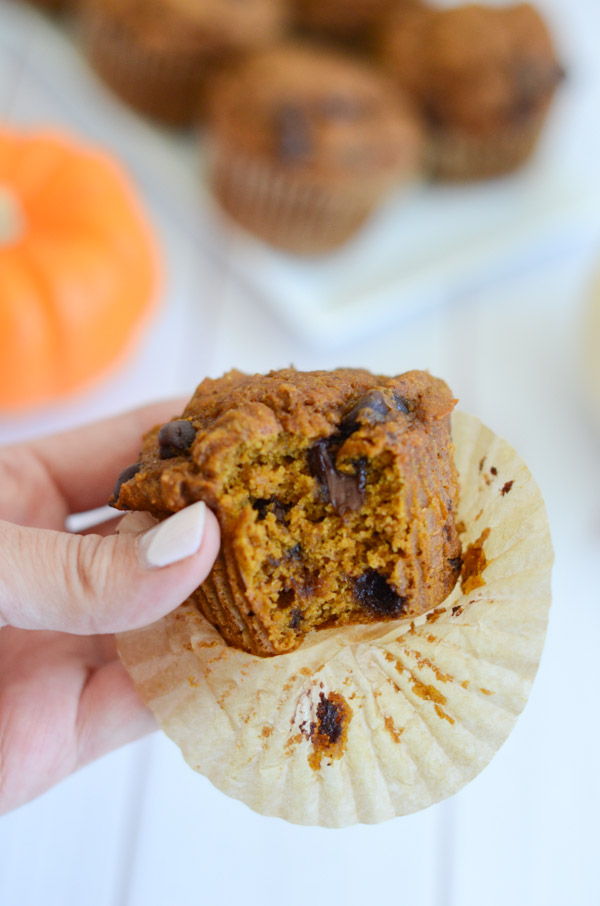 Don't you just want to dig in? Yum!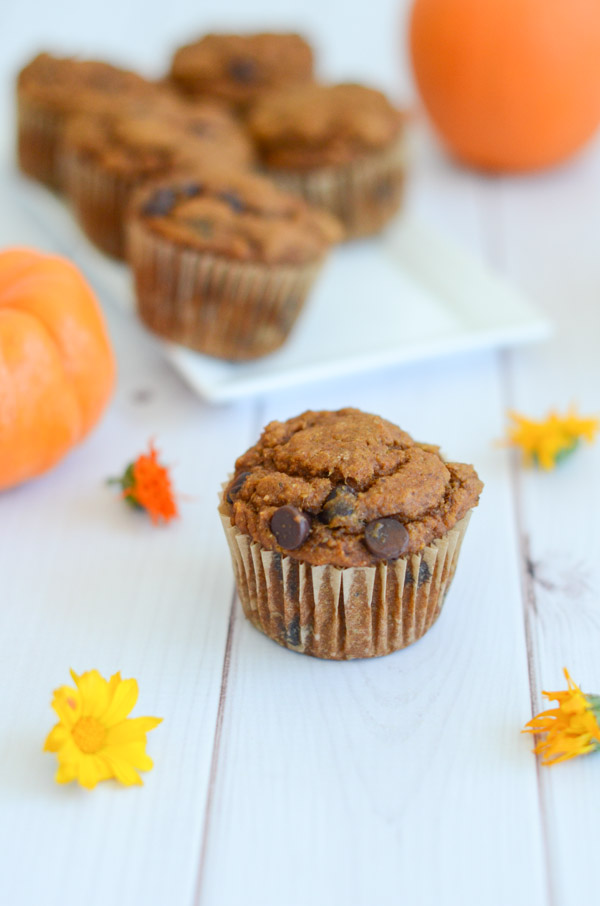 Homemade Muffins > Store-Bought Muffins
This clean eating recipe is super easy and yields delicious results. It may be my favorite creation for the whole year! When I eat something like this that is so tasty while being pretty darn good for you too, it makes it hard to eat store bought / coffee shop muffins. I mean, most of those are made with white flour and other processed ingredients. Not to mention waaaay too much sugar. Yup, I'll take these!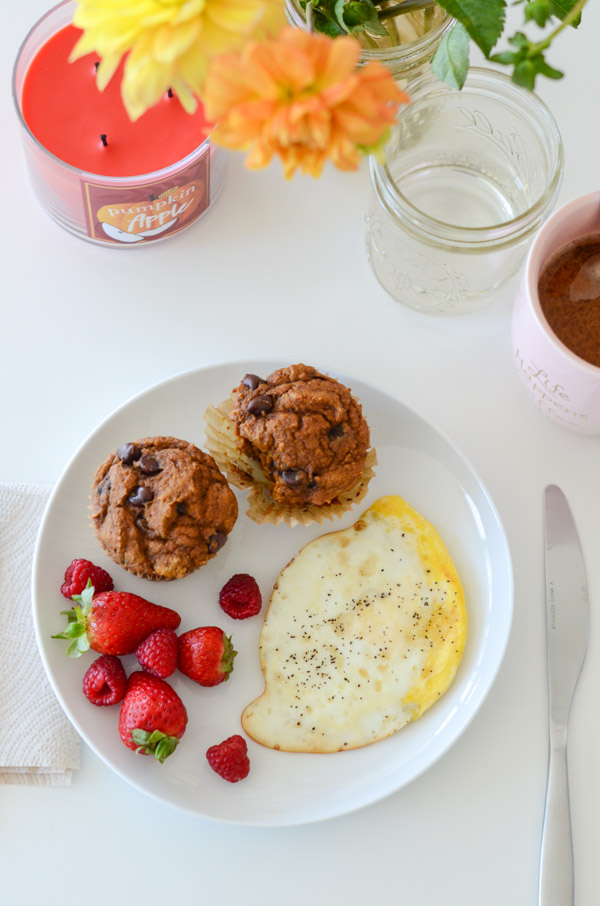 These are perfect to go along with the rest of your breakfast. And as you can see, I enjoyed it with a fried egg and some fresh fruit.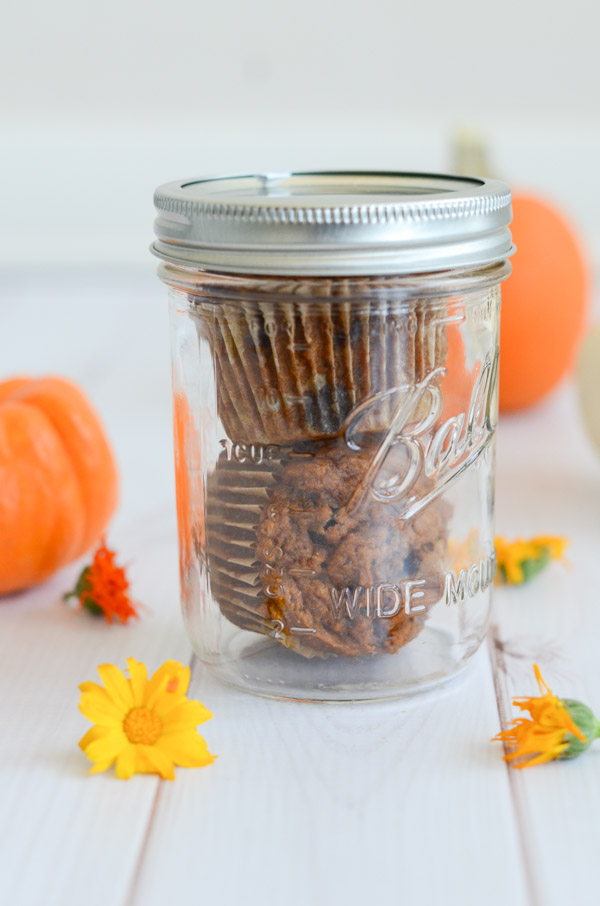 And it's really cute stored in mason jars, especially if you're planning to gift a couple to a friend or loved one.
Print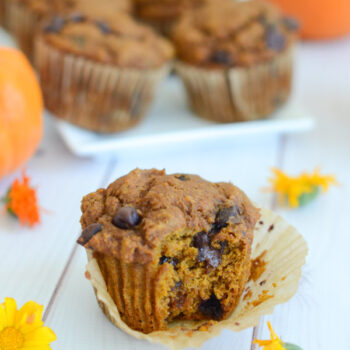 Healthy Pumpkin Chocolate Chip Muffins Recipe | Whole Grain, No Refined Sugar, Vegan
Author:

Prep Time:

10 mins

Cook Time:

20 mins

Total Time:

30 mins

Yield:

1

2

1

x
---
Description
This Healthy Pumpkin Chocolate Chip Muffins Recipe is so delicious, you won't believe it's healthy. Made with whole grains, it's also refined sugar free and vegan.
---
2 cups

spelt flour (or sub flour of choice)

1 teaspoon

baking powder

1 teaspoon

baking soda

1 1/2 teaspoons

pumpkin pie spice (or sub cinnamon)

¼ teaspoon

salt

½ cup

chocolate chips (use vegan / no refined sugar to stay in line with the theme of this recipe)

1

flaxseed egg (

1 tablespoon

ground flaxseed mixed with

3 tablespoons

water – let sit for about 10 minutes) (or sub an egg if you want to make it non-vegan)

½ cup

coconut palm sugar (or sub sugar of choice)

1 ½ cups

canned pumpkin

1/2 cup

almond milk (or sub milk of choice)

3 tablespoons

canola oil (or other oil of choice)

1 teaspoon

vanilla extract
---
Instructions
Pre-heat oven to 350 degrees F and prepare a 12 cup muffin tin with non-stick spray or muffin liners.
In a large bowl, prepare the flaxseed egg.
Add spelt flour, baking powder, baking soda, and pumpkin pie spice into a medium bowl and whisk together. Add chocolate chips and whisk in.
In the wet ingredient bowl, add coconut sugar and whisk to the flaxseed egg till combined.
Whisk in pumpkin, almond milk, canola oil, and vanilla extract.
Pour dry ingredient mixture into the wet ingredient mixture, and stir gently just to combine – careful to not over-mix.
Pour/spoon muffin batter into muffin cups – about ¾ full each. Use spatula to flatten tops if needed. This batter is SUPER thick, guys.
Bake for 18-22 minutes until centers set or a toothpick inserted in the center of a muffin comes out clean.
Cool at least 10-15 minutes, or until safe to eat, before serving. Enjoy!
---
Notes
Pumpkin makes this batter really-really dense. It may take some extra time to bake and you may notice a toothpick inserted into the middle comes out sticky for a bit. This is expected but once it comes out clean, you'll have a super moist and tender muffin. For comparison, I baked mine for 21 minutes total (16 + 3 + 2 with two toothpick checks). It may take a little less time for you if you don't open the oven door twice like I did.
If you prefer to use or only have 1 cup of pumpkin, you can use that but you must also increase the total almond milk used to 3/4 cup total (which is 1/2 more than the original recipe used).
Recipe Card powered by
Keep That Muffin Party Going
Best of all, after making a batch, I freeze what I don't eat immediately so I can have fresh muffins at my heart's desire. I simply pull one out, let it thaw for at least 30 minutes and then bake it at 350 degrees F for about 5-6 minutes. The re-baked muffins taste almost just like fresh baked muffins all over again?
More Delicious Clean Eating Recipes
Healthier Baked Pumpkin Doughnuts Recipe
Chocolate Chip Muffins Recipe Made with Almond Milk
Healthy and Clean Eating Turkey Tetrazzini Recipe
Healthy Pumpkin Pie Oatmeal Recipe
Autumn Granola Recipe (Oil-Free, Made with Canned Pumpkin)
***
Thanks for reading! Hope you enjoy this whole grain and refined-sugar-free Healthy Pumpkin Chocolate Chip Muffins Recipe. Cheers!
Oh, and I made a shareable graphic in case you'd like to spread the love of healthy sweets to your friends and loved ones: