I know this doesn't look like much, but the tastes makes up for it. Trust me. Or if you want…you can trust hubby's reaction to the dish in question – Curried Turkey Shepherd's Pie.
As I was cooking this, I poured a spoonful of curry powder into the pan, mixed it around, and wondered…did I go too far? Will my husband even eat this? I just wanted to try something a little different, but was it too different? Surely a tiny teaspoon of curry powder wouldn't be too noticeable. I thought maybe I could hide it, but after taking his first bite, hubby said, "It tastes like Indian." I couldn't quite read his take on the meal from his statement or tone. Did he hate it? Nay. He loved it! In fact, the leftovers of this didn't make it one day (we both happily dug in the next day), and he's already requested it again. Good thing we have plenty of leftover turkey in the freezer.
And speaking of leftover turkey, this dish is a great use for frozen cooked turkey leftovers from your Thanksgiving dinner. I find most cooked poultry tastes weird when you re-heat it, but there wasn't an ounce of weirdness in this finished product. The curry powder adds a subtle taste that sets it apart from the original flavors that accompanied the turkey. It's definitely a great way to transform your leftovers.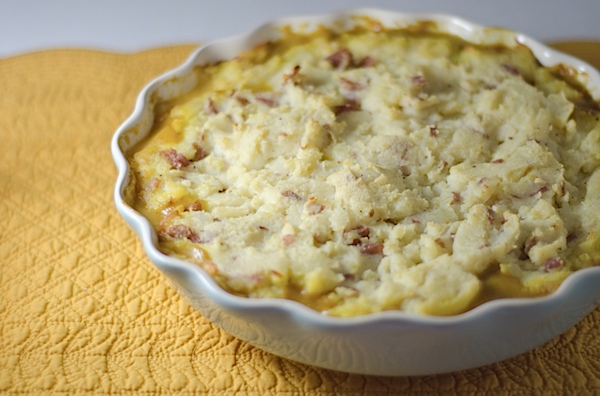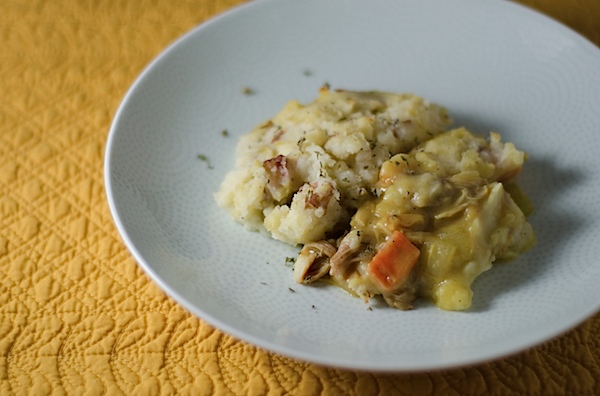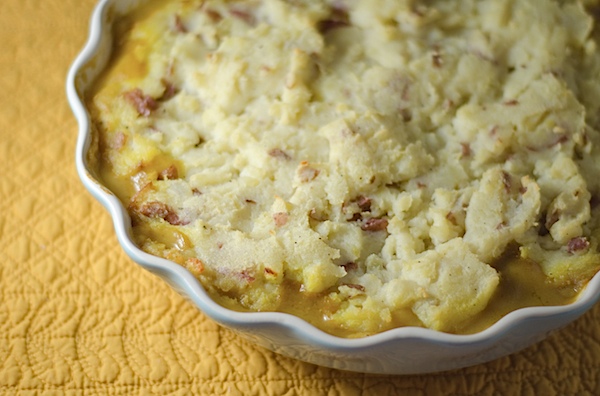 Curried Turkey Shepherd's Pie
Here's an easy way to put a unique flavor twist on your Thanksgiving or Christmas turkey leftovers – Curried Turkey Shepherd's pie. If you're looking for a use for frozen cooked turkey, especially, this dish is the one for you! And to be doubly-effective, you can also use leftover mashed potatoes! Hearty, cozy, and delicious. And the secret ingredient is so simple – curry powder! I already can't wait to make this one again! Hope you like it as much as we did.
Cook time: approximately 1 hour (including stove-top and baking time)
Serves: 4
Ingredients:
1 tablespoon extra virgin olive oil
1/2 medium/large onion, chopped
2 stalks celery, chopped
1/2-3/4 cup carrots, chopped
2 cloves garlic, finely chopped
1/2 teaspoon salt, plus additional, to taste
1/4 teaspoon pepper, plus additional, to taste
1 teaspoon curry powder (for a light flavor, use more for a stronger taste)
2 tablespoons butter
3 tablespoons flour
2 cups chicken broth/stock
2-3 cups cooked turkey (depending on how many leftovers you have)
3/4 cup frozen peas
about 4-6 cups prepared mashed potatoes (depending on how big your baking dish is and how thick of a layer of potatoes you want…and how many leftovers you have)
fresh parsley, chopped, optional, for garnish
Directions:
Pre-heat oven to 350 degrees F. Spray a pie dish or round casserole dish with non-stock spray.
Pre-heat oil in a large pan over medium heat. Add onion, celery, carrots, garlic, salt, and pepper and cook until onions are translucent, stirring occasionally, about 5 minutes.
Stir in curry powder and cook for 1 minute.
Add butter and flour and cook for 2-3 minutes, whisking constantly.
Whisk in chicken broth/stock, scraping up brown bits from the bottom of the pan. Continue cooking until mixture thickens up, stirring occasionally, about 4-5 minutes.
Stir in turkey and peas. Pour into prepared baking dish. Top with mashed potatoes, adding a layer as thick or thin as you'd like. Note: the turkey mixture was pretty wet, so I didn't really spread it on. I sort of dropped small bits all around and gently spread the top a bit.
Bake until sides are bubbly, about 30 minutes.
Cool for at least 5 minutes and (carefully!) serve and enjoy! If using, garnish with fresh parsley.
***
You may also like these TCL recipes:
And here are some great related recipes from around the web: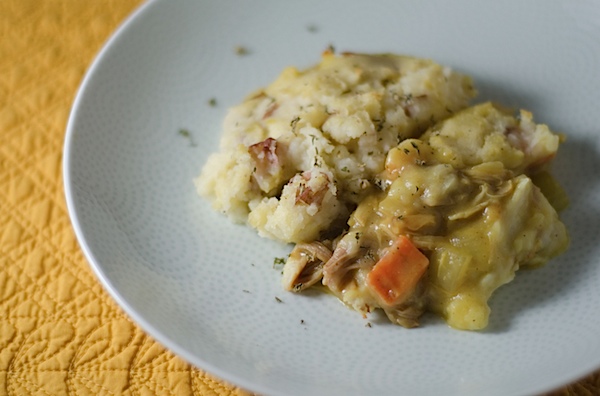 Happy cooking!
Did you like this post? Please consider clicking the Facebook Like button or using the new Pinterest button to share it!
Thank you for reading! xo