Yup, "chocolate rice"…have you ever heard of such a thing?  My family grew up eating this stuff…it's so tasty.  We didn't make it much at our house alone, but whenever we visited our cousins (who were also Filipino) in Atlanta, we'd ALWAYS make this stuff and chow down on it all day.  I'd kind of forgotten about it until my mom reminded me of it a few months ago.  Usually when I think of "dessert rice," I think of the "sweet rice" dish we ate all the time for special events and holidays and pot-luck get togethers, but I'll save that for another day.  The chocolate rice is a really easy dessert to make, but I always thought it was something our families just made up.  Imagine my surprise when browsing the web to find that it may, in fact, be authentic – a dish called Champorado.  Who knew?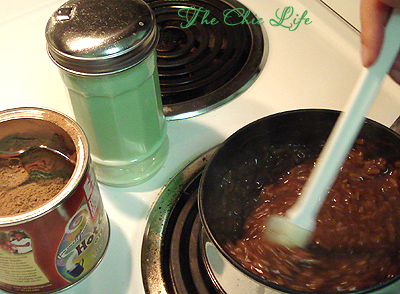 Ok, ok, so our version isn't all the way authentic, but it's pretty close and we like it.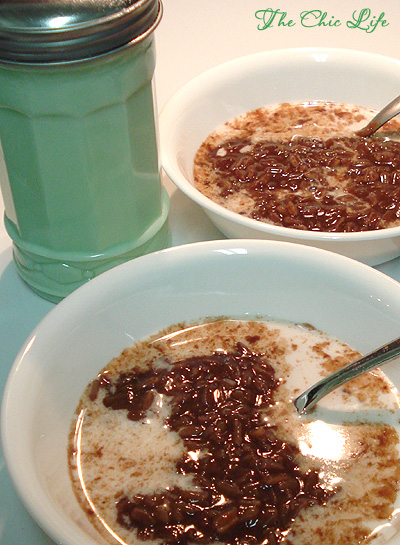 The rice is cooked over the stove top, then hot chocolate mix is stirred in and…done!  It's that simple.  Depending on the type of mix, we'll add sugar to the dish, too, but it's all up to the chef.  The rice is usually served with a little bit of evaporated milk – it makes it extra creamy.  I love chocolate rice, especially during colder months, because the rice is so soothing and just warms you up with sweet, chocolate-y comfort.
Print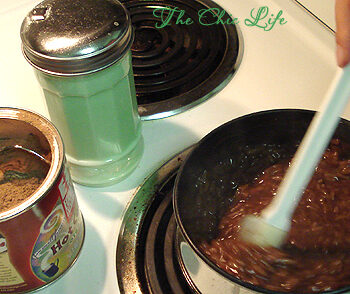 Chocolate Rice Recipe
Author:

Prep Time:

5 mins

Cook Time:

15 mins

Total Time:

20 mins
---
Description
I grew up eating this delicious chocolate rice. It's actually a traditional Filipino dessert. You don't have to add the evaporated milk, but it's really good on top and makes it nice and creamy. We always used hot chocolate packs when I was a kid, but I'll probably switch to using cocoa powder and raw sugar. This recipe is vegan if your chocolate mix and milk are vegan-friendly.
---
1

part sweet rice (available at Asian food stores)

4

parts water
hot chocolate mix (to taste)
sugar, to taste
evaporated milk, optional (or sub vegan milk)
---
Instructions
Add rice and water in a pot, stir to combine, and bring to a boil. Turn heat down to low and simmer for 10 minutes. (at end of 10 minutes, rice mixture will still be a bit watery – this is normal).
Add hot chocolate mix until the rice is as chocolate-y as you want. Stir in hot chocolate until completely mixed in. Note: If you're using packets, it's about two packets if you used a half cup of dry sweet rice to start.
Add sugar, if needed (some hot chocolate mixes are sweeter than others, so just flavor it however you want).
Serve in bowl with a bit of evaporated milk. Note: If you don't have evaporated milk, you can use regular milk, but I find evaporated milk to make the dish extra creamy.
---
Notes
*UPDATE: I received an email question about what size cup to use for the rice and just wanted to put a clarification so I don't confuse any one…especially in case I described the "parts" wrong.  My sister and I made chocolate rice last night, and the portions we used yielded enough to feed the two of us.  We used a half cup of rice and 2 cups of water.  We also used roughly 3-4 heaping tablespoons of hot chocolate mix, but just add yours till it's as chocolately as you want.  Add sugar while you're mixing in the hot chocolate if you want it more sweet.  Enjoy!  Please feel free to comment or email if you have any other questions. 🙂
Recipe Card powered by
Thanks for stopping by!