One of my favorite, family comfort foods is My Mom's Filipino Pork Adobo Recipe. This is one of the simplest meals I make. It's not the fastest, but what it lacks in quickness it makes up in ease of cooking. And sometimes you don't mind being patient when you know the results will be so good. After getting the meat simmering, I prep the rice and cook it in a rice cooker. So easy. And while I'm feeling lazy, steamed veggies of some sort (especially broccoli or cabbage) usually get added as a low-stress side. Chop, steam, done. Easy does it.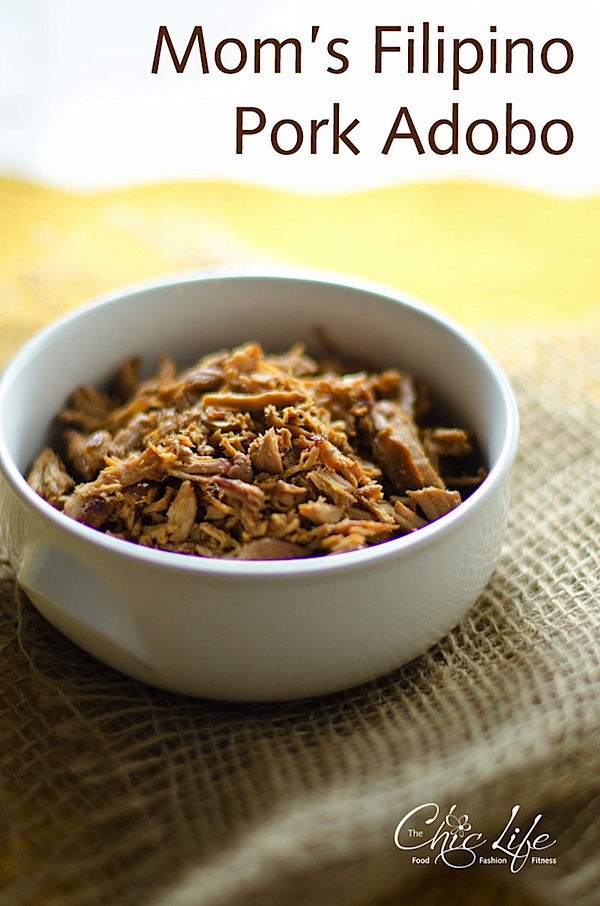 Filipino Pork Adobo Recipe
Hello, deliciousness!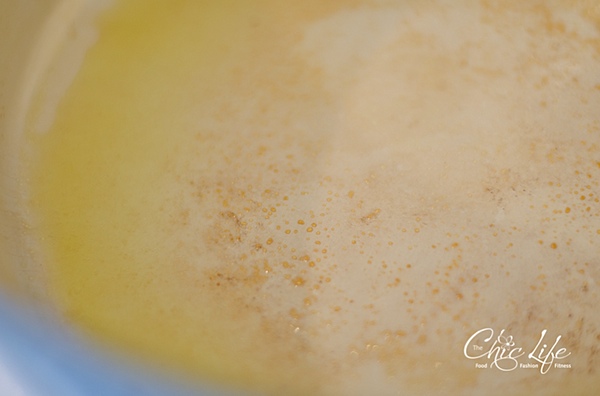 I tried to take a photo of what the sugar looks like when it's time to add the pork. When sugar turns golden, it's time to get the pork cooking.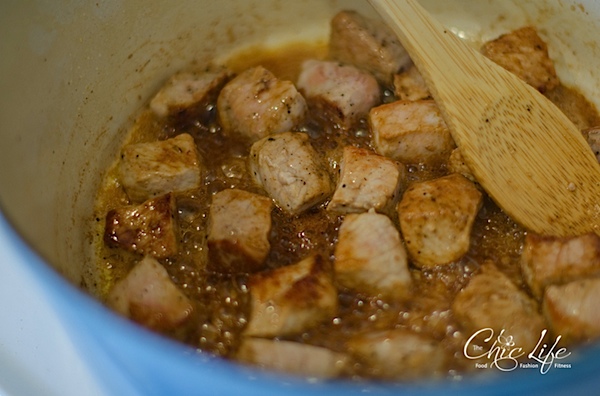 There are many variations of pork adobo. Each family seems to have their own take. This recipe is how my mom cooks hers. It's an authentic Filipino pork adobo recipe in her own style.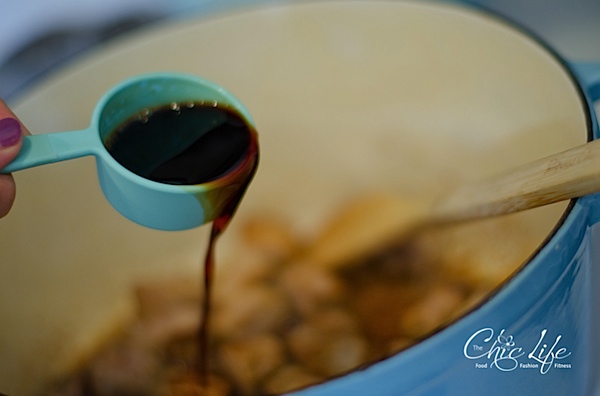 The soy sauce does make the dish salty, but it's meant to be eaten with plain rice. The rice helps balance out the saltiness. You may want to reduce the soy sauce. Or, you can sub in more water (or even broth) if you don't like things very salty. You can also try the recipe as is one time and adjust from there according to your preference. It's very easy to adjust to taste.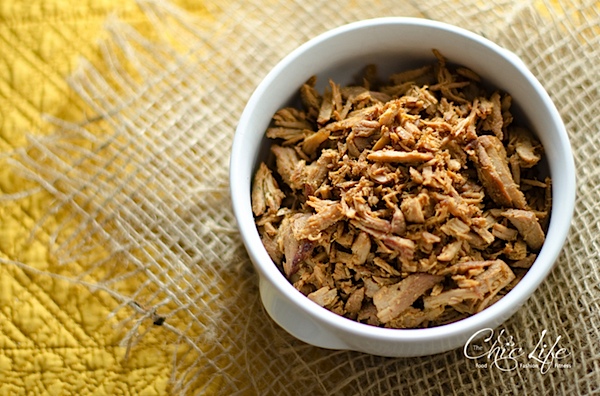 Print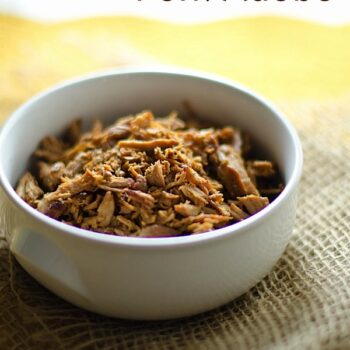 Mom's Filipino Pork Adobo Recipe
Author:

Prep Time:

5 mins

Cook Time:

1 hour 15 mins

Total Time:

1 hour 20 mins

Yield:

2

-3

1

x

Category:

Entree

Cuisine:

Filipino
---
Description
Here's one of my family's comfort food recipes from our house to yours. It's my Mom's Filipino Pork Adobo Recipe. I took some photos and wrote some tips above to help you out with this recipe, so read through the photos for some extra info. This may be a little salty for some so be sure to serve it with plain rice to balance out the flavors. The pork isn't traditionally shredded like the photos show, but that's my sister's touch on the recipe, and it's how I like to eat mine, too. This meal requires few ingredients and though it's not the fastest, it is one of the easiest things I make. Enjoy!
---
1 tablespoon

oil

1/2 tablespoon

granulated sugar

1

pound boneless pork loin (thick cut), cut into 1″ pieces

1/4 teaspoon

salt

1/4 teaspoon

pepper
couple dashes garlic powder (about 1/4 teaspoon)
couple dashes onion powder (about 1/4 teaspoon)

1/4 cup

soy sauce

1/4 cup

water

1 tablespoon

white vinegar
cooked rice, for serving (we like jasmine)
---
Instructions
Heat oil in a large pan (I like using my le creuset style pot) on medium heat. Add sugar. Watch carefully for when the sugar turns golden brown. Add pork. Add salt and pepper and cook 3-5 minutes without turning/stirring, until the bottom is browned nicely. Turn and cook another 3-5 minutes without turning/stirring until the bottom is browned nicely. Note: If doubling recipe, cook the pork in batches. Otherwise, the pork will get crowded and it won't brown.
Add garlic powder and onion powder and stir. Stir in soy sauce and water and cook until boiling. Stir in vinegar and cook till boiling. Cover, reduce heat to simmer, and cook for 1 hour, or until tender, stirring occasionally.
If there is still liquid left in the pan, increase heat to medium/medium-high and cook until the liquid is almost evaporated. If you're shredding your pork, while the liquid reduces, use the back of a wooden spoon, pushing down on the pork, to shred the meat. Note: It's not traditional to shred the pork like this, but it's how my sister and I like it.
Serve with plain rice. Enjoy!
---
Notes
PS: I like to double this recipe so I have leftovers. I don't like leftovers of many things, but this re-heats nicely. As is, the recipe serves 2-3 (I seem to consume extra pork when we have this recipe, so I'd double this recipe if you're serving more than 2 or if you want leftovers).
Recipe Card powered by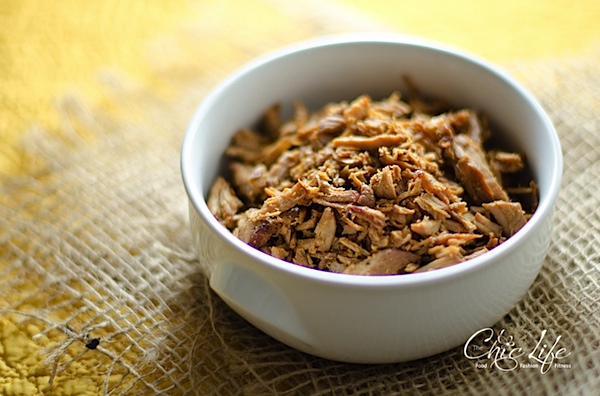 Hope you enjoy my Mom's Filipino Pork Adobo Recipe. Curious about the dish? You can read more about Philippine Pork Adobo on this Wikepedia page.
More Great Recipes
Click here to view more of my recipes
Reader question: What's your favorite comfort food from your family?