My SO…let's call him Mr. Chic from here on out…Mr. Chic has been sick for the past week or so. Meanwhile, I've been trying to ward off his germs, but have been feeling a cold coming on, so I decided to make us some Noodle Bowls I saw a long time ago on Rachael Ray's 30 Minute Meals. There's definitely something to a big bowl of steaming soup that makes you feel so much better…kinda like that Chicken Noodle Soup old wives tale, which my mom said is actually true.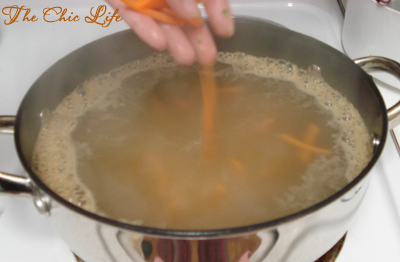 The recipe says to cook the veggies by steaming them, but I cut my carrots a bit bigger than "shredded" so I decided to boil them a bit. I did the same with some broccoli, too.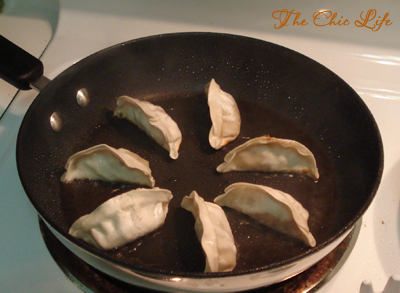 I also made some gyoza I found at an Asian food store. They're just frozen, so I guess that's sorta cheating, but who's counting? Anywho, I tend to like Gyoza better than dumplings…not sure why, but I do.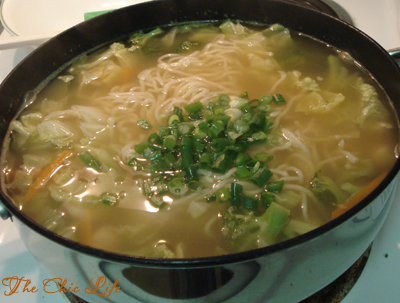 I've actually followed this recipe to a 'T' before, but tonight I just dumped all the veggies right in the pot. I wasn't sure if they were "quick-cooking" enough to steam right in the bowl as the recipe states.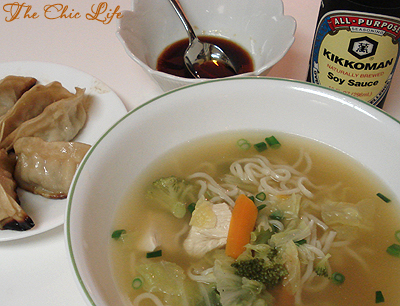 So, the gyoza probably aren't so great when you're sick, but the soup definitely made us feel better…at least for the night. The soup is a tad bland, so I add a tablespoon or so of soy sauce to mine…something spicy would probably give it some kick, too…either way it's a great meal for anyone feeling under the weather who wants a change from chicken noodle soup.