It's just after 11pm my time and I'm definitely just starting a blog post whilst munching on a chocolate cupcake.  I know, I know…it's rather late for all this silliness, but I'm already behind several posts behind and don't want to procrastinate.  Oh…and the cupcake?  Well…I made another batch of those Hershey's cupcakes for an event tomorrow…details to be posted at a later day/time.  *insert giggle here*  Anywho, I can't spend all night baking cupcakes and then not enjoy o….errr…I mean…make sure one tastes ok before I let people eat the other cupcakes.  Right?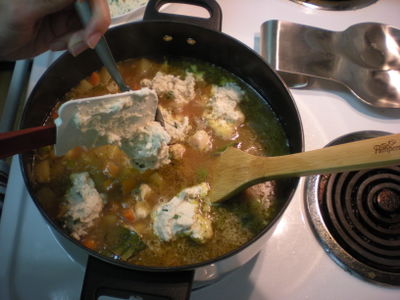 Today, I noticed that I'm either getting a head cold or I'm just plain getting sick.  I don't actually know what an official "head cold" is, but my head feels a bit foggy and my nose is a bit sniffly and I'm feeling a bit tired and run down.  To combat this, I decided I needed to make something to ward off this potential cold or flu.  My first thought was to make chicken noodle soup, but since I recently had
that turkey noodle soup
, I decided to go with
Chicken & Dumplings a la Rachael Ray
.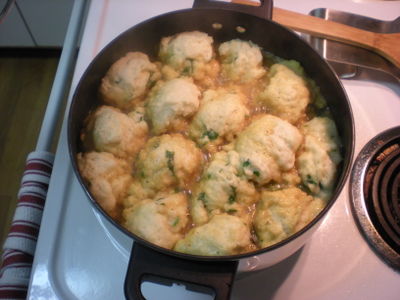 I couldn't find the small box of Jiffy biscuit mix the recipe suggested, so I just used Bisquick.  I made a batch of the recipe on the Bisquick box for Biscuits/Dumplings, but I think it made a lot more than the Jiffy box would have.  Oh well, I love my carbs, so it's ok.  The dumplings steamed up nicely…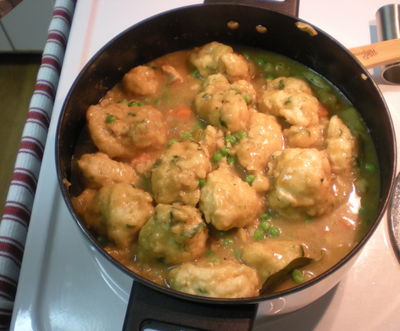 …but they looked so much better all stirred up with the yummy chicken mixture and some peas.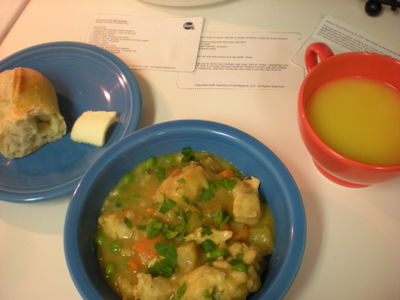 The hot & gooey chicken & dumplings were sooo comforting.  They really did hit the spot for me tonight.  Even non-sick hubby commented how much he liked dinner.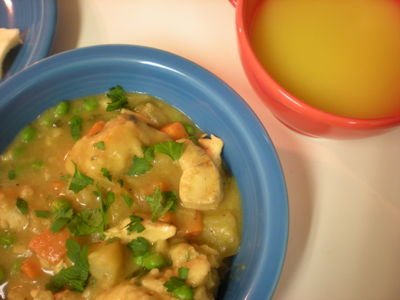 I guess that's why they call chicken & dumplings a comfort food – because they really
are
comforting!  If you're trying to combat a cold or just the cold-weather, make yourself a batch of these chicken & dumplings.  I'm not promising you'll be cured, but I bet you'll be happy you made them.