Today at work, we had a food festival and a bake-off contest.  Since I've been getting into baking recently, I was, initially, super stoked about entering the contest…at least I was until I wasn't feeling so hot yesterday.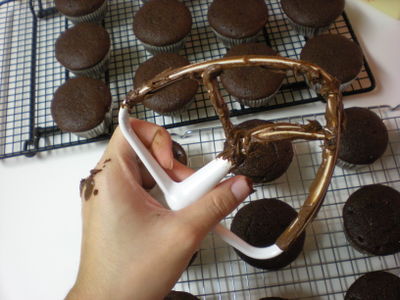 Even though I felt rather unmotivated (read: wanted to lay on the couch all night and cuddle with the puppy), I went ahead and baked another batch of
those Hershey's "Perfectly Chocolate" cupcakes
last night.  As expected, I made a bit of a mess, but I had some fun, too.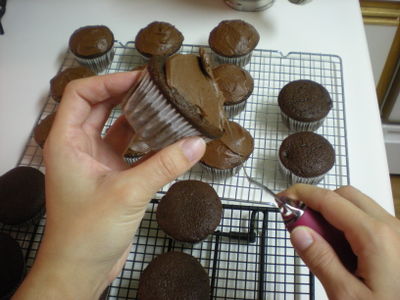 I just love homemade frosting, don't you?  I really want to learn and experiment with fancy icing decorations, but for now, the off-set spatula gets the icing on there
juuuuust
fine.
I wanted to decorate these cupcakes with buttercream frosting and the new decorating bags, tip, and coupler I bought the other day at Michael's, but alas…I ran out of confectioner's sugar.  So, I decorated the cupcakes using a sparkly red tube-gel that I had in my pantry.  I wrote peace signs, hearts, and a little text based on the team-motto of the program executive director.  Sadly, the decorations looked much better in my head.  lol.  Good-looking or not, the cupcakes tasted great!
There were roughly seven entries and I know you're all disappointed to hear that I didn't win.  Poo-ey!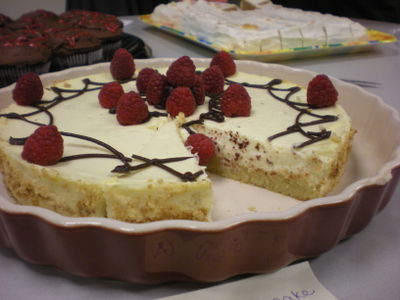 However, I was happy to find out that my sweet teammate, June, won with her Almond Cheese tart – one layer of almond cake on the bottom…one layer of cheesecake on top.  I have been trying to talk June into starting a food blog, but we'll just have to wait and see if she does.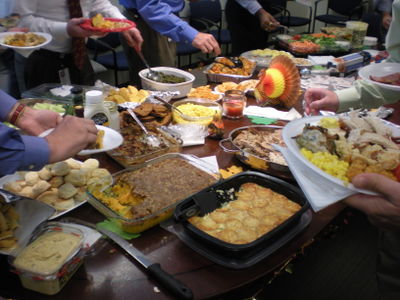 As for the Food Festival I mentioned previously, we had
quite
the festival.  Everyone signed up to bring various side dishes, desserts, and drinks.  We even had turkey and ham!  The turkey was home-cooked by a nice lady at work, and the Ham was from one of those Honey-Baked Ham type stores.  Above is the "before"…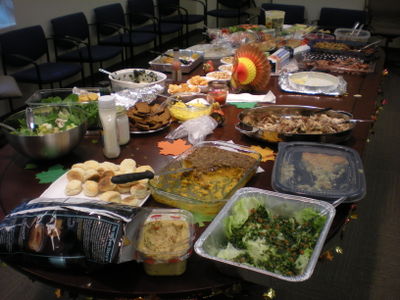 …and here is the "after."  Can you believe how much food is still here!?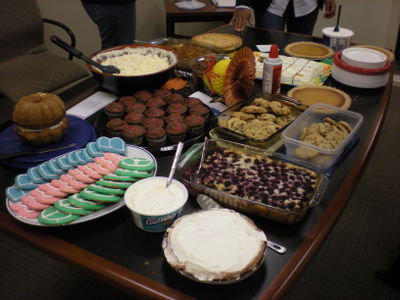 And let's end this post on a
sweet
note.  I present to you the "dessert table" in all its glory.  Yum!