Even though I think we've worked on the same project for awhile now (possibly a few to many months), it's only been recently that I really started getting chatty with my co-worker, June (who baked that festival-winning Almond Cheese Cake), talking about food, crafts, blogs, magazines…oh, and did I say food?  Although I'm sure my pocket is quite happy, it's a shame we didn't discover our love of great food sooner because we could have hit up the town in search of the best work-week lunches.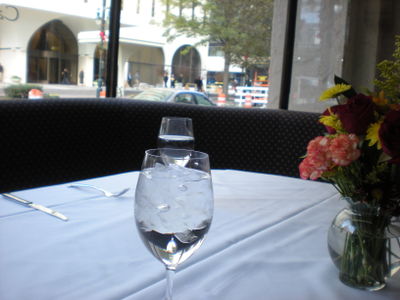 We decided since tomorrow is my last day on my current project that we would hit up a fabulous restaurant today.  June had the awesome idea of going to
Ratcliffe on the Green
, a restaurant that supports local farmers by purchasing most of their ingredients from them.  We arrived at the restaurant early and grabbed the best seat in the house – the window seat.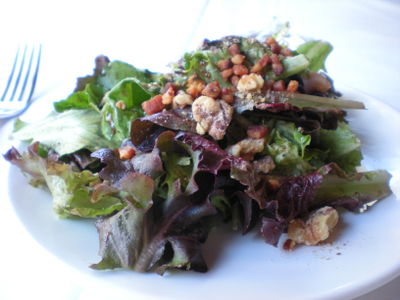 I started with the side salad, which had fresh greens, nuts (walnuts, I think), bacon (or was it pancetta?) with a light vinaigrette – very tasty.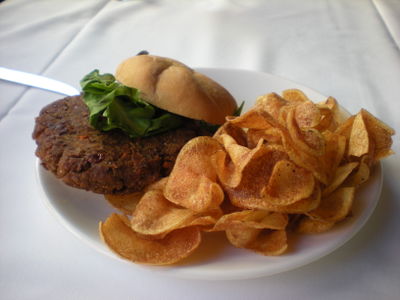 June had the lentil burger, which was served with the "fluffiest" chips we'd ever tasted.  Yea, I said "fluffy."  An odd description for chips considering most are "crunchy", I know.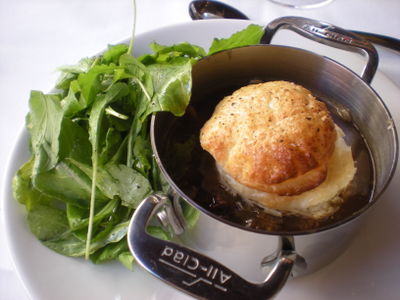 I had the Filet Pot Pie, which was served with fresh arugula.  It was very tasty and perfect for the colder-than-usual weather we've been having lately.  The bites of filet and veggies were hot & tender and tasted great with the puff-pastry topping.
When the waiter asked us about dessert, we were 50/50 on whether we wanted any or not.  However, we were
sooooo
happy to have ordered the deep-fried apple pie.  I also had a cup of coffee and June had Earl Gray tea.  Can I tell you they had the coolest cups & saucers?  Aren't they neat-looking?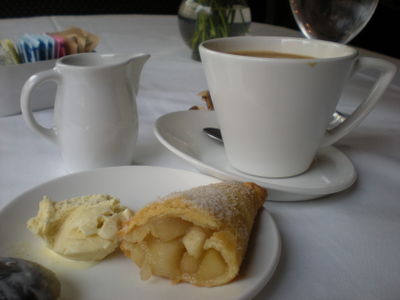 The dessert was one of the best apple-pies I've ever had.  I normally don't even like ice cream served with pies, but this ice cream was cinnamon-flavored and handmade with some really high-quality cream.  The ice cream was rich & decadent without being overwhelming.  The proof of this delicious dessert truly was in the pudding…er…pie.  Yum!
Oh, and sweet June sneakily snuck her card into the bill before I even got a looksie.  I didn't even see her put a card in the billfold, but the waiter had taken it before I knew it.  Sneaky, sneaky June!  I promised June I'd bake her something…I just need to come up with something good enough for her award-winning-baker's palette.  Wish me luck!  And thanks again June!