*Updated for Thanksgiving 2009 – Click here to view the healtified Turkey Tetrazzini recipe I cooked up with my family*
Even though I got what I thought was the smallest turkey breast in the grocery store for my roast turkey the other day, we had tons of turkey leftovers.  I decided to make one of my favorite casseroles – Turkey Tetrazzini.  This is the second Tetrazzini recipe I've tried…the first was Giada's (Chicken Tetrazzini) and it was quite tasty, as all her dishes seem to be.  For this meal, I went with the recipe I found in the classic Fannie Farmer cookbook.  FF is a great cookbook to have in your collection if you're into cooking.  The book features lots of classic dishes and goes into many basic cooking tips.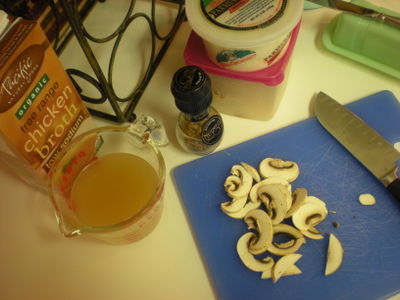 I made my Tetrazzini using an assortment of yummy stuff.  I even added the required mushrooms, even though I don't like them because I do actually like the
flavor
of mushrooms…just not the
texture
.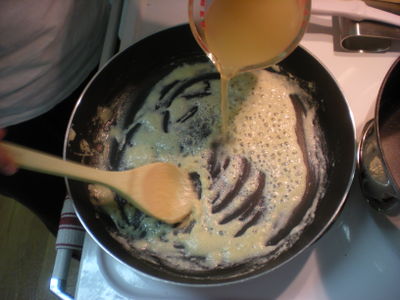 The recipe calls for another simple cream sauce (found in a separate section of the cookbook) and I swear, it just doesn't seem to be enough sauce for the amount of pasta and turkey in the dish.
See, you layer the pasta, then the turkey, then the mushrooms, (I added peas) then you top everything with the sauce and parmesan cheese.  The sauce just doesn't seem to be enough for everything under it, though.  In Giada's recipe, you are instructed to toss everything together with the sauce, then pour into a casserole dish, then top with cheese.  I think I will be mixing everything up next time I make a tetrazzini, no matter which recipe I use.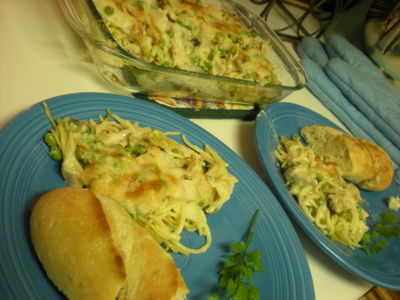 Still, the dish came out very nicely.  Our cozy casserole was the perfect comfort food for a cold, fall night and was pretty stress-free to boot!  I especially liked being able to utilize my leftovers rather than wastefully tossing them – I'm really trying to work on using all the food in my kitchen before it spoils…quite the challenge at times – I'm sure you can relate!  Anywho, so far, so good!
Leftover & Pantry Items Utilized
:
Turkey Breast
Spaghetti (leftover from a previous "spaghetti-night") 
Frozen Peas 
Fresh Parsley (from my fresh herb stash) 
Flour 
Butter 
Sherry Wine 
Frozen Demi-Baguette (freezer to oven to fresh baked bread) 
What's your favorite leftover-turkey recipe?