The funny thing about making food from leftovers is that you are sometimes left with leftovers from your leftovers.  Even though we had some Turkey Tetrazzini leftover from the meal before (yea…even after I took some in to work for lunch), I had to do something with the turkey we still had leftover from that roast.  Soup was sounding pretty darn good for dinner the other day…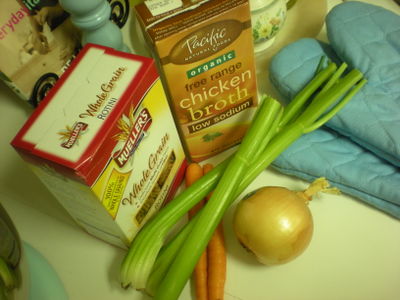 Ever since I was a little girl, I've loved cooking.  My favorite thing to make, when I was younger, was soup because I could raid my mom's well-stocked pantry and toss in a little of this and little of that and I didn't really need a recipe to make something good.  I remember watching Food TV waaaaaay back in the day (before it became so mainstream) and picking up a few tips there.  The only chef I can remember watching was Martin Yan on
Yan Can Cook
(what a great show, no?), but I'm nearly certain I must have watched someone else because I knew to start my soups with the mirepoix.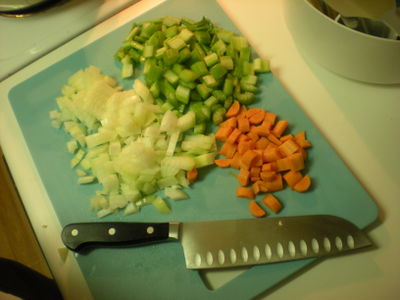 You may not recognize the word "mirepoix" straightaway, but you know what it is.  "
Mirepoix
" is the term for the combination of carrots, onion, and celery commonly used as a foundation for many soups, stews, etc.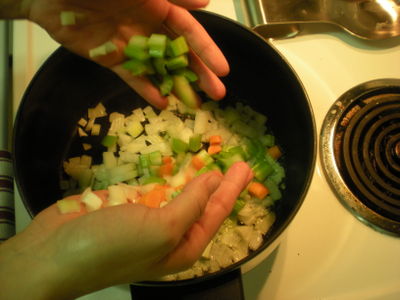 I started my soup off by sautéing some mirepoix till the onions became clear & translucent.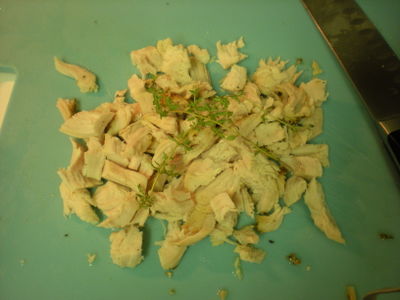 I hand-shredded my leftover turkey and when the veggies were done, I added this turkey, some fresh herbs, some chicken broth/stock, water, salt, pepper, and some other herbs I had in the pantry.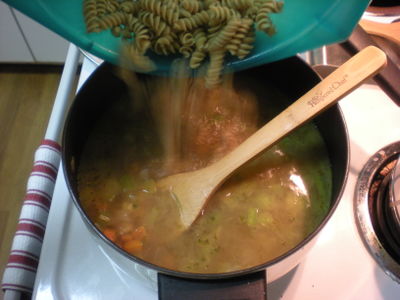 I brought the soup to a boil and meanwhile, cooked some whole wheat rotini pasta.  I simmered the soup for just a few minutes…maybe 5-15 minutes to let the flavors mesh.  I added the cooked pasta to the soup just before serving because I don't like "soggy" pasta…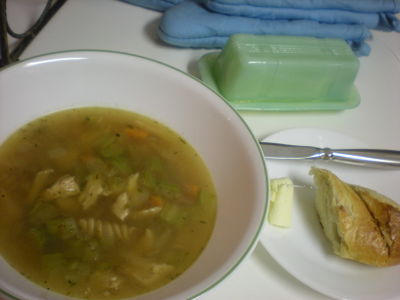 …and Ta-Daaaaa!  We have a hot &healthful dinner.  I like to serve my meals with bread and we especially love the bread you can store in your freezer and bake when you're ready to eat – they are quite helpful to have around and though they probably last for awhile in the freezer, they don't last long in our house.
I even got to use a lot of items we already had in stock in addition to my leftover turkey breast…woohoo!
Leftovers & Pantry Items Utilized
:
Turkey Breast
Chicken Broth (used to make cream sauce for Turkey Tetrazzini)
Celery (from previous recipe, but I can't remember which one)
Fresh Herbs (yup, I grow them!)
Frozen demi-baguette (from freezer to oven to my tummy…yum!)
Dried Herbs & Spices (from my pantry) 
I'm seeing lots of soups in my future since they seem to be a good way to utilize pantry items and leftovers…lol.