We spent the weekend before Christmas celebrating the holiday with my family.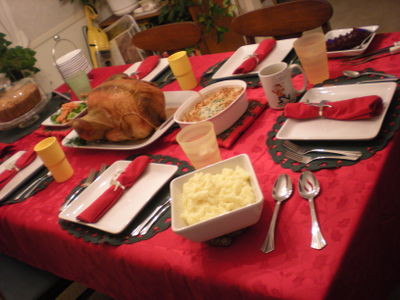 As usual, we spent lots of time eating, relaxing, and catching up.  Even though we had a short weekend to spend with the fam, Sis and I had time to spent a fabulous afternoon meeting my bloggy friend, April, the events of which I posted about last weekend (click).  After our yarn-fun, we had Christmas dinner with the fam.
Mom had the cool idea to hang ornaments from our chandelier.  I was pretty proud of her because she isn't nearly as crafty as Sis and I, and I thought the idea was rather ingenious of her.  I also liked the table set-up she did – a red holly table cloth, a green holly placemat, a red napkin, and silver napkin ring holders, I had a Christmas tree-shaped holder, but hubby had something else…I think a reindeer or something.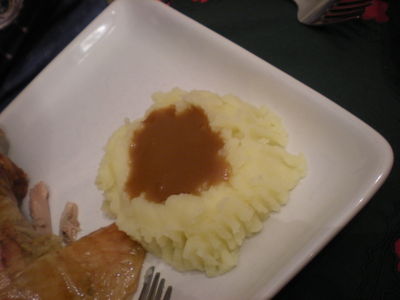 Sis made her traditional mashed potato pool, which she carefully constructed with her fork to ensure no gravy spilled onto her plate.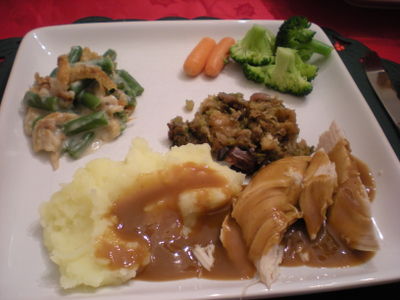 I poured gravy all over my potatoes and turkey, but you may notice I corralled all the gravy to one corner.  I like gravy, but not touching my veggies.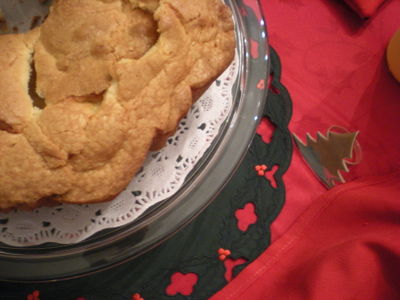 For dessert, we had some pound cake my parent's neighbor gave them for Christmas.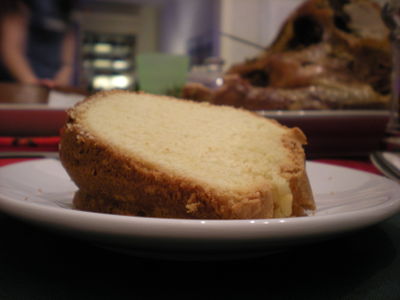 The pound cake was pretty darn tasty.  We enjoyed a few pieces, each, over the weekend.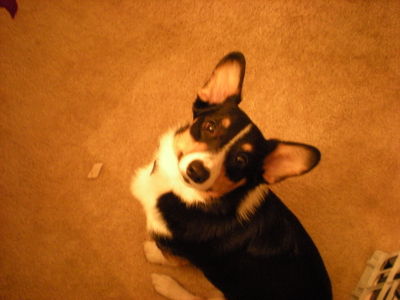 After dinner, Bailey waited patiently for the ok to get his bite of Christmas dinner.  We are trying to not feed him too much human food, so you can see the tiny scrap of turkey he got in the photo.  Regardless, he was quite happy to get that little taste.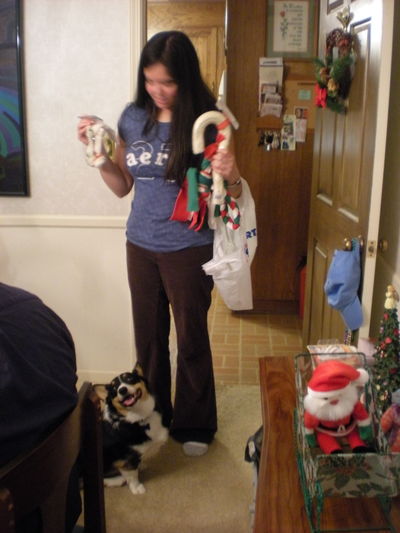 Bailey was even more pleased to see Santa-Sissy.  She and I stopped by Petsmart on our way home from our Bloggy fun to pick up a treat for Mr. Bails.  The Christmas goodies were already way on sale, so we picked up a couple.
Bailey loved the Candy Cane shaped treat!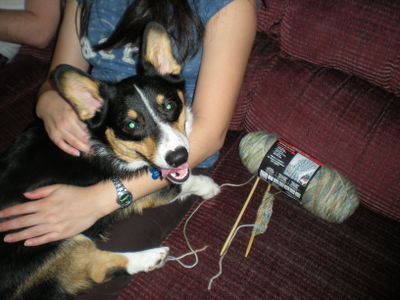 After dinner, I got started on some of my knit WIPs, but was happy to help out my sister who asked me to teach her how to knit.  See her garter stitch in the works?  I think she's going to try to make a scarf.  Go sis!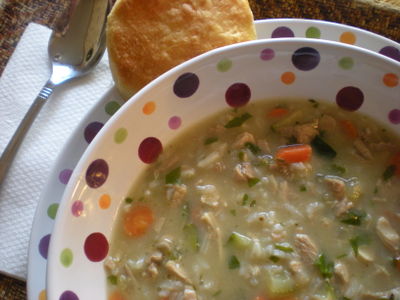 For lunch the next day, Dad made a nice, healthy soup with the leftover turkey and some fresh veggies.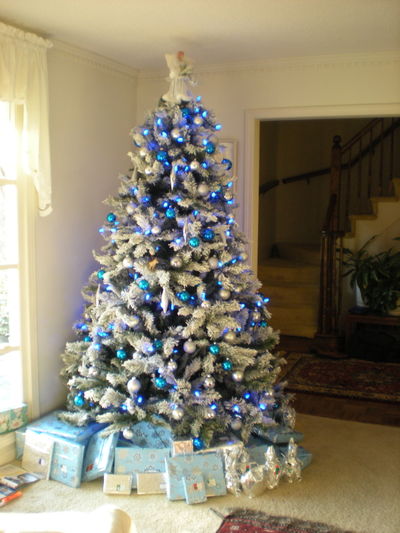 We opened presents when Sissy got home from work.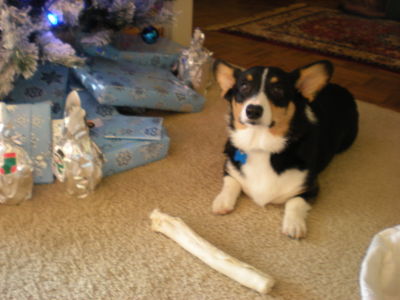 Even Bails got to join in on the festivities as he munched on his candy cane treat.  Can you believe he ate the hook off that thing so fast?  Bailey eats treats twice as fast as dogs twice his size.  It's pretty funny to see, actually.
I got lots of goodies, but especially loved the Bath & Body Works antibacterial soap (love thist stuff!), a CD my sister made of her practicing the song she sang at our wedding (When You Say Nothing at All), and my first Debbie Bliss book – Baby Knits for Beginners.  I realized as soon as I opened my new book that my parents may think I was trying to tell them something by the title of the book.  Luckily, they didn't say anything…phew!  I just figured baby knits would be easier to make than a full-blown Debbie Bliss sweater.  Those look so complicated, though I do want to try those knee-high socks from the DB magazine.
Christmas with my fam went by too soon and I was back to work by Monday.  Hopefully, we can spend more time with them next year!