At my hubby's family's holiday get-togethers, everyone has something they are known for bringing.  The hosts, D & S, always make the turkey, stuffing, and gravy (and possibly a few other things I'm forgetting right now).  Uncle P and Aunt E always bring a huge salad (with fixins) and sugar cookies they make with their daughters.  Hubby's mom always brings her famous "dry dressing", which is one of the stars of the meal.  With everyone being known for their holiday dish, my wanting to contribute to the meal, and with my huge sweet tooth, I was thinking it would be pretty cool to be known for bringing fab desserts.  Yum!  Last year, I brought Giada's Panetone Bread Pudding, which I thought was a pretty big hit.  This year, I wanted to try something different.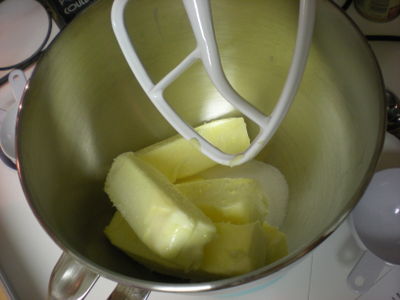 I first saw Ina Garten make her scrumptious-looking pecan bars on Barefoot Contessa a couple years ago on Food TV.  As soon as I saw them, I vowed to make them one day because they just looked so darn good. 
I think these pecan bars would have been relatively simple to make on any normal day, but I decided to make these on the same day we were headed out-of-town and the same day I was finishing up Christmas presents.
The recipe directed to not let the topping get between the crust and the pan, but with all that gooey-goodness bubbling around, it was a bit difficult (read impossible) to prevent this from happening.  If you decide to try this recipe out, try to make your crust edges extra tall.  Baking in a two inch tall pan is also a pretty good idea, since most reviews I read online for the recipe said they had trouble with the topping bubbling over into the oven (Ina does recommend placing aluminum foil in the bottom of the oven for easy clean-up in case that happens).  We used a two inch tall baking pan because Hubby couldn't find a one inch tall one, but I think it worked out better that way.  I moved as quickly as possible to make those pecan bars, but we still left about an hour and a half behind "schedule."  We had to put the bars in the cake pan still hot in the oven (after they sat on our counter for almost an hour).  I was worried they would slosh around through the driving, but they held up quite nicely.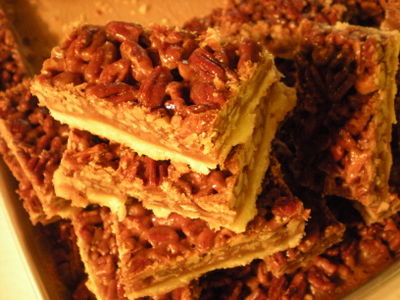 We let the bars chill out on the back porch where it was nice and chilly, and we placed them high on a shelf where Mr. Chic's dog (who lives with Mr. Chic's Mom) couldn't get to them at night.  The next day, before heading to Christmas dinner, hubby cut the bars up while I prepared the chocolate ganache for dipping.  I also got to use those adorable cupcake liners I got from V from my PIF…yippee! 🙂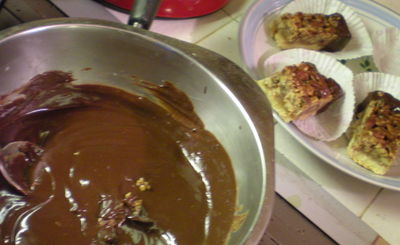 The chocolate ganache recipe wasn't available with the recipe on foodnetwork.com, but a reviewer said you melt a 1/2 pound of chocolate chips with a 1/2 cup of cream and a teaspoon of instant coffee granules in a double boiler.  I eye-balled it and used about 3/4 of a package of semi-sweet morsels with what I estimated to be a 1/2 cup of half and half. 
The recipe made a ton of pecan bars. Seriously, if you're thinking about making this recipe, think about people you can give your bars to because you will have more bars than you will know what to do with!  We made so many pecan bars, we took a whole platter full to Christmas dinner and only came back with two.  However, we had a bunch more stored up in tupperware (that wouldn't fit on the platter), which we enjoyed over the next couple days, gave to family friends who stopped by to exchange presents, and we still had enough left to leave a tupperware full of pecan bars for Mr. Chic's sister and her fam of four.  Wow!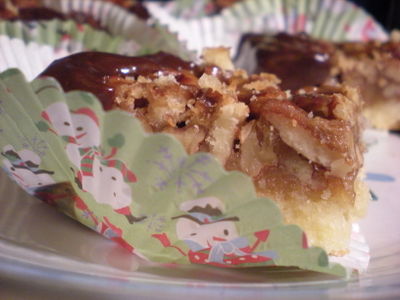 Ina's pecan bars were a huge success.  I will definitely be making these again, except next time, I'll be more careful for how we cut the bars out.  If the topping bubbles over the edge, instead of jabbing the knife down the side of the pan to try to cut through the thick, sticky, baked-on topping, I think we'll cut a 1/4 inch inside the edge of the pan.  Trust me, it's way easier to just not even try to get the topping cut out of the pan once it's baked there.  I think we ruined our baking pan.  It's ok, though, we got the pan half off with a coupon and those pecan bars were just so-so-so tasty, it was worth it!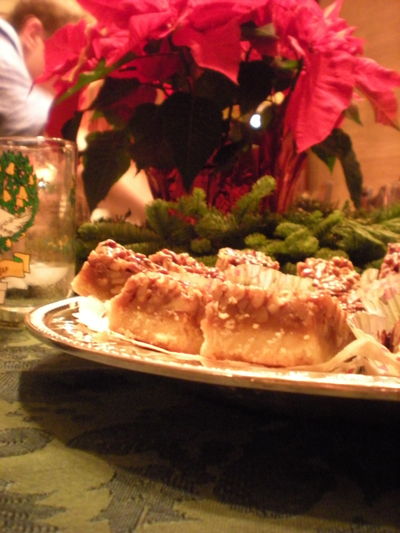 The bars looked pretty good at Christmas dinner, eh?
Did you make anything special for a holiday dinner?
PS Can you tell that these photos were taken with my old camera?  When I was picking out pictures for my post, I realized how much worse my old camera was.  I think there's something wrong with it.   I should probably take it to someone to see if they can fix it because as much as I love my DSLR, I'd love to have both.  We'll see…