Hubby went with a classmate to see the Duke/Wake game tonight, so I was on my own for dinner. I picked up some groceries on Monday and got a package with 3 chicken breasts, so I decided to cook 1 for me tonight and make roasted root veggies for my side. I also planned on eating some of the frisee salad blend leftover from yesterday as my veggie.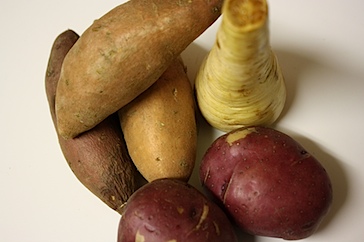 In addition to those snacky-snacks I picked up earlier, I got these root veggies – 2 small sweet potatoes, a bag of parsnips, and a red jewel yam. The red skin potatoes were already in our pantry.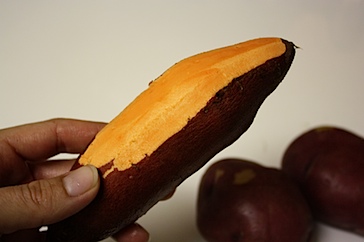 I was especially curious about the red jewel yam. I'd never had one before (to my knowledge) and I imagined the inside to be a deep ruby, red color like the skin. Imagine my surprise at peeling back the dark red skin to see sweet-potato-orange inside.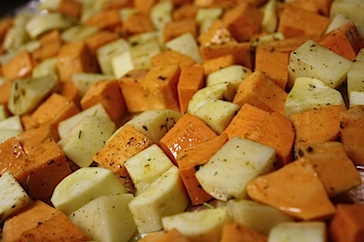 At a restaurant awhile back, I had a side of roasted root veggies. I remember noticing how small all the veggies had been chopped…they were in almost 1/2 inch cubes. I also remember really liking the side dish, so I tried to re-create it tonight. I think my veggie pieces were larger than 1/2 inch cubes, but they were pretty close. Anywho, I chopped and prepped the root veggies and got those into the oven as soon as I got home, since they would, inevitably, take the longest to cook.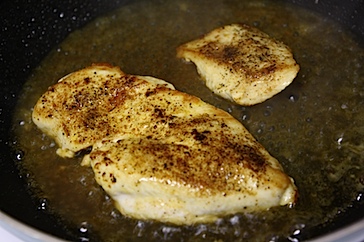 Next (after giving the veggies some time to work in the oven), I moved on to the chicken. I just sliced a small piece off to make the chicken thinner. It seems like the thickest parts never quite cook through right…perhaps something is wrong with my stove? I suppose I could have pounded the chicken thinner, but this seemed easier. I seasoned the chicken with garlic salt, pepper, and paprika and pan-seared both sides. I finished the cooking with a dash of sherry.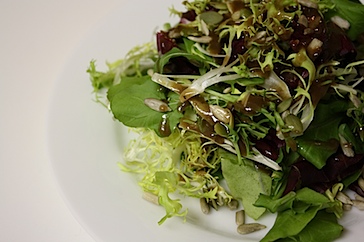 While the chicken finished cooking, I had my salad. I like to eat my salad before my meal so my food doesn't get cold. Anywho, not sure what I was thinking about the "not having toppings" I mentioned yesterday, but I do have some various toppings around afterall. I topped tonight's frisee blend salad mix (which has yummy arugula in it!) with some sunflower seeds, pumpkin seeds, and my fave – Drew's Rosemary Balsamic dressing.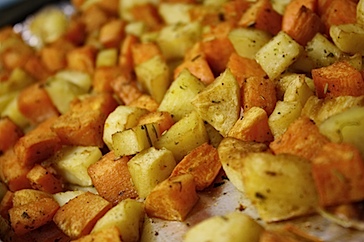 With my salad eaten, chicken cooked, and roasted root veggies out of the oven…
…it was time to plate up and enjoy. I was really full after eating all this food…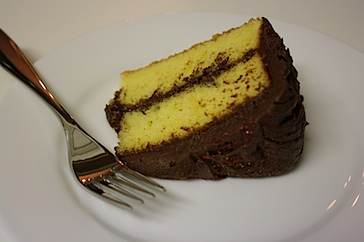 …but not too full for birthday cake! Yum!
Roasted Root Veggies
My recipe, which I made up last night
My notes: Use any root veggies you have including/excluding the list below and/or carrots, turnips, beets, etc.  Eyeball the olive oil and seasoning depending on how much root veggie you have on hand.  You want them lightly coated in olive oil and lightly seasoned.
Ingredients
2 small sweet potatoes
1 red jewelry yam
2 medium red skin potatoes
1 large parsnip
1/3 cup olive oil
salt, pepper, garlic salt, paprika, rosemary (dried)
Directions
Pre-heat oven to 425 degrees F.  Peel root veggies and chop them into (roughly) 1/2 cubes.  Add veggies to a baking sheet/pan.  Drizzle with olive oil.  Sprinkle lightly with salt, pepper, garlic salt, paprika, and rosemary.  Toss veggies together with your hands to coat.  Spread to an even layer.  Bake for about 20-30 minutes, tossing veggies halfway through baking.  You may want to cook veggies an additional 5-10 minutes depending on what texture you want them to be.