I didn't really get a full sit-down lunch today.  Between organizing and running errands and packing for the weekend, I had a few minutes here and there to graze on some stuff around the house that I wanted to eat before they spoiled over the weekend.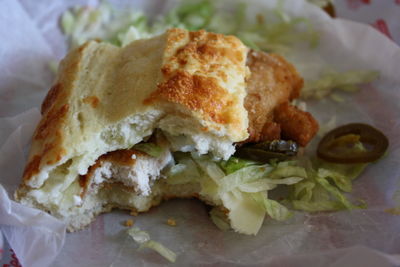 I had a few bites of a sub hubby brought home from the grocery store (yea, these weren't in the house about to spoil, but I couldn't resist!).  It had breaded chicken, lettuce, and yummy banana peppers.  He has me addicted to those things…they're so tangy!  Anywho, pictured above is what I left for him to finish.  Note that there are no banana peppers in the photo…because I ate them all!  heehee 🙂
Later, I had another piece of High Fiber toasted with butter (ok, this wasn't about to go bad either, but again…I couldn't resist!).  I also had a small bowl of leftover Pear Ginger Crumble from last night.  Pretty good the second day!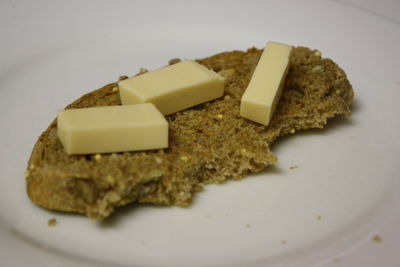 Lastly, another piece of High Fiber, toasted (to make it more cracker-like since we were out of crackers), topped with pieces of leftover smoked gouda.  It was actually quite good this way.  The funny thing was that the cheese didn't taste nearly as smoky eaten with the bread.  Not sure how that happened, but wh knew unmelted cheese on toast would be any good?  Guess we do now! 
Have a great weekend everyone!