Ok, so although the sky is gloomy and white-ish-gray and looks like it could snow, it is far from actually snowing here.  However, I am working from home today (yay!), and I don't know if it's just the working-from-home or the weather, but it feels just like a snow day.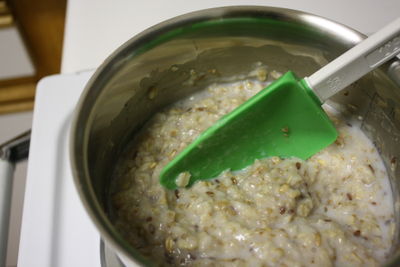 I took the opportunity of being home all day to make a good, healthy breakfast – a pot of oatmeal for hubby and me.  Thanks to Kath from Katheats.com, my eyes have been opened to a whole new world of healthy-eating, exercising bloggers that I never knew existed.  I thought there were lots of good crafting blogs out there, but there are lots of these healthy blogs, too!  For some reason, almost all of them seem to eat oatmeal with an interesting assortment of toppings, and they also like to serve their oatmeal with a spoonful of peanut butter.  Kath is the queen of oats, but lots of the others eat oatmeal, too…perhaps inspired by Kath's interesting oatmeal concoctions?  :)  Anywho, I'm not sure what the peanut butter is supposed to do?  Maybe they add that for the health benefits or to help make the meal more filling?  I think it is probably due to a little bit of both reasons.  I decided to give the peanut-butter-spoon-trick a try today.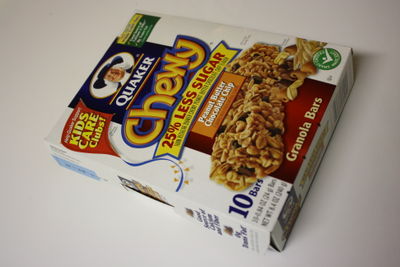 Afterall, I do like those Peanut Butter Chocolate Chip Quaker Oats Granola Bars.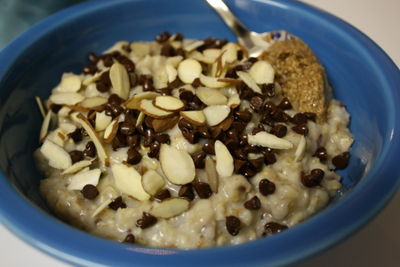 So, I bring you Peanut Butter Chocolate Chip Oatmeal:
Pre-cooking (for 2 servings) – toss into a pot and cook following stovetop directions the following:
1 3/4 cup water
2 tbsp wheat bran (Got this for a recipe awhile back…actually needed toasted wheat germ…doh!  Finally figured out how to use the stuff – tastes good in oatmeal)
1 tbsp flax seed
1 tbsp wheatberries
Post-cooking:
Stir 2-3 tbsp milk into oatmeal to make it creamy
Spoon into 2 bowls
Top with:

almonds
semi-sweet mini chocolate chip morsels
1 tbsp fresh-ground almond butter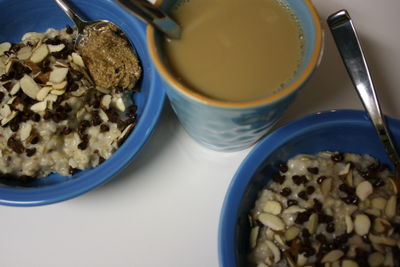 Serve with hot, steamy, sweet, and creamy coffee…yum!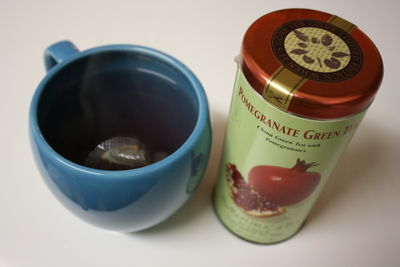 Post-breakfast drink of choice: something with more caffeine (b/c I stayed up too late again last night) – The Republic of Tea – Pomegranate Green Tea.  Mmm…
Hubby just asked me if I want to walk with the Bails.  I'm so comfy, still in my PJ's, and I don't really feel like it, but I know I should.  We'll see…Till then, I'm going to enjoy my hot cuppa tea.