8:00 am – Coffee – Awake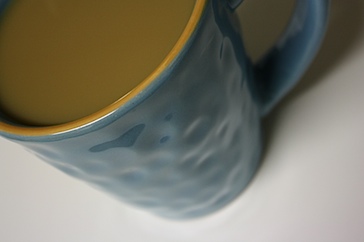 You probably guessed it…I snoozed late again today. I think the trick with not snoozing forever is forcing yourself out the first time the alarm goes off, no matter how comfy, warm, or otherwise wanting to stay still. I should try that tomorrow.
I had the usual FM Breakfast Blend coffee – 2 tsp sugar, 2 tbsp 2% milk. I still haven't measured that, but I think it's pretty close to accurate.
9:45 am – PB Chocolate Chip Oatmeal – Satisfied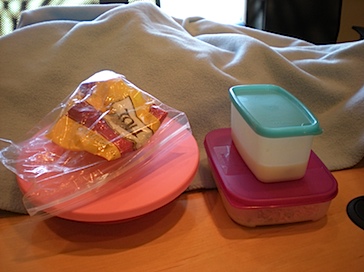 See the blue blob behind my tupperware? That's a Patagonia blanket. I called for reinforcements (in addition to the space heater) for the conference room today. It was 61 degrees F when I got in the room. Chilly!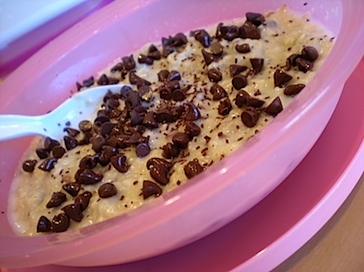 Luckily, I brought enough goodies to make a nice, hot bowl of PB Chocolate Chip Oatmeal. I even gave my co-worker a taste and she liked it (or said she did).
In the bowl: 1-minute oats, water, milk, sunflower seeds, flax seed, chocolate chips, sugar.
1:15 pm – Leftover Lentils – A Little Hungry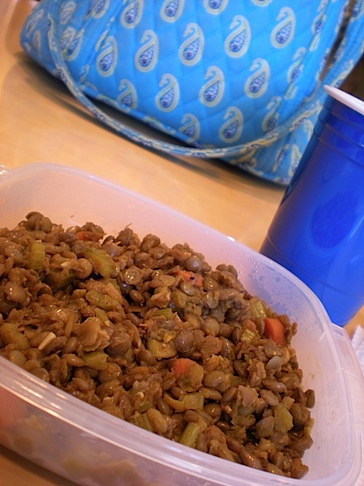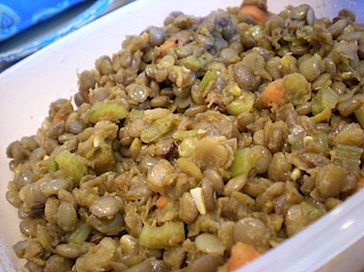 By about noon, my tummy started to growl a wee bit, but we were so busy, that I waved off the hunger. By 1PM, I didn't feel hungry any more, but it was time to eat, so I had some lentils leftover from last night's dinner. I usually don't think of a meal as complete unless I have some sort of meat. I guess I grew up eating that way, but I'm working on getting over that idea.
2:00 pm – Salted Almonds + Earl Gray Tea – Satisfied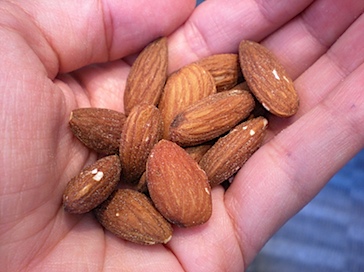 I was a little hungry after lunch, so I had a small handful of salted almonds.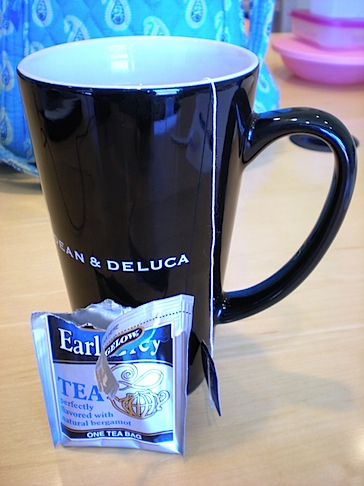 I also needed some more help to warm up in the chilly conference room, and my co-worker was nice enough to give me a sample of her Earl Grey Tea with Bergamot. Thankfully, she warned me to not let the tea steep too long. I forgot this kind of tea would get bitter if I did.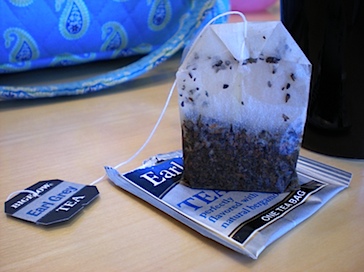 Thankfully, I only brewed it 1 1/2 minutes. It tasted great with a tsp or so of sugar.
8:30 pm – Curry Chicken, Leftover Wild Rice, + Salad – Satisfied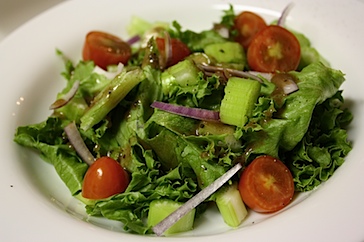 We wanted to keep dinner tonight on the cheap since last night's was pretty pricey, so I sent hubby to get some chicken breasts and hoped we had enough stuff around the house to supplement.
I decided to make a big salad with the green leaf lettuce, celery, red onion, and grape tomatoes we got in our organic food delivery earlier this week. I got a little freaked out prepping the lettuce when I pulled off a leaf and saw a tiny spider run off the leaf….Ewwww! I willed the memory out of my mind so I could continue with dinner.
I topped the salad with Drew's Rosemary Balsamic dressing and some fresh cracked pepper. I was surprised at how fresh the salad tasted. I don't know if it's in my head or if this organic food really does taste better. Either way, I thoroughly enjoyed my salad.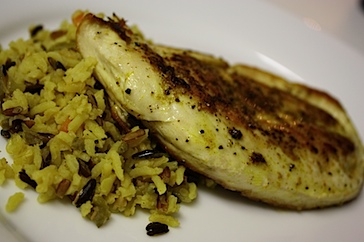 I did a play on the chicken recipe I saw in my Body + Soul magazine for the entree. I re-heated that turmeric wild rice pilaf, from earlier this week, for the side. For the chicken, I pounded it a little thinner to cook more evenly and seasoned it with salt, pepper, and about 1/2 tsp of curry (spread over 2 breasts). I sauteed the chicken till brown on both sides and cooked through. For such a simple seasoning, it tasted great, especially with the rice!
9:30 pm – Chocolate – Satisfied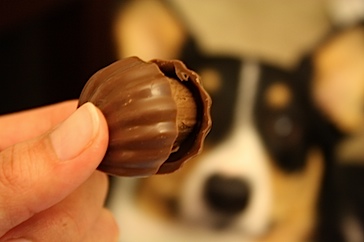 I had a single piece of chocolate from a box of Godiva we got awhile back. Hubby had 2. I think someone in the background was pretty interested in what was going on with this photo.
10:00 pm – Tangerine – Satisfied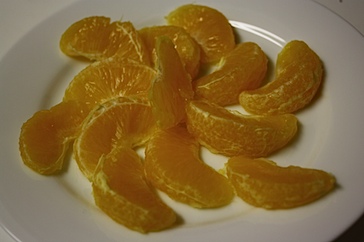 I couldn't resist one of those organic tangerines any more. I'm glad I didn't – it was so sweet + juicy – delish! A great way to end the night, though I did eat it a bit later than I'd like to.
No exercising again today, but I think I'm going to try one of those Yoga downloads soon. Maybe even some Zumba, tomorrow, too!