8:00 am – Coffee + AB Toast – Content (5)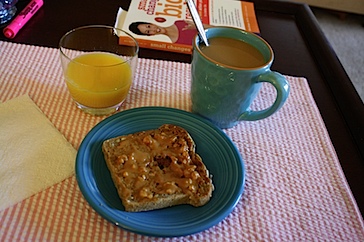 I woke up early this morning (early for me) and super-excited about my morning dance work out class. I really needed some coffee to start the day, so I brewed some Fresh Market Breakfast Blend and had that with 2 tsp sugar and 2 tbsp 2% milk. I only ended up drinking about half the coffee since I don't like a lot of liquids on my stomach before a workout. I also had a small OJ for energy and some Great Harvest Dakota bread toasted with Barney Butter.
9:00 am – DanceOut – Energized and Happy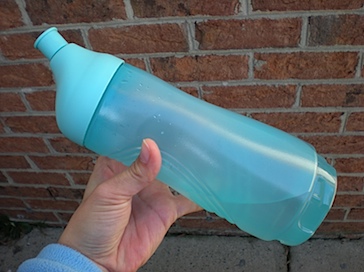 I had a little more food on my stomach than I would have liked to have had, but it was better than nothing. I probably should have just eaten a health bar, but toast with AB sounded good. The workout was awesome and totally reminded me how much I like to kick the day off with a great work out. I felt awakened, refreshed, energized, and super happy.
I stayed a few minutes extra to do some stretching while the room cleared out.
I downed 3/4 of this water bottle's worth of water after my workout.
11:45 am – More AB Toast – Content (5)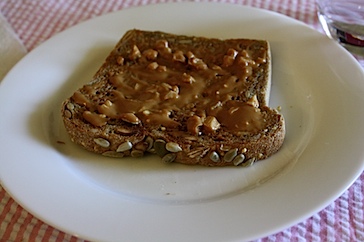 I knew we were having a late lunch so since we're running low on food funds, I hit up the pantry for a quick snack. I ended up having another piece of GH Dakota toast with Barney Butter Almond Butter (AB). I think I could eat whole wheat bread every day and never get sick of it. It helped me survive college.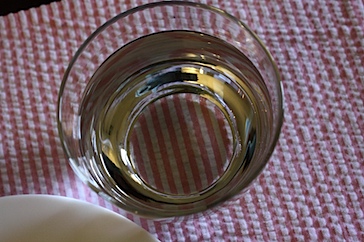 I also had some water…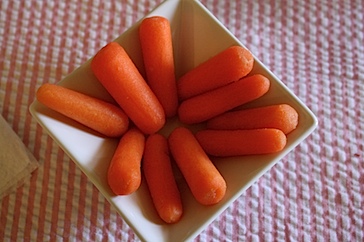 …and some baby carrots.
2:30 pm – Apps + Snacks With Friends – First Signs of Feeling Full (6)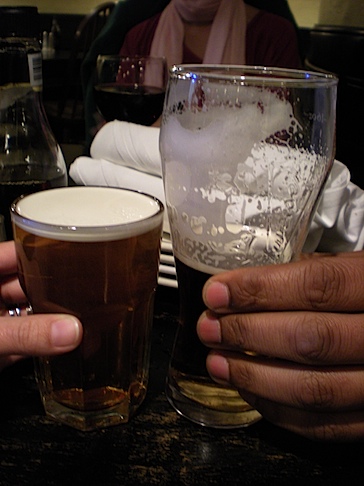 A friend of mine was in town from school, so hubby and I met up with him and his girl. I started the afternoon with a tiny 1/2 pint Boddington's. My friend offered his beer and hand for the photo so you could see how small the beer really was.
For food, we just ordered three apps to share: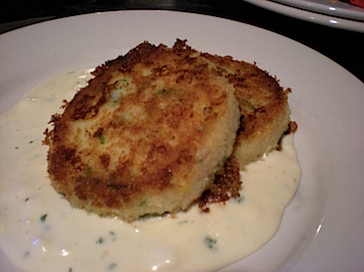 Potato Cakes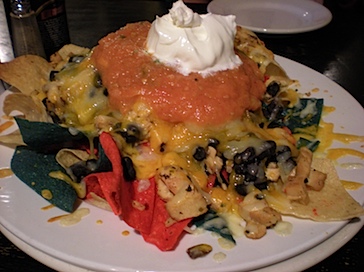 Jerk Chicken Nachos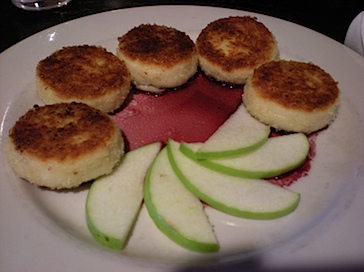 Goat Cheese Fritters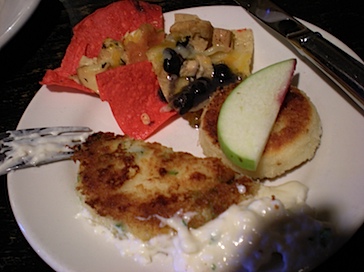 I had a half potato cake, 1 goat cheese fritter with a slice of apple, and about 6 nachos (3 not photographed because they were round #2 and I forgot).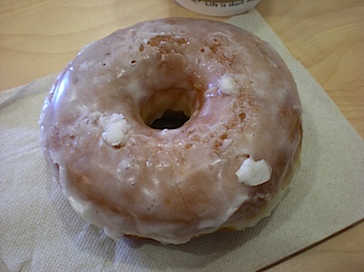 I guess we were still feeling snacky, so we headed over to one of my fave local bakeries since it was a couple stores down and we got some baked goods! I had my fave – their glazed donut.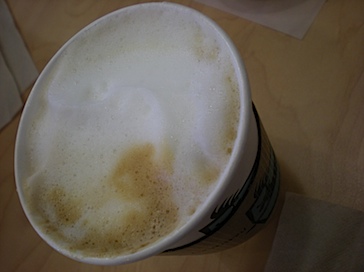 We took the snacks to Caribou Coffee so we could continue our conversations and munch on the baked goods. I had a small Dulce de Leche Latte.
5:00 pm – Pear – Content (5)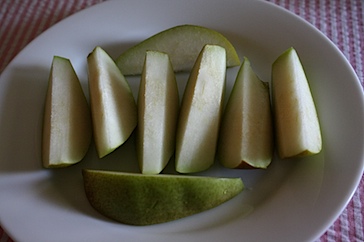 I had a pear shortly after we got back to cut the icky coffee after taste.
8:00 pm – BumbleVee's Cabbage Soup – Content (5)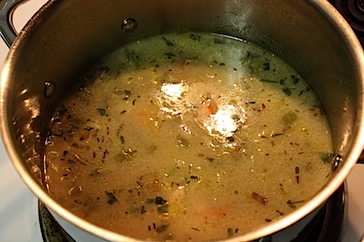 For dinner, I made BumbleVee's Cabbage Soup (click for recipe).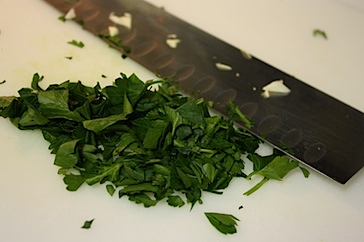 I had almost all of the ingredients in my pantry already.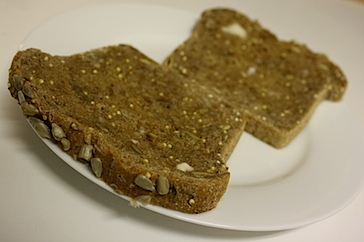 I served the soup with (guess what!?) more Great Harvest Dakota bread toasted but with butter this time. This stuff is just that good!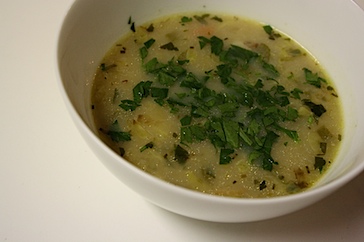 I thought the soup was quite tasty, though I was a little heavy handed on the salt…oopsie! I didn't have creamed corn, so I just added a handful of frozen corn.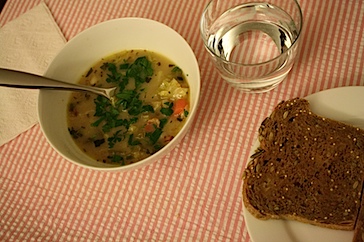 I just had some plain old water with dinner.
9:00 pm – Mini Luna Bar – Content (5)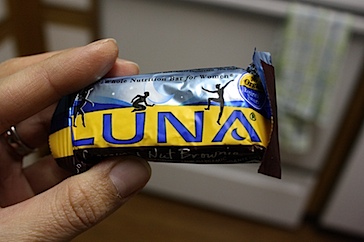 I wanted something else to eat after dinner, but we were getting ready to meet some friends for bowling, so I had to grab something quick. I settled on this Chocolate nut Brownie mini Luna bar, which seemed to fit the bill perfectly.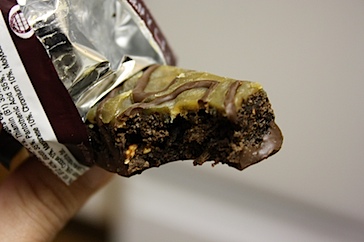 The bar was pretty good, but I've been enjoying the Lara, Clif Nectar, and Kind bars much more lately. I think this one would have been better crumbled over a big bowl of oats.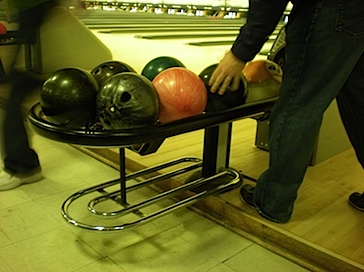 After downing the Luna bar, we headed out to meet some friends for bowling. The place was packed! We had to wait about 30 minutes for our lanes and I didn't end up playing because my knee was bugging me a bit and I was feeling kinda tired (I know…wimp!).
The worst part was the place was so smoky, it smelled more like a bar than a bowling alley. My clothes and hair reek of smoke and it was so loud, my voice is going from just trying to talk to people during the night. It was still nice to get out and be social, though.
12:30 am – Bedtime Tea – Content (5)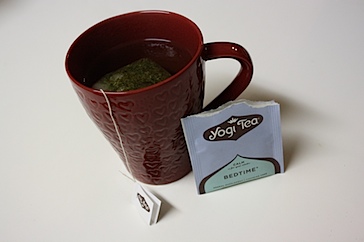 Since my throat was feeling a bit sore, I brewed some Yogi Tea Bedtime tea and had it with some honey whilst putting together this blog post.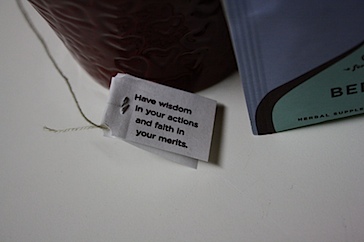 Yogi Tea quote – "Have wisdom in your actions and faith in your merits."
I can't believe how late it is! I'm off to get some shut-eye. G'night!