7:30 am – Coffee – First Signs of Hunger (4)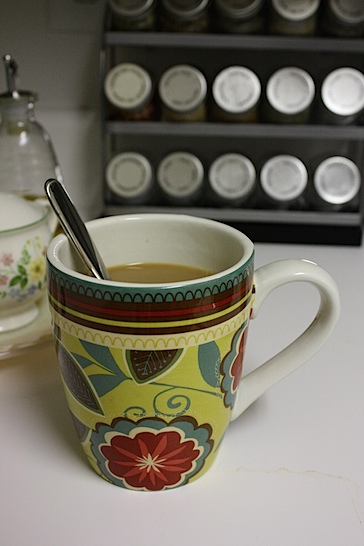 Whilst digging out a bag of coffee from my pantry, I re-discovered a sample of Fresh Market Caramel Macchiato flavored coffee, so I tossed it in the coffee machine to brew. It was quite tasty…I'll have to think about buying some next time I'm at FM.
9:15 am – Banana-Pumpkin Oats – First Signs of Feeling Full (6)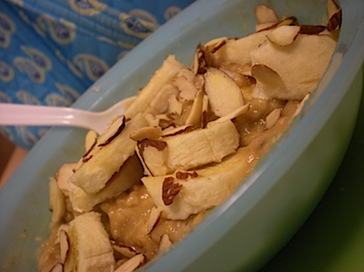 For breakfast, I made a bowl of Banana-Pumpkin Oats so I could try to use up some more of the canned pumpkin leftover from Sunday's dinner. I will have to remember to buy a different brand of canned pumpkin next time…this TJ organic version wasn't nearly as bright orange and I think the vibrant color is one of my favorite parts of eating anything with canned pumpkin.
Pre-cooking:
1/3 cup 1-minute quick cooking Quaker oats
2/3 cup water
1 tbsp canned pumpkin
1 tsp brown sugar
Post-cooking:
1 tbsp 2% milk, stirred in
1 small, sliced banana, 1/2 stirred in, 1/2 on top
1 tbsp sliced almonds, on top
The oats were quite good. I liked how the pumpkin changed the overall flavor of the oatmeal, but it wasn't anything too drastic. Just something to make you wonder what tasted so good.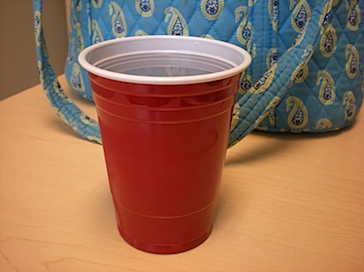 I also had a nice big cup of water to wash things down.
12:00 pm – Spicy Chicken Salad on High 5 Fiber + Tabbouleh – First Signs of Feeling Full (6)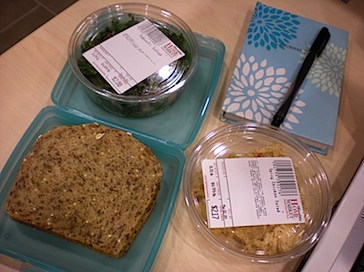 I brought 2 pieces of the Great Harvest bread I got yesterday to work today and went to a local health-grocery store to pick up some stuff to go with it. I looked for one of my faves of theirs – the spicy chicken salad. I didn't see it behind the counter and decided to ask if they had some in the back, expecting a "no." Well…they had it! So I got a small container and brought that back along with some tabbouleh, yogurt, and a banana-oatmeal bar from the clearance rack.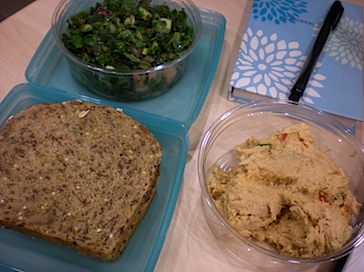 Sans lids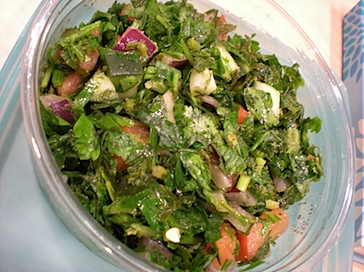 I was a little disappointed with the tabbouleh. Last time, it was sooo flavorful! This time, I think it was missing some lemon juice. I didn't get that tang of citrus. I almost got some marinated kale at the grocery store. I had it in my hands and everything and I put it back for the tabbouleh. Guess I chose the wrong one today. Though, in truth, I did still enjoy the tabbouleh overall.
I ended up using only about 1/2 the spicy chicken salad, which made an excellent combo with that GH bread. Yum!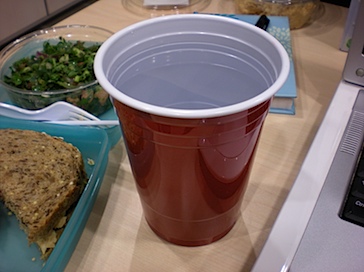 I had some more water with lunch.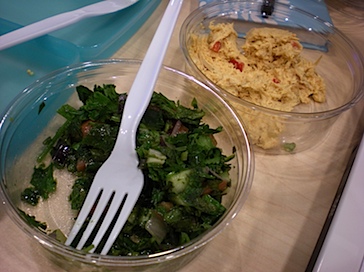 Leftovers…I'll be enjoying these tomorrow!
2:15 pm – Yogi Tea Himalayan Apple Spice + Candy – Content (5)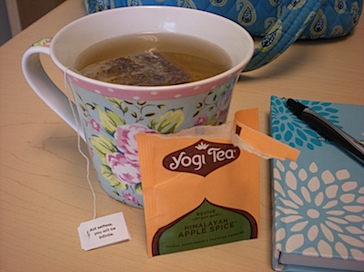 Later on, I broke out one of the Yogi Tea samples I got in the mail – the Himalayan Apple Spice. It smelled just like apple cider and was pretty tasty. Not my fave of the yogi teas, but enjoyable nonetheless.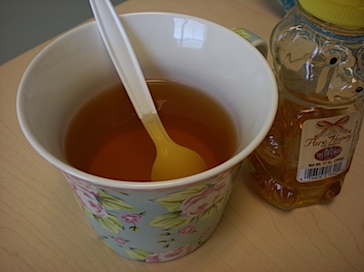 I ended up sharing the tea with a co-worker and fellow tea fan who wanted to sample it, so this picture shows what I actually had – about 1 cup's worth. Just enough!
Yogi tea quote of the day – "Act selfless, you will be infinite."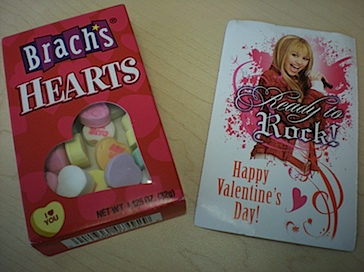 I also broke out my valentine from the valentine's day potluck awhile back. I can't believe I forgot to take pictures of this for the potluck post! They were so cute! Sorry Nate!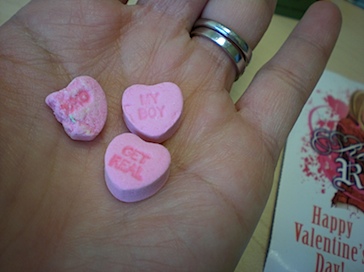 Just a few to snack on.
3:45 pm – String Cheese + Carrots + Yogurt – Content (5)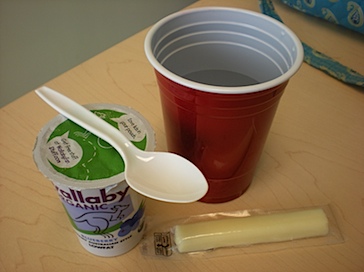 Later in the day, I was feeling snacky and grabbed a Wallaby blueberry yogurt, string cheese, a little more water…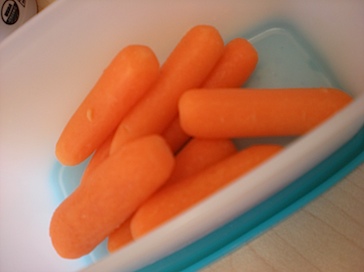 …and some baby carrots.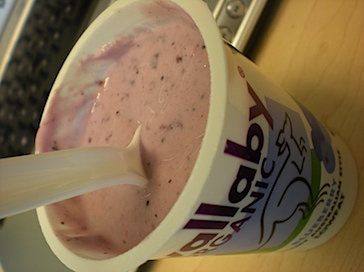 I love how the Wallabys are already mixed. Fruit-on-the-bottom yogurts kinda gross me out, but I do eat them from time to time.
6:45 pm – TJ's Frozen BBQ Chicken Pizza – First Signs of Feeling Full (6)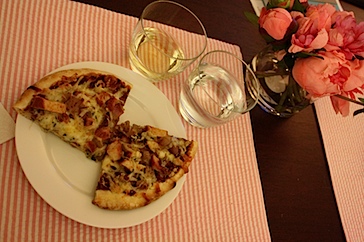 We're still on the tail end of February's spent grocery budget, so we're trying not to buy anything new. We ended up baking up this frozen BBQ Chicken pizza from Trader Joe's for dinner. The pizza was much smaller than I thought it would be, but it was just the right size for me and hubby.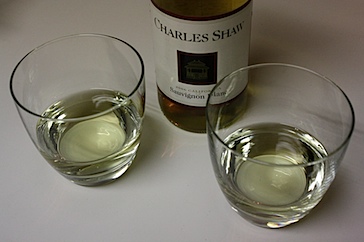 Hubby even noticed we had a bottle of 3-buck-Chuck in the apartment, so we broke that out and had a taste of the sauvignon blanc.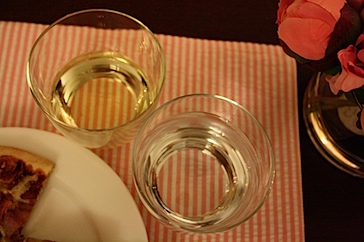 I only had a wee bit with some water.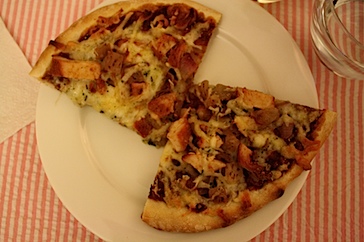 The pizza was awesome! Probably the best frozen pizza I've ever had…no lie. We'll probably be picking a couple more of these up. I also liked how the ingredient list had whole wheat flour as one of (if not "the") first ingredient. I ended up halving one of the pieces shown above so I had about 1/3 of the pizza. Just looking at 1/3 of the pizza, you wouldn't think it was enough, but I tried really hard to listen to my body to see if it would tell me it was full and after my 1/3 of the pizza, it actually was!
7:30 pm – Walk with Hubby + Bailey – Refreshed
Hubby and I took Bailey for a quick walk after dinner. We just walked around the neighborhood and came home. We were gone for about 30 minutes and I did about 10 minutes of stretching afterwards. The walk wasn't vigorous, but it was still nice and refreshing.
9:00 pm – Apple + Chocolate Soy Milk – Content (5)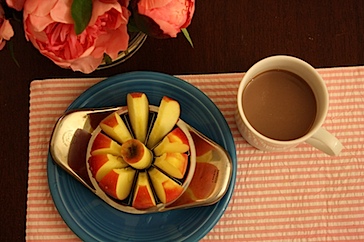 Just before starting this post, I decided another snack was in order. I sliced up a Pink Lady apple and poured a tiny cup of chocolate soy milk. The apple is mostly gone at the moment and the chocolate soy milk is about to be enjoyed. Once I publish this, I'm off to get cozy on the couch and watch a DVR'ed neat. Love that show! It makes me want to clear out my clutter.
Calorie Summary
Calories Eaten: 1571
Calories Burned: 82
Net Calories: 1489
(Calories I'm supposed to eat per Fitday.com goal: 1437)
I think I'm starting to get the hang of this! 🙂