I've spent the last couple days trying to figure out what the heck to do with the green chard that I got in Monday's produce delivery. To be honest, I've never purchased chard to cook. I'm not sure I've ever eaten it, though I think chances are good that I have and didn't know it. My dad always tried to sneak healthy ingredients into my family's food when I was a kid (and still does now).
Anywho, I finally settled on a recipe I found on foodnetwork.com by Giada – Whole Wheat Spaghetti with Swiss Chard and Pecorino Cheese. I had to sub out a few ingredients based on what I already had in my kitchen. I decided to make Spaghetti With Chard and Parmesan. I thought I had wheat pasta on hand but only had regular and with the tight budget I have for the rest of February, I didn't feel like getting more.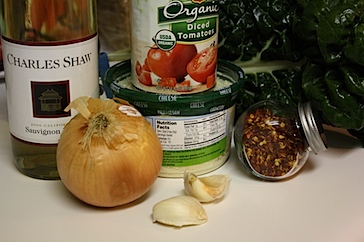 I got to use a lot of pantry ingredients for the dish and two that I bought yesterday.
While I sliced the onions, I toasted the pine nuts (leftover from my Macaroni Grill dinner).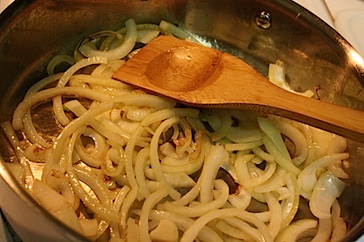 While the onions cooked, I cleaned and prepped the chard.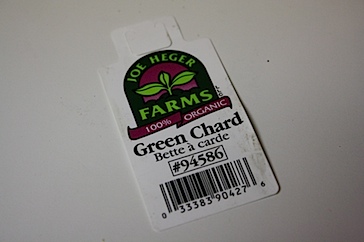 Apparently the "chard" I got in my delivery was "Green Chard." I guess this is different than "Swiss Chard"?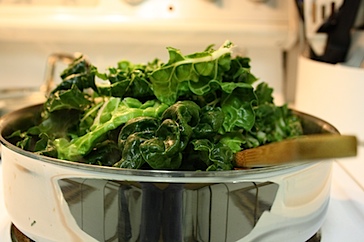 The chard barely fit in the pot…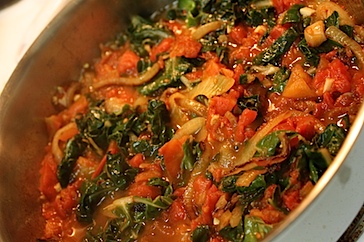 …but it wilted down nicely.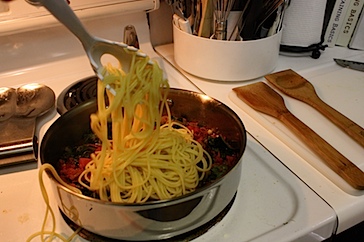 I timed the pasta to finish cooking when the veggies did so I could move the pasta straight from the boiling water to the cooked veggies…just like Giada.
I decided to mix a wee bit of parm into the hot pasta. I like to use one forked utensil and one spooned utensil to toss the pasta.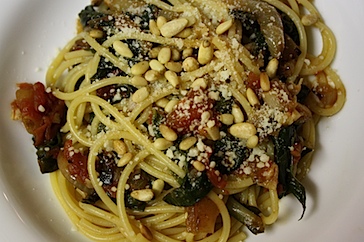 Spoon into a bowl, top with parm and toasted pine nuts, and enjoy! I thought this dish was pretty darn tasty and a nice way to use up pantry ingredients. You could easily sub another leafy green for the chard – I bet spinach would be wonderful! Make sure you use a good cheese since there are so few ingredients.
Spaghetti With Chard and Parmesan
Adapted from Giada DeLaurentiis's recipe
Ingredients
* 1 tablespoon olive oil
* 1 onion, halved and thinly sliced
* 1 bunches chard, trimmed and chopped
* 3 garlic cloves, minced
* 1 (14 1/2-ounce) can diced tomatoes with juices
* 1/4 cup dry white wine
* 1/4 teaspoon dried crushed red pepper flakes
* Salt and pepper
* 8 ounces spaghetti
* 1 tbsp, plus 2 tablespoons freshly grated Parmesan cheese
* 2 tablespoons toasted pine nuts
Directions
Heat the oil in a heavy large frying pan over medium heat. Add the onions and saute until tender, about 8 minutes. Add the chard and saute until it wilts, about 2 minutes. Add the garlic and saute until fragrant, about 1 minute. Stir in the tomatoes with their juices, wine, and red pepper flakes. Bring to a simmer. Cover and simmer until the tomatoes begin to break down and the chard is very tender, stirring occasionally, about 5 minutes. Season the chard mixture, to taste, with salt and pepper.
Meanwhile, bring a large pot of salted water to a boil. Add the spaghetti and cook until tender but still firm to the bite, stirring frequently, about 8 to 10 minutes. Drain the spaghetti. Add the spaghetti to the chard mixture (optionally add a little pasta water – about ¼ cup) and toss to combine. Add 1 tbsp parmesan cheese and toss to combine.
Transfer the pasta to serving bowls. Sprinkle the olives, cheese, and pine nuts and serve.