*I'm so behind on my posts and what-not…I think I'm going to have to take a break from SCBR and the Weekly Food Challenge this week so I can wrap up my posts. Sorry but I'll be back soon with my SCBR food journal!*
Town Hall – San Francisco, CA
I had a client dinner after work and was happy to hear they had already made reservations for us at a local spot called Town Hall. I had hoped in the back of my mind that we'd make it to Boulevard (one of the restaurants I targeted to try earlier) but when we pulled the menu up online before heading over, I was sold!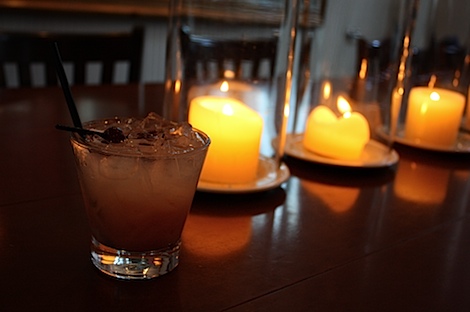 We had an early reservation at 5:30 pm and the restaurant wasn't quite ready for us, so we enjoyed cocktails near the bar. I had the Athena, which was oh so yummy! Here's the description of Athena from the Town Hall web site: "Veev acai spirit, Eli's refresher blend of white peach & guava purees, a floater of sparkling wine, lime twist with two brandied cherries." Wow! Why can't I find cocktails like that around my town?! The Athena drink tasted as good as it sounded on the menu, too!
After learning that one of the client's had a foodie-daughter who was "eating her way through San Fran" and often shared photos of food she cooked via email, I decided to shamelessly take photos of all my food – something I'm normally too embarrassed to do in front of people I don't know well. They ensured me they thought my food photos were really cool and really seemed to enjoy seeing how I captured the evenings eats and drinks as I showed them some of the photos after taking them.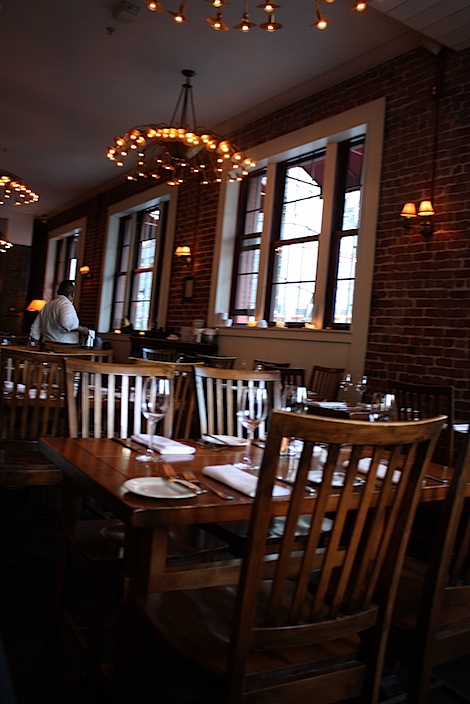 The restaurant had an interesting interior – very lofty, open, and yet with an antique-y feel. I really liked the simplicity of the inside of the restaurant.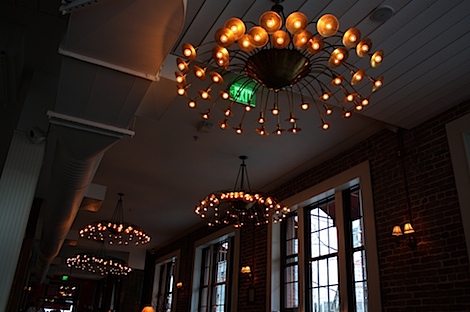 They had some really cool chandeliers above.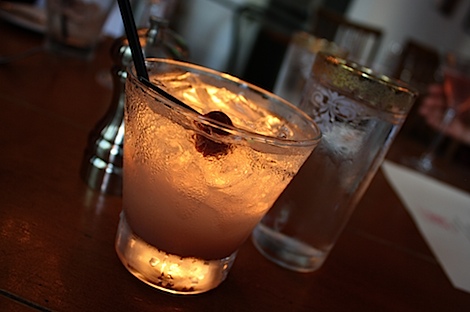 We hardly had to wait at all before being seated. I hadn't even had much at all of my drink. I moved the table's candle behind my cocktail to snap this shot – I love how the candle illuminates the cocktail so nicely.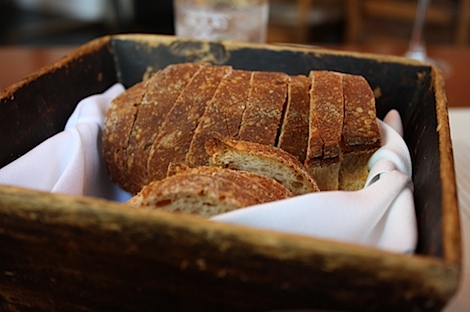 We got some bread and butter before our food starting coming out.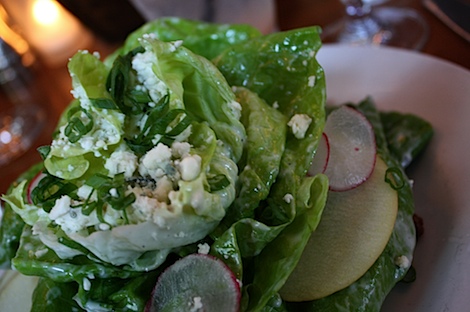 Upon recommendation of one of the clients, I tried one of starter-salads. From the site: "Butter lettuce, Fuji apples, candied walnuts and blue cheese dressing." I actually don't care for blue cheese because I can't get over the smell, but the other ingredients sounded so good, I had to try it. I was not disappointed!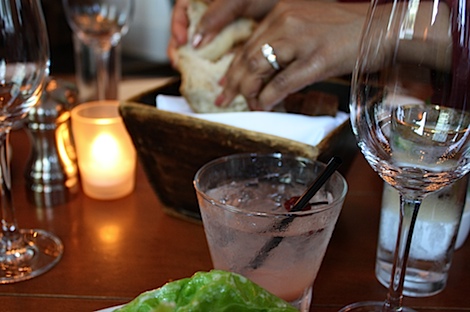 Dinner was so fun – my clients are amazing and I had a great time getting to know them over good food.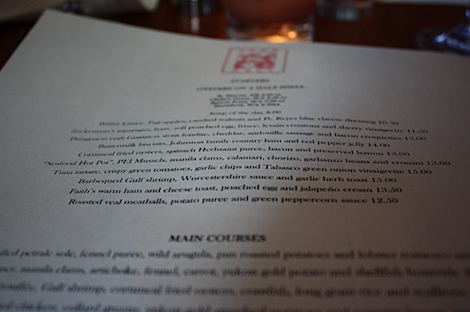 There were lots of options on the menu…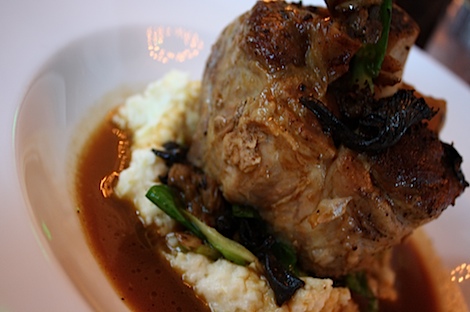 …but I chose something new – pork osso buco. Description from the Town Hall site: "Niman Ranch pork osso buco, Anson Mills grits, black trumpet mushrooms, brussels sprouts and a coffee mushroom jus." I've never had osso buco before, so I was ready to try something new. I was surprised to see that grits were part of the item description – I thought those were a Southern thing! I also saw a buttermilk fried chicken entree, too, which was kinda weird since I thought of it as such a Southern dish, too!
The osso buco was very tasty – the flavor was amazing. The meat was, as one should expect, a bit fatty. Normally, I try to cut every ounce of fat off my meat like a doctor performing surgery (as my parents would tease) but I didn't want to be too picky in front of the clients. So, I just ate it as is, cutting off the obvious parts and you know what…it was good just the way it was!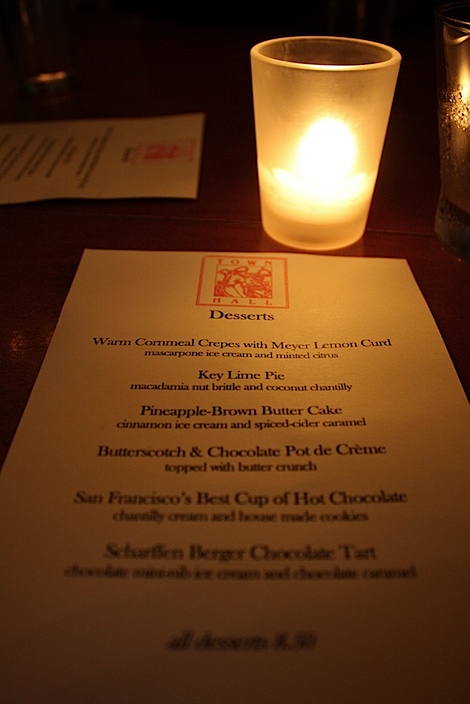 I, of course, saved room for dessert and was torn between the Warm Cornmeal Crepes with Meyer Lemon Curd and San Francisco's Best Cup of Hot Chocolate. I have to admit, the whole "Best" part of the second option had me intrigued, so I went for the latter option.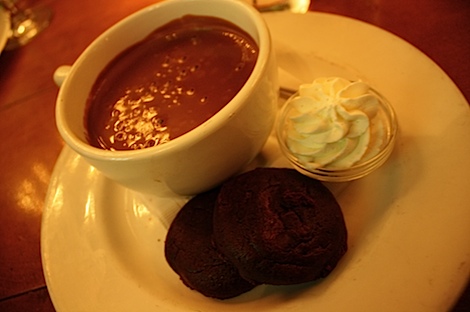 The hot chocolate was like liquid chocolate – so rich, thick, and creamy. I added some of the chantilly cream, which was served on the side, in every other bite. I ate one of the two chocolate cookies that accompanied the hot chocolate and they were nearly as decadent as the drink itself. They were soft, moist, chocolaty, and nice + chewy – just the way I like my cookies. I could only finish half the hot chocolate, but it was worth trying! I don't know if I'd call it the "best" of San Fran because different people like their hot chocolate served differently, but I was glad to have tried it. Personally, I like mine more on the milky side, but served this thick, the Town Hall version made a better dessert than what I'm used to drinking for fun.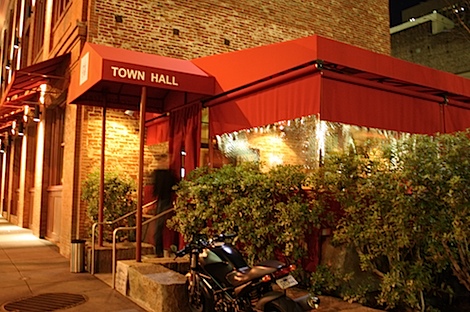 Our service was well-paced and our waitress was attentive and friendly throughout the meal. The food was delicious – every bite – and I would definitely recommend it to any one who wants a nice night of eating on the town. One of my favorite parts of the meal was the cocktails – they are so unique and different from what I'm used to seeing around my home town. The friendly service and tasty food made the meal quite memorable. I'd be happy to stop by here again any time!