Kath + Matt had a cookout tonight so their parents, who were in town, could meet some of their friends. I promised I'd bring an appetizer, so I rushed home from work to make something for the party.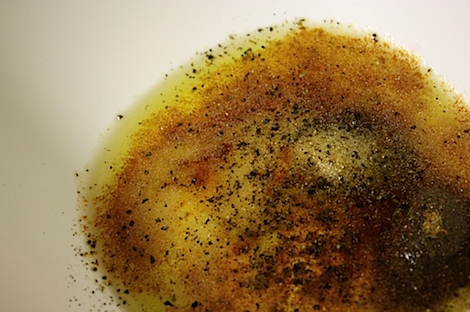 I decided, after flipping through my Ellie Krieger book, to make her Edamame "Hummus" with Spiced Pita Chips (click names for recipes). I figured it would be a great way to use up the pita bread I bought earlier this week, and dips always make great apps. I was in such a rush, though, this is the only in-process shot I took. I have some of the finished product though!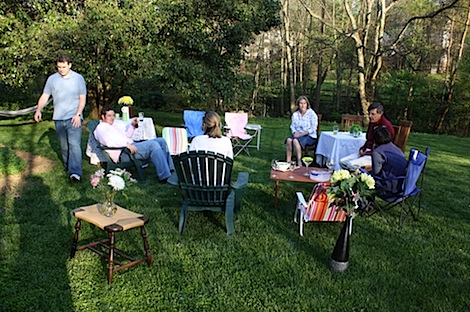 Kath + Matt had a cute setup in the lawn with lots of chairs and tables. There was plenty of room for everyone: Kath, Matt, me, Dan, Nate, Kate, Michelle, Ben, Amanda, Justin and of course the guests of honor: Kath's mom and dad and Matt's mom.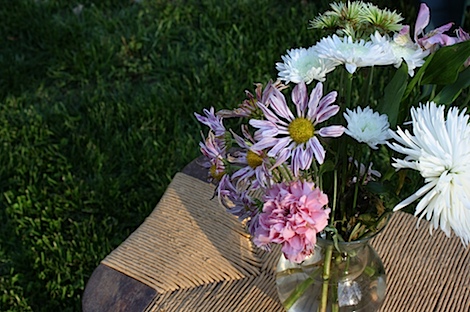 Everything was so pretty – there were flowers everywhere!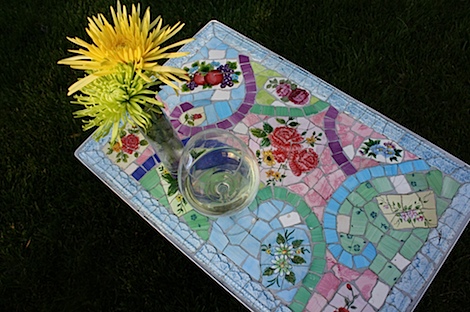 Pretty!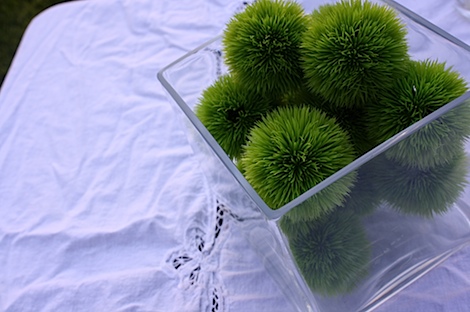 Table-toppers from Kath's wedding – they're so vibrant!
Here's how my hummus and pita chips turned out…they were pretty photogenic!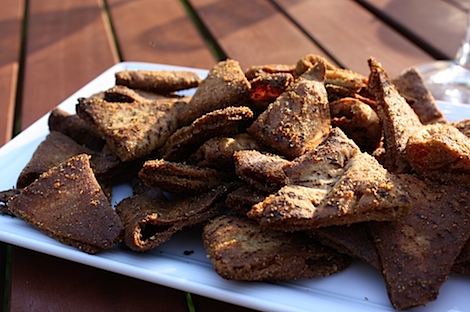 Yummm…these came out nice and spicy!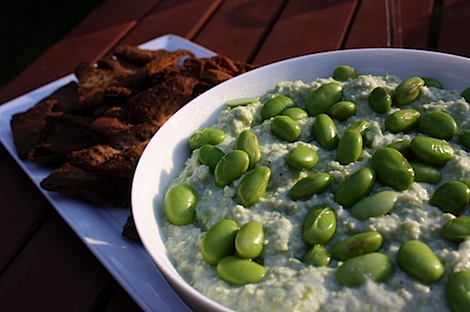 While watching the edamame mixture in the food processor earlier tonight, I was worried this dish wouldn't turn out and no one would like it. It turned out to be a big hit – everyone loved it! I will definitely make this one again! It was super simple and pretty healthy, too!
We ran out of pita chips pretty quickly, but luckily Matt brought some Kashi crackers out to replace them. If you make this app, I recommend making extra pita chips – try a double batch.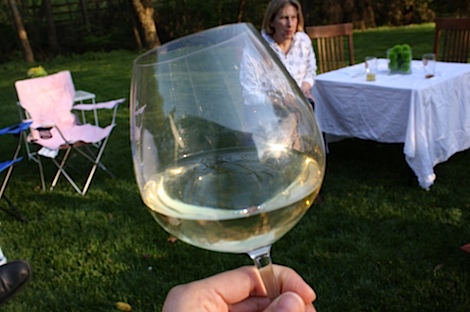 Vino!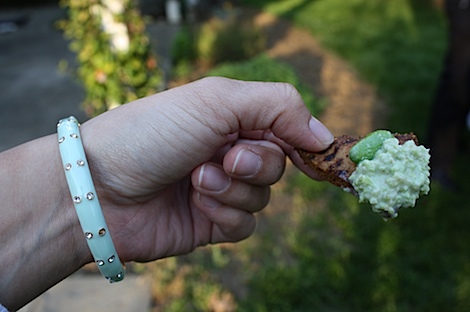 A bite of app.
The "eats" table.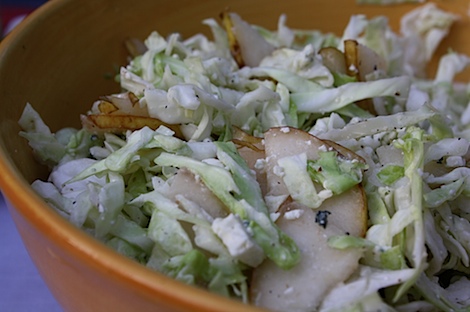 Kath's delicious blue cheese pear cole slaw, which I thought was delicious. First the salad in SF and now the cole slaw…I guess I don't hate blue cheese after all if I can enjoy these both as much as I did. Dare I say I even like blue cheese? Hmm…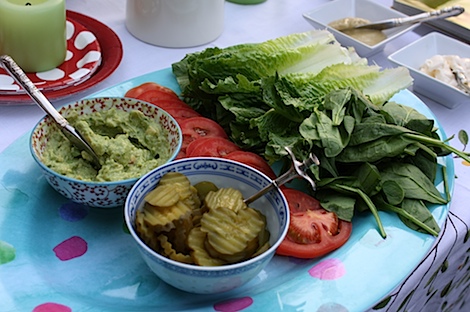 Toppings – even guac – yum!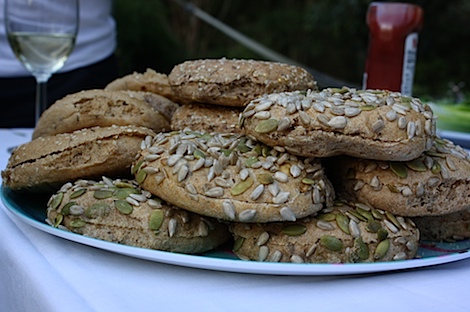 Delicious buns that Matt made especially for us – they are in Great Harvest bread flavors!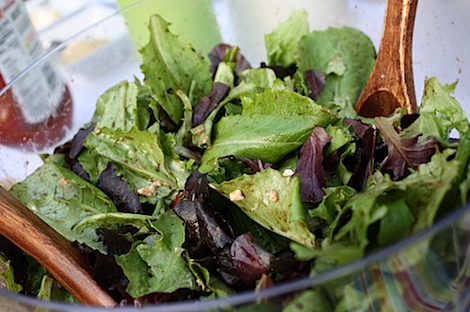 Yummy salad…I think Kate made this?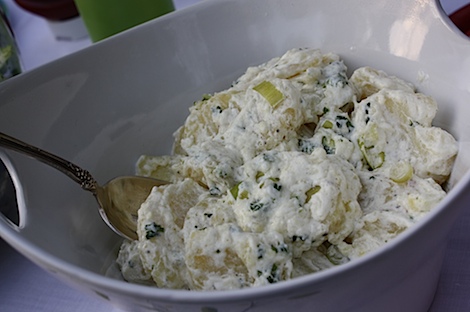 Matt's mom's yummy no-may potato salad…mmm…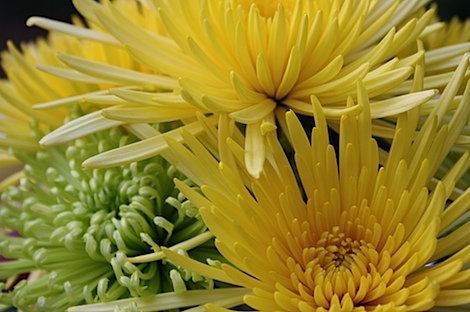 Up-close of the flowers on top of the table…just because.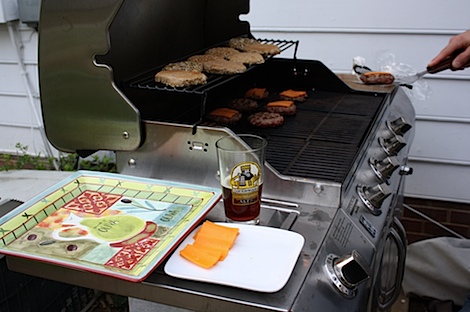 At the grill…do you see the beer glass?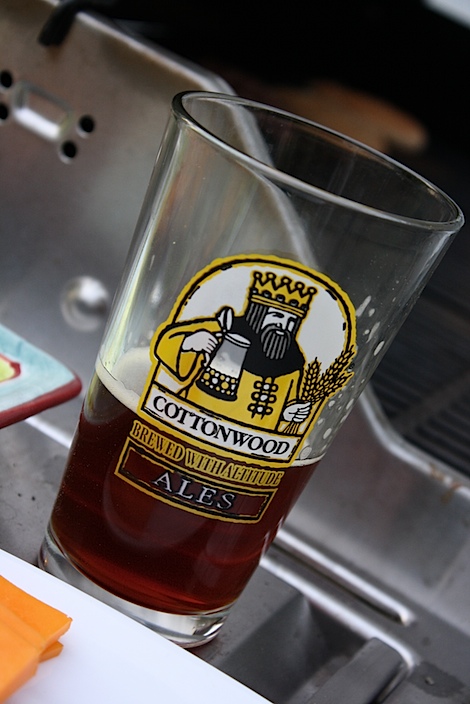 It's Matt's souvenir from our trip to the local brewery last weekend.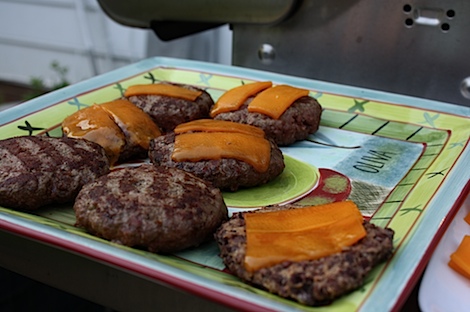 Burgers at the grill.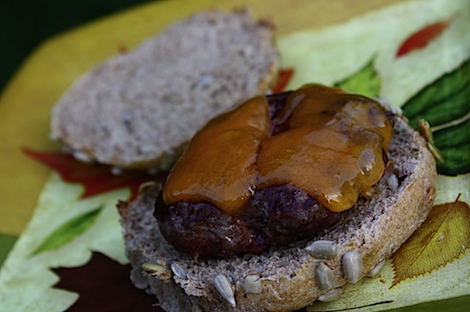 My burger fresh off the grill on a toasted Dakota bun. I couldn't wait to dig into this!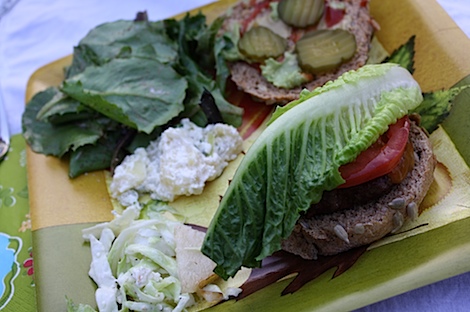 But first, I had to get burger toppings and load my plate up on sides.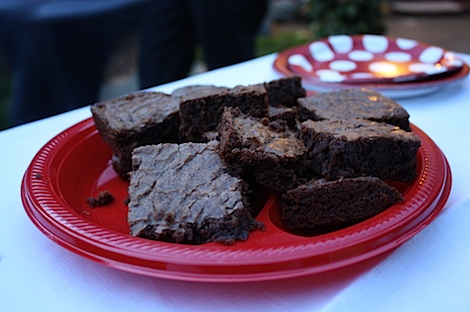 Then, it was time for dessert! Here are Kath's mom's delicious chocolate brownies…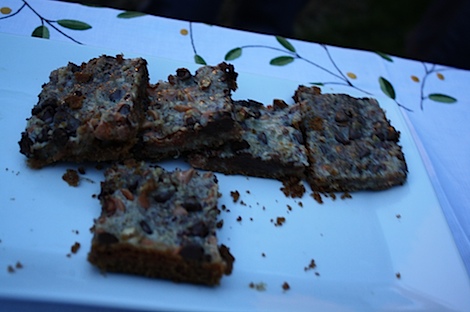 …and Matt's mom's yum-o blondies!
I had a great time hanging out with friends and meeting Kath's parents (since I already met Matt's mom at last weekends dinner + dessert night). All their parents were a blast to hang out with and it was so cool getting to hang out with such great people over such good food. Thanks for having us over guys!