Normally, we head to Charleston, SC for Memorial Day weekend. Now that our anniversary falls on Memorial Day weekend, we have plans for many future tropical vacations back to the Bahamas where we got married, but we also know that we won't always be able to make that trip. This weekend proved to be one of them. Some of our best friends were getting married on our exact anniversary and I wouldn't have missed it for the world. Since we had plans already for Sunday, hubby planned a special surprise for Saturday.
First thing Saturday morning, we headed over to Ballantyne Hotel (previously Ballantyne Resort).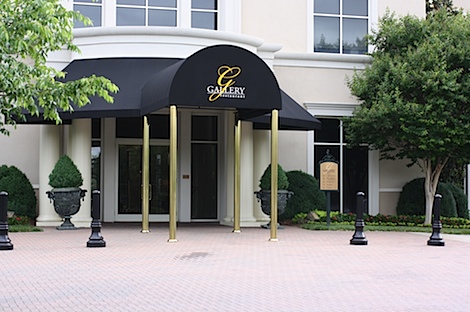 We went directly to Gallery to enjoy a slow-paced breakfast.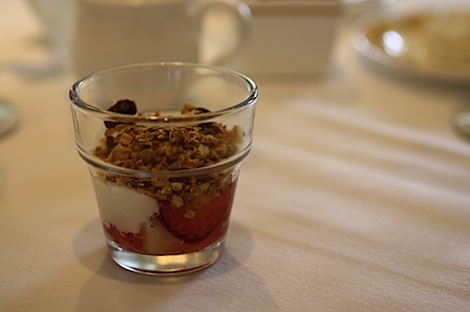 After ordering our meals, breakfast started with a mini homemade-granola parfait…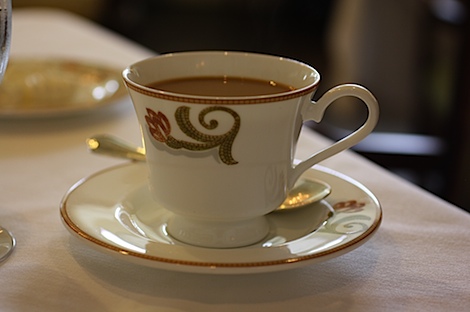 …and, of course, coffee.
We also got some whipped butter and homemade jams.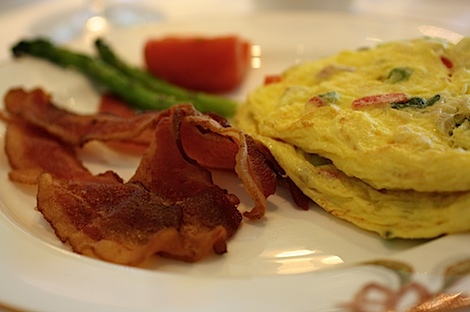 Food was out before we knew it. I ordered an omelet with bell pepper, spinach, onion, and lump crab meat, bacon, roasted asparagus and tomato…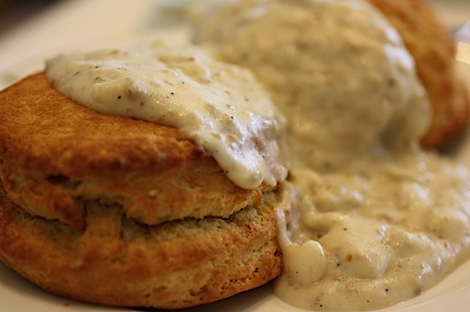 …and biscuits and gravy. The latter were so-so, but omg, who knew crab meat tasted so good in an omelet!? It was delish and perhaps the start of something great.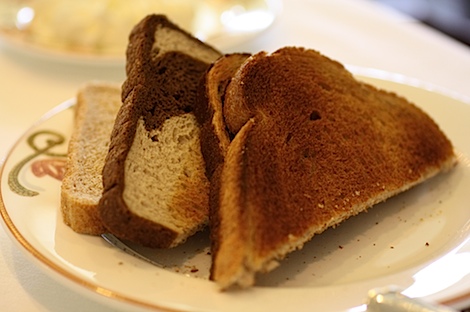 We also got toast to eat with that butter and fresh jam – the blueberry was my fave…I couldn't stop eating it.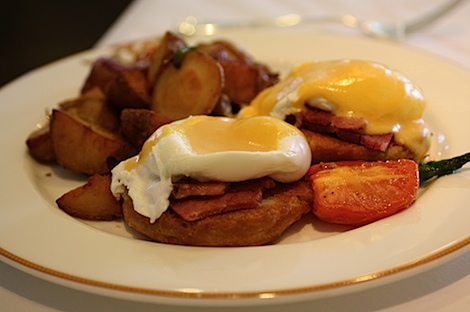 Hubby's meal was pretty fab, too. He got an eggs benedict dish with a roasted red pepper hollandaise and potatoes. He LOVED it.
We were both pretty happy with our dish selections.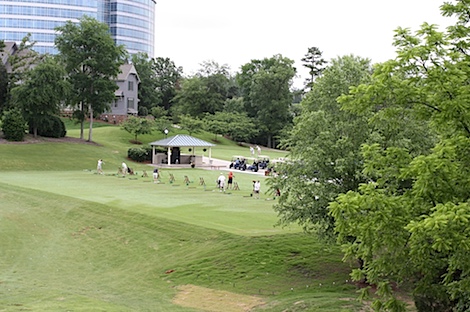 After breakfast, we killed time before our appointments. Yup, hubby made appointments for us at the spa! Woot-woot! To let our food digest before our appointments, we walked around a bit and watched some people at the driving range.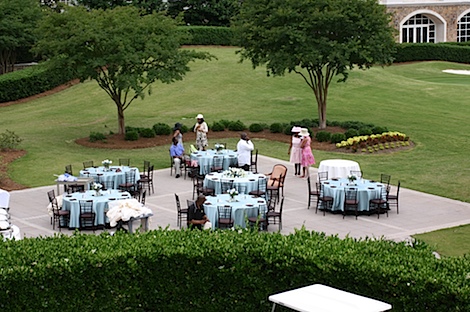 There was also a wedding setting up below us. They all looked so adorable with their huge hats.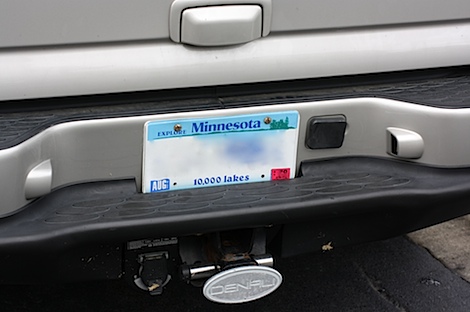 Oh, and look what I saw in the parking lot. I can't get away from this place…it followed me home! haha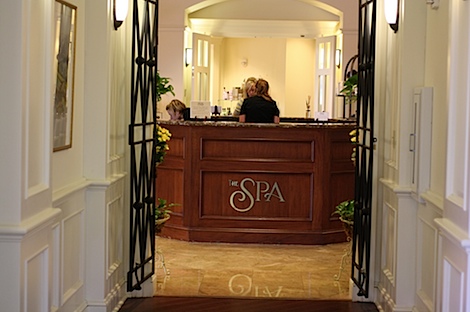 Soon enough, it was spa time!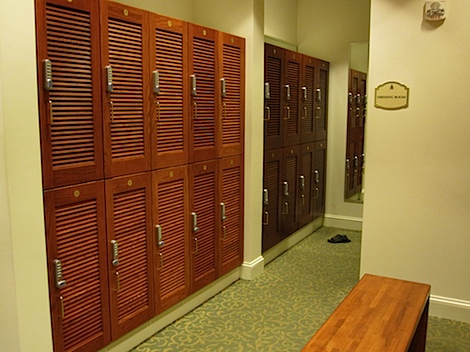 Hubby and I checked in and then we were off to our separate locker room areas. I love how quiet and peaceful spas are…from the soothing music to the aromatics…I love being there.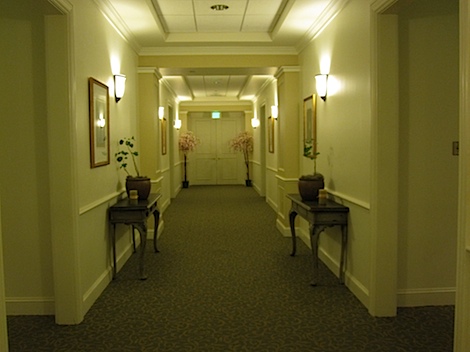 After changing into my robe and slippers, I left the women's locker room and wandered around a bit with my camera. I felt a bit like a spy, but I wasn't shopping them…I just wanted to share the trip with you guys. 🙂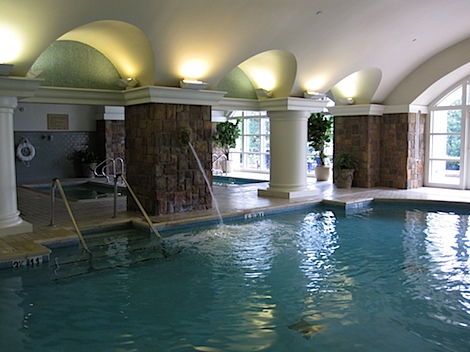 The pool area was pretty awesome.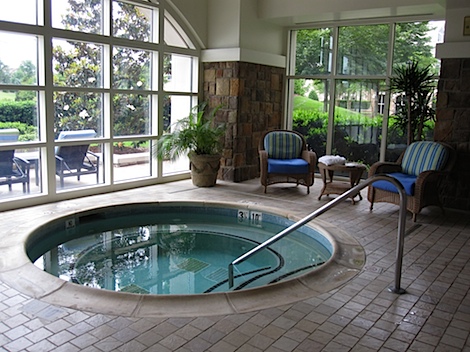 I wanted to jump in, but hubby forgot to tell me to bring a bathing suit. Apparently, with the purchase of your spa treatment, you can hang out anywhere in the spa/resort area – the indoor pool, the hot tub, the lap pools, the outdoor pool, the steam room, the sauna, and you can even use their exercise room. They also serve food! We're seriously going to have to come back to the Ballantyne Hotel to spend an entire day!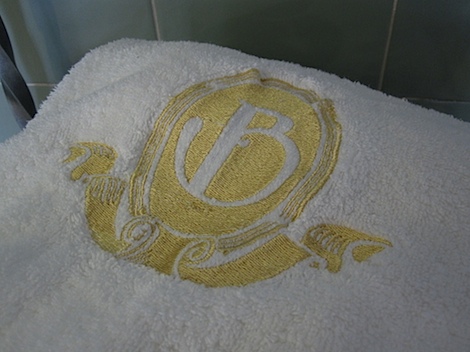 Loved the towels.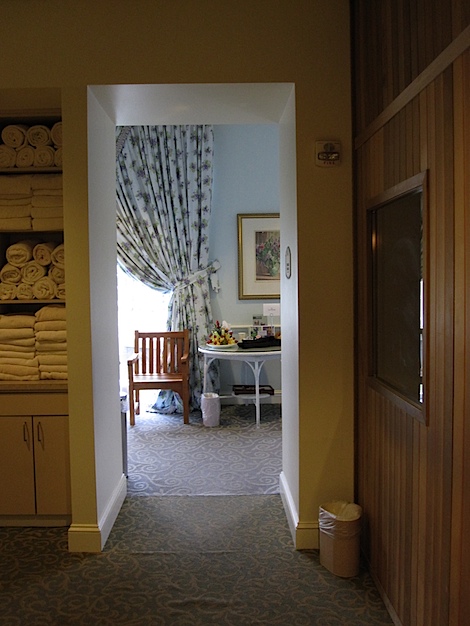 My fave room of the women's locker room – just beyond this doorway.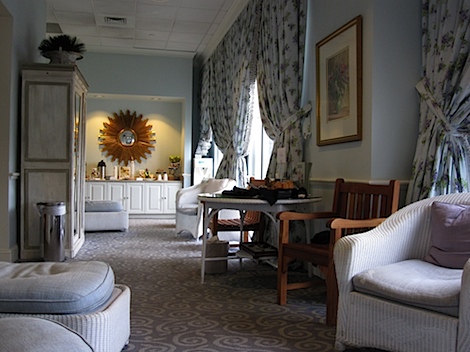 Ahh…I want a Florida room just.like.this one day.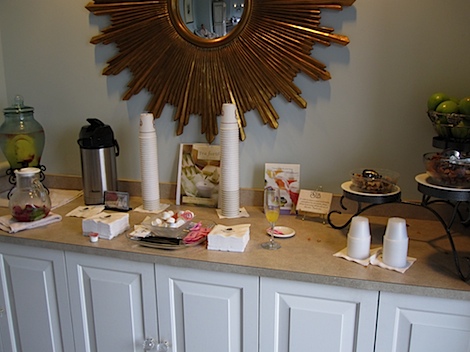 There were snacks…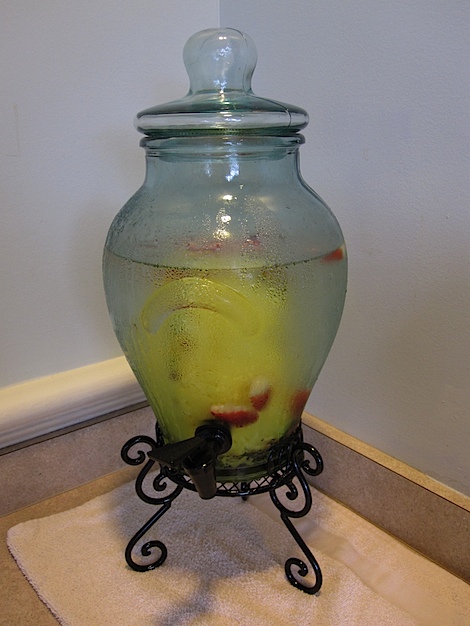 …and fruit-flavored waters.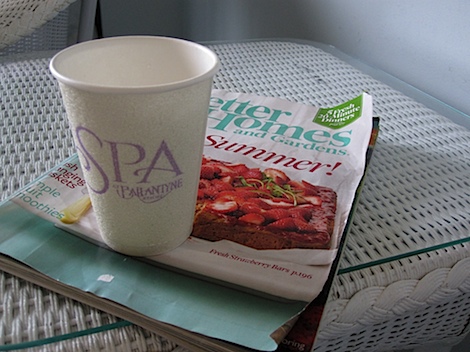 Magazines to browse.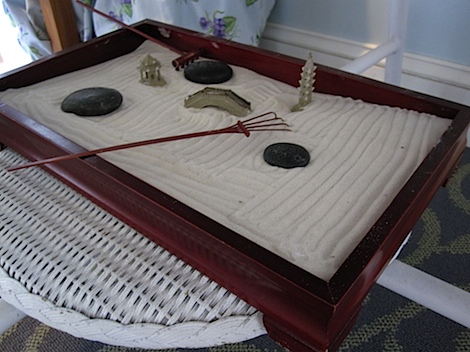 One of these nifty things. Don't know what it's called, but it really was relaxing to drag the mini-rake through the sand.
I spent a glorious 15 minutes in the steam room. I love steam rooms – they really help my muscles relax. After the steam room, it was time for our couple's massage – a spectacular 60 minutes of Swedish massage bliss. I was in heaven. I wish I could get massages on a monthly basis.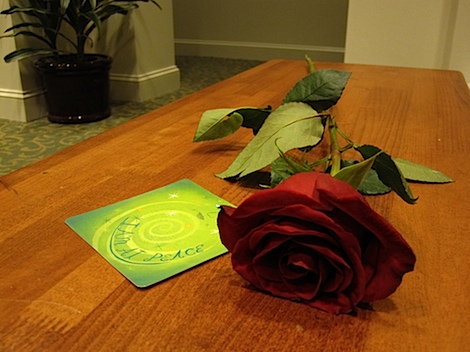 After the massage, they gave me a long-stem red rose and an "I am at Peace" card. Think I'll put that card in my cubicle at work to remind me of this happy-place.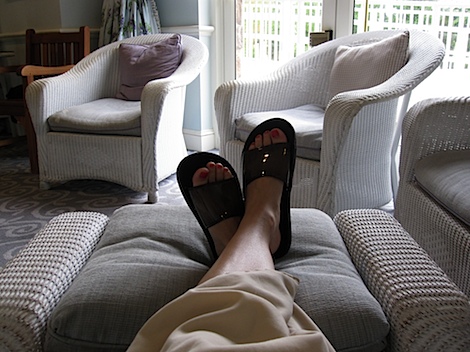 After the massage, I headed back to the peaceful, sunlit waiting area to enjoy my newly relaxed self. I felt like a million bucks!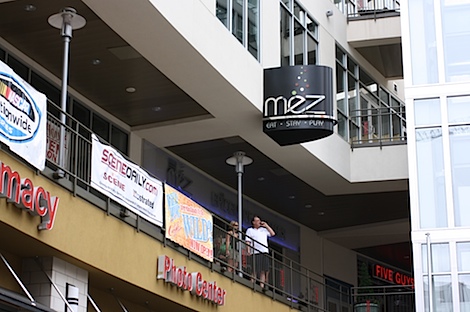 After our relaxing spa morning, hubby and I headed home to shower and change and then it was time for our afternoon date. We headed over to the Epicentre in uptown.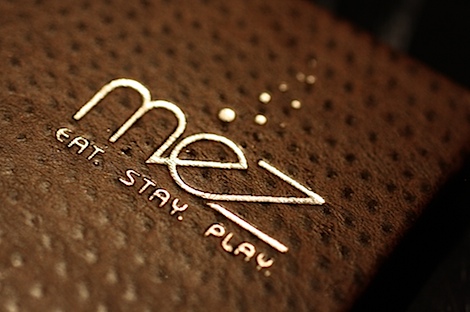 We went to MEZ where hubby had late-lunch reservations.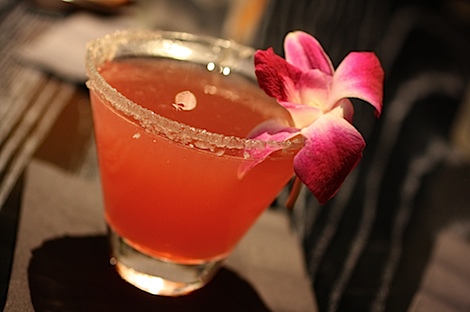 I started with a pomegranate cocktail (it was strong!).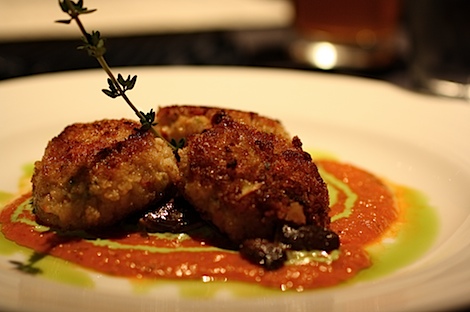 Then, we had the shrimp cakes for our appetizer. They were quite tasty…I'm really on a seafood-cake-kick lately, no?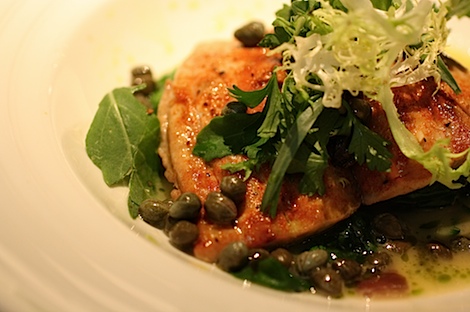 I had the broiled mahi-mahi for my lunch entree, which had a lovely brothy sauce, sauteed spinach, and yummy capers.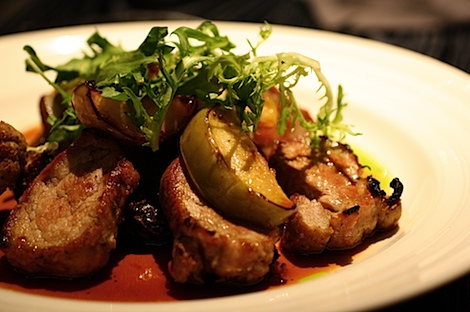 Hubby's pan roasted pork tenderloin dish was "wow", too. I loved tasting bites of the pork with bites of apple on the same fork.
We got the small oreo cheesecake. I was a little disappointed there was no crust, but the cheesecake itself was quite tasty – shockingly light for a cheesecake and I mean that in a good way. The dessert was especially tasty with a swipe of the sauce – I alternated chocolate, raspberry, repeat.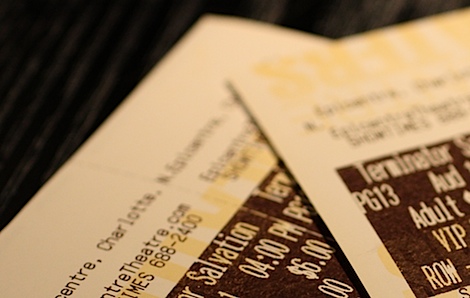 After dessert, it was time to see a movie. Hubby picked Terminator Salvation. He apologized for the movie not being romantic, but we both wanted to see it, so it worked out just fine.
The anniversary celebration hubby planned was totally amazing! I had such a great time, some delish eats, and now I have to plan something pretty awesome to keep up! My plans are, unfortunately, going to have to be in a couple weeks , but hopefully, hubby still enjoys them.
Thanks so much, hubby, for the thoughtful anniversary day! I love you!