Has any one else noticed how awesome Trader Joe's frozen food selection is? I prefer to make everything from scratch and from fresh ingredients, but I'm really liking some of Trader Joe's frozen food products. One of those products is their box of breaded Halibut. Your fish servings won't be huge if you want to stretch the box out over 2 meals for 2 people, but I figure if some people don't eat meat or fish at all ever, surely we could go with smaller portions.
A couple days ago, we decided to cook up the last serving of our frozen fish.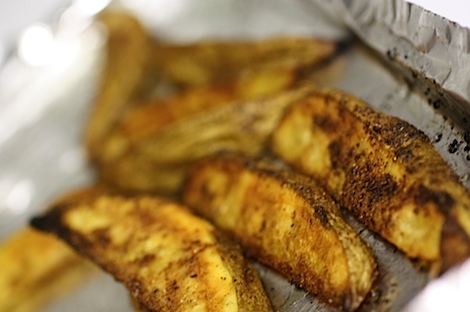 I decided to make good use of the oven while I was using it for the fish and got some oven fries started ahead of the fish. I cooked them at the same temp as the fish (400 degrees F). I just scrubbed 2 russet potatoes, sliced them into wedges, tossed them in olive oil, seasoned with salt, pepper, garlic powder, chili powder, and paprika and roasted them for 30-40 minutes (turning once).
I added the fish for the last part of the cooking. Oven cooking can be soooo easy, no?!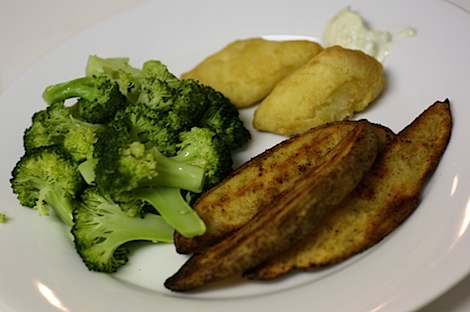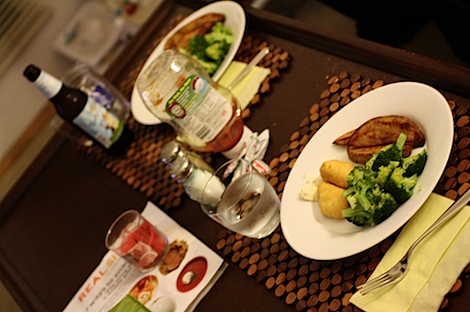 Staying in line with the simple dinner, I just steamed some broccoli, which I served drizzled lightly with real butter. The fish were served with tartar sauce and the fries with ketchup. The fish pieces were nice and firm and I loved the crunchy, oven-baked outside and the fries were awesome! Crispy and well-seasoned. Mmm…
Suuuuper simple…just the way I like it!