I don't know about you, but I'm soooo ready for a vacation! Work has been extra brutal lately with lots of moving parts and deadlines fast-approaching. The funny thing is that as stressed and tired and worn out I feel after a long day of work, when I feel like all I want to do is crawl into bed and relax and unwind, when I talk myself out of that bed and to go to zumba class, that zumba class turns my ENTIRE day around. I go from exhausted to energized from the moment that first song starts playing, and I start dancing.
Today, after a nine hour day in my cubicle, I met up with my friend Gaby to carpool to an evening zumba class. Class was a blast, as always, and I felt so much better for having gone. I stayed after class to chit-chat with the girls and it wasn't until 9 pm that I was finally heading home. I had been craving ice cream for some reason and almost decided to get a Turkey Wrap from Jason's Deli so I could Ben & Jerry's ice cream afterwards, but after dropping Gaby off, I managed to talk myself into cooking up something quick and healthy instead.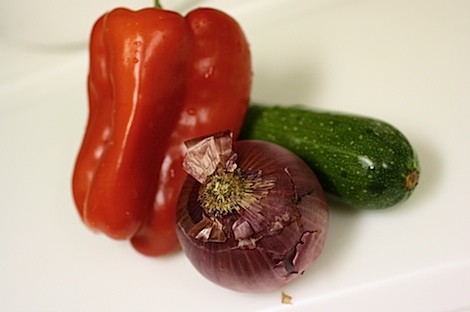 I swung by the grocery store and picked up some basic ingredients: organic, boneless chicken breast, a farmer's market zucchini, and a farmer's market red pepper.
I made what I consider to be a Real Simple-esque dinner tonight.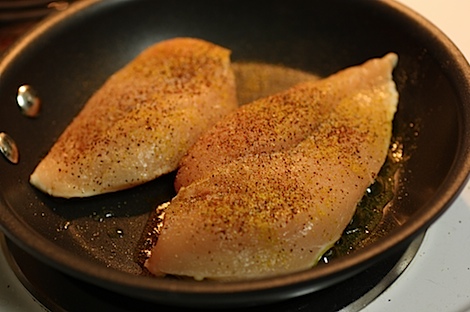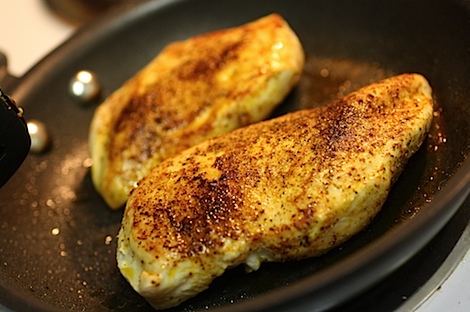 I sauteed the chicken breast lightly seasoned with cumin, chili powder, salt, and pepper.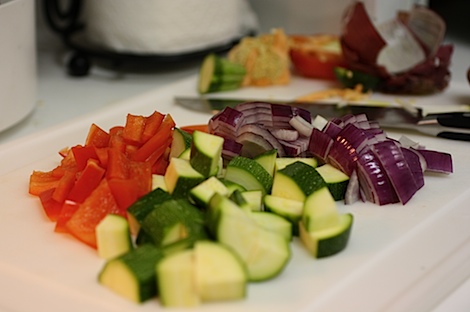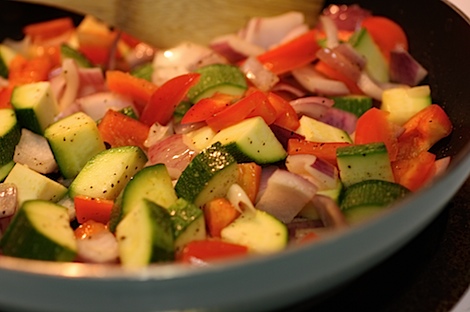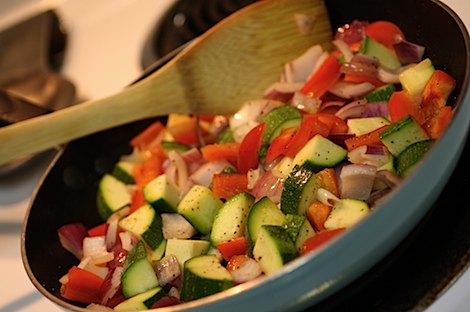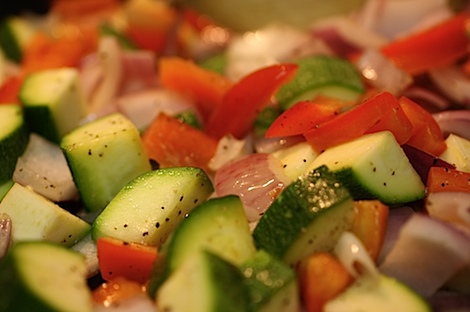 For the side, I decided to go low-carb (not because I'm a low-carb person, but because I wasn't really hungry and was craving lots of veggies!). I sauteed up some organic red onion, that zucchini, and that red pepper I picked up on my way home. The veggies were seasoned lightly with salt and pepper and cooked in extra virgin olive oil.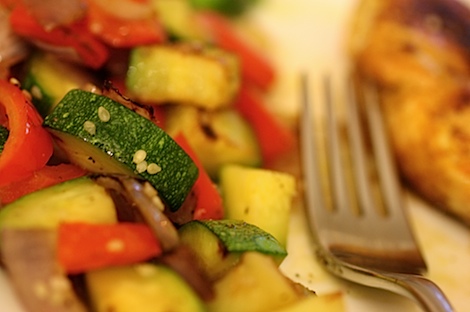 Hubby even had the good idea to add some sesame seeds to the veggies. Although I'm used to seeing sesame seeds on lots of Asian dishes, I recently learned that sesame seeds are actually pretty good for you by being a good source of manganese, copper, and a handful of other nutrients. Check out this article (click) on WHFoods.com for details.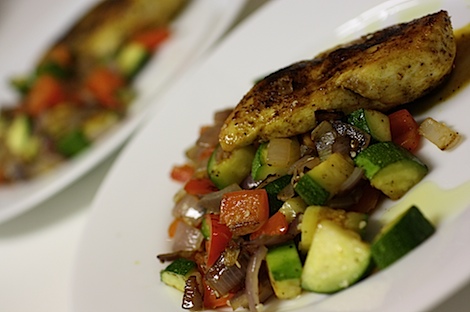 All together now. Dinner is served!
I'm so glad I decided to eat in tonight…dinner was awesome and such a cinch to cook up! I think it took me about 15 minutes of chopping/cooking time. Not too shabby, eh? Even hubby seemed to really enjoy it.
Dessert was a tiny bowl of that hearty Nature's Path Heritage Heirloom Whole Grains Cereal with a drizzle of honey and 2% milk. Ha! Got my carbs afterall! 😉