Last weekend, I wanted to make something using some of the farm-fresh veggies we'd picked up from that farm stand.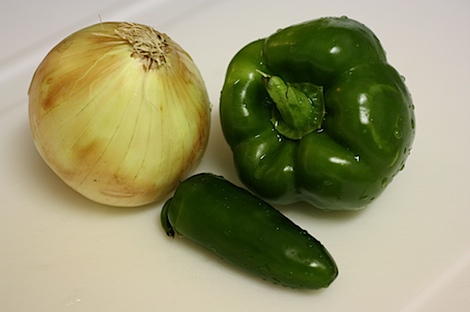 I had a green pepper and a jalapeno pepper, so decided to do a play on a Shrimp Gumbo or Shrimp Creole kind of dish by making Shrimp Gumb-ole. All I needed from the store was a bag of frozen, cut okra, an onion, and some shrimp. The rest I had in the pantry.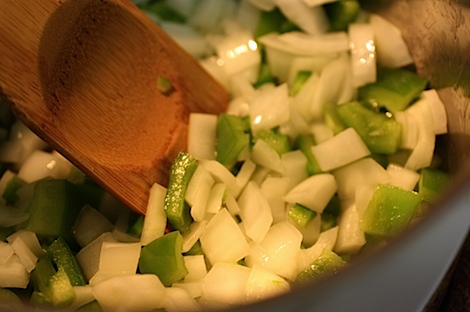 I sauteed the onion, green pepper, and jalapeno, adding some chopped garlic towards the end of the cooking.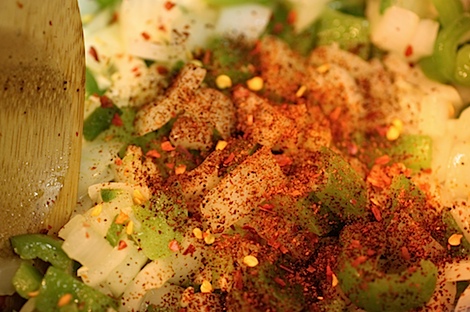 Spices!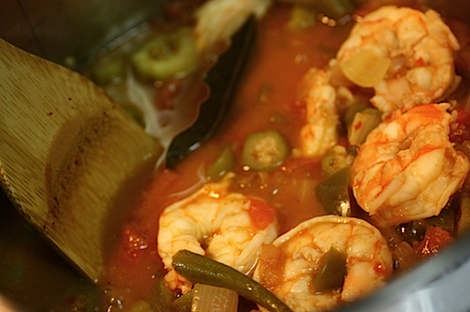 Almost done!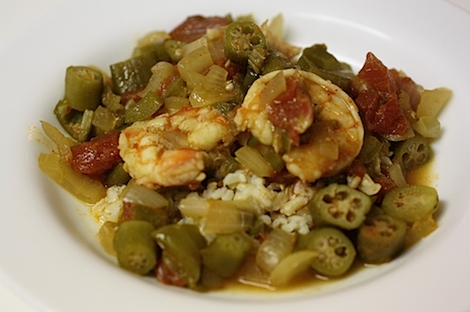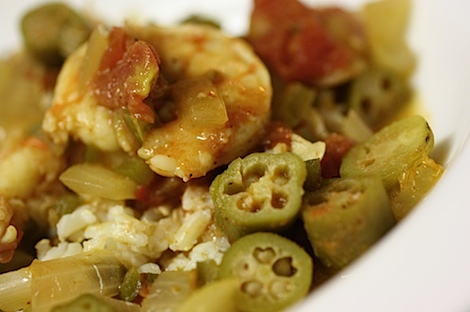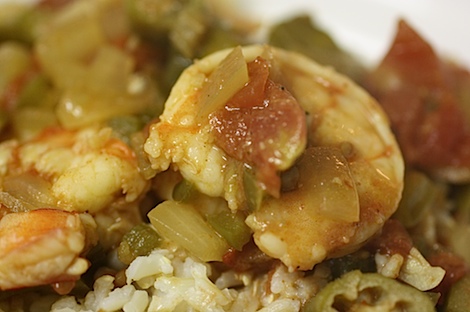 Altogether now.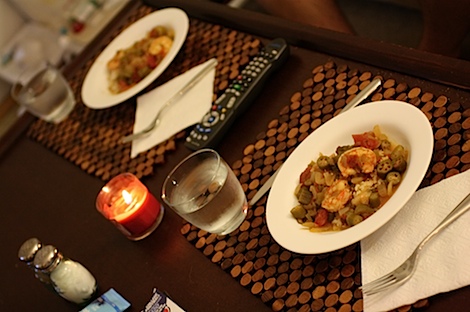 This dinner was awesome and so simple to put together. I haven't calculated any nutrition info, but I'd bet this is pretty healthy. It's definitely full of veggies and was light on the butter (no butter actually) and oil. I served this over some brown rice I cooked in my rice cooker. I love a good, stress-free dinner. This would make a super-easy weeknight dinner.
Shrimp Gumb-ole
by me
(serves 4)
Ingredients:
1 medium onion, chopped
1 green pepper, seeded, chopped
1 jalapeno, seeded, chopped
1 garlic clove, peeled, chopped
1 tbsp olive oil
1/2 – 3/4 cup frozen, chopped okra
1 small can stewed tomatoes
1 cup chicken broth
3/4 – 1 lb peeled, deveined shrimp
dash cayenne pepper
dash red pepper flakes
1/4 tsp chili powder
1/4 tsp paprika
salt, pepper to taste.
Directions:
Heat a medium to large pot over medium heat.
Add olive oil to pot, then onion, green pepper, jalapeno. Season with sprinkle salt and pepper. Cook till tender, about 6-8 minutes.
Add garlic and spices, cook 60 seconds.
Add tomato, broth, and okra. Bring to boil, cover, reduce to simmer.
Cook for 20 minutes.
Add shrimp, re-cover, and cook till shrimp are opaque, about 4-6 minutes.
Serve over cooked brown rice and enjoy.