…Day #3 – Part #2 continued…
After touring those gorge AZ houses, we hit up the Arizona Biltmore Resort (check out the link for a link of famous people who have stayed here) + Spa to check out the work of Frank Lloyd Wright who consulted here for a few months.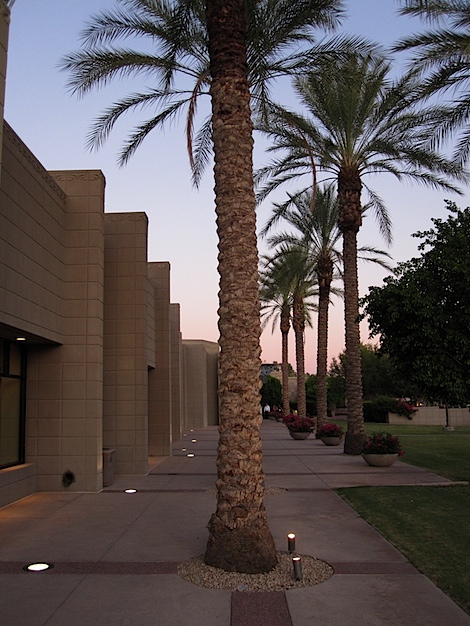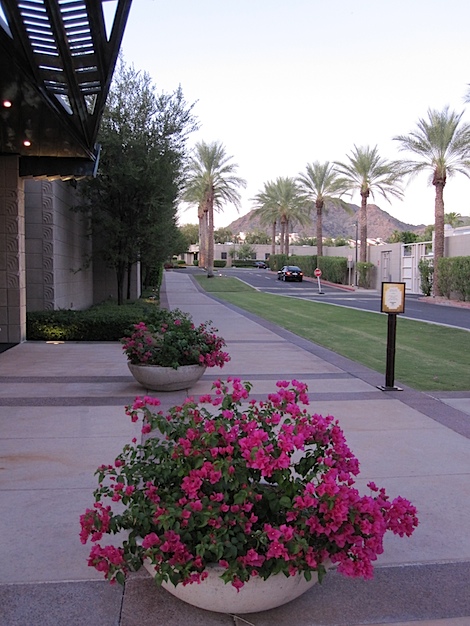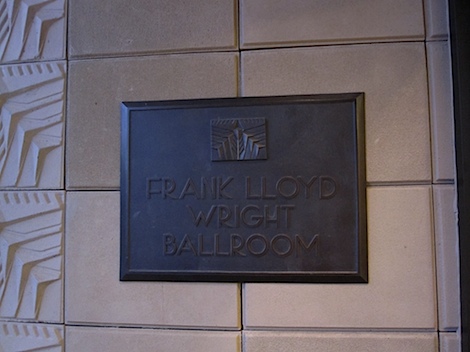 We parked our car and headed straight to the Frank Lloyd Wright ballroom.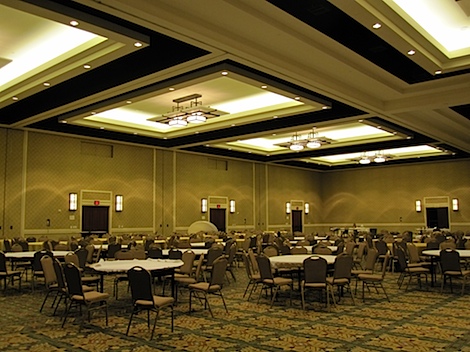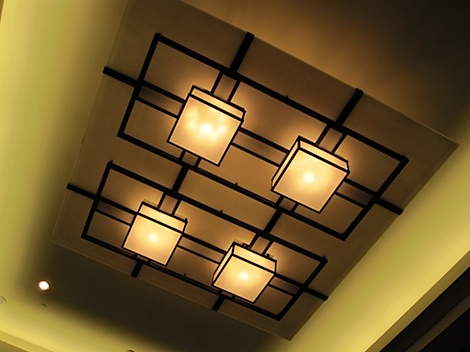 The lighting was the more signature part to me. I think we caught the ballroom pre-event – I'm sure it looks better when it's all gussied up.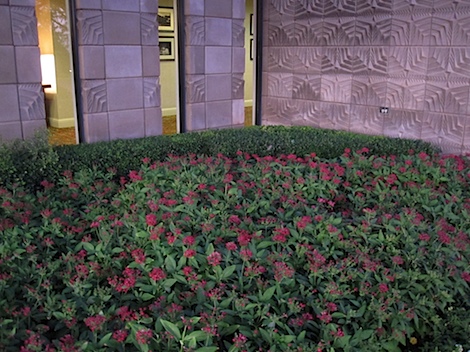 I spotted a hummingbird grazing the flowers – can you see it in the photo? It's sort of in the middle area.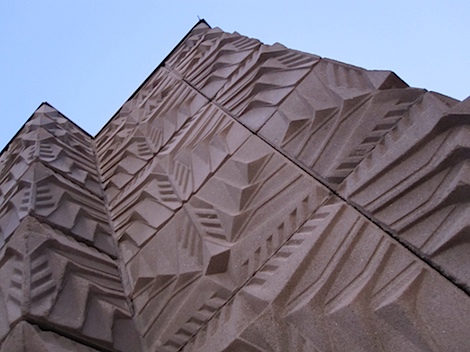 Loved the stone work.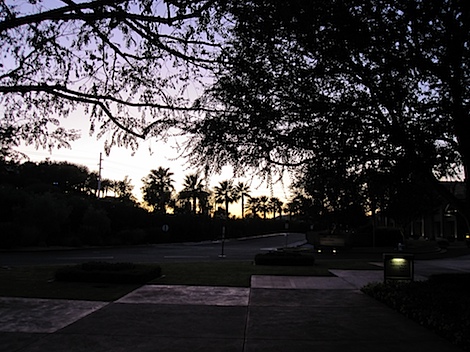 Setting sun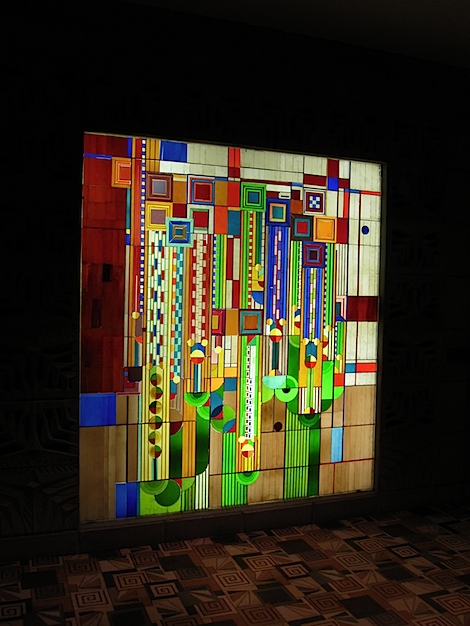 Beautiful glass work.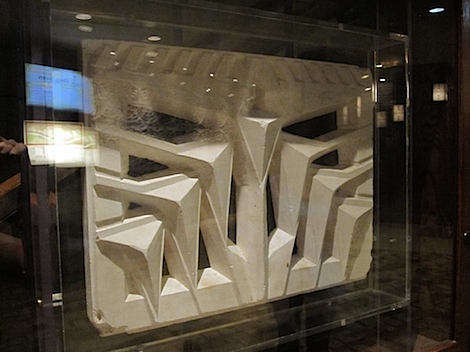 Guess they used this to do that fancy stonework?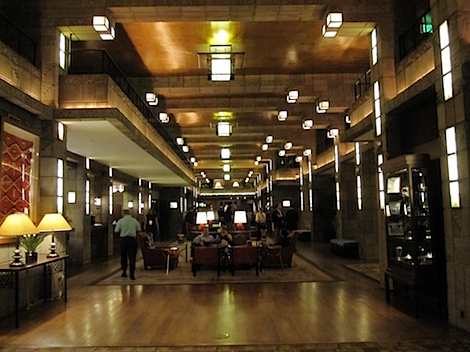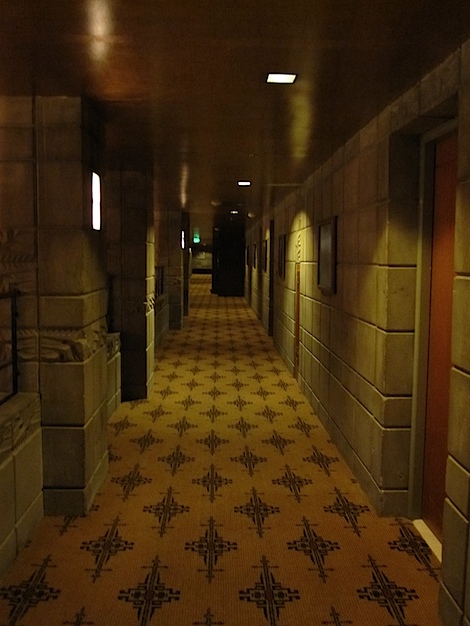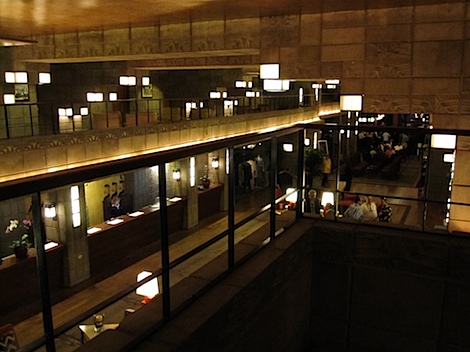 The hotel was lovely and had so much personality to it.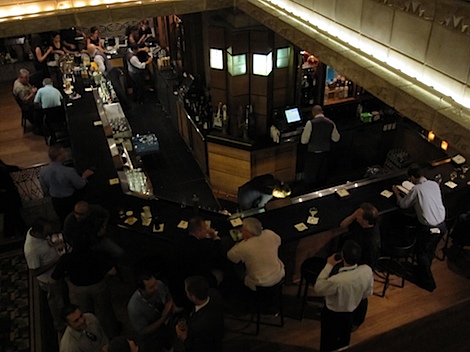 The place was hopping and full of people.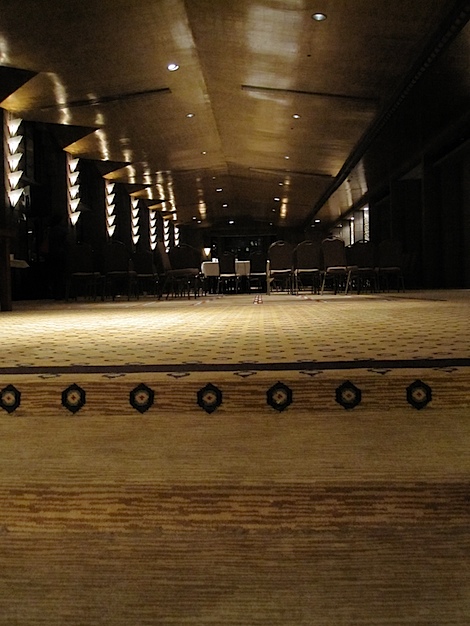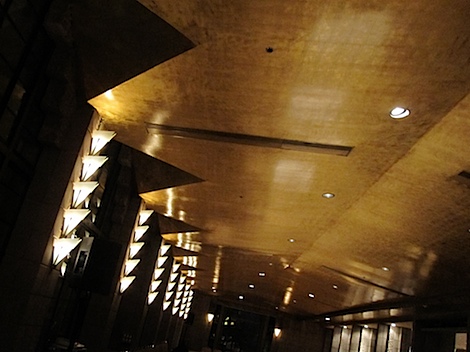 We took one last stop to see the Gold Room – so pretty!
Next up, we headed to the Biltmore Fashion Square where I had found an interesting-sounding restaurant online earlier in the day.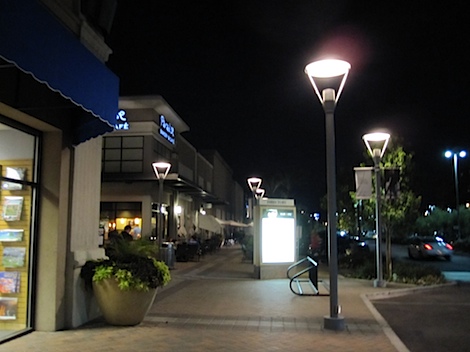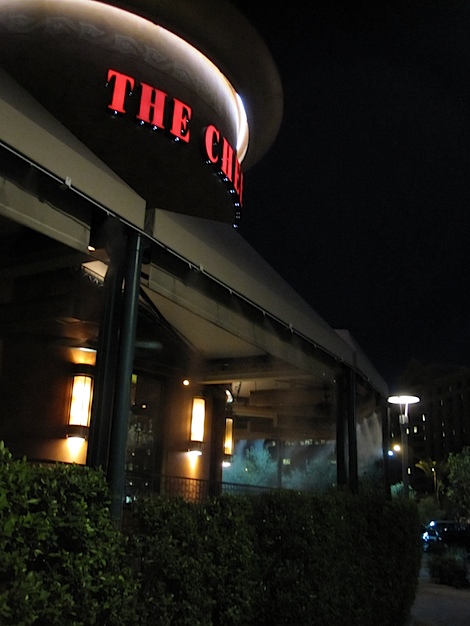 More of those neat mister things in the outdoor eating area. We walked under some of the mist and it really was nice and cool.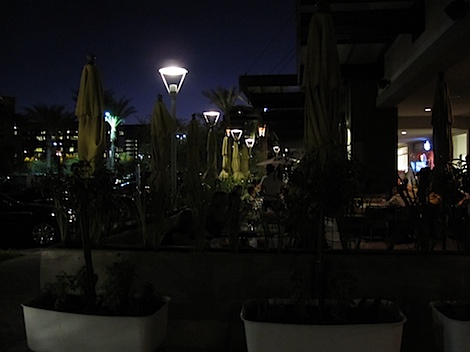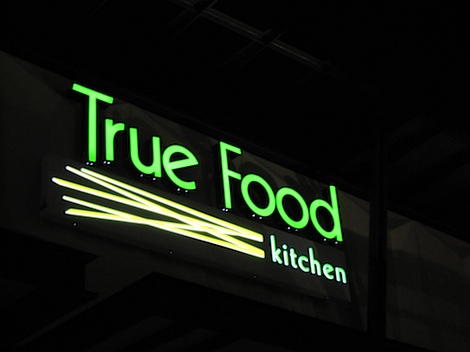 We easily found the restaurant – True Food Kitchen. I loved how the restaurant is related to Dr. Weil – I think he's awesome. We chose the restaurant because the dishes sounded interesting and we liked how there were plenty of vegetarian/vegan options (Y is vegetarian) and how they tried to use as much organic food as possible. The also use natural, hormone free meats and their seafood is sustainably harvested. LOVE THAT!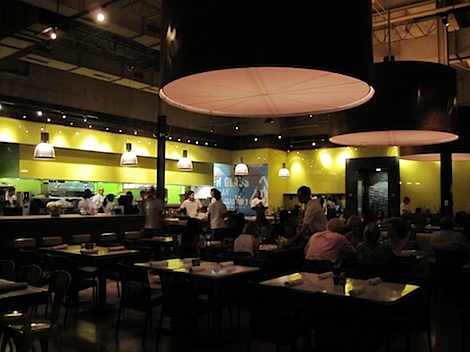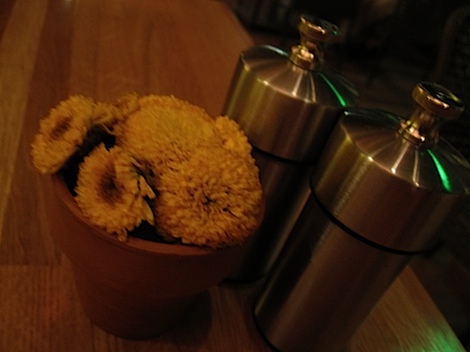 The interior was nice, open, and clean-feeling.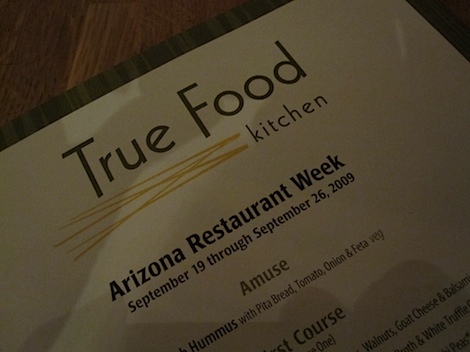 It was Arizona Restaurant Week when we stopped by. I wanted to order off the special restaurant week menu, but the menu didn't have the entree I had researched online previously – green tea soba noodles. Luckily for me, Y and I decided to split an appetizer and 2 entrees so I was able to get almost everything I wanted course-wise, except for the amuse course of hummus.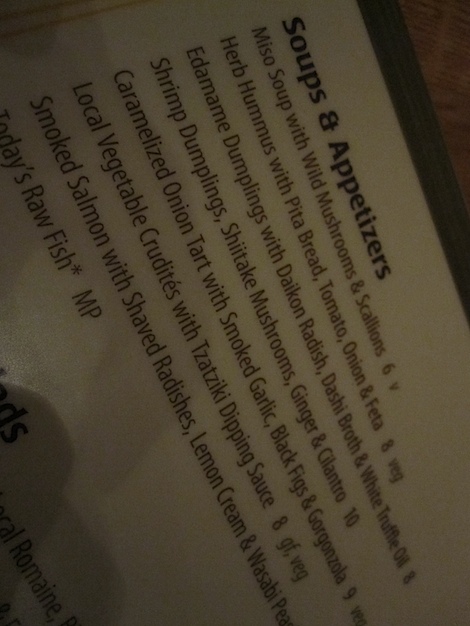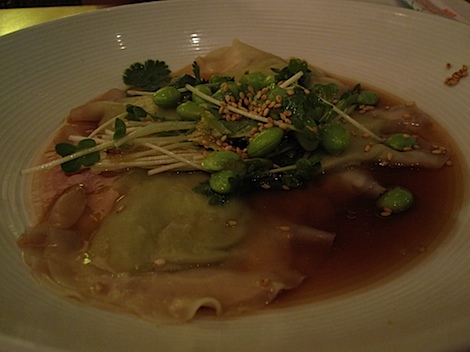 We started with the Edamame dumplings with Daikon Radish, Dashi Broth & White Truffle Oil ($8). It was so-so good and the combination of flavors and ingredients was so unique!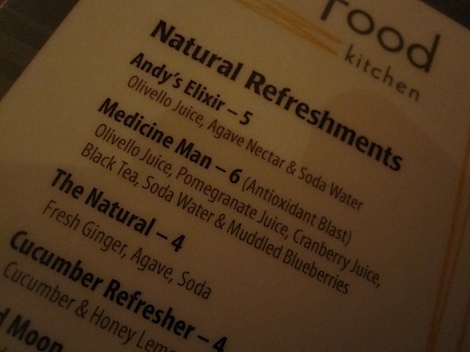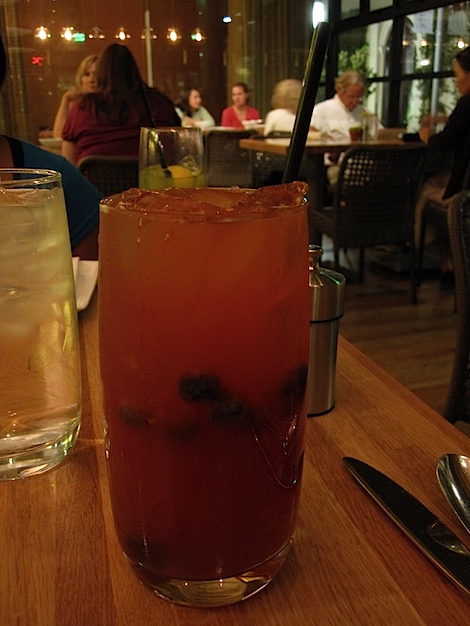 Although I really wanted a glass of wine, I couldn't resist trying of the Natural Refreshments. I'm a sucker for unique food and drink concoctions. I had the Medicine Man ($6) – from the menu – "(Antioxidant Blast) Olivello Juice, Pomegranate Juice, Cranberry Juice, Black Tea, Soda Water & Muddled Blueberries." The juice was so-so good! I loved every drop.
What's Olivello Juice, you may ask? I asked the waiter, but I think their site sums it up nicely. From their web site: "We are the only restaurant in the nation to provide Olivello Juice, an extract from sea buckthorn berries. Olivello is full of powerful natural anti-oxidants and other protective phytonutrients. (You can find this ingredient in Andy's Elixir, Medicine Man, and Orange Olivello Sorbet with Fresh Berries.)"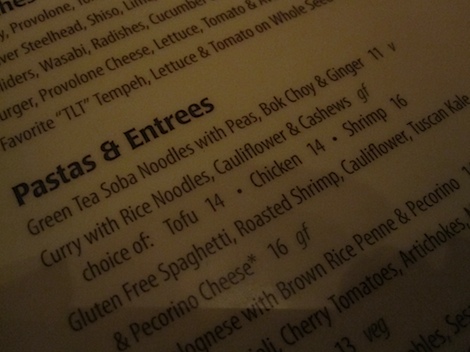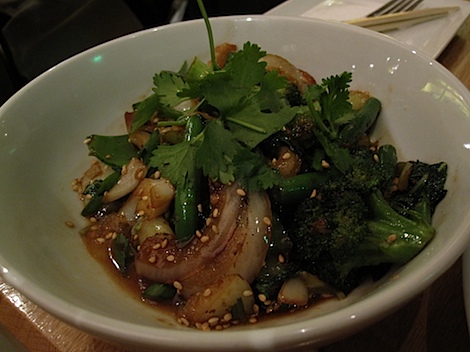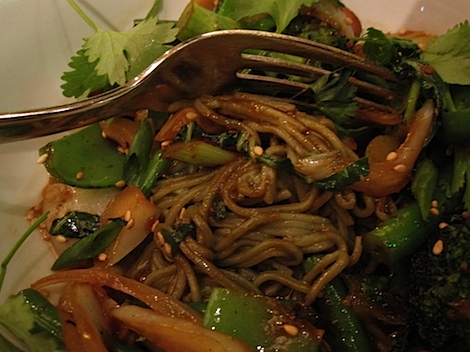 Y and I split two entrees. Entree #1 was the Green Tea Soba Noodles with Peas, Bok Choy, & Ginger ($11).
This is a half portion pictured above. The restaurant was kind enough to split both entrees for us, which was a nice plus for a germiphobe like me.
Anywho, the soba noodles were amazing! I didn't really taste the green tea, but the overall flavor of the dish was phenomenal and I loved how the dish contained tons of veggies. Some places really skimp on the veggies.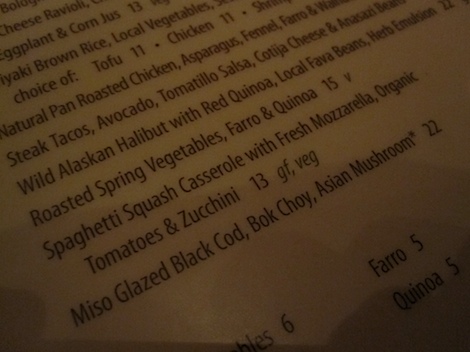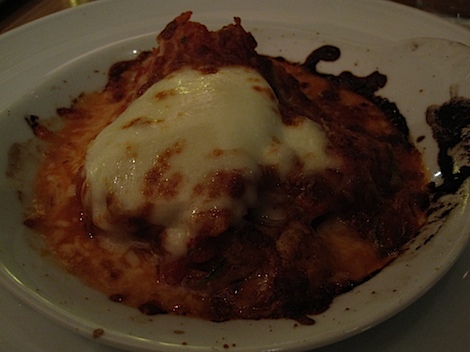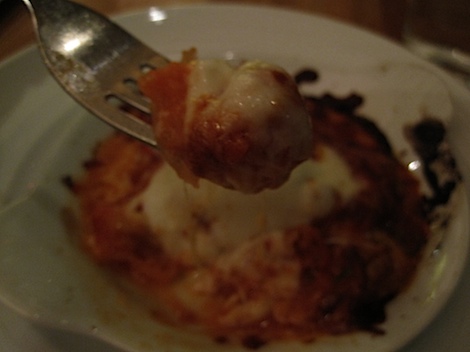 Entree #2 shared was the Spaghetti Squash Casserole with Fresh Mozzarella, Organic Tomatoes & Zucchini ($13). Doesn't the melty cheese just say it all?
This dish was DIVINE! It was my first time eating spaghetti squash and I fell in love with it. The tomato sauce was delish and the melty cheese was perfection. I promised to try to re-create as much of the foods I enjoyed at dinner at home as soon as possible.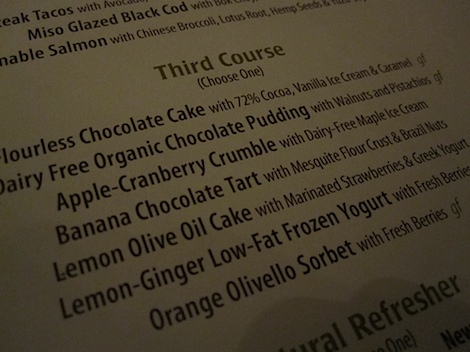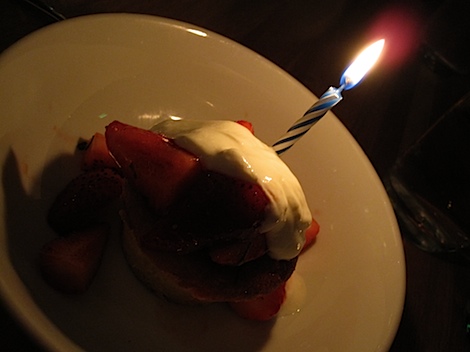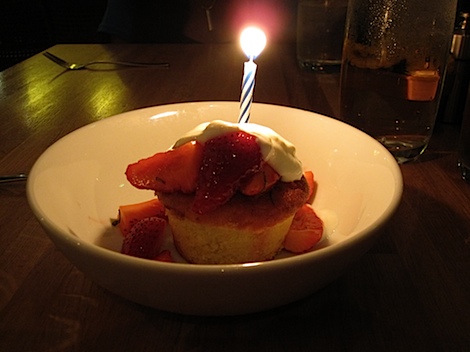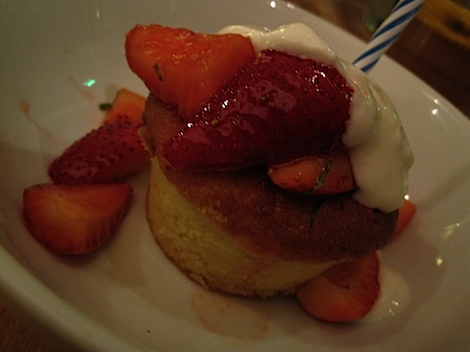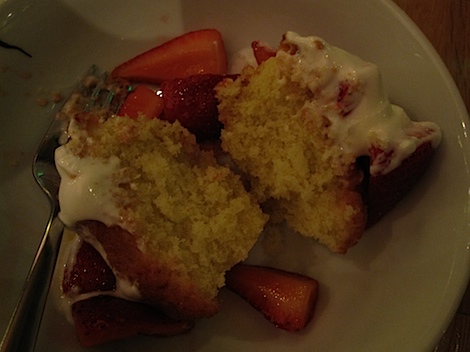 Although Y and I were stuffed, I (amazingly enough) managed to save a wee bit of space in my tummy for dessert. I ordered the Lemon Olive Oil Cake with Marinated Strawberries & Greek Yogurt.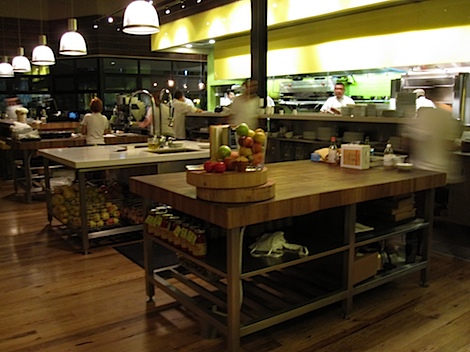 True Food was an eye-opening eating experience. I only wish we had restaurants like this back home in NC. If only I were independently wealthy…I would totally open one of these in town to help spread the love of local ingredients, fresh food, healthy eats, and unique flavor combinations.
This whole trip really was an interesting eating experience. I've never had so many vegetarian meals in one week. I started with a veggie burger at Burger King at the airport on the way to AZ, then I had the Veggie Plate at Daphne's, and then my amazing meal at True Food…and I didn't even miss the meat. You truly can enjoy vegetarian meals and be happy and satisfied, even if you're not an official "vegetarian."
All in all, I think I had a successful trip. I worked hard and helped make sure our meetings for work were successful. I worked on building relationships with my co-workers and I had some truly awesome eats. Not sure when or where I'm traveling next, but for now, I have my photographs to relive my AZ adventure. Hopefully next time I'm in AZ I will be able to stay through the weekend – I'd really like to check out Sedona!!