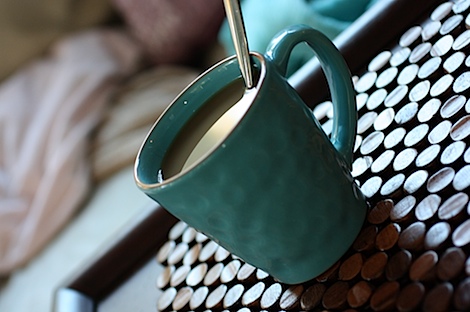 My co-workers were still in town for more meetings, so I saved my appetite for a working breakfast and just had coffee at the house. I had a 1/2 cinnamon roll and 1/2 whole wheat bagel with cream cheese.
Since most of my co-workers know I'm a foodie and even that I take pictures of my food, they let me be in charge of the food for our meetings this week. Today, I ordered some fun pizzas from local pizza place Brixx. I wanted to take photos of everything because the catering was really nice, but I didn't want to bust out my camera at the office. Not with our big boss there at least. We got a handful of fun pizza in different flavors and also got some nice baby green salad mix with goat cheese, toasted pine nuts and some balsamic dressing.
I had a couple servings of salad and 1 slice of BBQ Chicken pizza, 1 slice of the chicken florentine, and 1 slice of the quattro formaggio. It was awesome!
Of course, we had to have dessert! I'm lucky that some of my business clients have as big a sweet tooth as me and always ask for dessert at their team meetings. Today, we had a mixed plate of cookies and brownies. I had an awesome cookie/brrownie like thing – it had a cookie-like base with a fudge-y top, nuts, and chocolate drizzle. Oh my, was it decadent!
I was so happy they let me pick out the food…I got some good stuff! Everyone seemed really happy with lunch, too!
I actually got to help plan a group dinner, as well! Since so many of my co-workers were in town, my company wanted to treat them to a dinner at local restaurant, Mez.
I did manage to sneak my camera out a couple times at dinner. I noshed on a sampling of appetizers before the main course.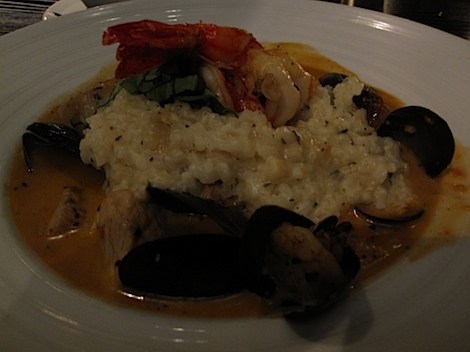 For my entree, I got the Seafood Risotto, which was delish and a bit of an adventure for me. I'm not big on seafood, but they had me at "risotto!" Surprisingly, I LOVED it! The risotto was nice and cheesy and had a tomato-saffron sauce with shrimp, mussels, scallop, and fish. The sauce really made the dish!
I tried to eat a bunch, but I think I barely made a dent in the plate. Luckily, I took the leftovers home to a happy hubby. I did save room for dessert, though!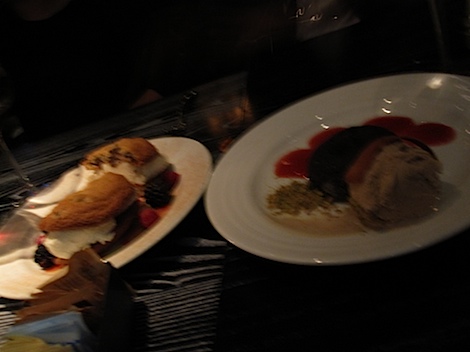 Excuse the bad photos, but I was really trying to be quick and not draw a lot of attention. I split a couple desserts with two other co-workers, including one co-worker who is my fellow sweet-tooth! We ordered an ice cream cookie sandwich and chocolate bomb.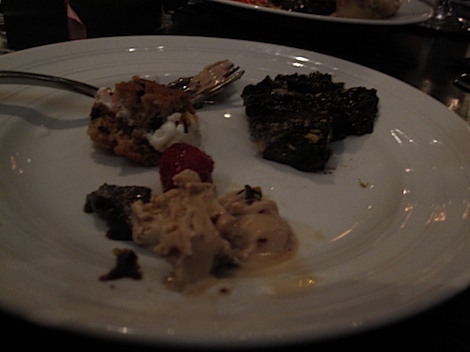 I had a little bit of everything, including some of the ice cream that came with one of the dishes. GREAT way to end a wonderful group outing…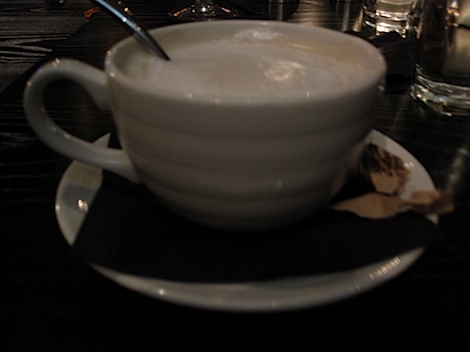 …topped off with a nice, hot decaf Cafe Au Lait. Yum!
Our waiter did a great job, the food was excellent, and everyone seemed to have a blast! I was so glad everyone liked the food…I like recommending food/restaurants to people, but you always worry that they may hate it and think you stink at food recommendations. I was happy to not disappoint tonight!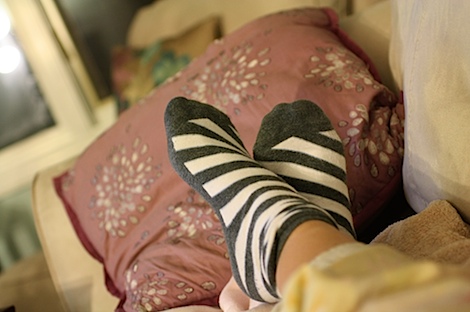 After a long day of meetings and group outing, I was ready to unwind back home with some QT with Bails on the couch. I got cozy with socks and PJs.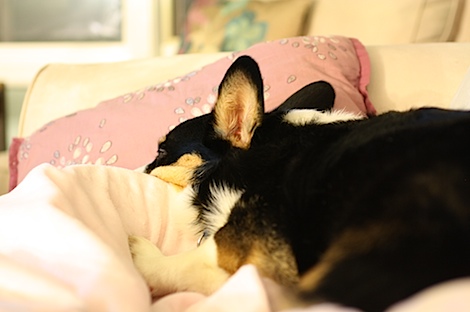 Bailey got pretty comfy, too.
Speaking of comfy and cozy, I'm pretty tired, so I think I'm going to hit the sack.
If you got to order food for your team meetings, what would you get (if you had a reasonable budget)?