I went to bed suuuper early last night. 10:30pm. I think this is late for some people, but it's pretty early for me. It was awesome!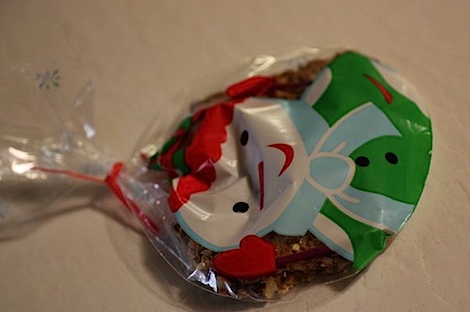 I forgot to mention yesterday that sweet Jessica gave all the food bloggers treats at last night's bloggie get-together at Guglhupf's: Ellie Krieger's Energy Bars. Jessica and I are both big Ellie fans! 🙂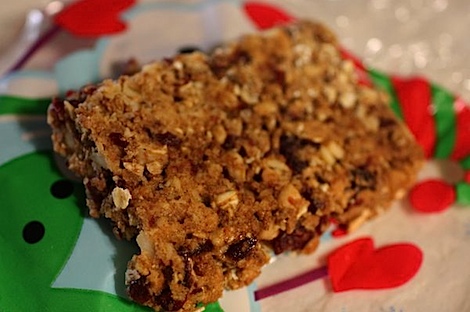 I ended up waking up before hubby's mom, so I snacked on one of Jessica's bars for a pre-breakfast while I worked on last night's blog post. The bar was so tasty…I loved it! Thanks Jessica!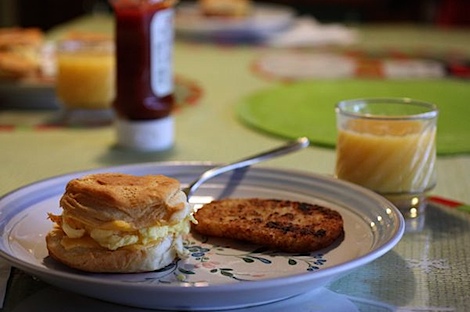 A bit later, we had breakfast: an egg and cheese sandwich, hash brown, and OJ.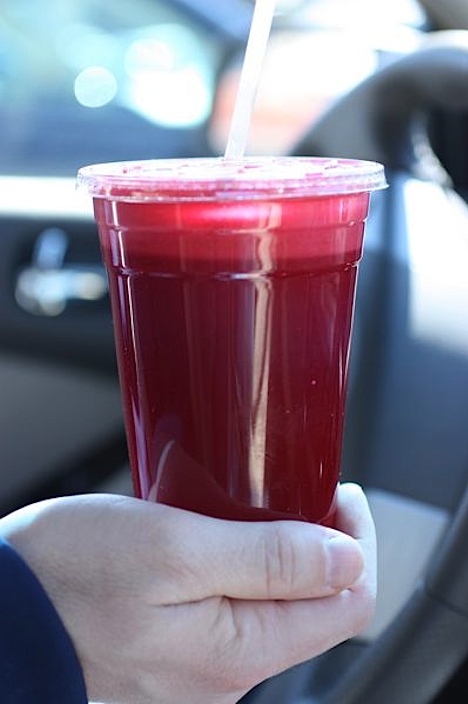 Hubby and I went out to his aunt and uncle's house to look at some of their old furniture. We swung by Whole Foods so I could get a veggie juice.
I got 4 veggie juice ingredients: apple, carrot, beet, and ginger.
I SO need a juicer! I grew up juicing thanks to health-food Dad, but I haven't had a juicer of my own since…well…never. I only had juices with Dad.
I tweeted asking for recommendations and the big-time winner was Breville – specifically the Breville juicer plus. It's on sale on Amazon for $150, but that's still a big ticket item and one I'm not sure we can get with all the house stuff going on.
*
*
*
We looked at the furniture but only came home with a night stand. The night stand has a neat story, though…hubby's uncle purchased the night stand from hubby's Dad.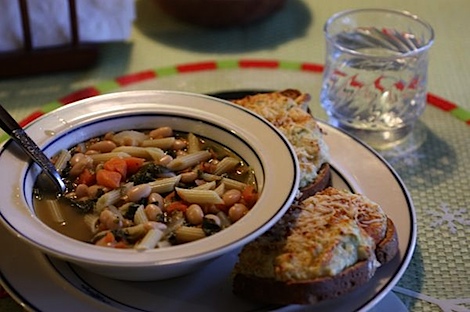 We got back to hubby's mom's house and had lunch: a nice veggie/bean soup with some toast.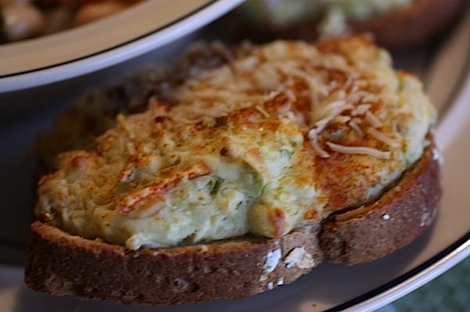 I think the toast was topped with eggs and veggies, but I can't remember exactly.
*
*
*
We road-tripped it home, checking the radio and twitter for updates on the Canada vs USA Olympic hockey game. I wish we wouldn't have been in commute because it sounds like it was an amazing game. Congrats to Canada for winning!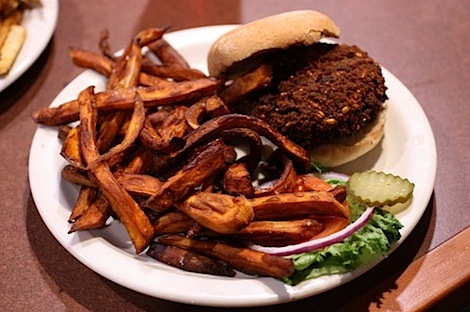 Hubby and I hit up Earthfare for groceries for the week and for dinner.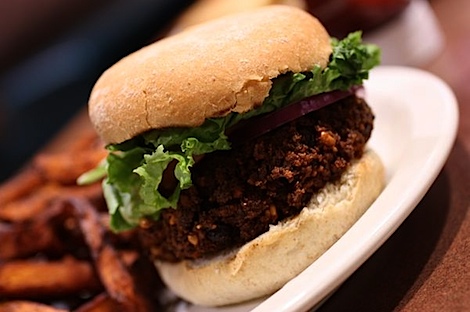 I got the veggie burger and sweet potato fries. I couldn't quite finish it all, but hubby helped.
*
*
*
Sunday Prep Day: 3 Bean Veggie Chili
As you may remember from last week, I'm going to start using Sundays to officially prep for the work week ahead. I'm working on devising a schedule I can share with you guys, but for now, I'll just share what I'm making.
I asked hubby if he had any preferences for lunch this week and he suggested chili. So, I decided to do a play on Ellie Krieger's 3 Bean and Beef Chili and just made it without the beef (since I gave up meat for Lent).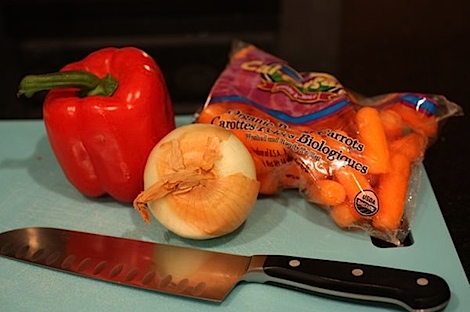 Bell pepper, organic onion, organic baby carrots.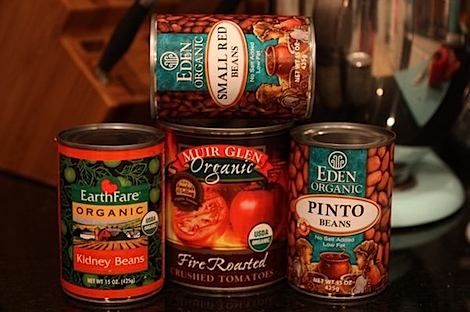 Organic kidney beans, organic pinto beans, organic small red beans (because they were out of black beans) and organic fire-roasted tomatoes.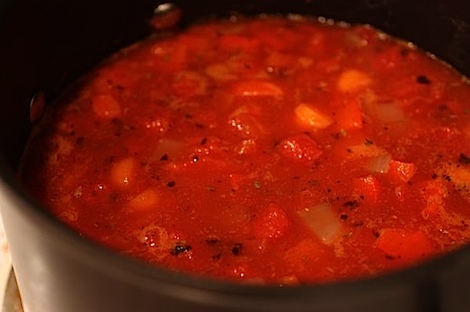 While the veggie chili cooked…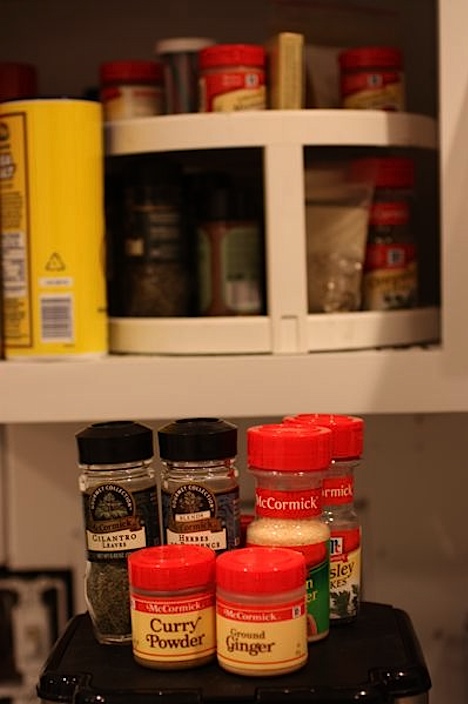 I cleared out my spice rack. I guess this is bad to say, but several of my spices had expired! 😯 I tossed the expired spices, but kept the glass containers.
Spice/Herb Tidbit: Some grocery stores sell spices and herbs in bags, which is much cheaper than buying the stuff already bottled. So if you have a glass bottle, keep it, wash it out, and re-use it. It's green and will save you money, too.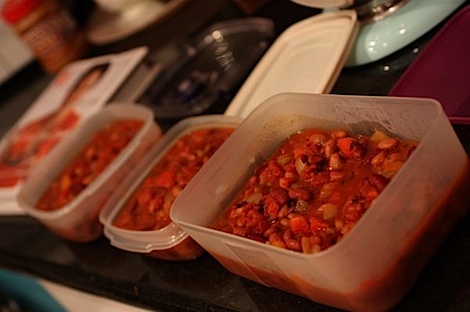 Since I was multi-tasking it, the chili was done very quickly. I packed up 2 small containers to take to work and one large one for hubby to nosh on, since he works from home and doesn't need his chili individually packed.
*
*
*
Goodies to Review
I had a package waiting for me when I got home…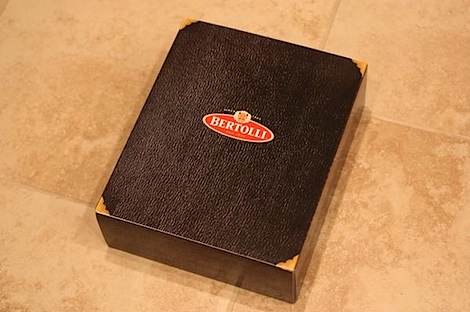 Inside – the nicest sampler box I've seen – from Bertolli.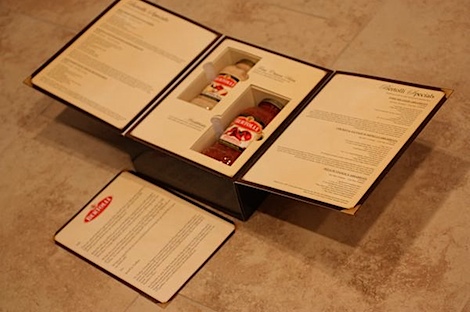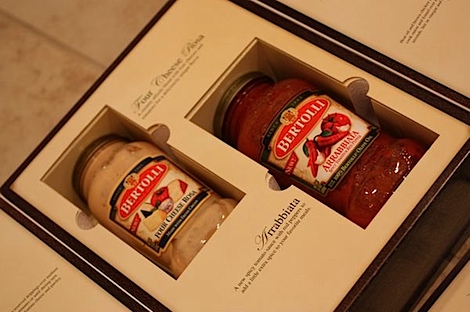 This was my Foodbuzz Tastemaker sample of Bertolli's two new sauces, Four Cheese Rosa and /Arrabbiata, which I'll be sampling and reviewing later.
The box even came with some recipes – 3 for each of the sauces. I saw a couple that sounded really good, but I'm not sure if I'll try their recipes or just wing-it and make something up. We'll see!
*
*
*
Updates
You guys have been asking some really good questions on my Formspring! I wish I had the time to sit down and answer them all, but I don't have a lot of time. And since I don't want to half-way answer your questions, I'm trying to take my time and provide solid and detailed answers. Many questions require, IMO, a page or a post, so I'll continue working on those.
In the meantime, check out the new Zumba page I made! I'll be doing a Zumba 101 follow-up for those interested in checking Zumba out.
Have a great week everyone!
Reader question: What's your favorite thing about Monday?