As many of you know, I'm a big fan of Zumba. In fact, I'm a certified Zumba instructor and am also nationally certified with the Aerobic and Fitness Association of America (AFAA). Currently, I teach dance fitness twice a week. I've been doing Zumba since 2007, and I just love it!

Why I Love Zumba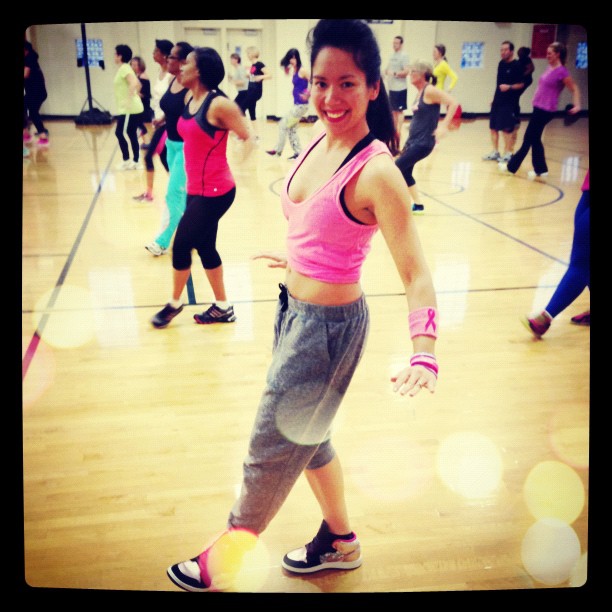 When I went to my first Zumba class, I didn't know what zumba was. I only knew that I wanted to do something dance-oriented and that zumba was in that category. With my figure skating background, the upbeat, dance-style fitness classes really appealed to me. I realized the key to enjoying my workouts: I like to work-out without feeling like I'm working out. When I trained for figure skating, I got an awesome workout, but that was never my main reason for skating. I would practice skating to perfect a spin or land a new jump. With Zumba, I know I'll get a good workout, but usually, I'm practicing new choreography, working on my instructor skills, or just plain having fun.
My First Zumba Class and Becoming a Zumba-holic
I very much remember my first Zumba class back in 2007 at the YMCA. I strategically placed myself in the back of the class so there would no one behind me watching while I made an idiot out of myself. However, when I was in the back row, I couldn't see the instructor! I remember I couldn't get the first song at all. I felt embarrassed and thought about leaving the class, but I stuck it out for that first class and fumbled through the rest of the songs.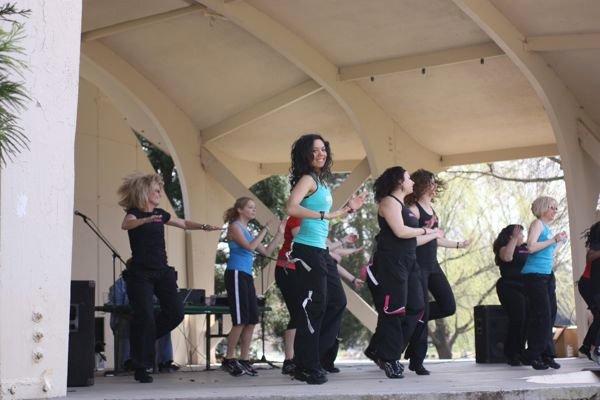 Each class got easier and easier, and I eventually moved up to the front row of the class (despite my inner voice telling me to stay safely in the back) so I could see the instructor more easily. It wasn't long before I started going to class early to guarantee my front row spot. I started feeling more confident in my dancing, and I was losing weight, too! I was hooked, and I started going to class multiple times a week. I also began memorizing the choreography and learning some of the more difficult moves (samba anyone?). Eventually, I started thinking about taking things to the next level.
Are you interested in going to your first Zumba class? Check out my Zumba 101 post (click).
Zumba Instructor
In June 2009, I auditioned to be a dance fitness instructor with the company I'd danced with since 2007. I didn't really know how to prepare or even what to practice, so I put my best foot forward, but I didn't make it that year. At first the news was really hard to take. I kept going to classes, but I wondered if I was really cut out to be an instructor. With time, I realized that I still wanted to pursue being an instructor, and the experience strengthened my resolve to do so. Over the next year, I worked with some of my instructor friends and learned more about important skills needed to be a successful instructor. I practiced choreography, cueing, and mirroring in and out of class.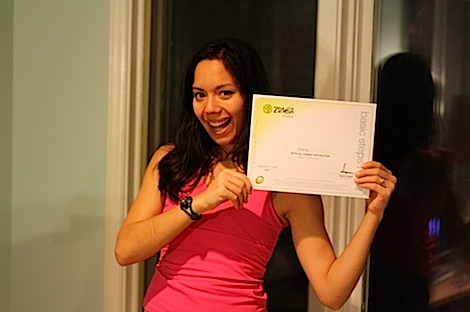 I also did my Zumba Basic 1 Workshop with Koh Herlong in November 2009 and became an official zumba instructor. This meant I could teach anywhere, but I still wanted to teach with the company whose classes I attended.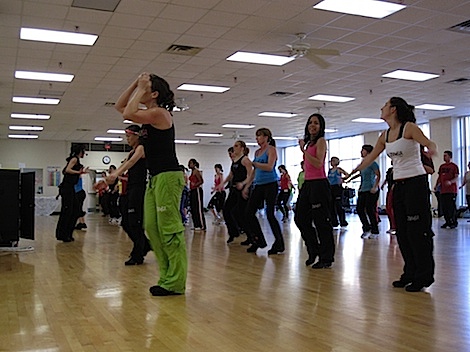 Click here to read my recap of the Zumba Basics 1 Workshop.
I also took and passed the AFAA Primary Group Certification in September 2009. Click here for my AFAA Primary Group Certification recap, which includes tips and links to other helpful write-ups.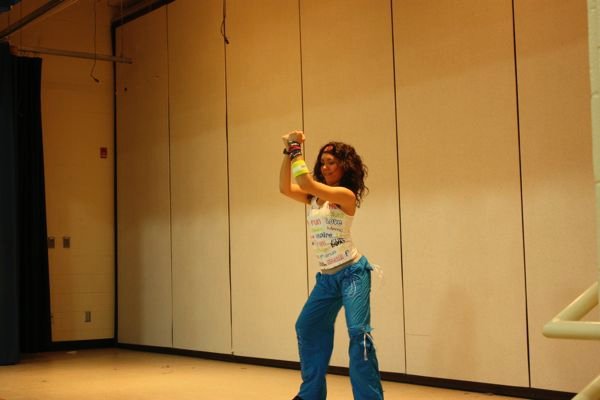 In April 2010, I auditioned again (actual photo from my audition above!) and this time I made it! I was so thrilled and ready to really dig into learning about how to be a great dance fitness instructor. I trained with my dance fitness company for a few months before teaching my first ever solo Zumba class, which was a demo for a local company who was interested in possibly doing a private class. I was extremely nervous, but I must have done okay. They liked me enough to sign up for an eight-week session of private classes.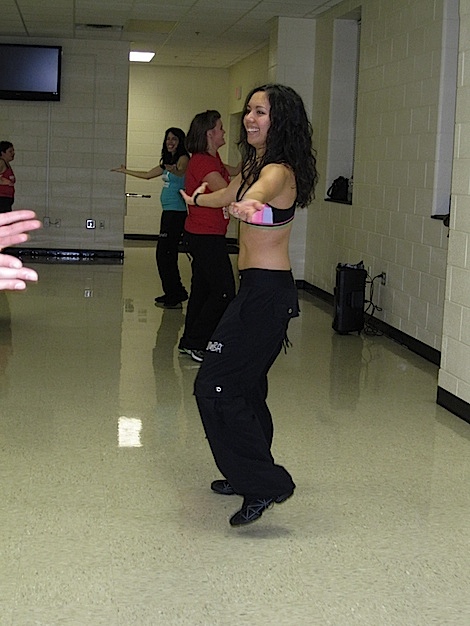 From there, I started teaching public classes, and I currently teach twice a week.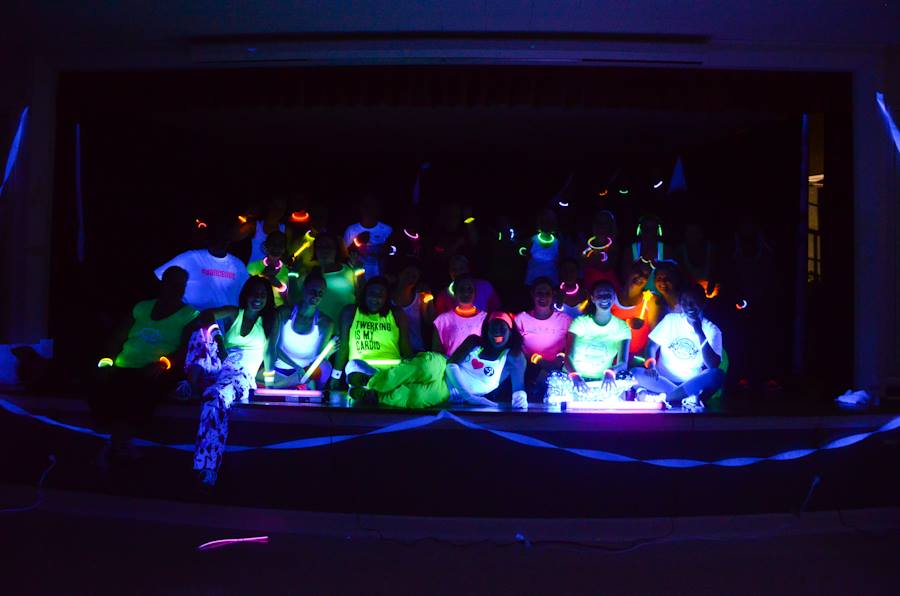 I love getting to know my class participants, working with my wonderful assistant and instructor team, and planning special events and theme classes, like the Zumba Glow Party pictured above.
I absolutely love teaching Zumba and dance fitness and hope to continue doing so for many years to come!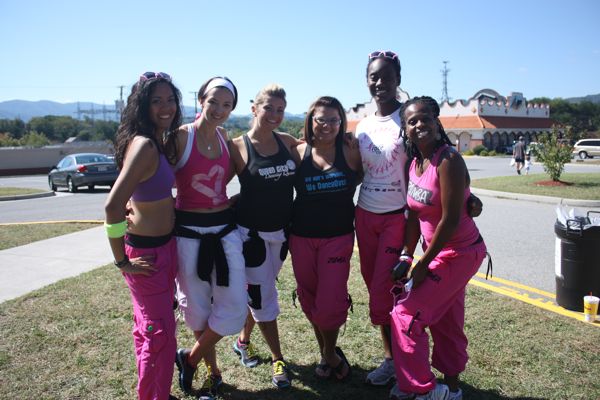 Useful Zumba Links
My Favorite Zumba Shoes
I'm always on the look-out for a great Zumba shoe, so my favorite may change often.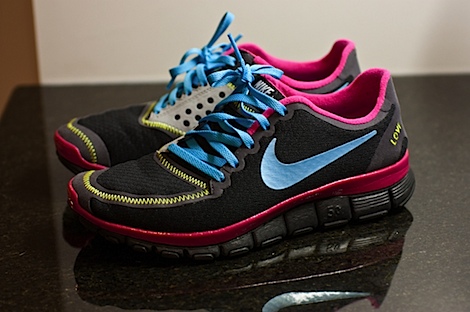 I loved my Nike ID Frees. They were nice, lightweight running shoes, with a pretty smooth tread on the bottoms. The best part about them was definitely the style-factor. I got to design my shoes by selecting my favorite colors and even customized them further with my preferred text. You can read more about the inspirational message on my shoes by clicking here. Unfortunately, Nike stopped making this style, though they do offer some that are similar.
I really like the Nike Free TR (training shoes). These are the ones I currently rotate in and out with the next shoe I'll mention…
My current favorite shoes for Zumba are the Reebok Dance UR Lead high-tops. It's kind of a shame, but the original style was the best, and the new versions sell out quickly. Still, I'm really excited to see Reebok creating shoes just for dance fitness, though, and I frequently check reebok.com for new styles and inventory in the dance shoes.
Zumbawear
I love wearing my official Zumbawear to class. The designers behind the clothes are always coming out with hot new looks. I enjoy checking out the new collections as they release them, and I especially love seeing the new Zumbawear they debut at Zumba Convention every year.
My official Zumbawear favorite items are:
Samba Pants
Cargo Pants
The flowy tanks (they come out with new styles all the time)

(Save 10% with affiliate code: CHICLIFE or click the banner above)
You can purchase Zumbawear online at zumba.com (click this for the non-affiliate link) or click on the above affiliate banner ad to get a 10% discount. Note: The above is an affiliate ad. If you use my discount code (CHICLIFE), you'll get a discount on your Zumbawear purchase, and I'll make a small commission. Thank you for your support!
I also really like harem pants (especially the Natalie harem pants at Discount Dance Supply), sweat pants (the Victoria Secret PINK sweats are great for class, lounging, running errands or road trips), flowy tanks (I like Bella), and oversized t-shirts that have been cut into loose-fitting tank tops or halter tops.
Favorite Zumba Songs
I have a lot of favorite Zumba songs, including:
My favorite songs are constantly changing, but that's just another reason to enjoy Zumba and dance fitness. You're always learning about great new songs!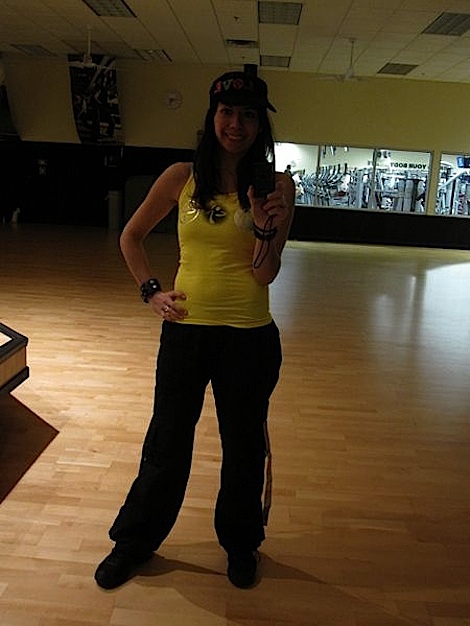 Thanks for stopping by!