The day totally escaped me today. I meant to do my spelt banana bread post before heading out to watch the Superbowl with some friends, but we ended up barely finishing our dessert we promised them.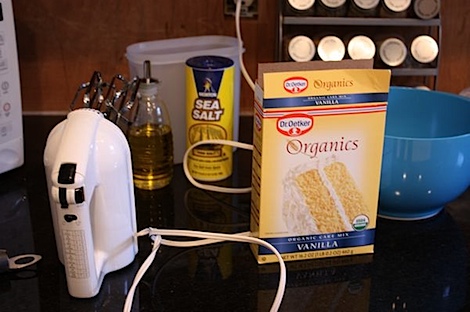 Cupcakes: I found this Dr. Oetker organic vanilla cake mix at Earthfare and decided to try it out for tonight's big event.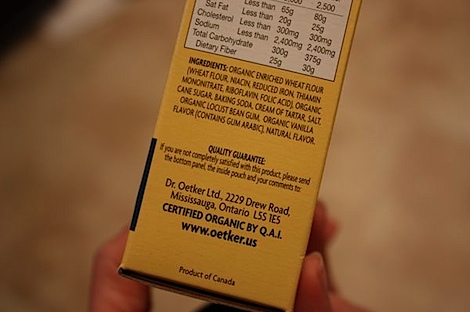 I loved the readable ingredient list.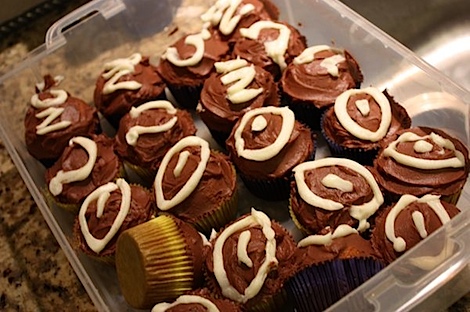 Frosting: I made the Hershey's chocolate frosting following the recipe on the back of an unsweetened cocoa mix container and made a separate batch of basic buttercream. We stuck the plain buttercream in a plastic bag and I attempted to decorate the cupcakes with footballs. Hubby suggested doing some Colt symbols and some "NO's". They all came out meh.
Perhaps I should dig out that cake decorating set my mom got me awhile back? lol
We got to Kate and Nate's house a little late, but just in time for food.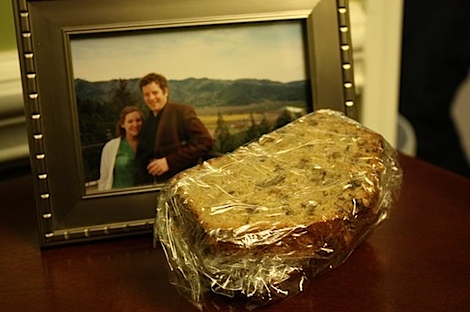 I brought some of my spelt banana bread as a host/hostess gift.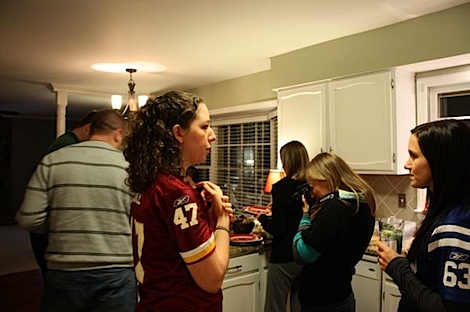 We all gathered in the kitchen to dig into the food.
My favorite part of this group is how everyone has similar eating styles – a tendency towards the healthy eats. Tonight I heard "Ooh, kale chips!" and "Ooh, salad!" Oh yes, my friends rock.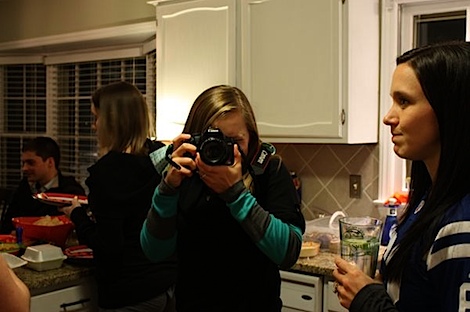 Kath and I captured the night with our cameras.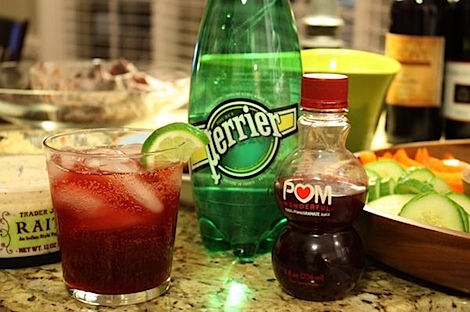 I had a pom + perrier with lime (and some with a little cherry juice) to drink. The drink was so good I ended up having 3!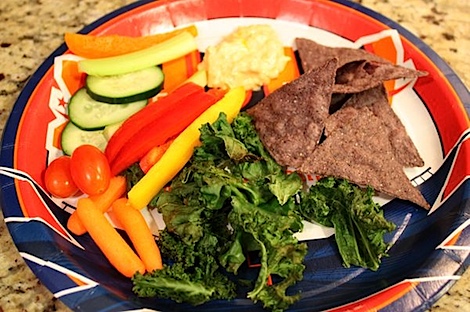 My first plate had lots of Emily's veggie tray veggies, blue tortilla chips, Amanda's buffalo chicken dip, and Kath's kale chips.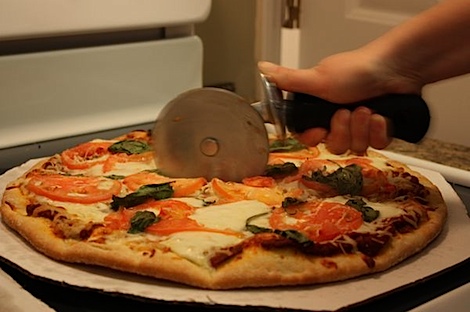 When the pizza came out fresh from the oven, I had to dig in.
I snagged a piece of margherita pizza.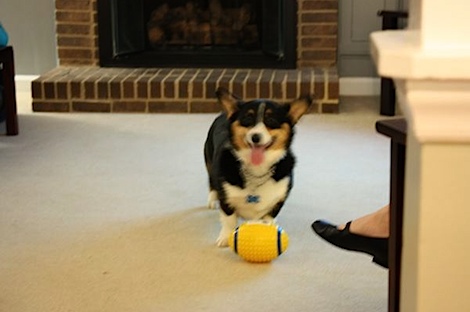 Bailey goofed off all night. He's currently zonked laying next to me whilst I blog away.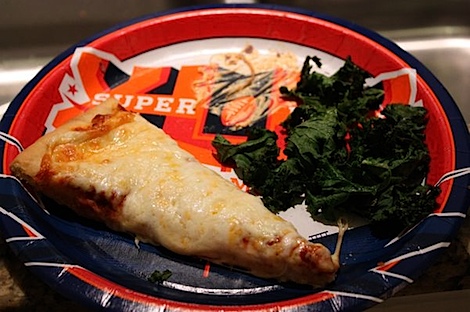 Round #2 – more kale chips and some fresh-from-the-oven cheese pizza.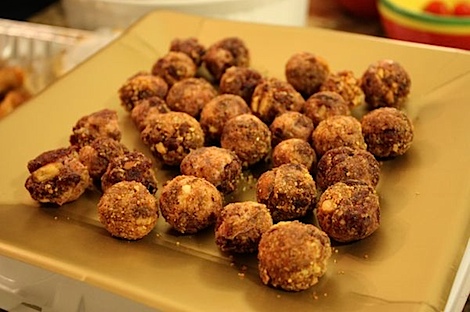 When Kelsey showed up with her goat cheese balls + crackers, I had to try one.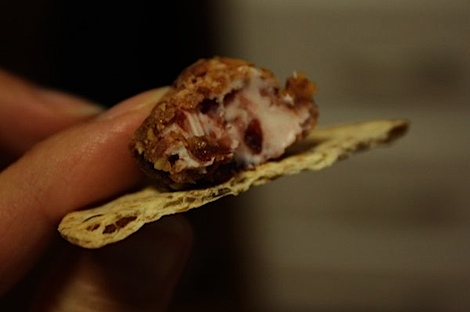 Yumm-O! (and I'm not even a big fan of goat cheese)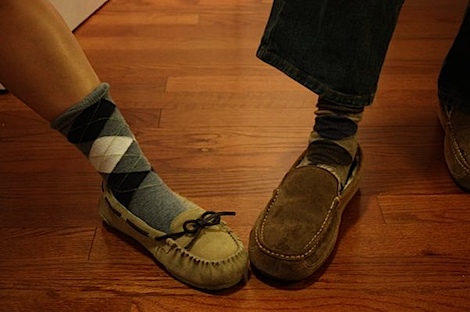 Random photo, but I LOVE Kath and Matt's house slippers. They wore them to the party. So smart! I think I need some of these.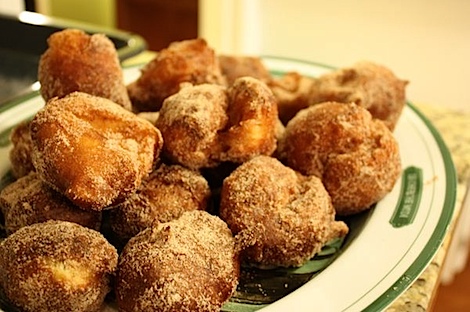 Once I was satisfied with the savory, I hit up the sweets – some zeppoli.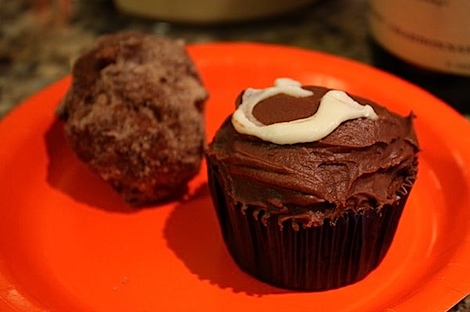 I had one of my cupcakes and a zeppoli.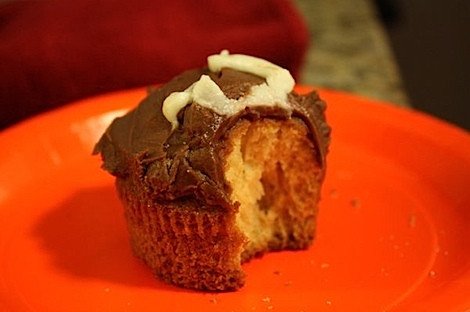 NOM NOM NOM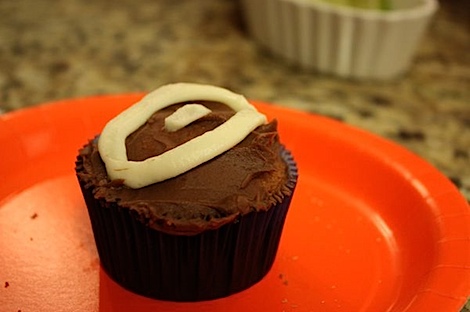 The cupcake was so good, I had to have a second.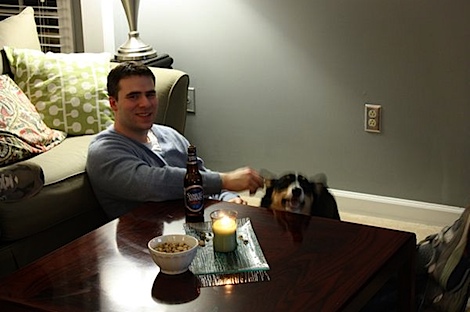 Hubby and Bailey found a nice spot to watch the game.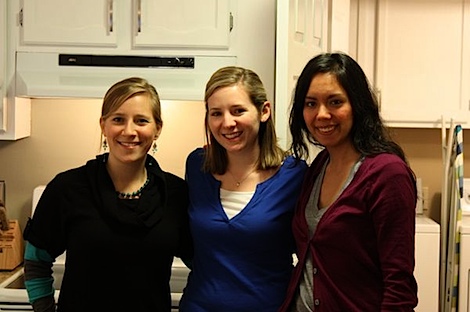 Kath, Kate, and moi.
The superbowl party was a blast. Good eats + great friends = FUN time!
Thanks Kate and Nate for having us over! 🙂