I have fond memories of homemade banana bread from my childhood. It's not that I recollect a particular moment enjoying banana bread. Rather, the smell and taste of it reminds me of my mom and home and family and just the feeling of being younger in general. My mom loved to bake banana bread – we ate it all the time when I was a kid. These days, she's moved onto baking her famous cinnamon swirl and friendship breads, but she still does her banana bread once in awhile.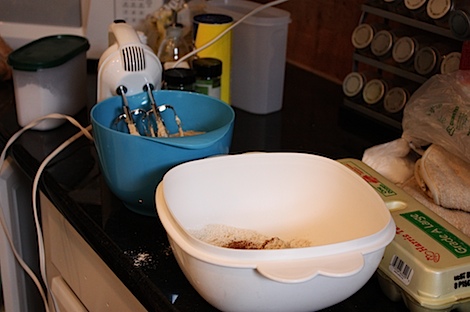 With some organic bananas that were getting ready to go bad, I decided it was time to take a try at making some myself.
It's no wonder my mom baked banana bread all the time – the ingredients are simple and the recipe whips up pretty quickly. The bread takes awhile to bake but the result is worth it!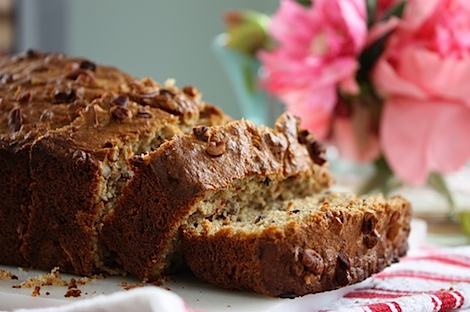 Mmm…nothing like the sell of home-baked goodies in the oven. Nothing except the smell of fresh-baked goodies just out of the oven!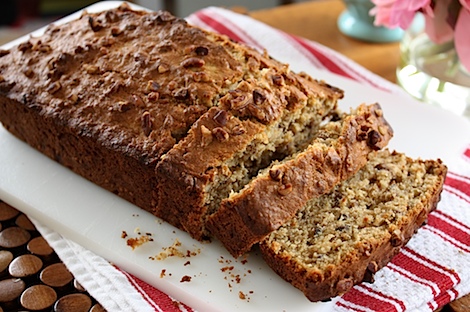 Hello banana bread! Actually, this is spelt banana bread. Rather than bug my mom for a recipe, I took this recipe I found online and made it extra nutritious with spelt flour and pecans. Pecans are good for you, too!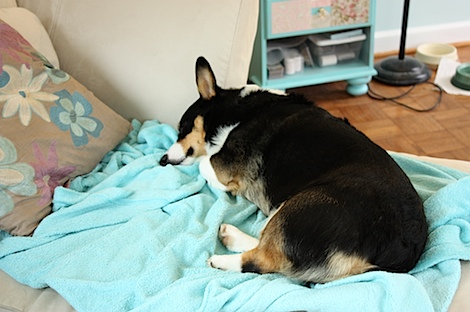 Bailey slept away…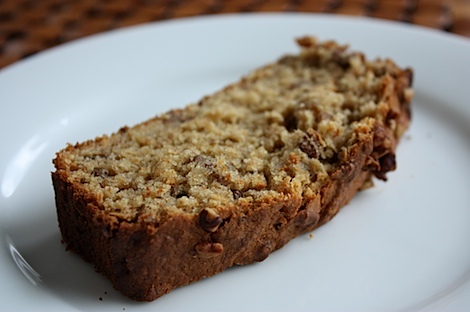 …while mommy ate away.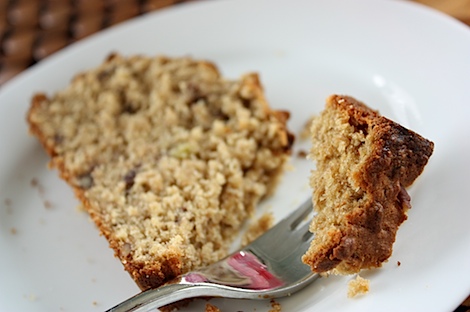 I enjoyed two fabulous pieces. Yum!
I loved how this bread wasn't too sweet – it was just sweet enough. I thought the texture was nice and and fluffy. I especially loved how the nuts I sprinkled on top got nicely toasted. Mmm…
Spelt Banana Bread
Adapted from this recipe by Shelley on All Recipes for extra nutrition
Note: vegan options are listed below
Ingredients
* 1 cup white wheat flour
* 1 1/4 cup spelt flour
* 1 teaspoon baking soda
* 1/4 teaspoon salt
* 1/2 cup butter (or sub vegan butter, like Earth Balance)
* 3/4 cup raw sugar
* 2 eggs, beaten (or sub 2 flaxseed eggs – 2 tablespoons ground flaxseed mixed with 6 tablespoons water, set aside to gel, about 10 minutes)
* 1/2-3/4 cup chopped pecans
* 2 1/3 cups mashed overripe bananas (my note: I used 5 small bananas – I don't think it was quite enough, but I wasn't worried about it)
* 1 tsp vanilla extract
* 1/2 tsp cinnamon
Directions
1. Preheat oven to 350 degrees F (175 degrees C). Lightly grease a 9×5 inch loaf pan.
2. In a large bowl, combine both flours, baking soda and salt. Stir pecans into the flour mixture. In a separate bowl, cream together butter and raw sugar. Stir in eggs and mashed bananas until well blended. Stir banana mixture into flour mixture; stir just to moisten. Pour batter into prepared loaf pan. Sprinkle extra pecans on top (they will get nice and toasty!)
3. Bake in preheated oven for 60 to 65 minutes, until a toothpick inserted into center of the loaf comes out clean. Let bread cool in pan for 10 minutes, then turn out onto a wire rack.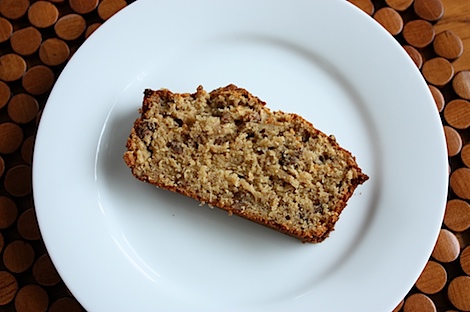 More Clean Eating Recipes to Love
Healthy Cranberry Apple Crisp Recipe
Individual Challah Breakfast Bread Pudding Recipe
Healthy Pumpkin Chocolate Chip Muffins Recipe (whole grain, no refined sugar)
***
Happy baking!
Thanks for stopping by!