Hubby and I had a busy day today.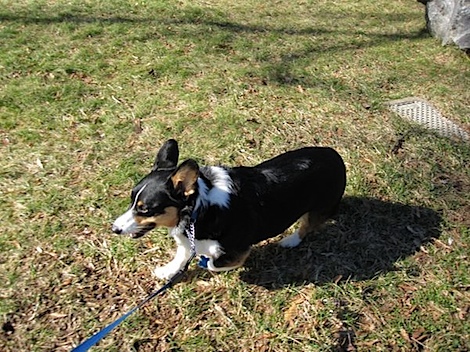 We took Bailey for a walk first thing this morning to enjoy the beautiful sun.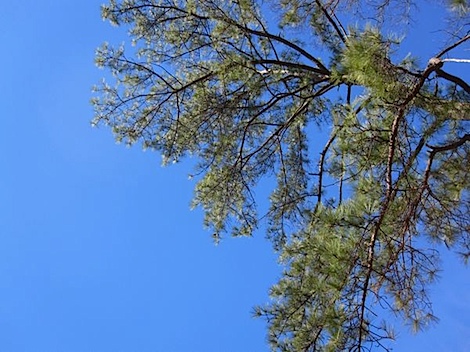 The weather was gorgeous, though still a bit cold.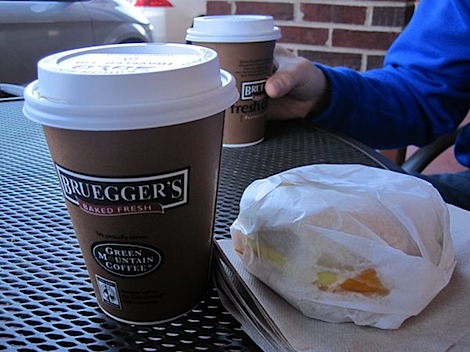 Hubby and I did another breakfast date for bagels.
Hubby and I split an egg and cheese on rosemary olive oil and got coffee. I tried the French Toast coffee and it was really tasty.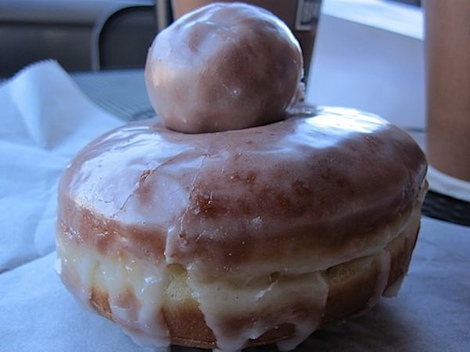 We also got doughnuts!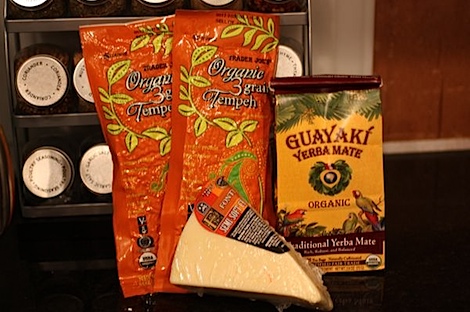 We hit up lots of grocery stores today. Notable picks: TJ's organic tempeh, fontina cheese, yerba mate tea.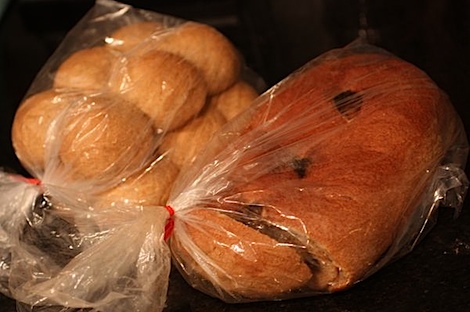 We picked up more Great Harvest bread – honey whole wheat rolls and cinnamon swirl (WW).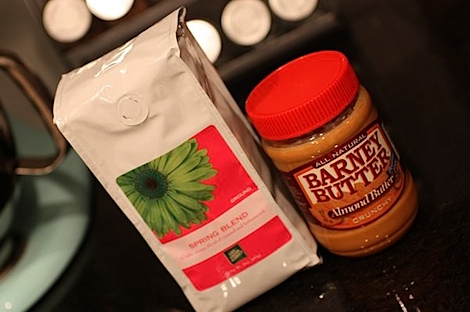 I fiiinally made it to the Fresh Market go get their most-delicious Spring Blend! It may be their best one. I also stocked up on Barney Butter.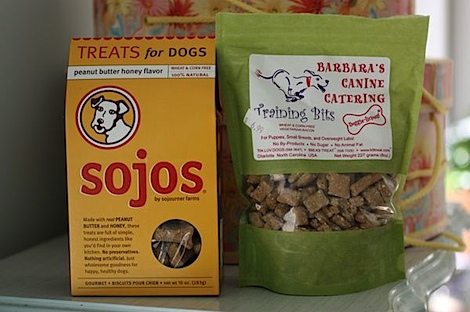 We also got Bailey some new dog treats: Sojos Natural dog treats in peanut butter honey and Barbara's Canine Catering Training bits in Vegetarian Bacon.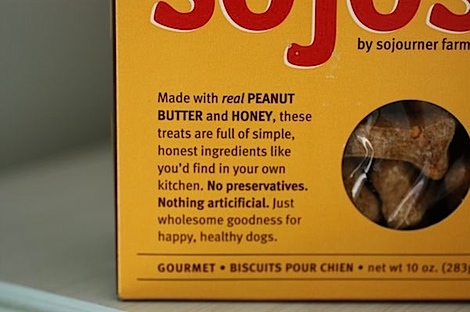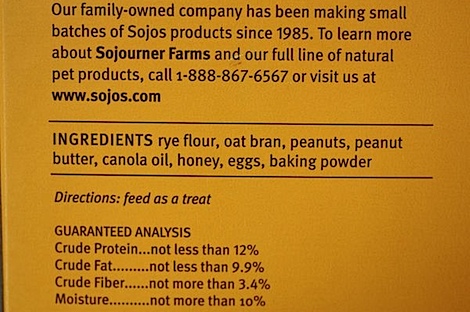 Since I've been trying to avoid artificial and overly processed foods as much as possible, I figure I should do the same for Bailey. I am starting to read the labels on his food too now.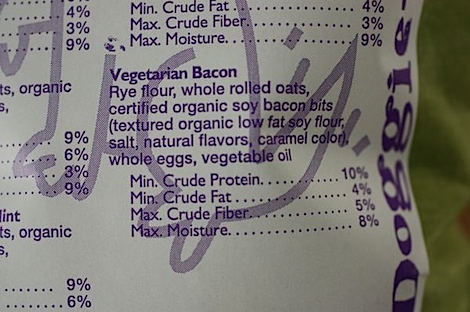 I love how both the treats I picked up today have readable ingredient lists. And for an added benefit the latter was made locally! Support Local!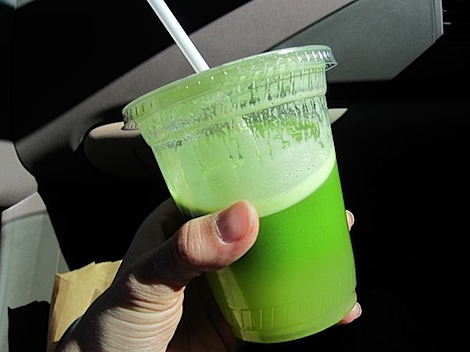 I grabbed a veggie juice while we were out shopping: celery, cucumber, pineapple juice. I thought it would be more pineapple-y, but it was very veggie. I didn't love it, but it was pretty good and definitely good for me.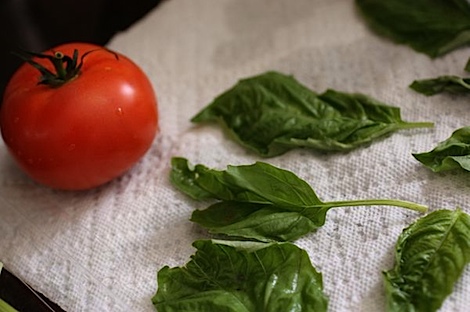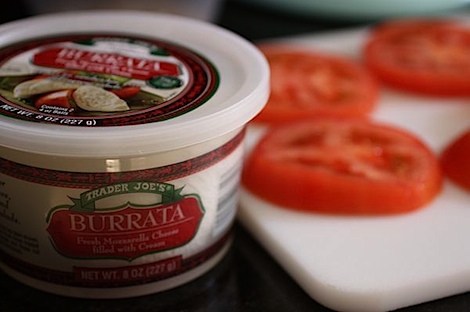 Hubby and I had a simple lunch…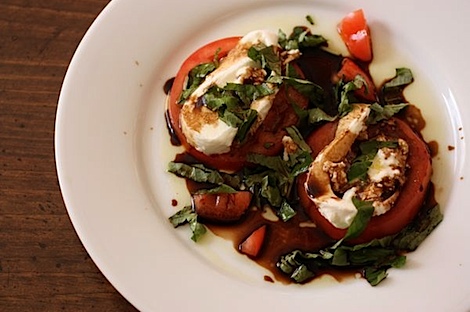 Tomato, basil, mozzarella salads with olive oil and balsamic vinegar.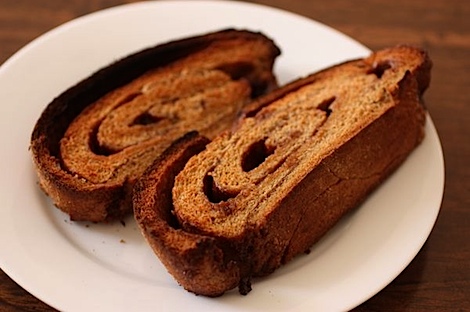 Hubby and I busted into our cinnamon swirl bread for lunch-dessert. We burned the bread a wee bit on the thin parts. Doh!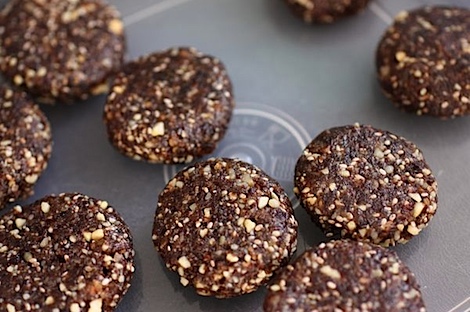 I snacked on a Chic Energy Bite, too.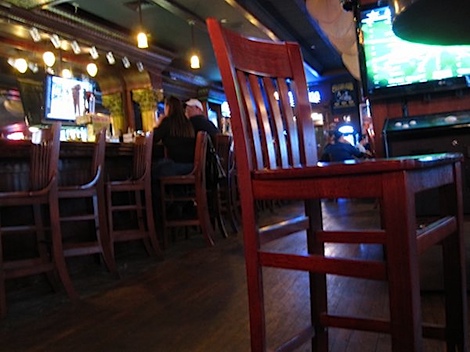 After lunch, I went with hubby to meet up with some of his friends to catch some basketball games on TV.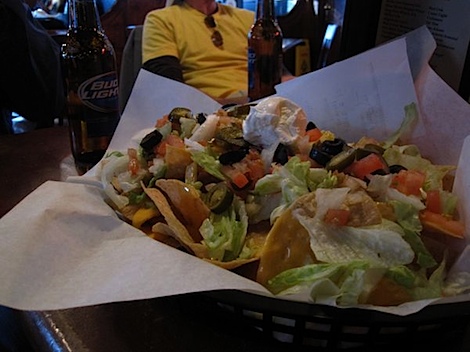 Hubby ordered some nachos (sans meat) to snack on. They were covered in liquidy processed cheese. Now, there are some melty cheeses (think dips) that I still like, but this wasn't one of them. It tasted sort of like plastic or something. I was not a fan and it didn't sit well on my stomach. Blech! 🙁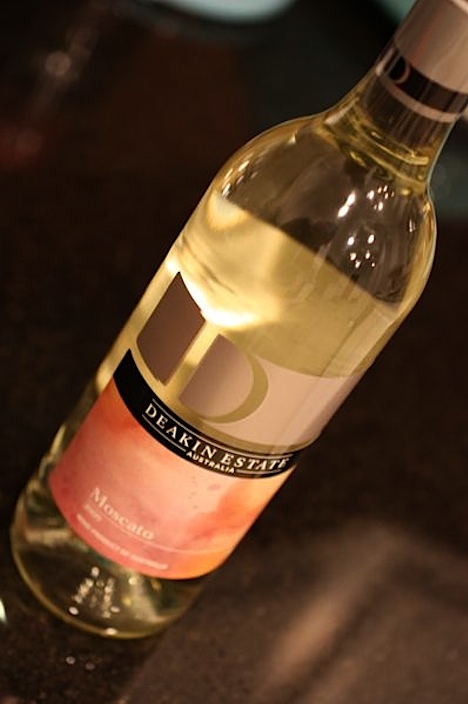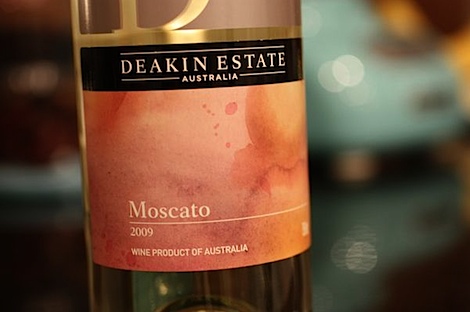 I picked out a Deakin Estate Moscato to sip on for the night.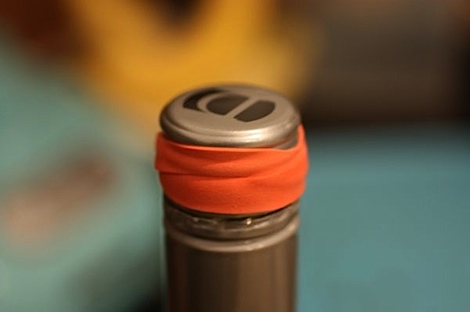 Tough Top Tidbit: I had a hard time getting the screw-off top undone. So, I applied my rubber band trick (can't remember where I learned this one). For any containers you're having trouble opening (like jars of pickles, etc), place a thick rubber band on the lid/top and use it gain traction. Works like a charm.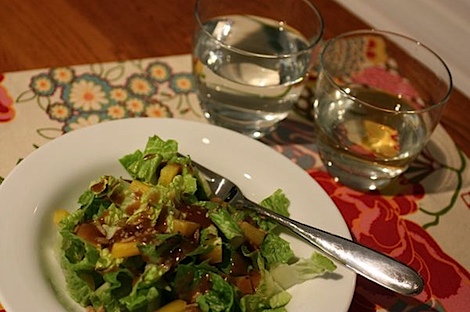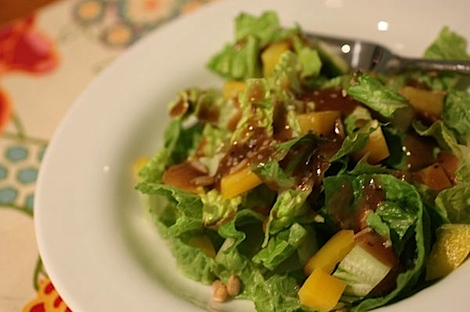 I started with an organic romaine salad with yellow bell peppers, sunflower seeds, hemp seeds and Drew's Rosemary Balsamic dressing .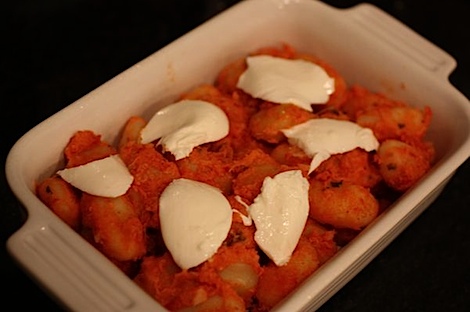 For dinner, I re-heated the leftover gnocchi I had from Friday night. I placed the leftovers in an oven safe dish, topped with some fresh mozzarella and baked at 350 degrees F till heated through – about 20 minutes.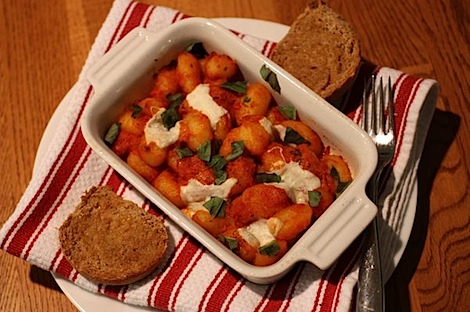 I topped the gnocchi with some fresh basil and served it with a Great Harvest WW toasted roll with real butter.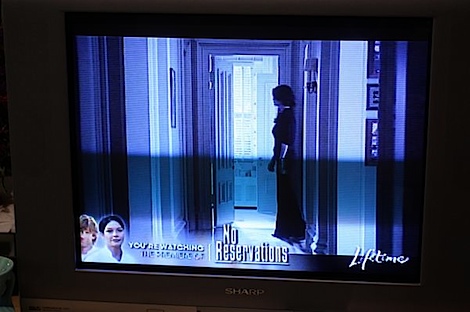 I enjoyed dinner while watching No Reservations. Cute movie! I loved how much of it took place in a restaurant. Ooh all the cooking and food!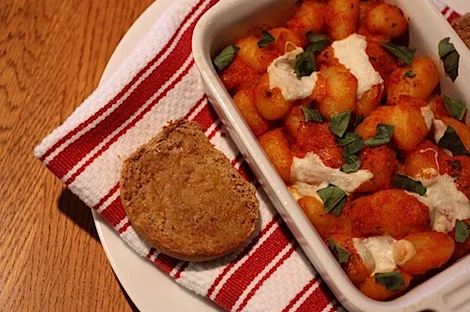 This was pretty good the second time around. I really love re-heating leftovers in the oven. I think the flavors are so much better. Though it does take longer than the microwave, I think it's the way to go!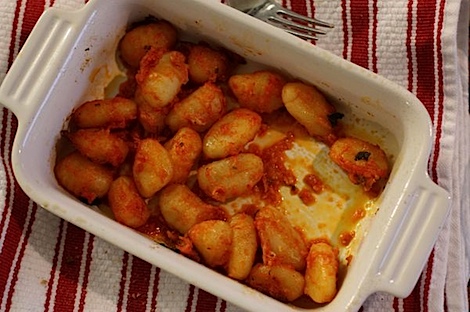 Anywho, I tried, but I still couldn't finish the gnocchi! I wrapped up the leftovers. Maybe hubby can finish them?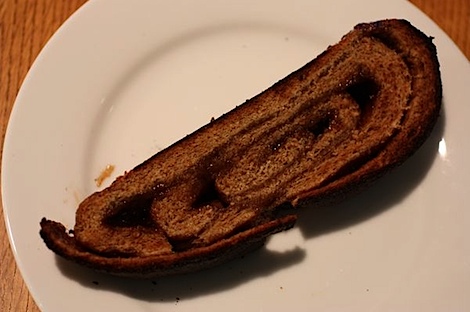 I did save some room for dessert. I couldn't turn down another piece of fresh-baked cinnamon swirl. This stuff is sooo good – especially when it's fresh! I did manage to slightly burn this piece, too. Doh!
Reader question: What's your favorite dried fruit?