Happy Humpday!
This week has been blowing by, which I'm pretty excited about because it means that warm weather is almost here. 🙂 I can't wait to start wearing some of my warm weather clothes! The skirts, the flip flops, the shorts, the bathing suits! I've been enjoying the occasional warm day here and there, but I'm ready for warm weather all the time. Who's with me?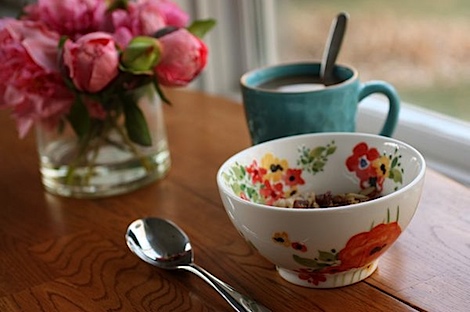 Breakfast in my beautiful Anthropologie bowl!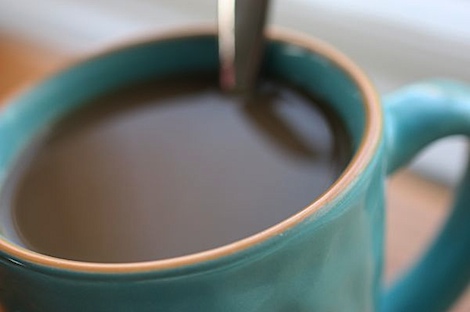 Fresh Market Spring Blend…yum yum!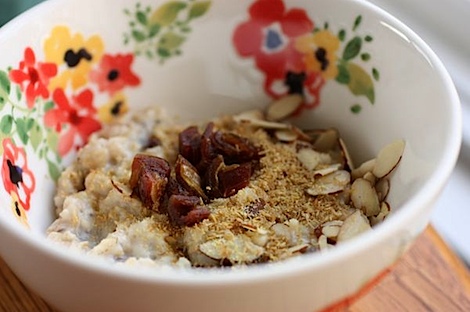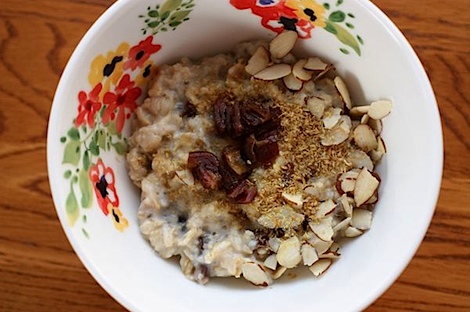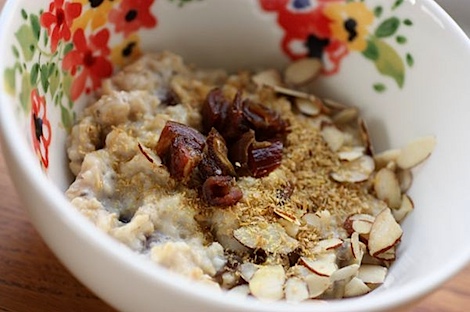 Date and almond oatmeal with flaxseed meal and chia seeds. Yum!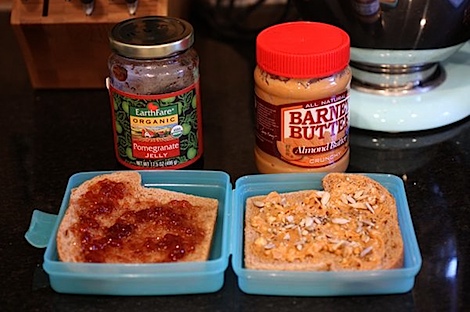 I prepped lunch this morning while my oatmeal cooked away on the stove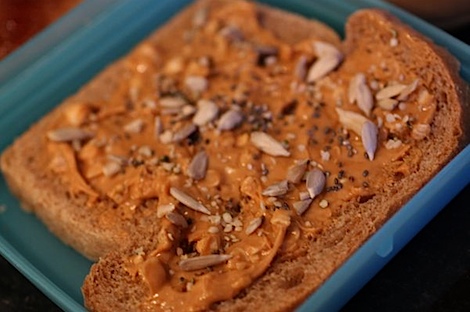 Seedy AB+J (Almond Butter + Jelly) Sammie
It's sort of like Power Toast in sandwich form, with sunflower seeds, hemp seeds, and chia seeds. Also Barney Butter and Earthfare Organic pomegranate jelly.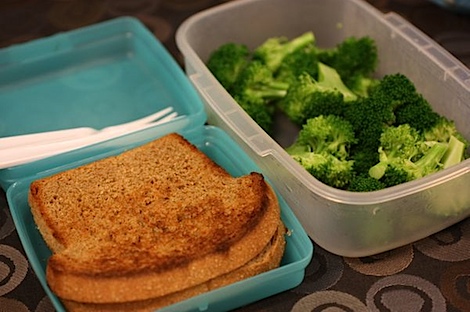 Toasted Seedy AB+J Sandwich with semi-steamed organic broccoli.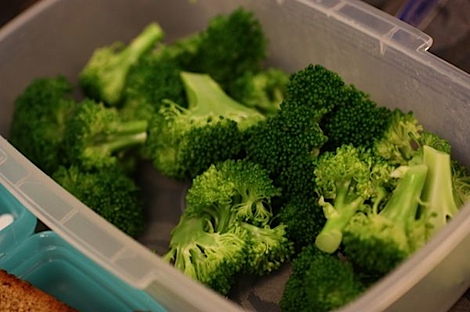 I prepped the organic broccoli last night (rinsed and chopped) and then added about 1 tbsp water to the container and microwaved for about 1.5 minutes. I like my broccoli both raw and steamed and this was somewhere in between.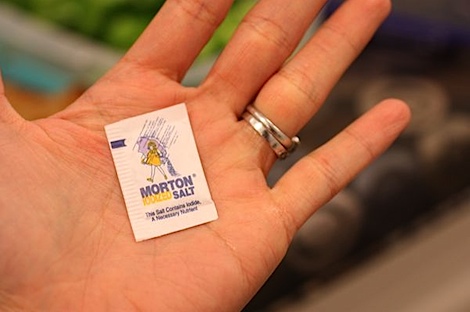 I just added a little salt to the broccoli.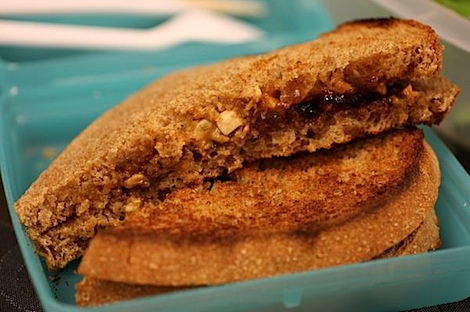 I toasted my sandwich…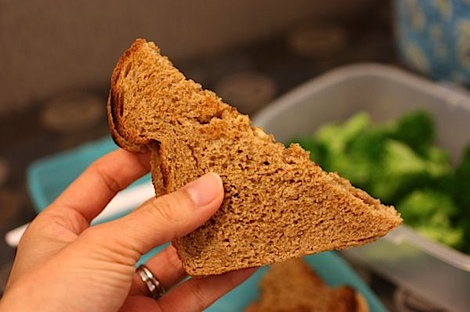 …and cut it into a triangle b/c they're more fun to eat that way.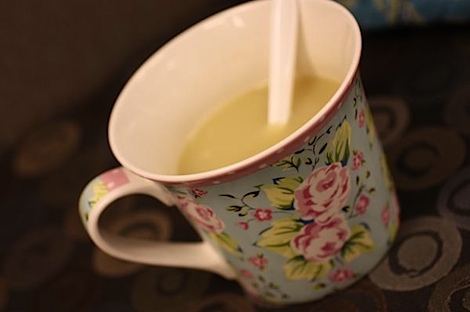 Yerba Mate tea #1 (a bit of cream and sugar)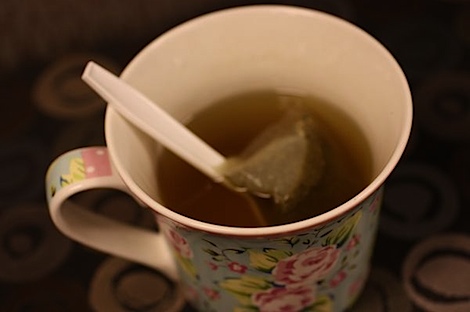 Yerba Mate tea #2 (sugar)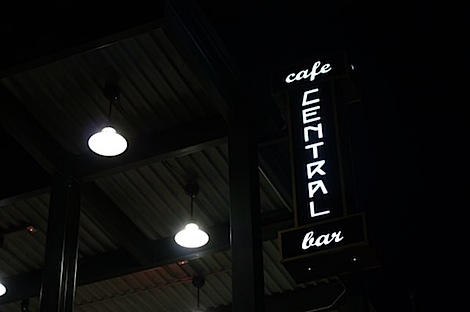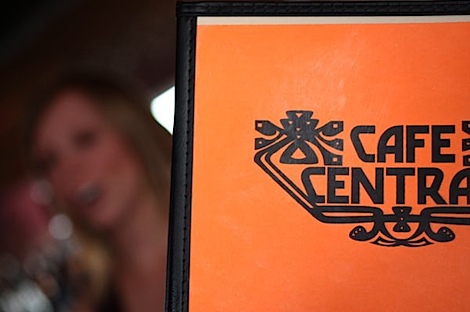 Next up, we headed out for a bloggie get-together at Cafe Central.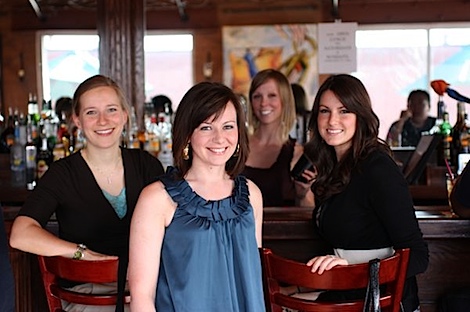 Kath, Michelle, Kelsey, Lauren, and Kate (not pictured yet) met up for a ladies mid-week dinner.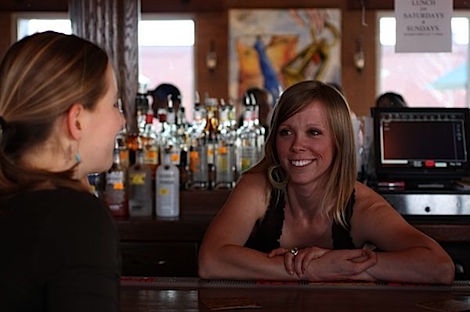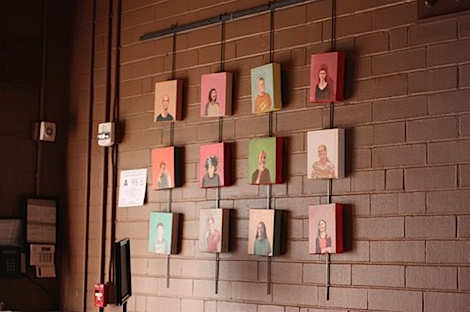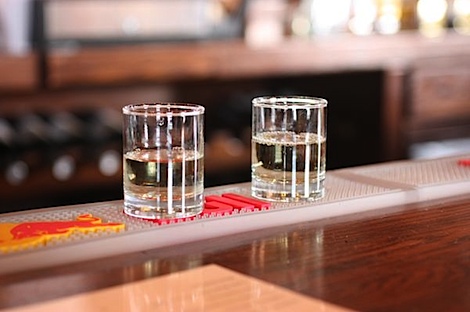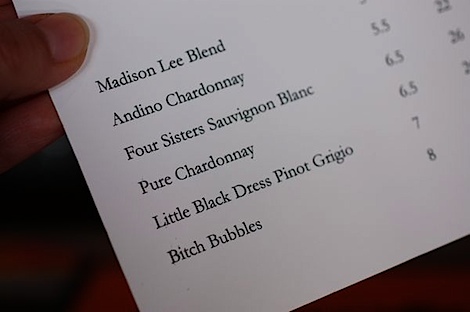 Kath sampled 2 wines and and I went with her choice – Pure Chardonnay.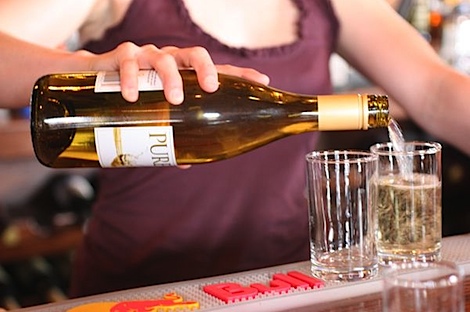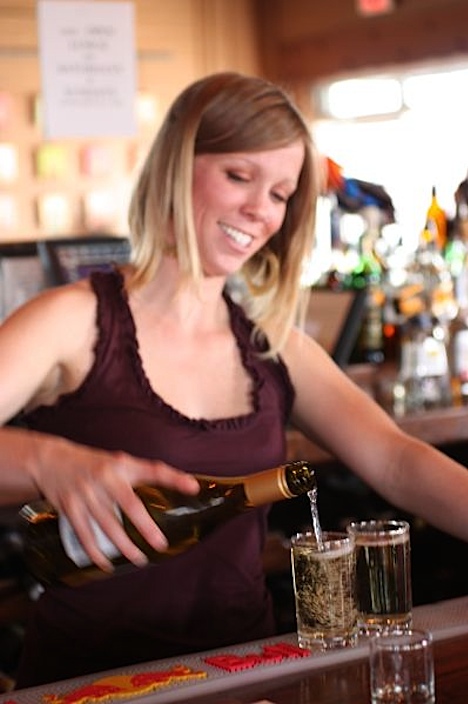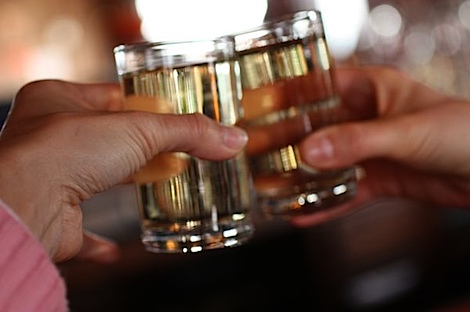 Cheers!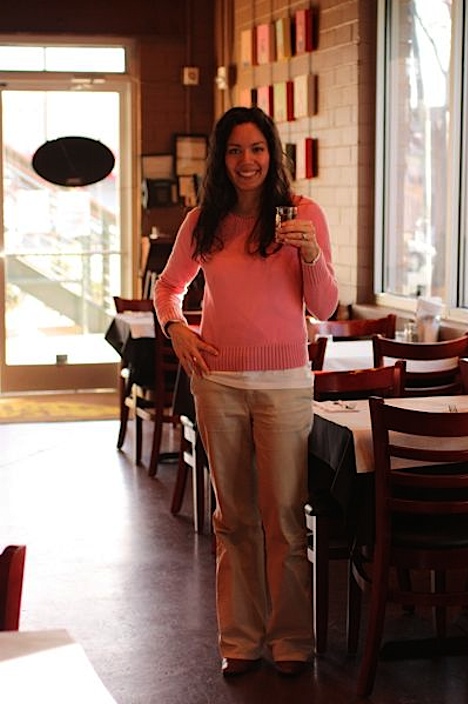 Michelle took my picture – thanks hun!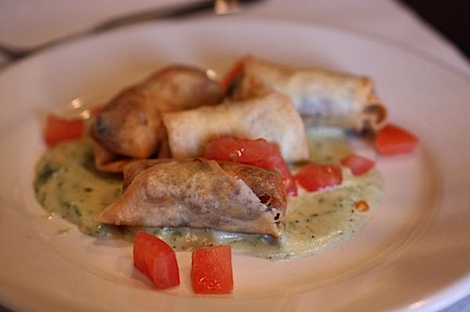 Some people at the table ordered the sweet potato springs rolls – the same kind Kelsey and I shared last time I was here (click).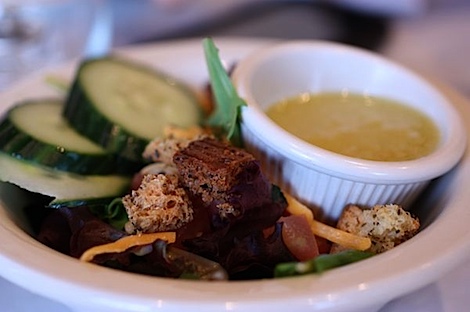 For my eats, I went with a side salad with white balsamic vinaigrette…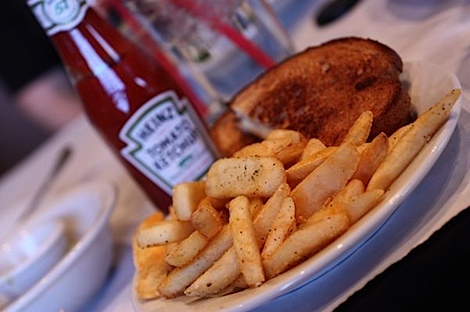 Plus a grilled cheese sandwich with fries. I can't wait till Lent is over because this place has some amazing looking burgers!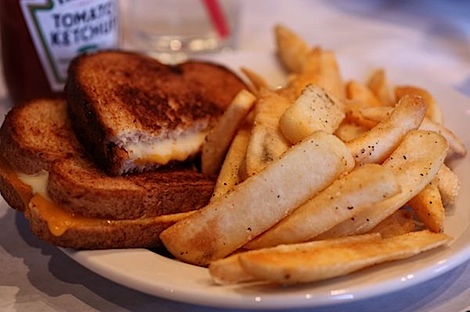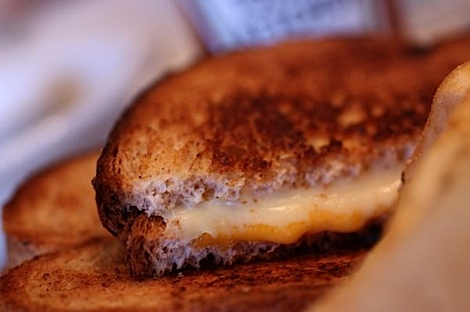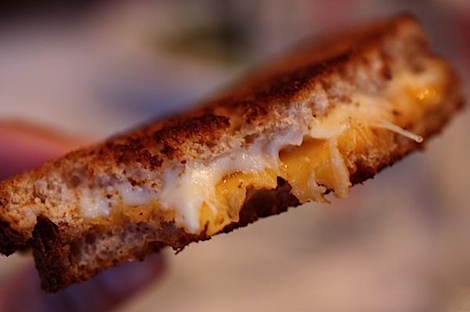 Two cheeses! I loved the combo of cheeses, but no bread compares to Great Harvest!!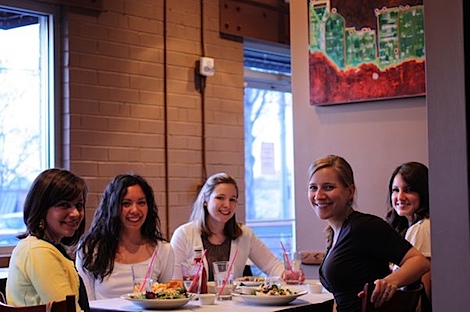 Group shot!
So great seeing friends mid-week! It's like a lil boost to get you through the work-week.
I'm hoping to WFH tomorrow but I'm supposed to be getting an email upgrade tonight, so I hope it works! Eek! Wish me luck or I'll be going to the office after all! lol
Project Hydrate Day #17
I did ok today. I really think about 5 cups of water and 2 cups of hot tea are about all I'm good for during the work day. I forgot to do my morning cup of water, so I'm one cup less than yesterday. Doh!
Consumed:
5 cups water
2 cups hot tea
1 glass wine (ok this doesn't count…whatever!)
How are you doing with Project Hydrate?
Randomness
The discussion board on my Facebook page is really getting good – check it out and voice in on the conversation.
I've started a FAQ page. It's actually been up for a couple days, but you may not have noticed it. I'm collecting my most popular questions and have more to add, but until then – feel free to ask some more on my Formspring page.
Be sure to check out my Recipe page, too!
Reader Question: Do you see your friends mid-week or only on the weekends?