Last night, I was already craving a fantabulous breakfast with visions of Great Harvest rolls floating through my head. So, I set my alarm and tried to mentally prepare myself to wake up at the first alarm instead of hitting snooze.
I set my alarm for 6:30am.
Fast forward to this morning. The alarm went off. I felt sooo groggy. I figured one snooze wouldn't hurt. After one snooze, though, I was up. Imagine my surprise when I turned on the TV to get the news on and I saw the time – 5:40am. What the…?
That's right. My clock was BROKEN! It was an hour off!
So, the bad news was I lost an hour of sleep. The good news is that I'm awake extra early!!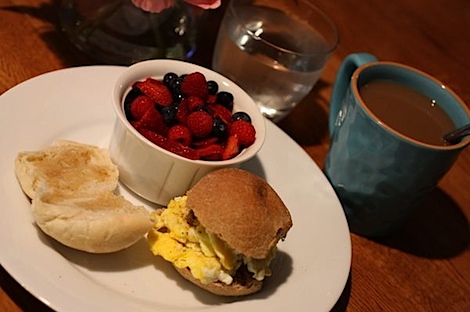 With my extra time, I prepped that breakfast I was craving. Plus coffee and water to drink.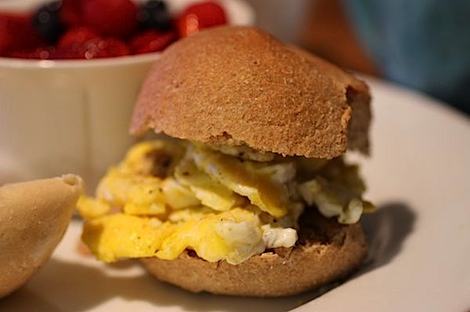 An egg (cage-free) sammie on a Great Harvest honey whole wheat roll.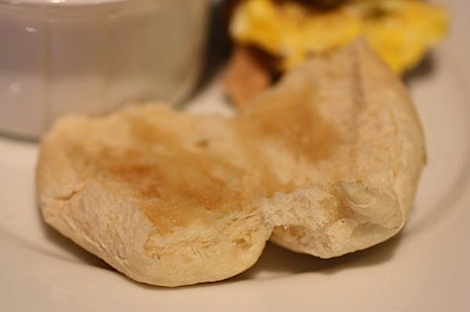 A Virginia roll with local honey drizzle. (Both rolls re-heated in the oven for that fresh-baked taste).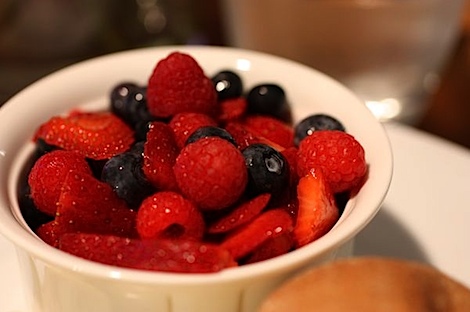 Plus all the berries (blueberries, raspberries, strawberries) leftover from yesterday's delicious vegan/GF fruit tart (click to view the festivities).
Nom nom nom!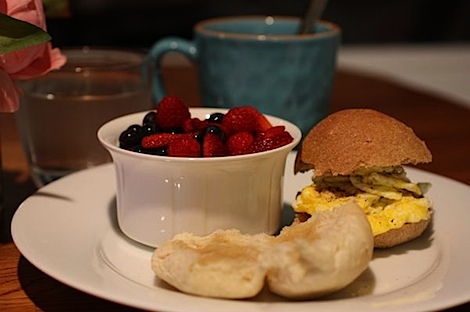 Anywho, so I'm a little extra sleepy today, but some positive things have resulted. While I'm normally hitting snooze right about now, I've started enjoying a delicious breakfast and I even have time to blog! Sweet! I actually like waking up early, I'm just not so good at it.
Happy Monday!
What are you having for breakfast to start your week?