If you're like me, you have a tough time getting your 8 glasses of water every day. And if you are like me, then why not join in on Project Hydrate to work on getting those very important fluids in.
(Feel free to borrow the graphic above if you'd like)
What is Project Hydrate?
Project Hydrate is a little challenge I put together to try to get myself to drink 8 cups of water every day for the rest of the month of March, starting Monday, March 8, 2010.
I typically barely get 4-6 cups of water a day, but I know I should drink more.
The Goods
I like reusable, non-BPA, aluminum bottles. They're so much more eco-friendly than throw-away bottles of water.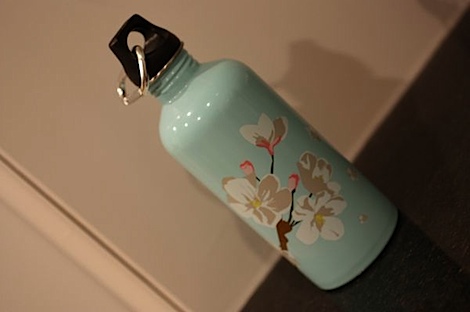 I got this fabulous water bottle for Christmas.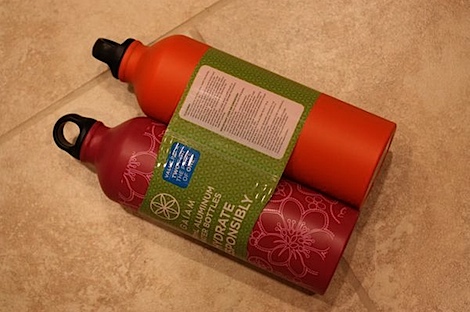 I found these aluminum water bottles at Target today – 2 for the price of one ($12.99).
My Gameplan
I plan to use water bottles to help me gauge how much water I'm drinking. If I bring 2 water bottles with the total amount of water I need for the day, then I know I just need to drink the water from those bottles by the end of the day.
General Gameplan:
Since I work at an office all day and I'm a germiphobe, I prefer to take my water with me during the weekdays.
I'm planning to use eco-friendly water bottles, instead of standard bottled water.
I'll try to space out my water intake over the course of the day. It's not safe to consume too much water at one time and your body will be better hydrated if you pace yourself.
I get cold at the office, so I'm planning to make hot tea part of my daily water intake.
I'm planning to drink extra water for fitness activities.
I don't typically drink much other than water, tea, and coffee, so I'm not really focused on drinks outside of those categories. If I drank them, I wouldn't count sodas as part of my intake, though.
Daily Gameplan:
Coffee doesn't count towards total intake
Bring 2 reusable water bottles full of water to work – each of mine hold about 3 cups.
Drink both bottles, paced out over the course of the day
Drink hot tea (to make up for any amount missing from the bottles – about 1-2 cups for me), also paced out
NOTE: Athletes have different requirements for proper hydration, which depend on the type of exercise and of course you. This challenge is for every day water consumption. You may want to research your activity to learn the best way to stay hydrated for your physical activity.
Players
Anyone interested in joining me for Project Hydrate? Leave me a comment or email me at thechiclife at gmail dot com and I'll add your name (and link back to your blog if you have one).
Abby @ Abby Normally
Alison
Allison @ Eat Clean Live Green
Anuja
Bobby @ Fusion South
Caitlin
Christie @ Honoring Health
Christine @ Christine Hoenisch
Cullen @ The Coma Times
Elizabeth @ On Tap for Today
Erin
Fallon @ Living Fit, Loving Food
Fran @ FranCostigan.com – Diva of Dairy Free Desserts
Gillian @ Finding My Weigh
Heather @ Running Leaner and Greener
Heather @ Side of Sneakers
Jackie @ Striving to Be Fit at Forty
Jen @ Losing the Shadow Behind Me
Kelly @ A Local Foodie's Fight
Kristen @ Going Green Mom
Lindsay @ Designer Wife
Lisa @ Bake Bike Blog
Mara @ What's For Dinner
Maura @ Irish Eyes Aren't Smiling
Megan @ Great Food, Hockey and Health!
Moi @ The Chic Life
Nicci @ Nifty Eats
Pen @ Pen at Peace
Serendipity @ Serendipity's Guide to Saving
Tasha @ The Clean Eating Mama
Teresa
You? – Join any time during the month of March
My Recaps

I'm trying to blog about Project Hydrate every day of the challenge:
Have you blogged about your experience with Project Hydrate? Lessons learned? Changes noticed? Etc.? Email me at thechiclife at gmail dot com or leave me a comment and I'll link to your post.
NOTE: Please join in on Project Hydrate at your own risk. It is possible to consume too much water (though I've heard this isn't typically applicable for the everyday person), so please be responsible. Also, Project Hydrate doesn't take into account athletic activities. Athletes generally require more water than the normal 8 cups a day, depending on activity. Please consult your doctor before trying any new diet or lifestyle change or to learn about the appropriate amount of water intake for your personal needs.