So, where did we leave off earlier?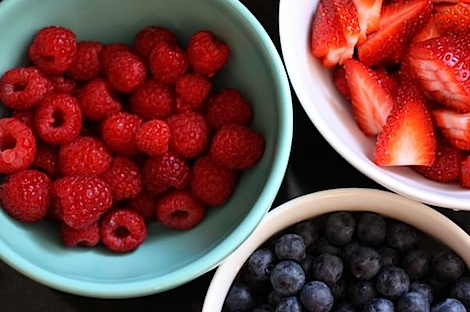 Ah yes, I was working on a top secret dessert involving mixed berries!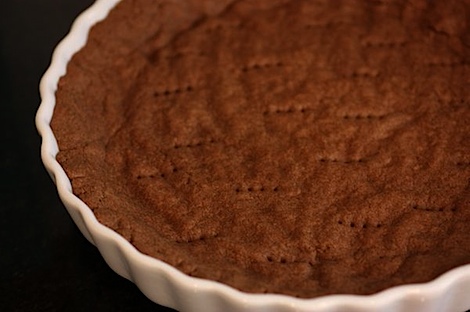 Did you figure out my dessert? Add in a homemade tart shell…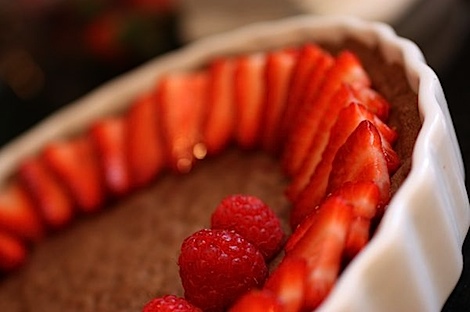 You guessed it! FRUIT TART! Not just any fruit tart – a vegan AND gluten free fruit tart.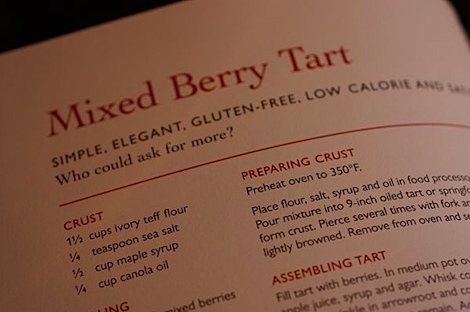 I found the recipe in Clean Food – it's the Mixed Berry Tart.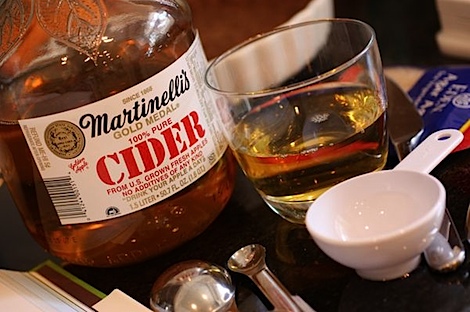 I definitely sampled the cider while I was baking and it was gooooo! Very, very sweet but great! I'm looking forward to drinking more of this later in the week, though I rarely drink juices.
Anywho, on to tonight!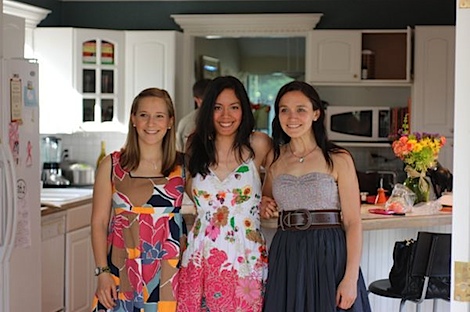 (couldn't pick between the pictures, so I used both! hehe…don't the girls look fabulous in their dresses?!)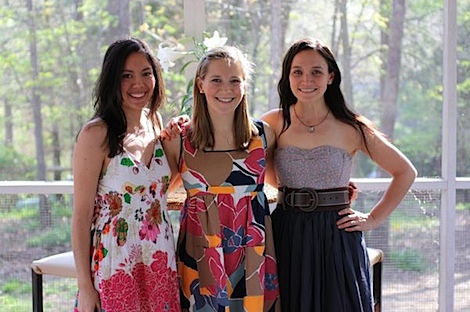 Hubby and I were invited over to Emily and Casey's house to have Easter dinner with them and Kath and Matt!! 🙂 So, after the dessert was ready, we headed over to meet our friends.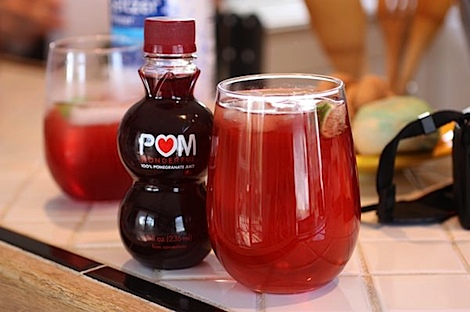 Kath greeted me with a yummy Pom Mocktail.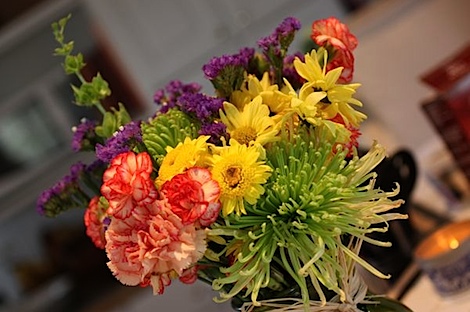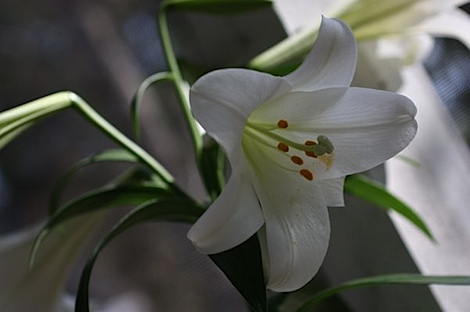 There were fresh flowers all over!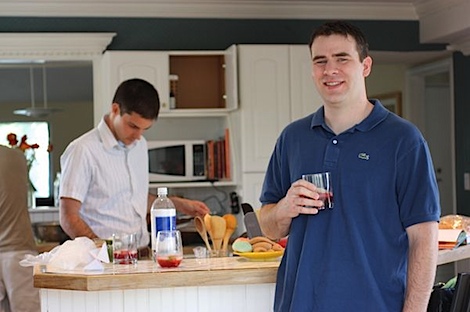 We sipped mocktails…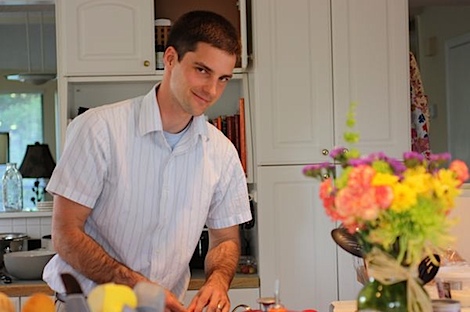 …cooked food…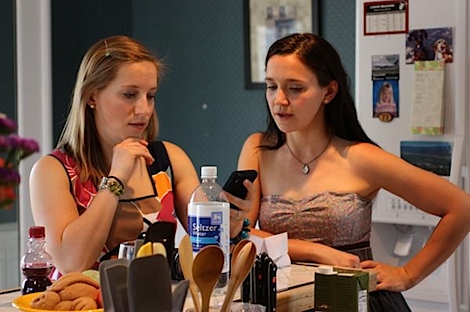 …chit-chatted…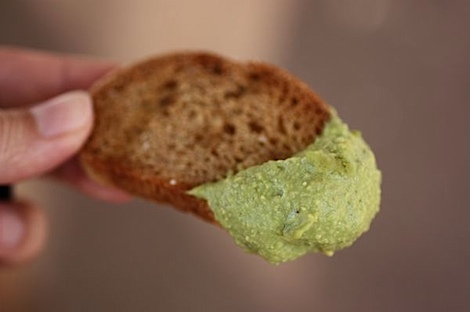 …and snacked on yummy food!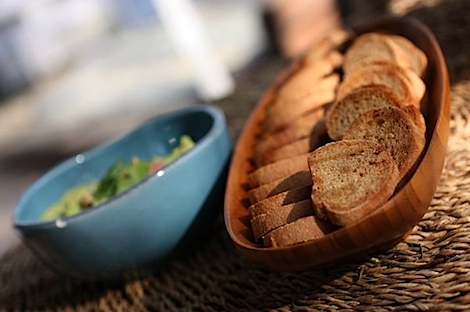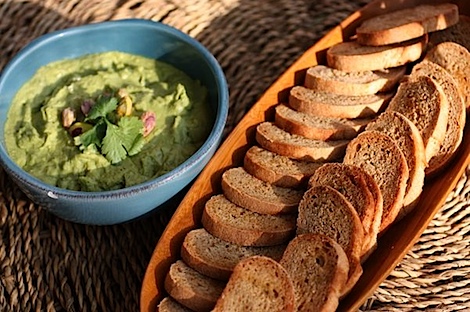 Kath and Matt brought over handmade honey whole wheat baguette slices, toasted in the oven, with a yummy cilantro/pistachio dip.
Here's the photo I took.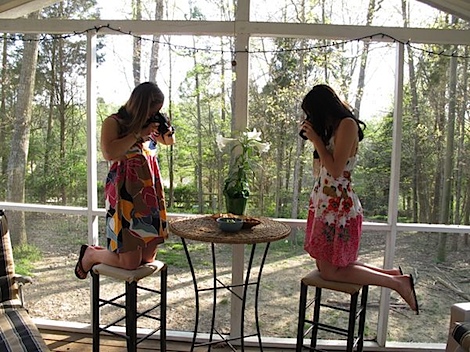 And here's what Kath and I look like taking our food photos! 😆 Thanks for the photo Emily!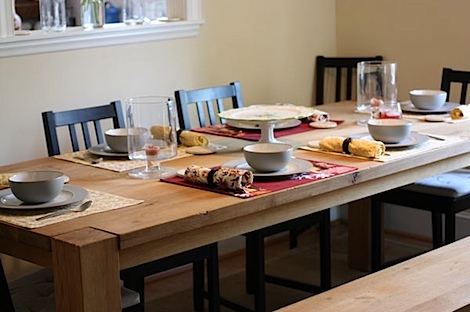 The table – all set and waiting for food and friends.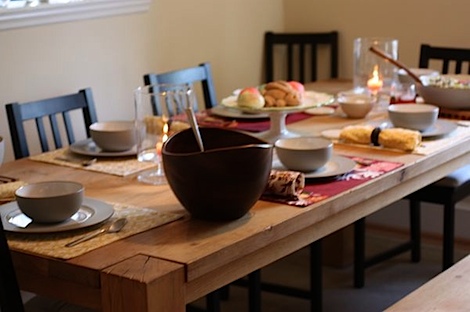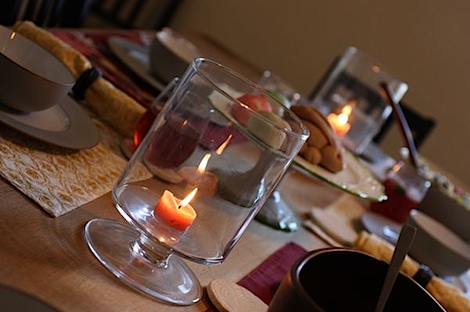 Ta-da!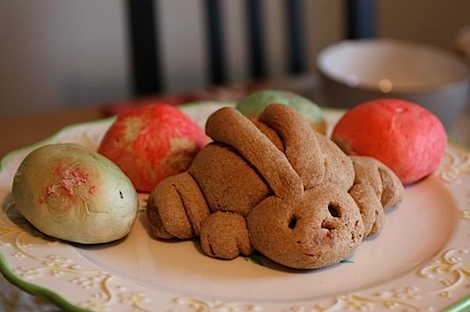 Our centerpiece – an adorable bread bunny complete with Easter eggs! The bunny is really Great Harvest bread with Virginia rolls…mmm.
We had lots of yummy vegan and gluten-free eats on the menu for our fabulous Easter dinner.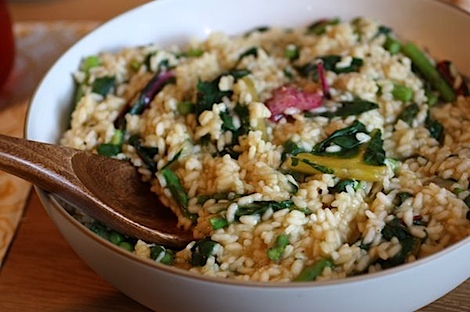 Asparagus + Chard Risotto with fresh herbs.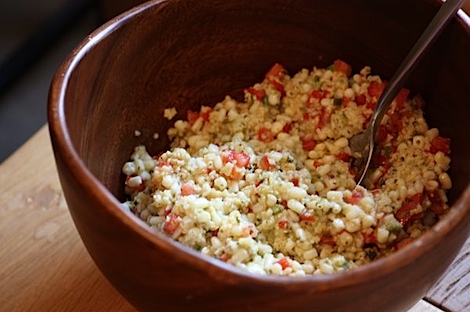 Millet Salad with corn and tomato.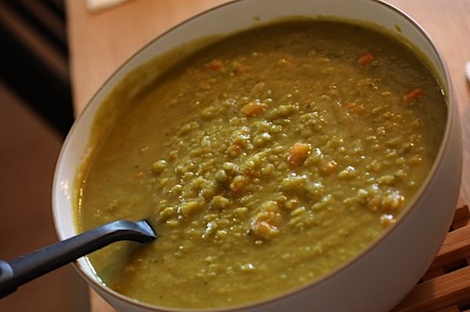 Split pea soup.
Plus the bunny bread!!
Our friends…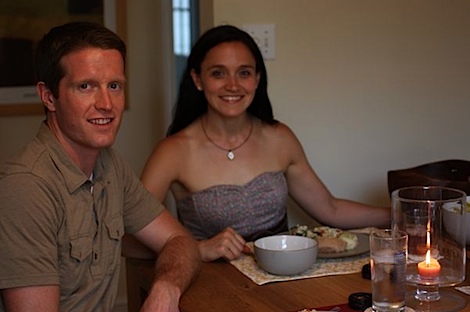 Casey + Emily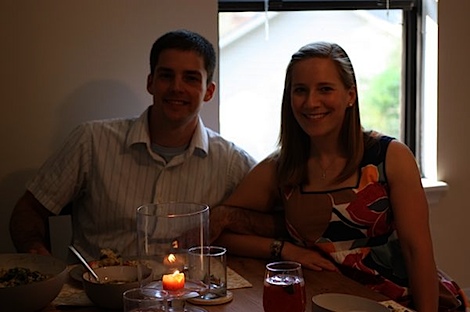 Matt + Kath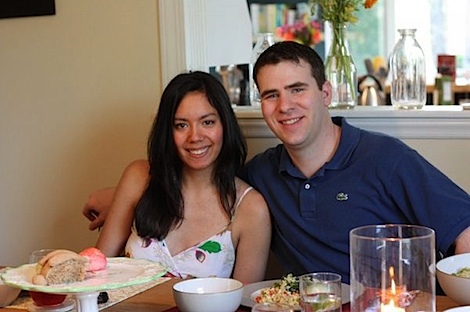 Me + Hubby (thanks for the photo Kath!)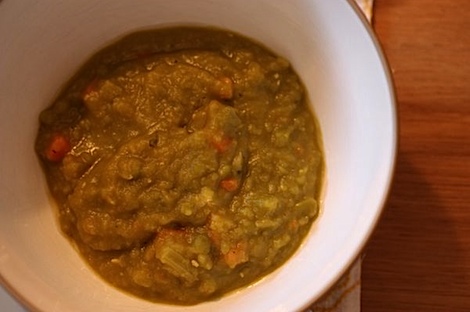 I got a little bit of everything – the split pea soup…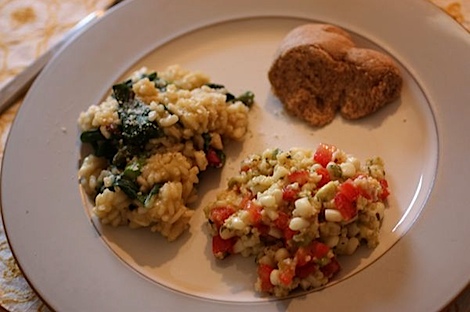 …the risotto, the millet salad, and even a bread bunny leg. 😆
Dinner was fabulous – filling but light. 🙂 Everything was so tasty!! I'm so thankful for such talented foodie friends!
Then, it was on to dessert!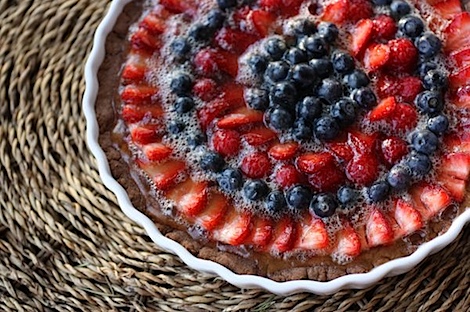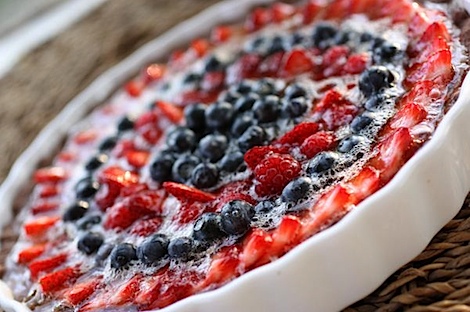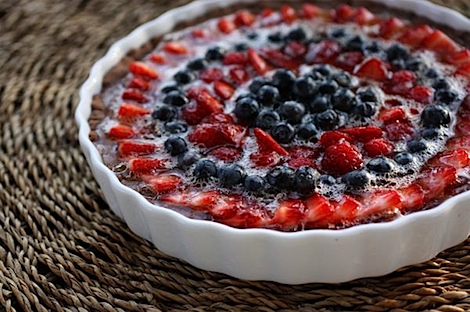 My vegan + gluten-free fruit tart.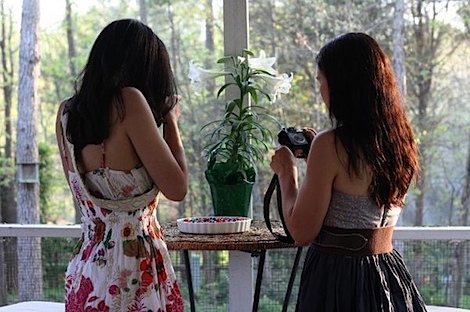 Photographing dessert (thanks again for the photo Kath!)
I must say, I've never made this recipe before, so I was really worried I may just blow the whole thing! lol I was kind of upset that the topping bubbled up so much, but I was mostly worried that the crust may crumble apart or the topping may not taste good.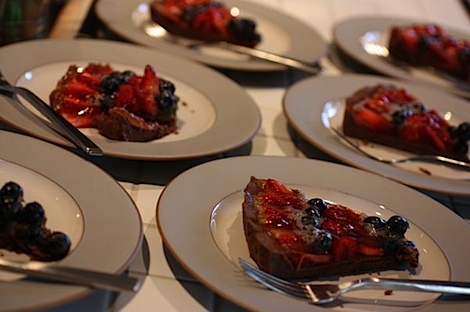 Thankfully, the tart stayed together nicely. Phew!
And for the taste test….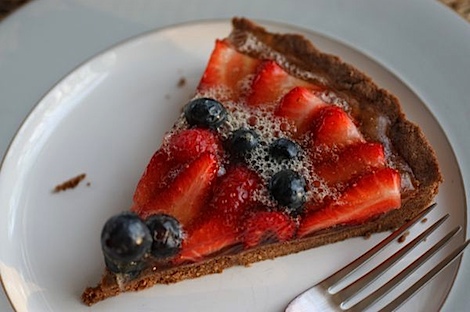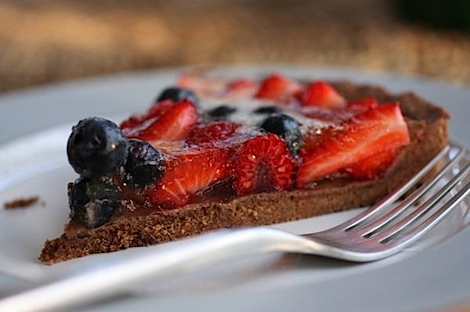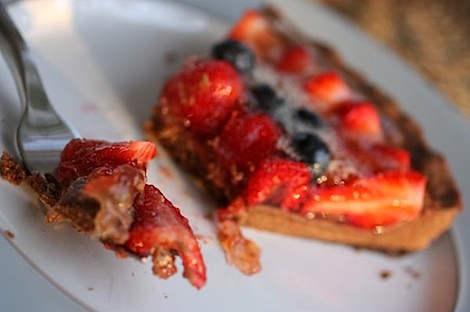 DEE-licious! Phew again!
The crust had an almost molasses taste to it from the teff flour. The berry topping was perfection – sweet but not too sweet. I loved it and would serve this to any one – vegan or GF or not. Total yummers!
After our most-awesome Easter dinner, hubby and I came home and took Bailey for a walk.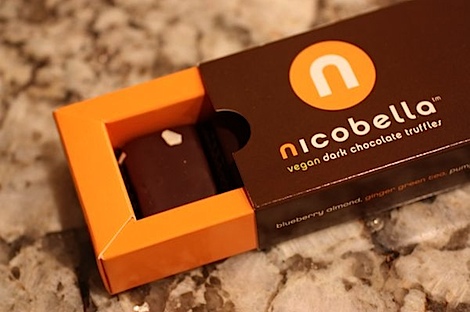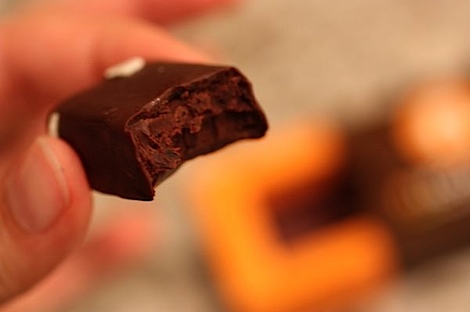 I also decided to sample another Nicobella vegan truffle. Full review to come, but this flavor was an excellent pairing of fruit and chocolate. Yum!
Big thanks to Emily, Casey, Kath, and Matt for a wonderful evening with friends! Special thanks to Emily and Casey for hosting! Thank you, thank you, thank you!!! 🙂
Such a fun weekend, even though I was a bit under the weather. First hubby's beer brewing party with Matt (click), then soaking up the sun at lunch, and now tonight! Feeling very blessed right now. 😀
Happy Easter Everyone!
Reader question: Did you do anything special for Easter dinner? If not, if you could pick any color for an Easter egg, what would it be?