Still feeling the glow from yesterday's amazing Easter dinner!

Someone asked recently (and I apologize for not answering in the comments – I forgot!) – I think it was Learn 2 Play – if I was still crazy bag lady (click). Actually, lately I've been able to downsize my stuff a bit,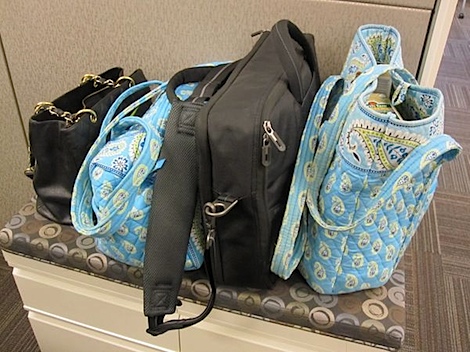 but today…it was the return of the crazy bag lady!!!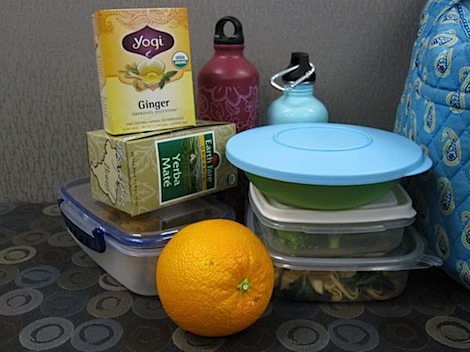 Probably because I had ALL THIS in one of the bags! 😆
Seriously, my shoulders were not happy, though.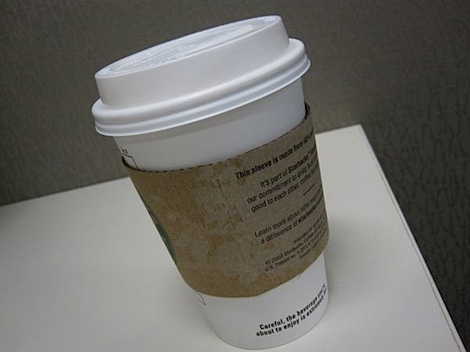 For Starbucks Monday I got a tall vanilla soy latte. So yum!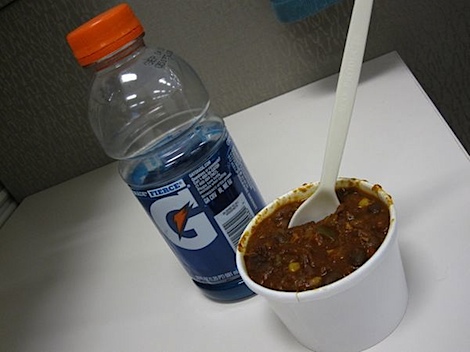 The funny thing about all the things I brought to work today is that I didn't eat much of the food I packed. Having recently suffered from a food-poisoning-like experience…one gets skittish when food is a wee bit old. So, I opted to get some vegan/GF chili out. I also grabbed a gatorade because I'm wondering if my electrolytes are low from last week's lack of food/drink intake. I was feeling a little dizzy today.
Kashi crackers with a bit of hummus leftover from hubby's beer-brewing party.
I attempted to microwave-steam some broccoli with a ceramic bowl and a paper towel. It didn't work. Next time I will use a plate to top my bowl. The broccoli got a little nuked. 😆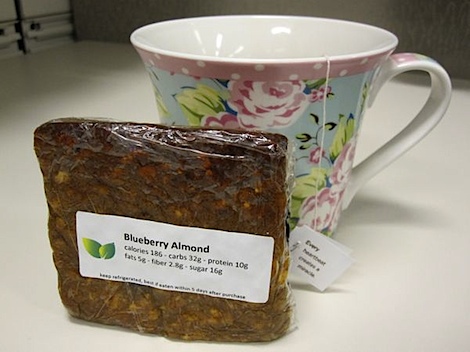 I also had a Blueberry Almond bar and some Ginger tea.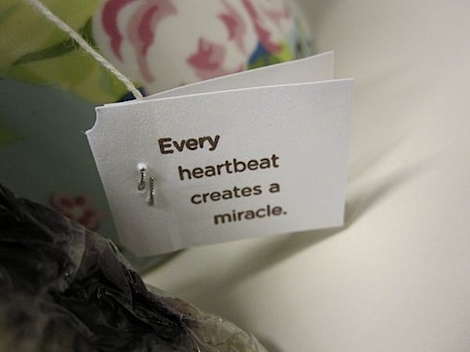 Yogi tea quote of the day: "Every heartbeat creates a miracle."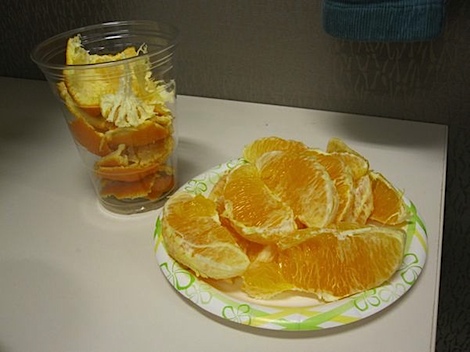 I tried to eat the biggest orange ever! I couldn't quite finish the last 2 slices.
Zumba fuel was an Odwalla Superfood bar.
Then, I had about 1 1/2 fabulous hours of ZUMBA!!! I was feeling a bit off but pushed through and had an awesome work out! 🙂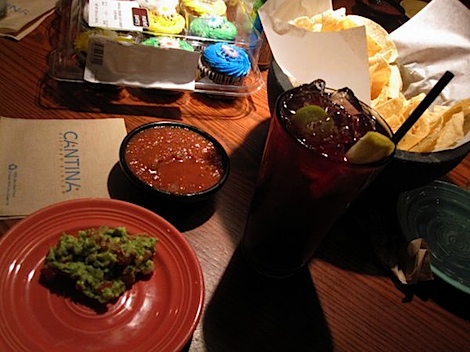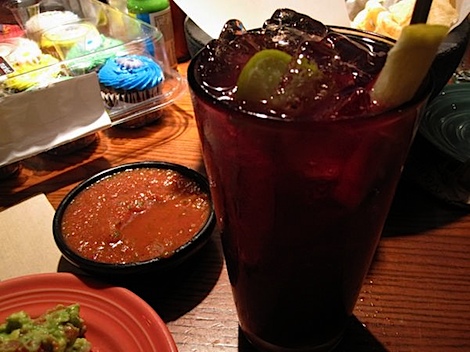 Then, we had a birthday dinner for Kat at a local Mexican restaurant, complete with sangrias and margaritas. Kicking myself right now for not getting any PEOPLE photos! Doh!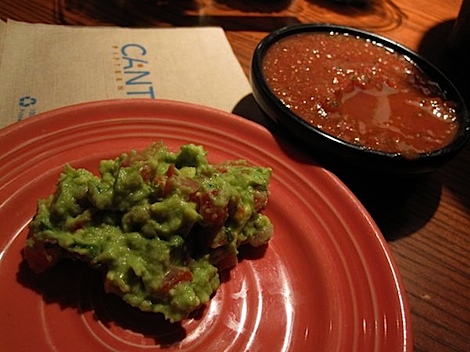 Table-side-made guac.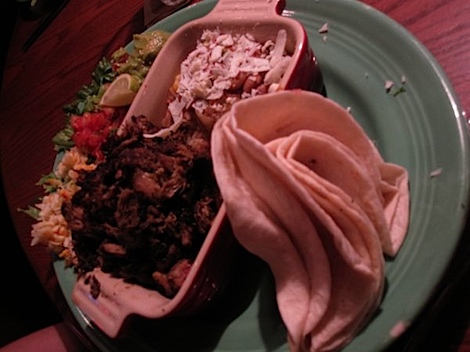 Check out Megan's amazing dinner. I want to get this next time!!!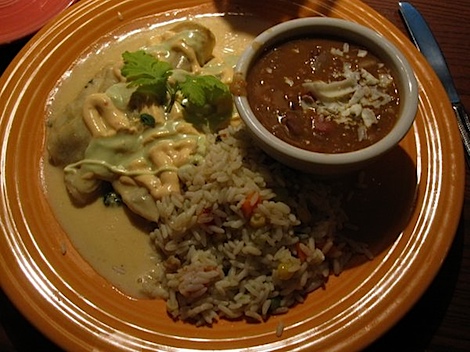 I split some chicken enchiladas with Alex. Thank goodness, too…this was HALF! I couldn't even finish half of this!
I did, however, save room for cupcakes. You guys know me! 😉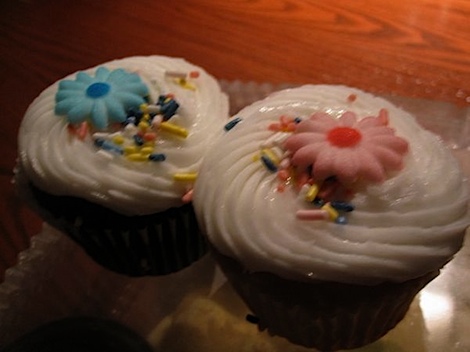 Megan and I selected similarly decorated cupcakes. She said they were "boy and girl" cupcakes. heehee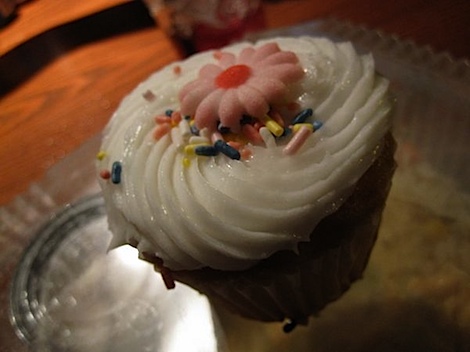 Mmmm…cuuuuppppcaaaaakkkeeee.
Happy Birthday Kat!!!!!!!!!!!!
I came home just in time to practice some zumba songs (I know…probably not the best idea after Mexican) and watch the end of the Duke Butler game. While I'm normally a big fan of the "underdog" and I think the Butler team played great, I have to cheer for hubby's fave team – DUKE!
Congrats to Duke on winning the National Championship tonight!
Who's your favorite (or your SO's favorite) basketball team (can be a college/pro/any type)?