So…I'm a little mad at Ecto right now because the post (click) I stayed up an extra 20 minutes to write (yes the same night I was starting to pack for a business trip around midnight) didn't publish! AND I didn't notice till about 24 hours later…thus the late post. Sorry!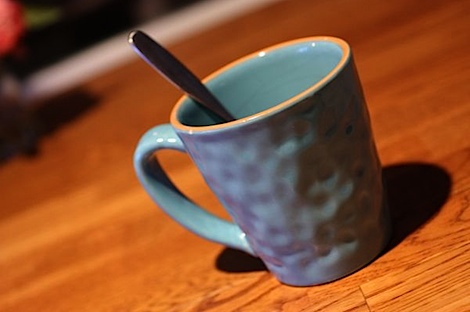 So, anywho, WEDNESDAY morning I was up eeeeextra early for a business trip about 1 1/2 hours away by car in Winston Salem – 2 days of all-day meetings. I had some coffee and made a quick breakfast to take on the road: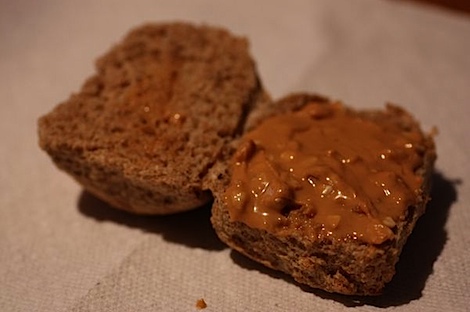 A Great Harvest honey whole wheat roll oven-toasted with some Barney Butter. I kept things light because I knew I'd want to eat some of the breakfast the meeting. I had a half blueberry bagel with some hazelnut spread, plus more coffee.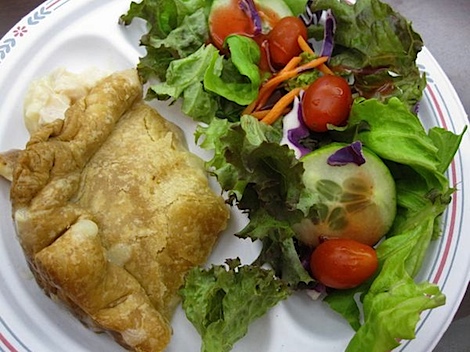 For lunch, they brought food in – Moravian Chicken Pot Pie and salad. I loaded up on the veggies – cuke (can't see them all) and cherry tomatoes.
Plus a piece of celebration cake for a recent success on our team. Go team! 🙂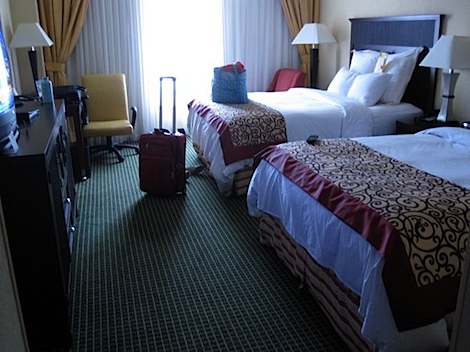 After our Day 1 meeting, I checked into my hotel room and got ready for a group dinner.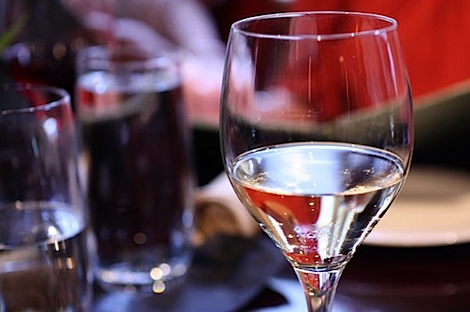 Our group went to Milner's American Southern restaurant. I started with a glass of Sawtooth Viogner.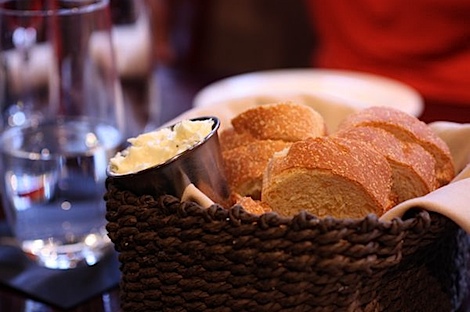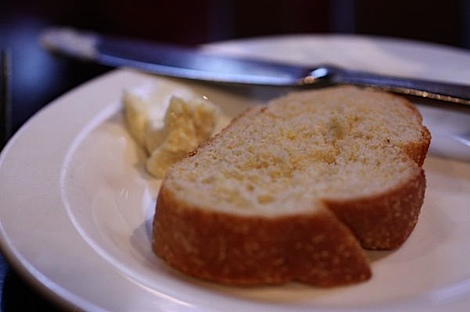 Bread and whipped butter.
Appetizers for the table to share: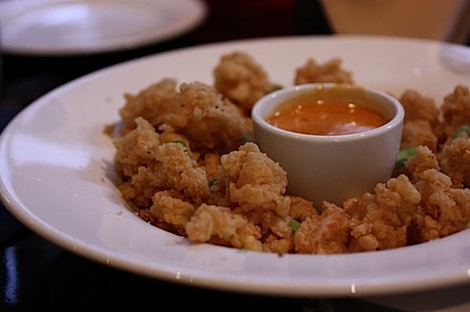 Calamari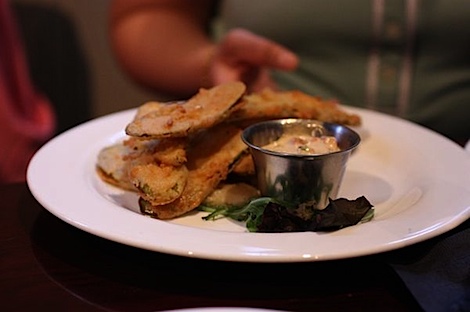 Fried pickles (I've never had them sliced! I've only had them in chip size, but I've also seen them in spears. Chips are my fave shape still).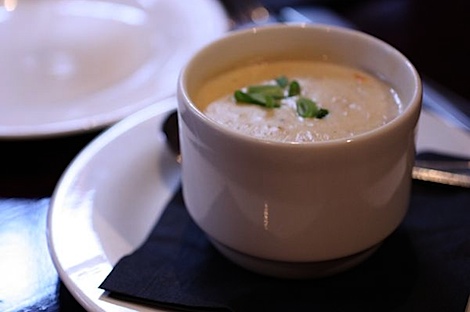 One thing I really wanted to try but knew I couldn't finish with the entree I ordered was the She Crab soup. Luckily for me, my co-worker was kind enough to let me have a bite. Yay! 🙂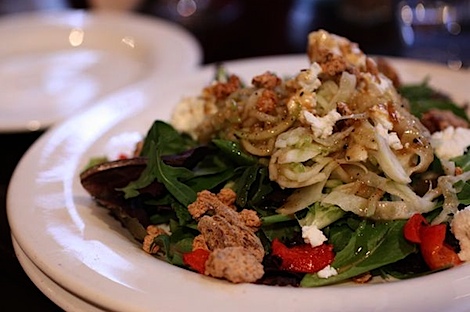 I lucked out again when another co-worker split the "shaved fennel, apple, tender GREENS, goat cheese, roasted red pepper, candied pecans, brown butter vinaigrette".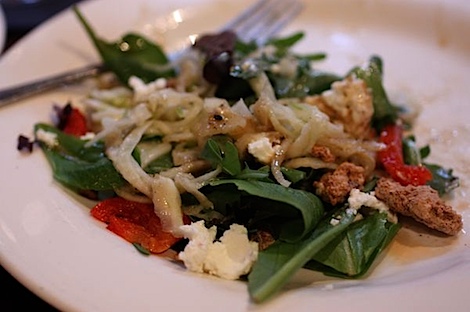 My portion – so, so good!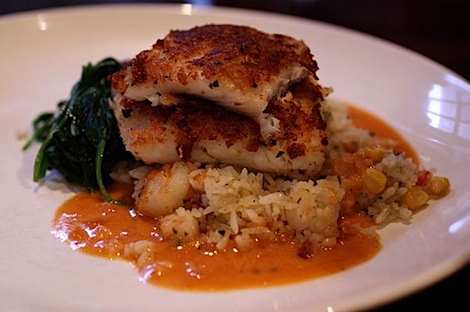 Check out my co-worker's herb-crusted flounder. So pretty! It's the "parmesan-herb crusted FLOUNDER, shrimp purloo, sautéed spinach, tomato Beurre blanc"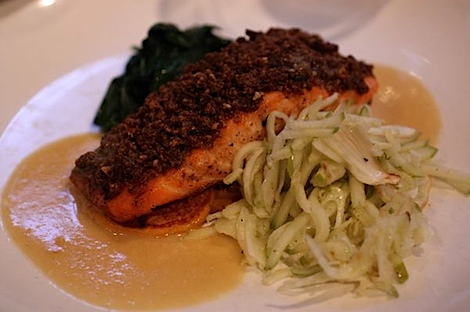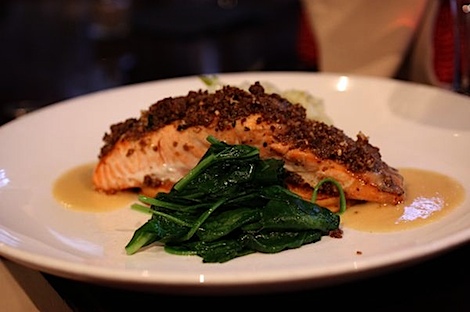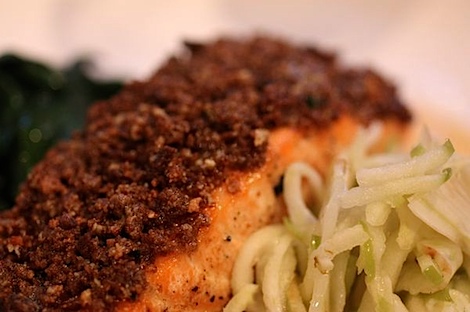 I decided to stick with an entree featuring a local ingredient – Moravian cookies! I got the "Moravian spice cookie crusted SALMON, sweet potato flapjacks, spinach, fennel slaw, vanilla bean beurre blanc."
Very tasty! I loved all of it – from the tender spinach to the crispy fennel slaw to the sweet potato pancakes (they were like orange silver dollars) and of course the main event – the salmon!
I had a fabulous dinner and a fantastic time hanging out with my co-workers. We have a really great team so I always have a fun time and lots of laughs with them. 😆
I still have photos from today to share (since this post really represents yesterday), but I'm soooo sleepy! I need to get to bed. G'night!
In a fun "remember when" post, take a looksie at this post – almost exactly 1 year ago today, we were having an awesome cookout with Kath and Matt and I made a pretty, bright-green edamame hummus! Click to view.