We offered to bring a dessert to a friend's cookout and what says summer better than fresh fruit? Since some of our friends are both vegan and gluten-free, I decided to try to make something that they could eat but something was also so tasty, everyone (meat-eaters and gluten-eaters alike) would still enjoy.
I decided to do a play on the fruit tart I made for our Easter dinner party, but with a modified crust and totally different topping…just to play around.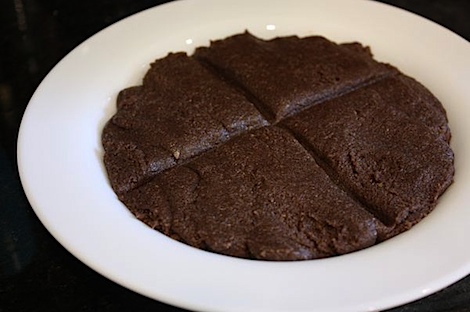 Tidbit: To try to make the mini tarts even in size, I spread the dough evenly in a low bowl, marked lines in the dough like a pizza crust – 4 lines, 8 "slices". I took each "slice" and made 3 balls and spread the balls into a mini tart pan spot.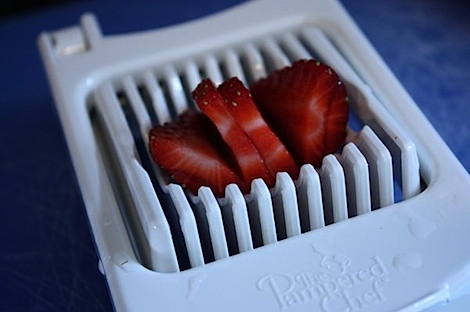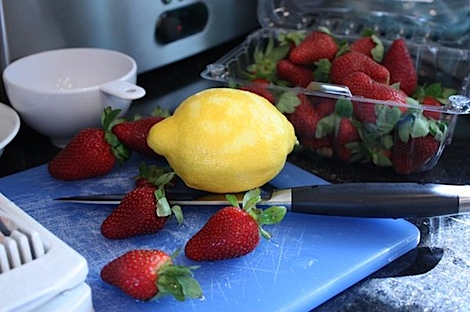 I used an egg slicer to cut the strawberries. (used a knife to trim the green tops off).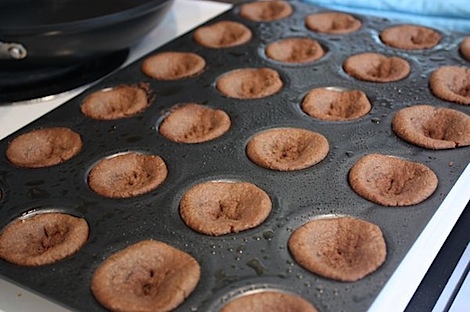 Baked crust.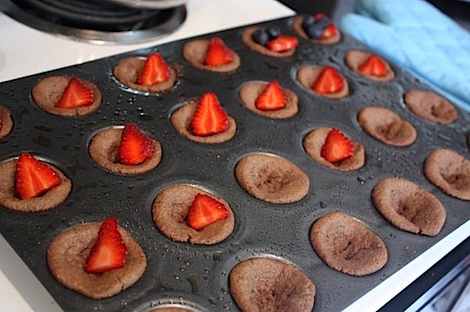 Starting to place the berries.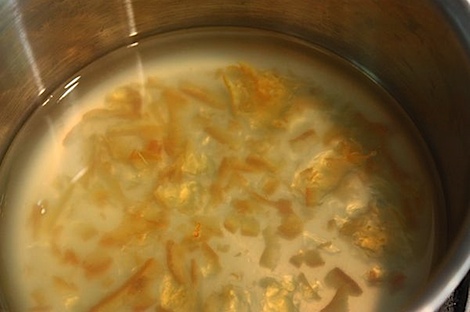 Making the topping.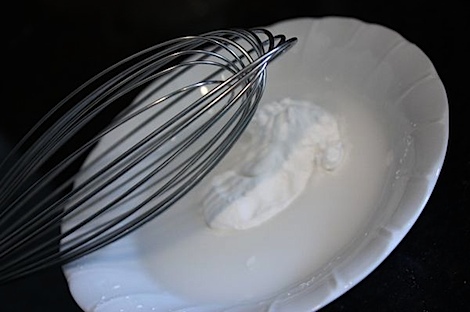 Be sure to make a "slurry" with the arrowroot powder.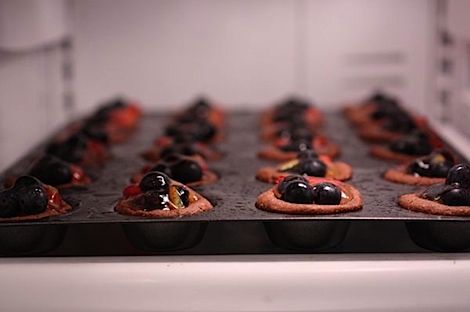 Into the fridge to chill.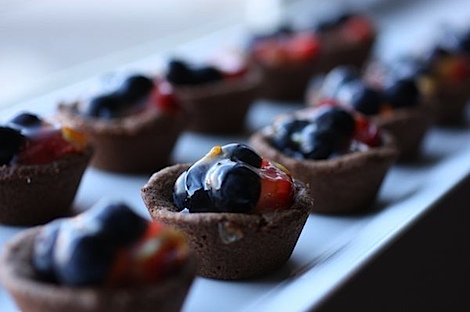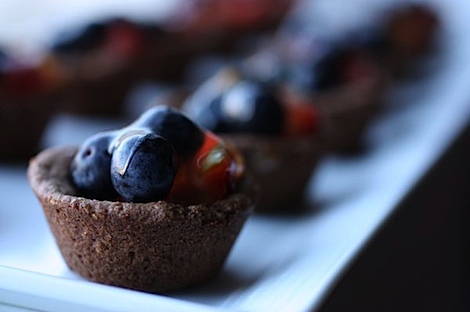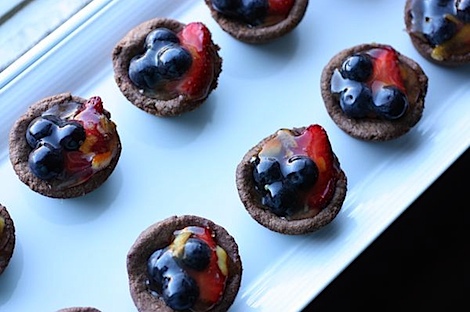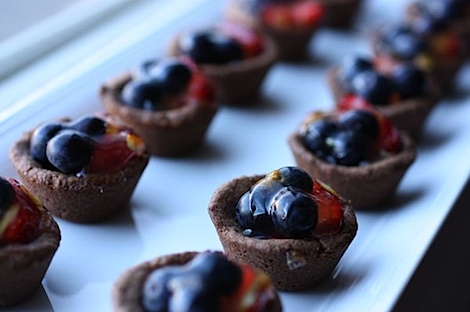 The topping was a little more sticky than I would have liked, but not bad for completely making the topping recipe up on a whim. 🙂 I'll keep playing with it, but I'll go ahead and post it in case you want to try it out.
These fruit, mixed-berry tarts make a fabulous dessert for a pot luck, bridal shower, summer party, or cook out.
Mini Berry Tarts (Vegan and Gluten-Free)
Ingredients:
1 1/4 cup teff flour
1/4 cup flaxseed meal
1/2 cup maple syrup, plus 1 tbsp
1/4 cup canola oil
1 tsp vanilla extract
1/4 tsp salt
mixed berries (I used one container strawberries and 1 small box blueberries and had leftovers)
1/2 cup water, plus 1tbsp
1 tbsp orange marmalade
1 tbsp arrowroot powder
1-2 tbsp fresh-squeezed lemon juice
Directions:
Pre-heat oven to 350 degrees F.
Place flour, flaxseed meal, 1/2 cup maple syrup, canola oil, salt, and vanilla extract in a food processor and process till combined (don't overmix).
Evenly distribute the dough into a mini tart pan (see tip above for getting even distribution), pressing dough up the sides of each tart space to form mini tarts. Pierce the bottoms of the mini tarts twice with a fork.
Bake for 10-12 minutes or until edges are just browning and tart shells are cooked through.
Place tart pan on a cooling rack to cool.
Meanwhile, clean berries and slice, if needed (I used an egg slicer to cut the strawberries). Place the berries in the cooled tart shells.
Next, heat water, marmalade, and 1 tbsp maple syrup over medium-low to medium heat, whisking to combine.
Make a slurry out of the arrowroot powder in a small bowl by adding the 1 tsp water to the powder and whisking till combined.
Just as the mixture on the stove is coming to a boil, add the arrowroot powder slurry, whisking to combine. Mixture will thicken quickly. Add the lemon juice and whisk to stir in. Spoon the mixture over the fruit and into the tarts. You may not use all the topping.
Place in the refrigerator to chill for 30 minutes to an hour.
Serve.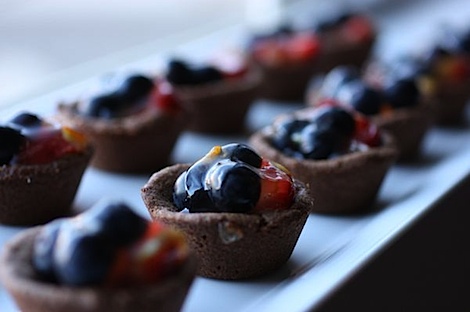 Enjoy! 🙂