Thank you everyone for your kind comments and anniversary wishes on yesterday's post! You guys are too sweet! *blush*
***
This morning, hubby and I woke up early to get the breakfast we were supposed to get yesterday but missed due to our terrible night of sleep. Woohoo (on breakfast, not lack of sleep)!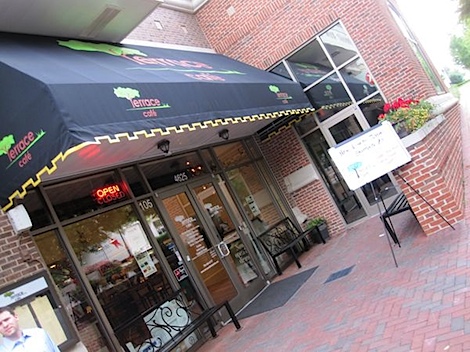 With all the stuff going on with the house, we can't really afford to do a lot of celebrating for our 2nd anniversary (click for wedding photos), but we wanted to at least do something small – a breakfast at one of our fave local spots – Terrace Cafe.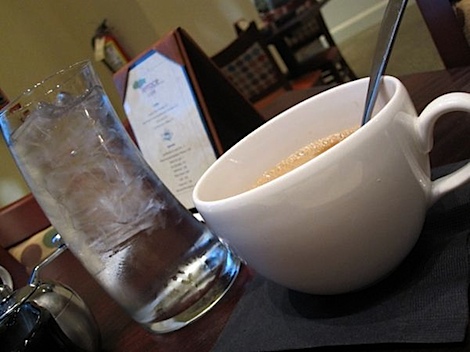 Coffee and a tall water in a cuuuuurvy cup!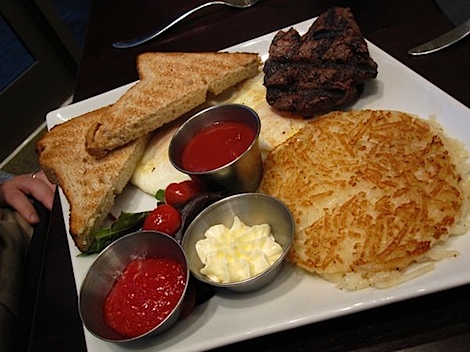 Hubby and I split two entrees – steak and eggs (with WW toast, homemade strawberry jam, hash browns)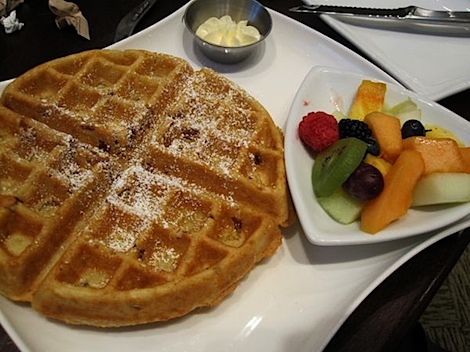 Pecan waffle (the nuts get nice and toasty in the waffle iron!) and fresh fruit.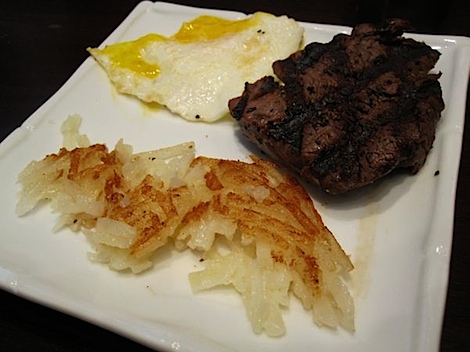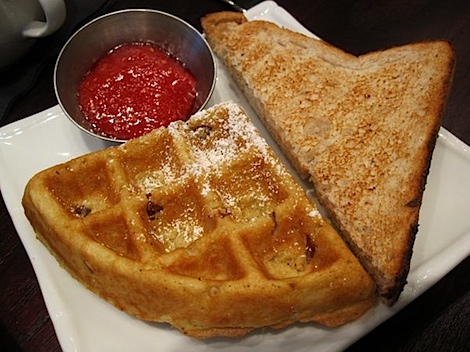 Per the usual, I had a little bit of everything. Boy, was that strawberry jam delicious!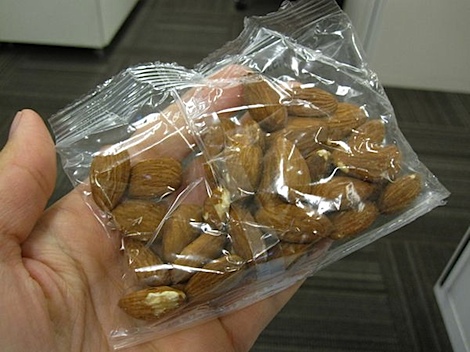 I was glad to have had a filling breakfast because I didn't get to eat lunch till about 2:30-3pm. A TJ's handful of almonds helped tide me over.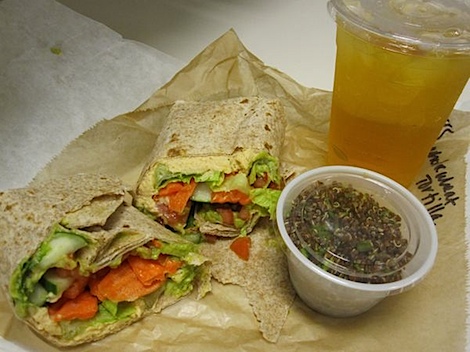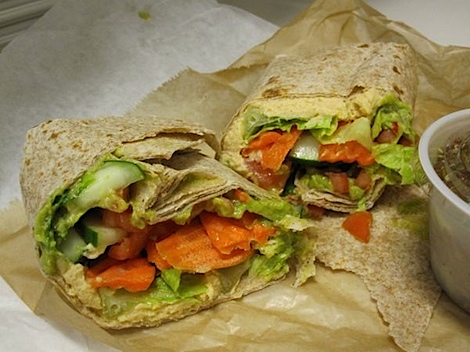 I had a hummus wrap with veggies and guac for lunch. Plus a green-mint tea. Minus a side of quinoa (put this in the fridge for later – I was so full!)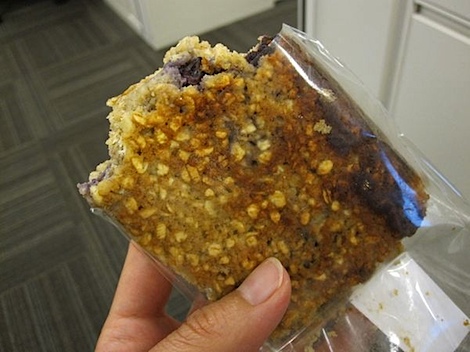 I had a few bites of an energy bar (homemade at local spot), but my late lunch proved to be such a mistake. I saved the last 3/4 of the bar for post workout.
* ZUMBA!*
My stomach was going crazy right up and through the start of zumba tonight!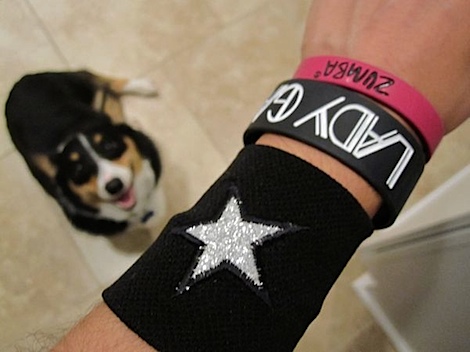 I found some new arm bling to wear to class at Hot Topic when I was shopping for my punk rock look – a star wristband and a Lady Gaga bracelet. Score!
Class was fabulous (except for me feeling slightly nauseous). I led three songs on my own (working up to more as my instructor training progresses):
Let Me Think About It
Fire Burning
Valio La Pena
Valio la Pena is quite possibly my all time favorite salsa zumba song. I wanted to learn it for like the last year, but have really started getting into the choreography just recently. After doing it in class a couple times and practicing at home all alone, I thought I had it. Tonight, I took the plunge and led it for the first time solo….and it was AWESOME! Gosh I had such a good time doing it and I think the class really enjoyed it too! Can't wait to bust that one out some more!
I finished the rest of my blueberry almond energy bar after class for some instant protein. Nom!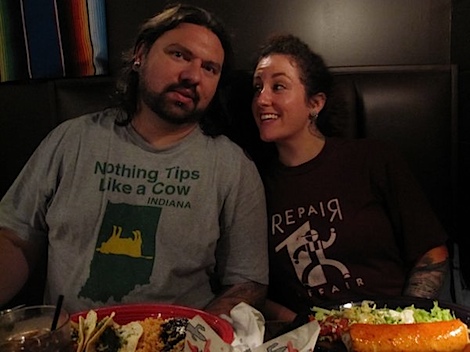 After zumba, I went out for Taco Tuesday with Troy and Jane!! These guys are so much fun!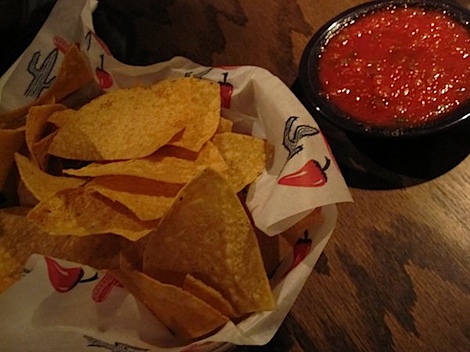 We started with tortilla chips and salsa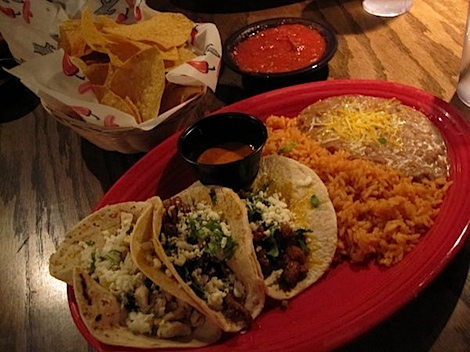 …and I couldn't help but get the tacos (duh!): pollo, barbacoa (shredded beef), and pork/pineapple. Plus rice and beans on the side.
The tacos were fabulous! Oh yes, Taco Tuesdays rock!
Post dinner I enjoyed a mini Vega Health Optimizer shake (just mixed with water) for extra nutrition. After the lack of sleep, busy work days, and kick a$$ workouts, my body needs some help recovering! 😆
Ok, random reader question: do you have a good sangria recipe? Please post your recipe or link to your recipe in the comments. Thanks friends! Have a wonderful week everyone! 🙂