Sooo sleepy this week! *yawns*
I had a cozy MUG of coconut-cocoa-date oatmeal with some coffee.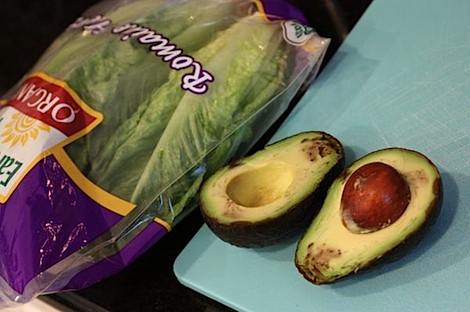 I've been craving veggies and had a big salad planned but my healthy lunch was a fail! THe lettuce was growing a bit of white, fuzzy stuff (never a good sign!) and the avocado that I just bought on Sunday was full of icky brown spots. Yuck!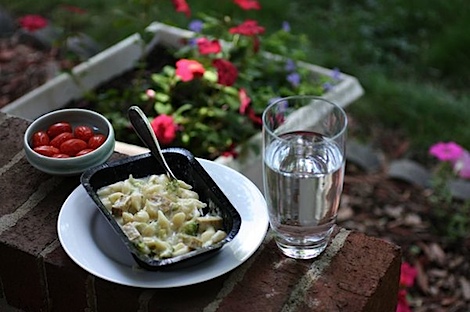 I didn't have much time in between phone conferences to think about food so I just had a Helen's frozen meal (tofu/broccoli/mac and cheese) and some beautiful cherry tomatoes.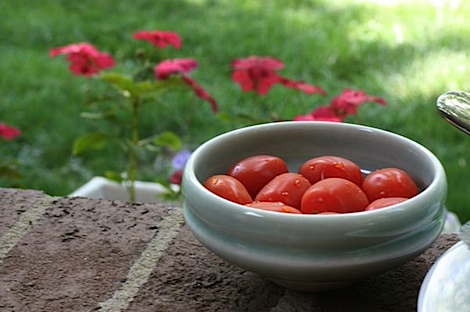 These are the best cherry tomatoes I've ever gotten from the grocery store, but I really can't wait till mine are ready to pick and eat!
I also had a vegan chocolate chip cookie (re-heated in the oven for that fresh-baked taste).
Water was a must! Are you remembering to hydrate?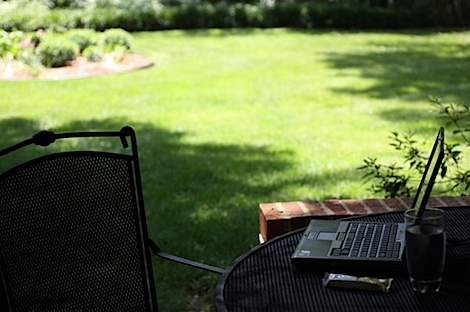 I decided to work about 45 minutes on my patio for some fresh air. It was really pretty outside but a bit too warm to stay out the whole time. Not to mention chirping birds aren't exactly appropriate on phone conferences. 😆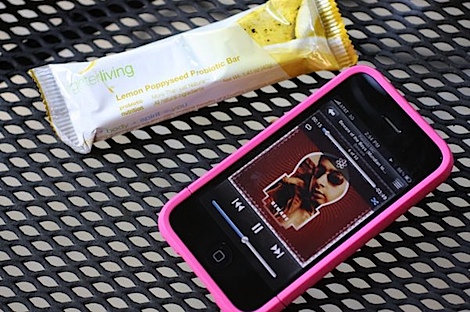 I used my iPhone for some background music.
I'm currently listening to my fave zumba songs over and over to get familiar with the music. This should help me as I train to be a zumba instructor!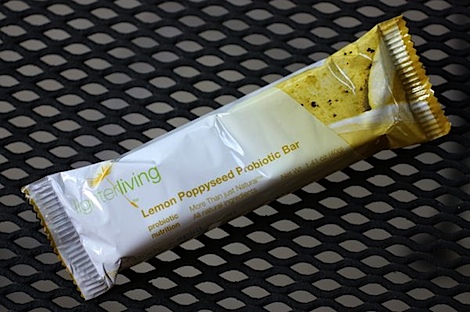 I decided to try another Lighter Living probiotic bar (*) – Lemon Poppyseed this time.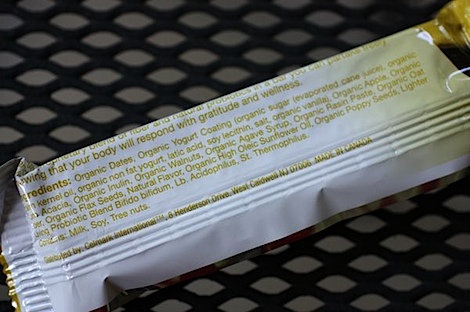 Ingredients.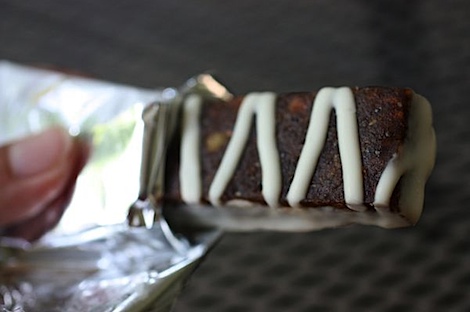 I knew the first ingredient was dates but still expected to see a lemon-yellow bar with tiny black poppyseeds. The bar actually looked like the other one I tried but it really did taste like lemon poppyseed! I liked the flavor a lot. So far, I'm really enjoying these bars.
***
Post work I had plans to meet up with a group of co-workers for a farewell for one who is leaving our team. Their last day was today 🙁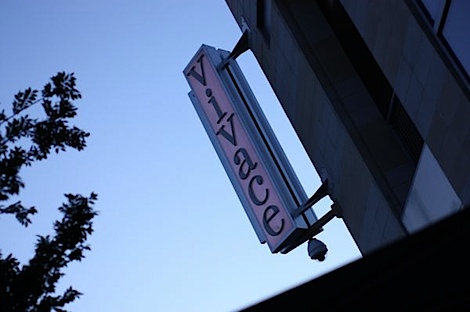 My co-workers selected Vivace – a semi new place in town.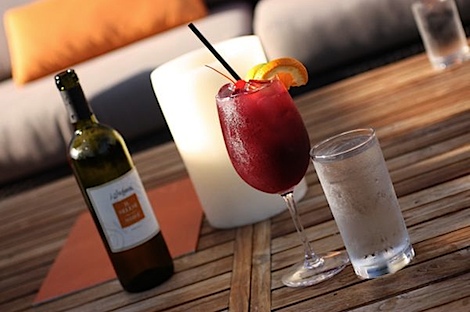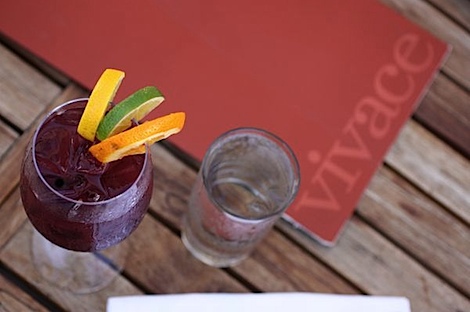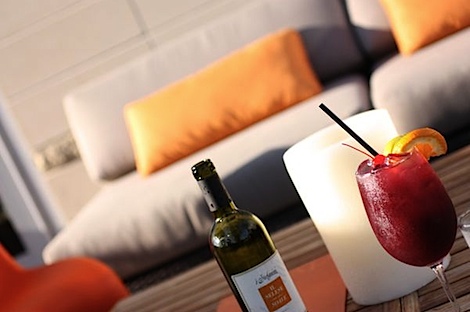 I was really impressed with their cocktail list – they had some unusual drinks – many made with house-made ingredients like limoncello or grenadine.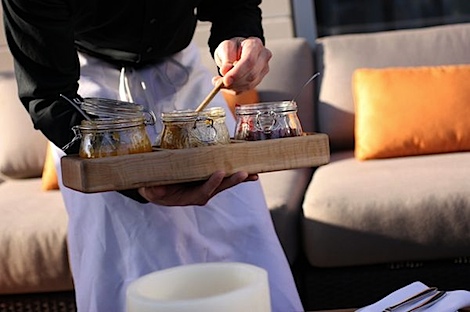 My co-workers ordered a meat and cheese platter to snack on.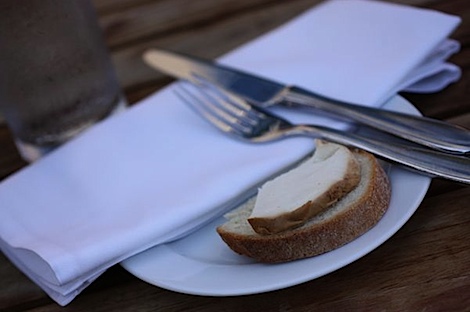 I'm not a big meat/cheese plate kind of girl, but I did try a piece of smoked mozzarella over some fresh bread. It was really good. The mozzarella was a little more tender than others I've tried. I wonder if they m ake that in-house, too?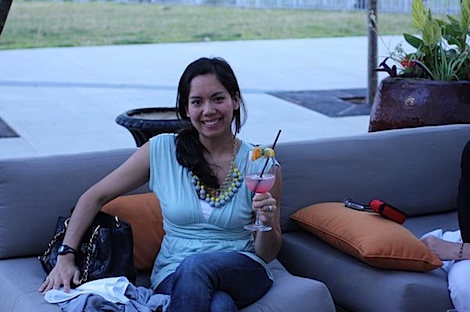 We enjoyed drinks and chit-chatting before getting to dinner.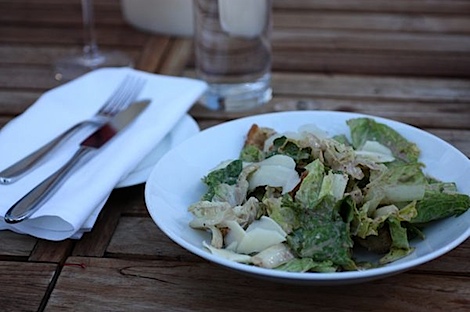 Later on I ordered some food. I started with a Caesar salad sans anchovies.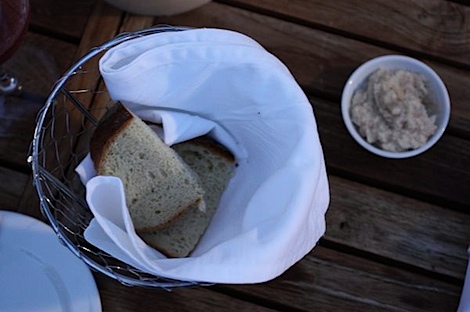 I had another piece of bread with some white bean dip.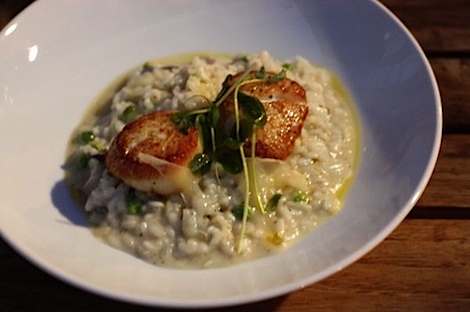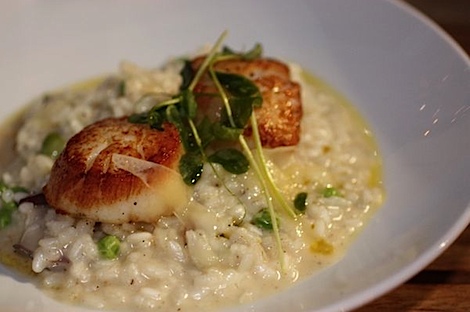 For my entree, I had a small size of the scallop risotto. I saved half the plate for hubby to eat for dinner (and I also saved room in my stomach for dessert!)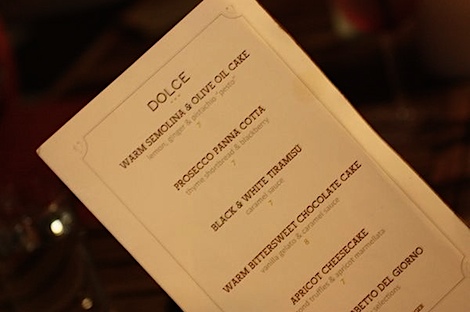 I was immediately drawn to the Warm Semolina & Olive Oil cake, which reminded me of the Olive Oil cake dessert that I saw Giada make once and that I've been itching to try ever since!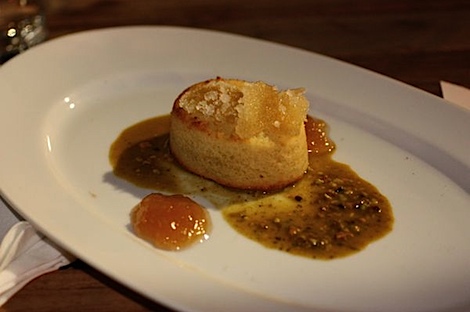 The cake was served with candied ginger and a pistachio "pesto". I thought the size was a bit small for $7, but I really liked the flavors and enjoyed dipping bites into the various sauces/flavors.
Overall, I really liked Vivace. I thought the menu had a nice selection, I liked how many items were house-made, and I also liked how they have vegetarian and gluten-free menus (saw them online but not in person – you must have to ask for them). Also, I thought the staff was very friendly and attentive. Nice work Vivace!
It was a bittersweet night for me because I really enjoyed hanging out with my co-workers but will also really miss the one who's leaving. Best of luck to you MJ!
Food TV's Web Site
Guess what debuted last night?! The new web site for Food TV's new channel – Cooking Channel! My friend's friends worked on this site so I found out it is now LIVE! Click here to check it out!
TCL Recipes on the Web
Check out these The Chic Life recipes being cooked out in the blogosphere:
Thanks for trying out my recipes guys! I hope you liked them! 🙂
***
Btw, I missed tonight's last EVER Flash Forward! Eek! Good thing hubby recorded it. I can't believe the show is over…and I can't wait to catch up on the last episode!
How do you bid adieu to your favorite co-workers? Or, what is the favorite thing someone has done for you when you left a job?