I totally hit up Great Harvest yesterday with full intentions of chowing down on my delicious, carbalicious eats.
On my bill:
whole wheat rolls (b/c they're so much better than biscuits!)
whole wheat cinnamon chip (b/c it's freakin delicious…and semi-healthy)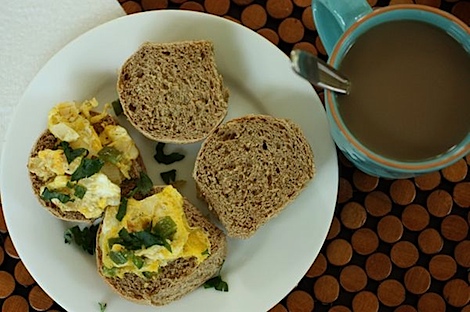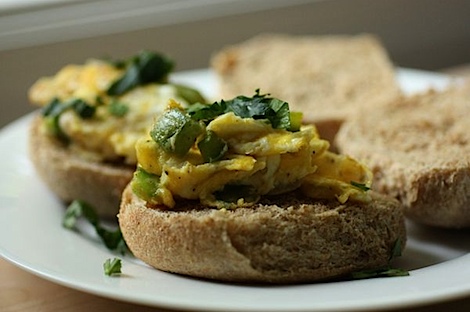 I couldn't wait for breakfast this morning – scrambles with green pepper, onion, parsley on my GH WW rolls (re-heated in the oven for that fresh-baked taste). Plus coffee.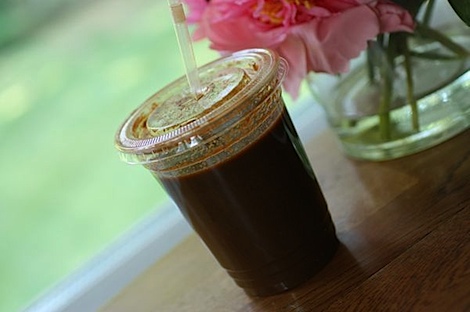 Been feeling sluggish all week. Not sure why I didn't think of it sooner, but I prescribed myself a tall everything juice (too many veggies to name, but it's a nice assortment).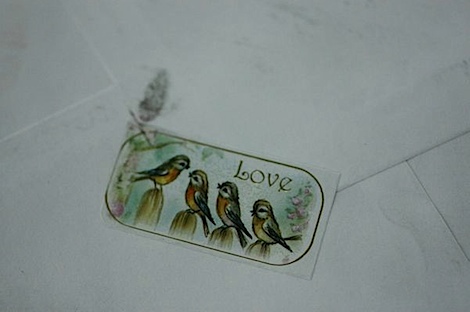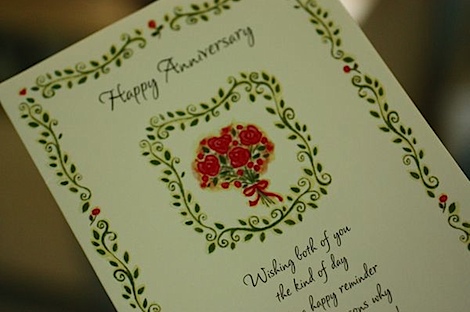 Our parents love us. We got an e-card from hubby's mom and a card from my fam for our 2 year anniversary. Love the little birdie sticker they put on the envelope!
Thank you family!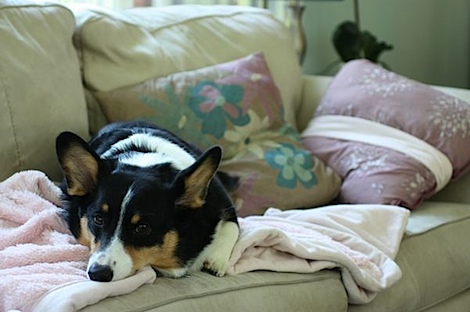 Bailey's been one cuddly puppy today. Not sure if corgis are natural cuddlers or if I just taught him that. 😆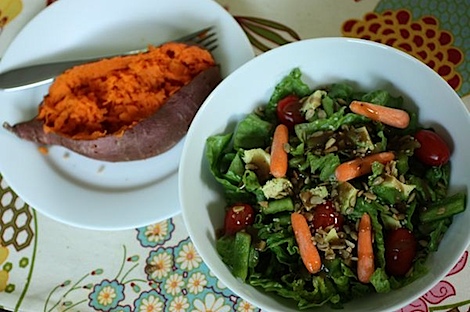 After getting some fresh lettuce, I made a big salad with a micro-baked sweet potato (bit of real butter and dash of brown sugar).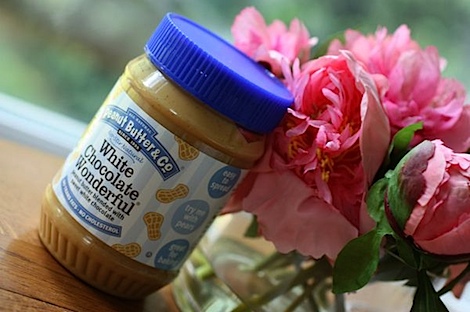 Lookie what I found on sale at the grocery store! White Chocolate Wonderful! I've been wanting to try this stuff for like years! Not like 10 years, but maybe at least 2. I was leaning towards getting more dark chocolate dreams for the cocoa (it's good for you!), but I figured I could always add some unsweetened cocoa powder.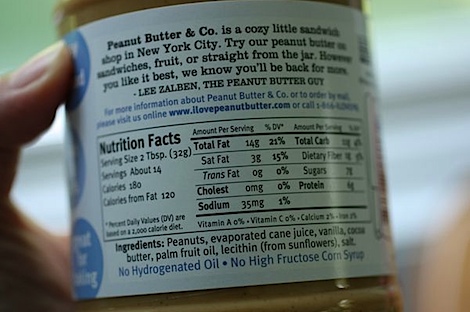 Nutrition.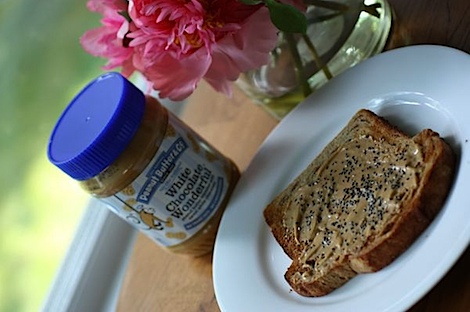 I knew the WCW would be awesome on my cinnamon chip bread. Yuuum! I also added chia seeds. Not quite what I'd classify as Power Toast, but delicious nonetheless!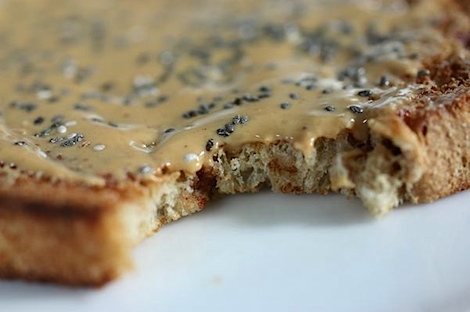 See the cinnamon chips and the ooey gooey, melty PB? Nooooommmmmmmm!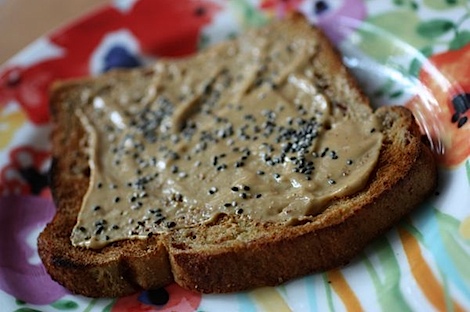 It was so good, I had another slice.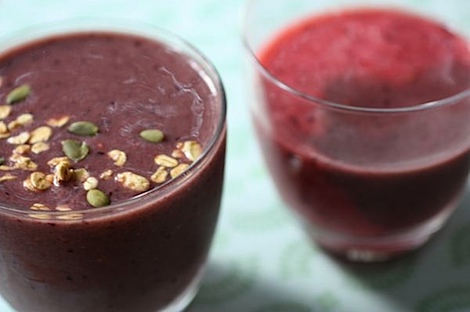 I made hubby and myself smoothies later.
I'm always jealous his is prettier because his goes naked while mine usually gets at least a half scoop of Vega Health Optimizer.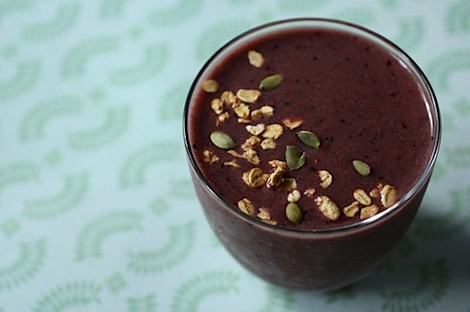 Today, our smoothies had:
Frozen mixed organic berries
banana
OJ
ice cubes
water
On top: granola and pepitas.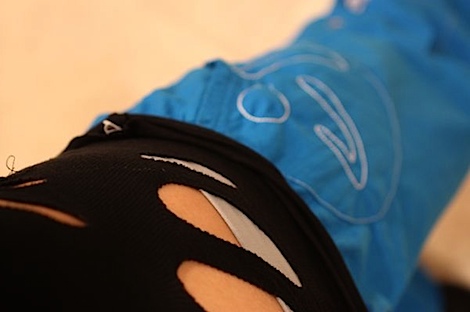 Post-work, I donned my DIY-cut zumba tank top for a special 90 minute zumba class. I led Let Me Think About It again and it was…per the usual…AWESOME!
Such a fun class…it almost didn't feel like it was 50% longer!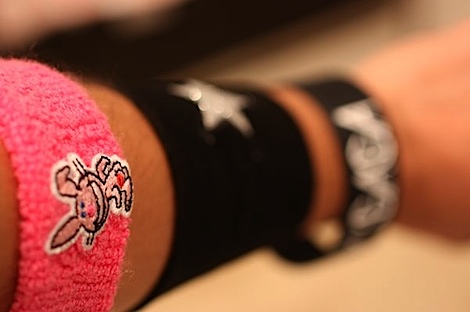 Check out my happy bunny sweat band. He's saying "kiss my a$$" basically. 😆
My cut tops and wrist bands make me feel like a rock star on stage! I'm finding this is very important because you have to at least pretend like you're the shiznit when you're in front of class. No one wants to see a wimpy, non-confident zumba instructor. They want someone bursting with energy and confidence! Dressing the part always helps get me in the outgoing instructor frame of mind.
I think the whole dressing-up thing comes from my skating background. I always wanted to look like my idols. If Michelle Kwan practiced in black leggings with a black leotard, then I wanted to practice in black leggings with a black leotard. I remember I used to have a warm-up pre-skating-session that I heard MK did, so I did it religiously! When my mom's friend went to China, I begged her to get me a good luck charm with a red string so I could wear the same type of necklace that Michelle wore. She got one for me and I didn't take it for yeeeears! All these things always made me want to skate better and practice harder. Amazing how simple things like certain tops and stuff make you feel more professional or confident.
I came home and practiced some of my zumba dances and a couple songs I'm trying to choreograph (sorry, mum's the word!). All in all I ended up doing about 2 hours of cardio tonight. Needless to say, post-workout I was RAVENOUS!
I wanted to eat EVERYTHING!
I settled on dinner.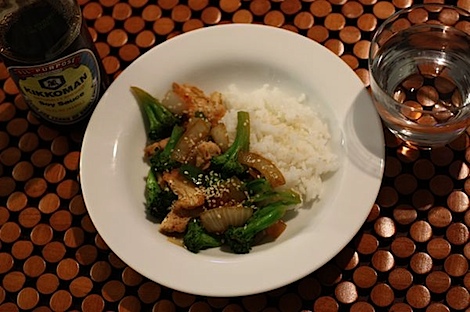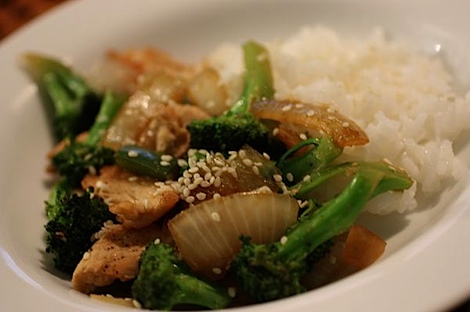 I made a quick chicken stir fry:
chicken
broccoli
green pepper
onion
soy sauce
peanut oil
sesame seeds
rice
Seconds.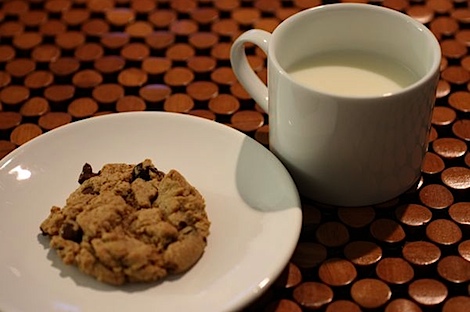 Dessert #1 – a vegan chocolate chip cookie from the other night. Plus some 1% organic milk.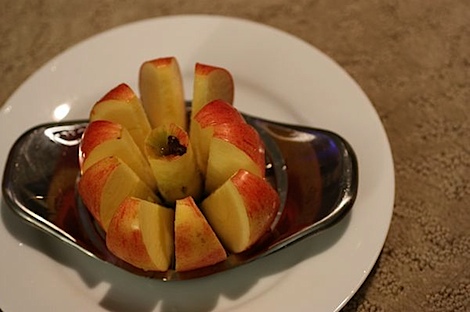 Dessert #2 – an organic gala apple.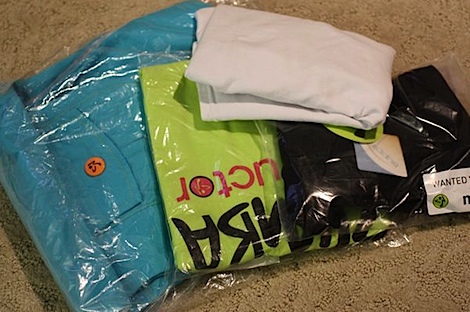 Did I mention I got new zumbawear today? Can't wait to share! Squeeee! 🙂
Hubby and I have a MAJOR shopping trip planned for tomorrow. Guess I'd better get some rest! I think I'm going to need it!
Do you wear anything that makes you feel more confident (in general or in a particular setting)?