I was really excited about making oatmeal today since I finally re-stocked on my dates, but I forgot I got a muffin yesterday for hubby and I to split at breakfast. Doh!
The solution…two breakfasts, of course!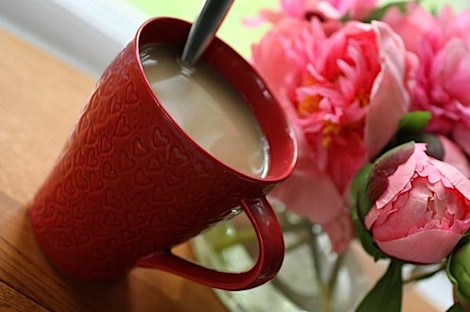 Coffee was only needed once, though.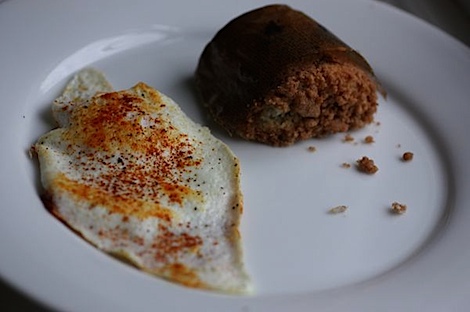 Breakfast #1
Fried cage-free egg with a sprinkle of turmeric. Wow that stuff gets bright when it gets hot! So pretty!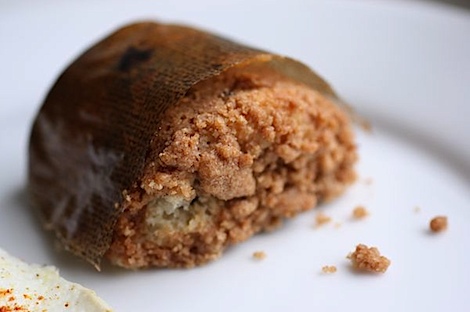 Boy was the muffin good!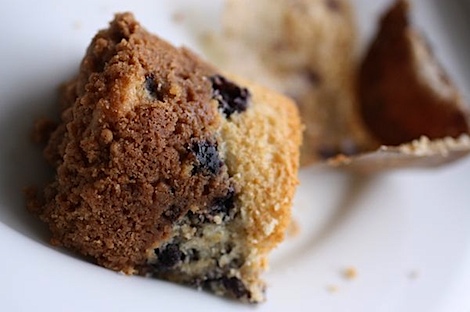 Loved the streusel topping.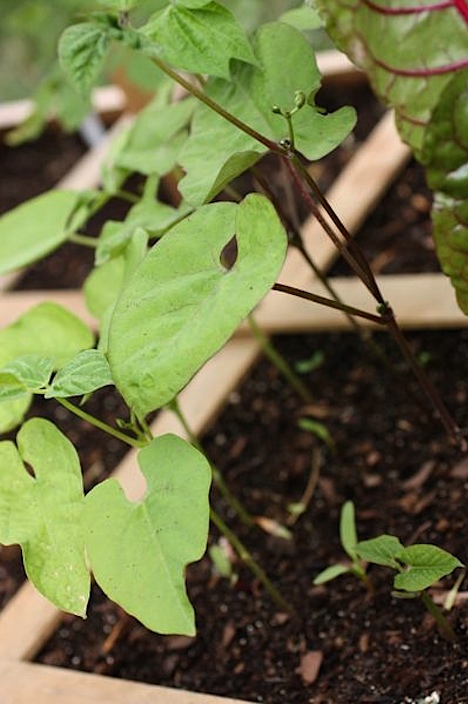 My green bean plants are really growing up!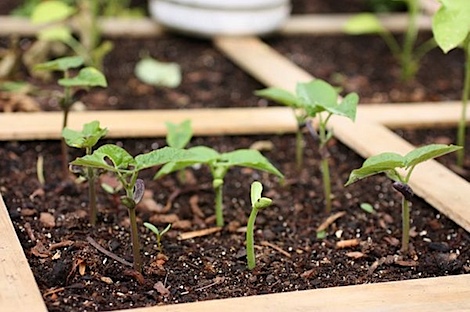 I went ahead and planted another box of green beans. They're really springing up!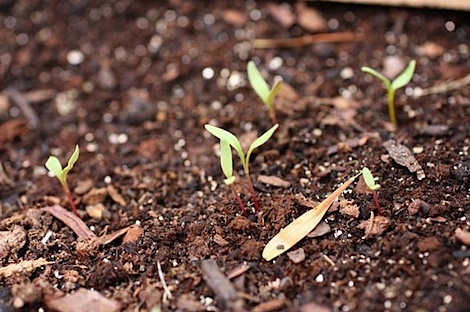 And I put beets in the last two boxes! I hope I get lots of the stripey ones! The seeds were a mix so I wont know what I have till I harvest the beets.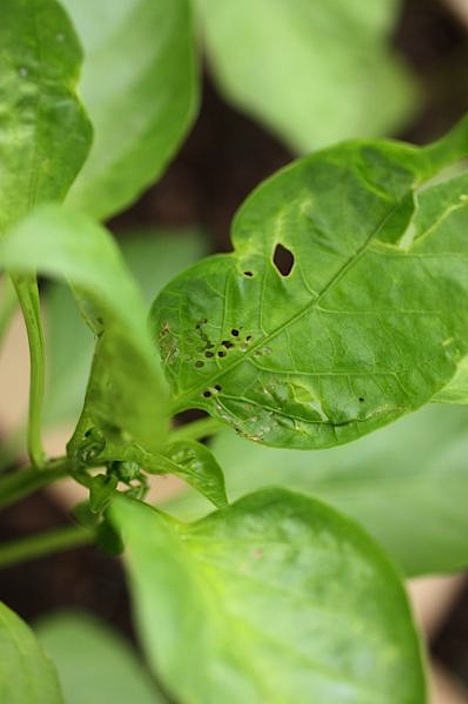 Something is eating my red pepper! Grr!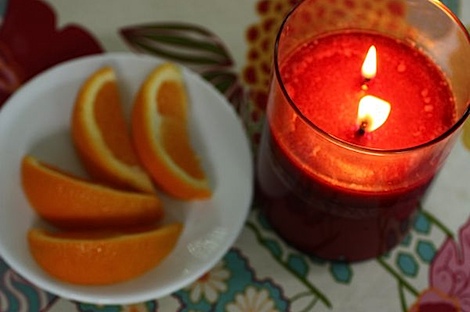 Half an organic orange plus a candle for some omm and good smelly stuff.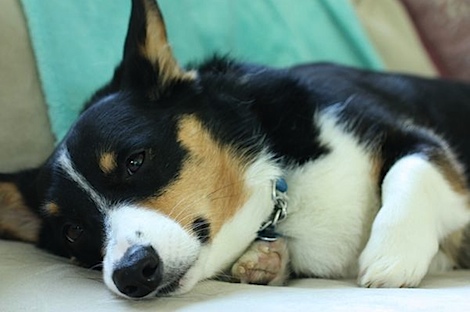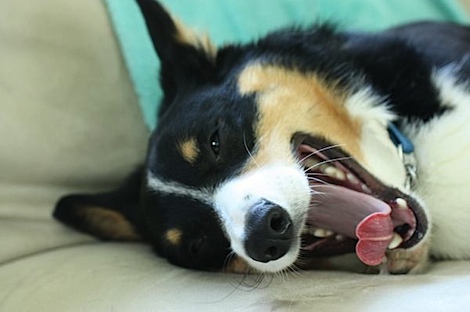 Someone was sleepy today!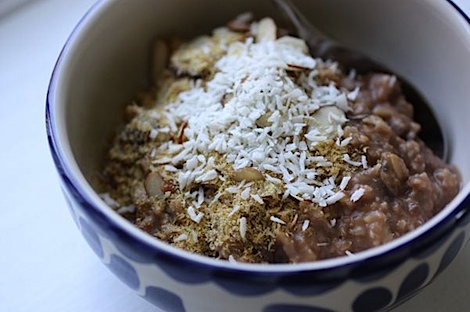 Breakfast #2 – oatmeal! Duh! 😆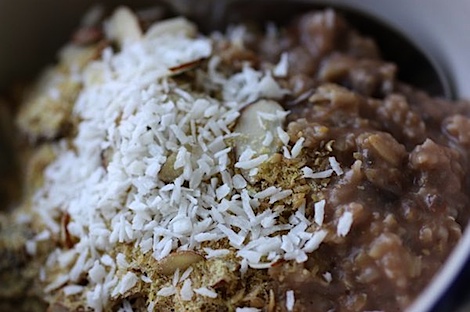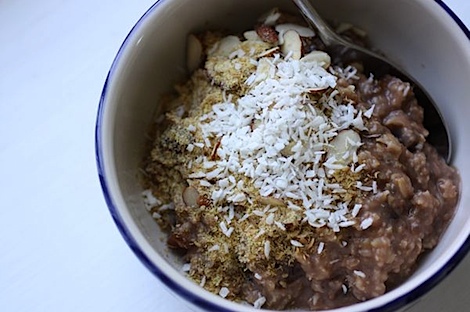 Chocolate-Coconut-Date Oatmeal with almonds and flaxseed meal.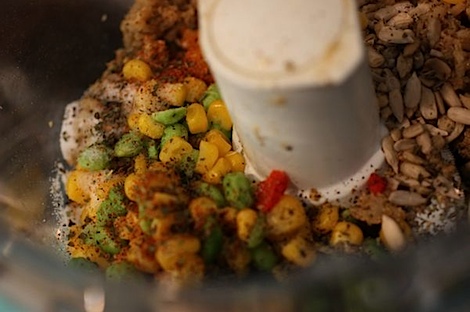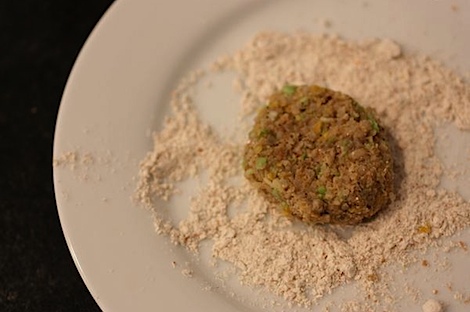 I did a little experiment for lunch today. I quickly whipped up some Italian rice bites aka mini vegan rice burgers, made from the leftover rice pilaf from last night.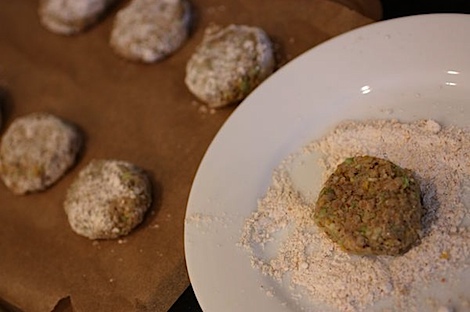 I hate wasting leftover food and I was really hoping to find a good use for that leftover rice pilaf. Enter veggie burgers!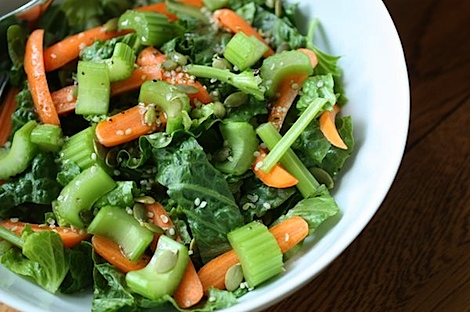 I had a big salad while my cooking experiment baked away: organic romaine, organic baby carrots, organic celery, pepitas, hemp seeds, Italian dressing.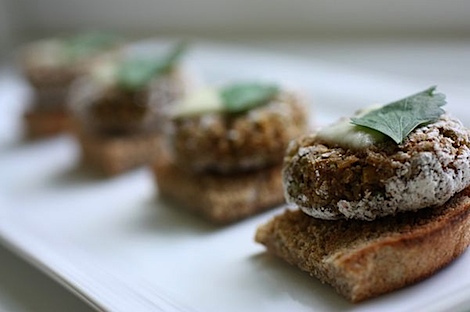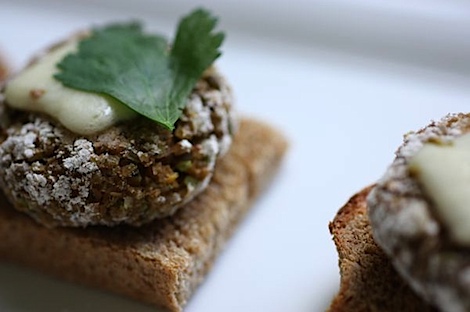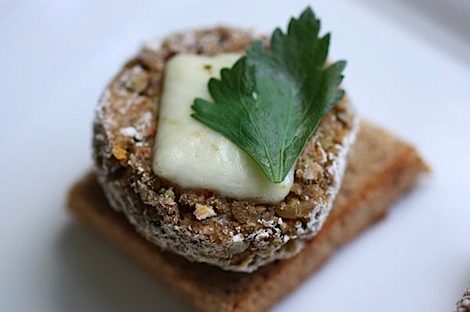 Ok, so they were vegan before I added cheese, but you could add any topping you wanted – sauce, vegan cheese…anything!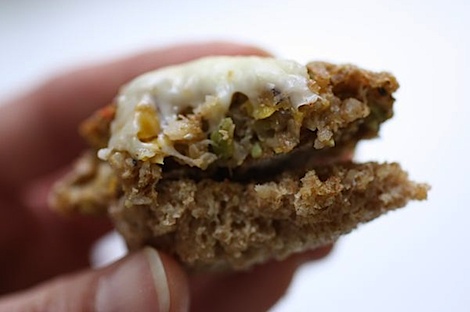 Anywho, these little rice bites were awesome! I added some cayenne, which gave them a nice little kick! So glad I found a good use for those leftovers…I think I see many more veggie burgers in my future! 😉
These would be fabulous as vegan rice burger sliders on mini rolls…eaten plain, eaten toast or formed into larger patties and eaten as full-size veggie burgers. Yum!
Italian Rice Bites (aka Mini Vegan Rice Burgers)
Ingredients:
1 cup leftover rice pilaf (mine was already an Italian-flavored pilaf, but go with the flavor you have or use plain leftover rice and add your own seasoning)
1 half cup cooked veggies (I used TJ's soycuttash for extra protein from the soybeans)
1/4 cup flaxseed meal
1/4 cup nuts/seeds (I used sunflower seeds and a couple walnuts)
1 garlic clove
1/2 tsp salt
1/4 tsp pepper
dash of dried basil
dash of cayenne (add more or less to taste)
spelt flour (or other flour) for rolling bites
Directions:
Pre-heat oven to 350 degrees F. Prep a baking sheet – I put a piece of parchment paper over a baking sheet.
Add ingredients to a food processor. Pulse until ingredients come together – go longer or shorter depending on texture preference.
Form mixture into small balls (grab about 1-2 heaping tbsp worth). Flatten into discs, roll in flour, dust off excess, place on baking sheet. Repeat with remaining mixture.
Bake 12-15 minutes. Flip. Bake another 10 minutes, until rice bites/mini burgers are lightly browned.
Serve as you like. I melted cheese over mine and put them on pieces of WW toast with a piece of parsley from my garden for garnish.
Nice and light…and spicy!
***
I grazed the rest of the afternoon.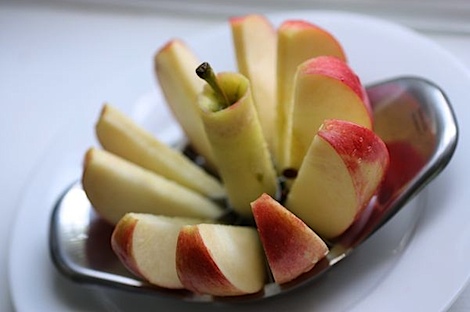 Organic gala apple.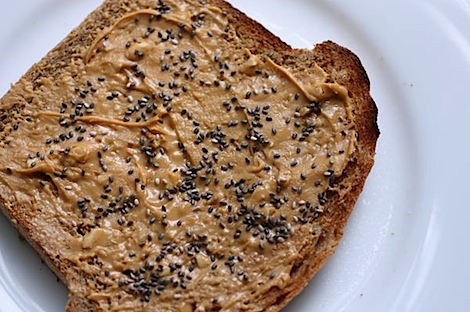 WW toast with Barney Butter and chia seeds.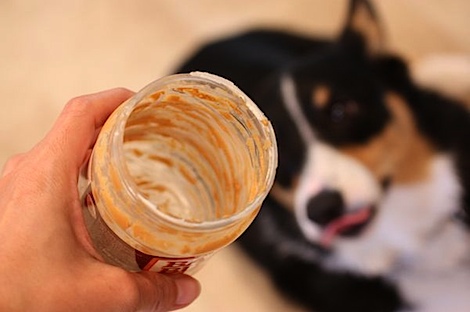 I know you guys love OIAJ, but…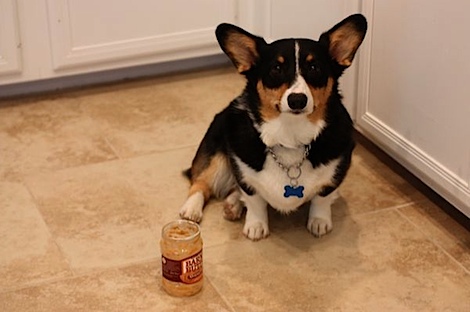 …look at that face!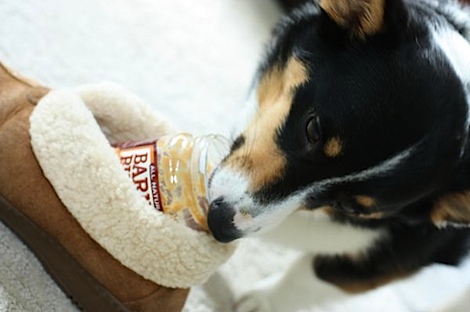 This is my fave way to use the last AB of a jar. I put the jar in a shoe to keep it in place for Mr. Bails.
***
I went to ZUMBA class tonight because I won't make it tomorrow. That's 3 classes in 4 days…phew! Here's to getting ready for bikini weather! lol The funny thing is that I'm not working out extra for bikini weather…I'm doing it to train (click)! Being extra-ready for bikini weather will be an added bonus! 😉
Class was fabulous. I got to help assist leading Break Your Heart. I think I'm going to try to lead that one solo next week…eek!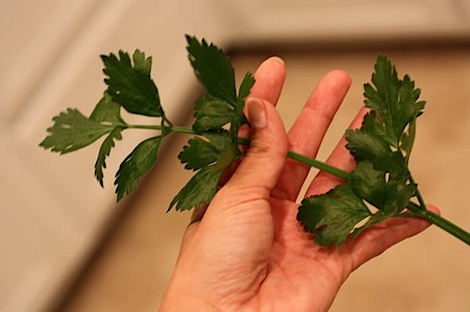 I got a giant sprig of parsley from the pot my mom gave me. Look at this thing!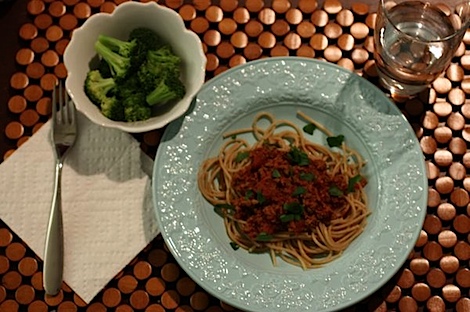 Hubby cooked most of dinner: spaghetti with hormone-free beef, WW pasta, and organic broccoli. I was really proud of him for his grocery selections!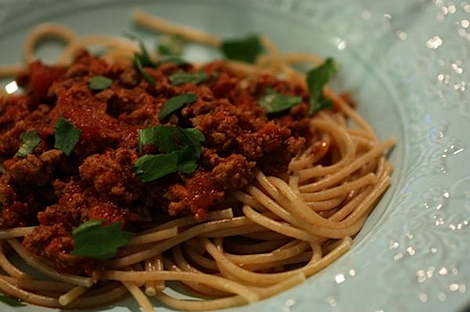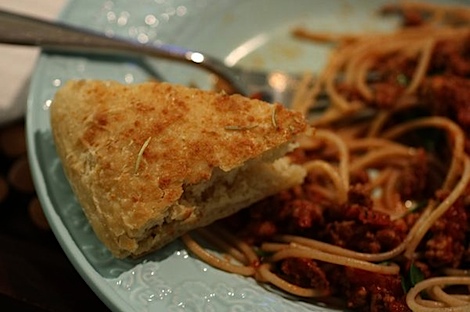 Mini piece of foccacia.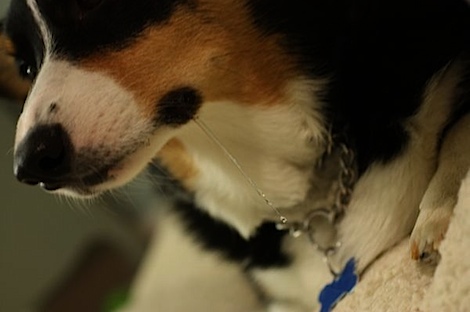 Bailey got really excited about getting a treat after dinner. LOOK at that drool! Ewwwwwwwwwww. So funny though! 😆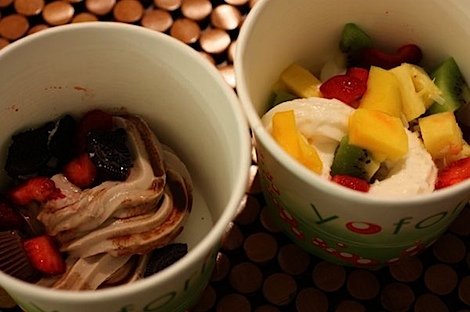 I picked up dessert for me and hubby on my way home from working out: froyo!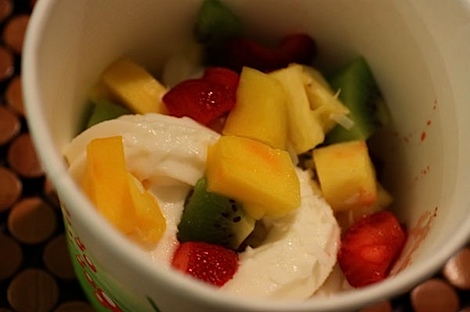 I got the plain tart yogurt and loaded up on fruits. Please help me recover fruits! In the bowl: strawberries, kiwi, mango, pineapple, and coconut. I'm obsessed with this place's coconut – it's tender and not all dried out! It's amazing!
Reader Question: Does your pet do anything funny when it comes to food?