Gosh, I'm only one day off but I feel so behind on blogging! The past 2 days have been a whirlwind of fun events!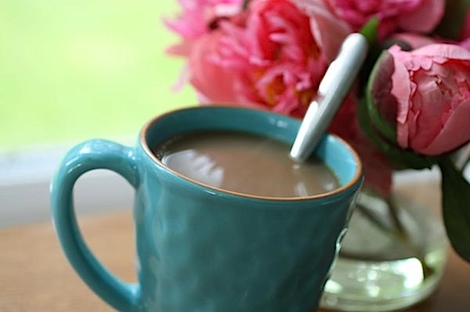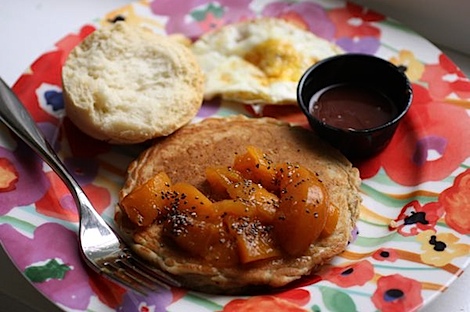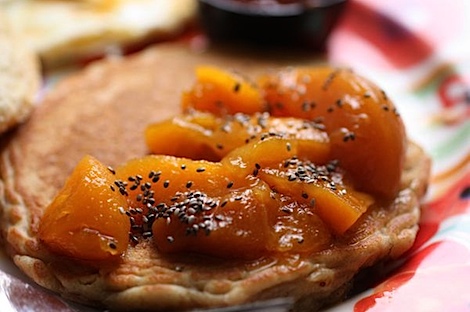 On Friday, hubby picked up Flying Biscuit take-out for breakfast. I had a fried egg and biscuit top from his breakfast, plus a single oatmeal pancake with that famous peach topping healthified with a sprinkling of chia seeds.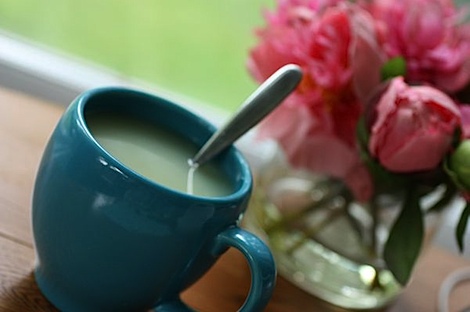 Yerba Mate Latte.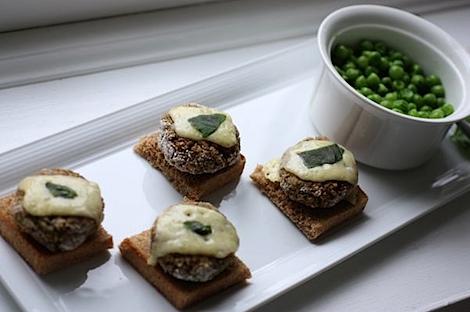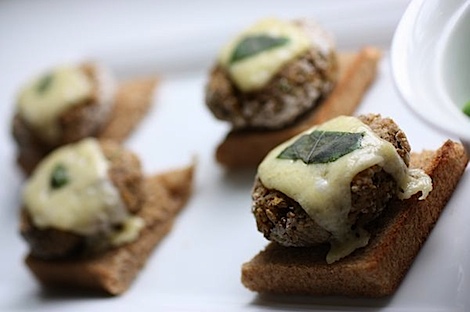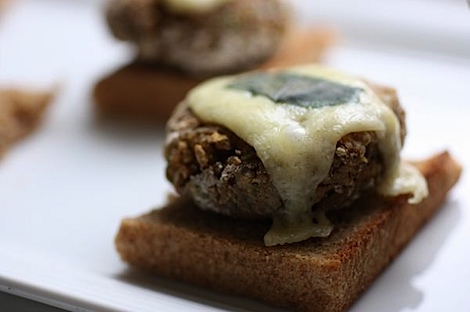 Leftover vegan rice burger bites un-vegan-fied with cheese and WW bread. This time topped with fresh basil. Plus peas on the side (just with butter, salt and pepper).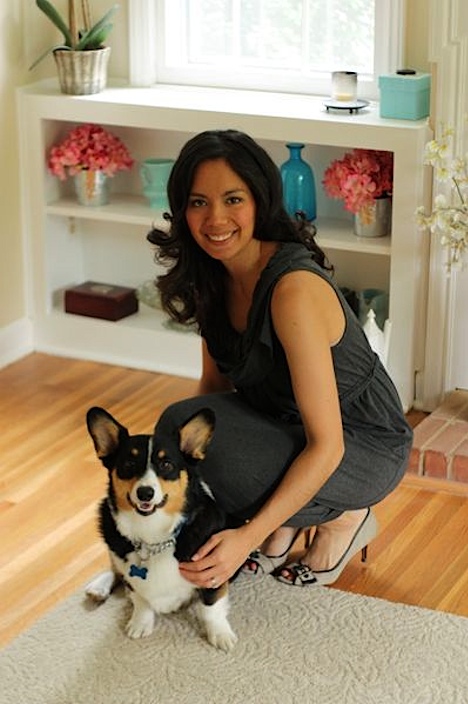 Post-work, hubby and I got ready for a Friday wedding! The wedding started at 5pm, so we had to stop working a little early to make it.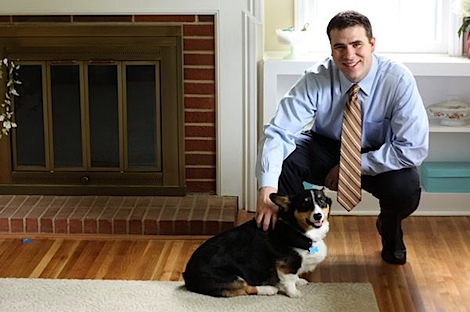 Love hubby's smile here! <3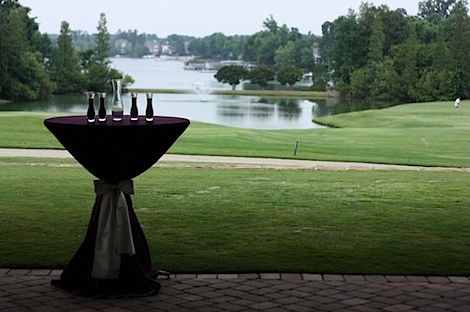 The wedding was at a country club.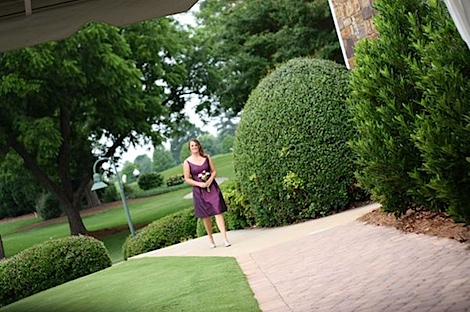 The greenery was so lush!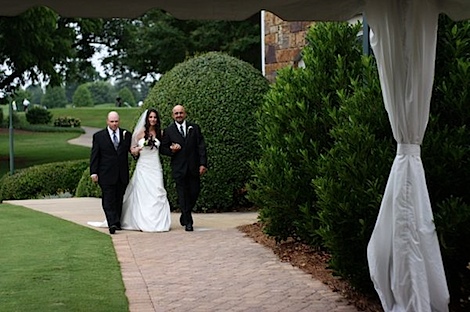 Here comes the bride!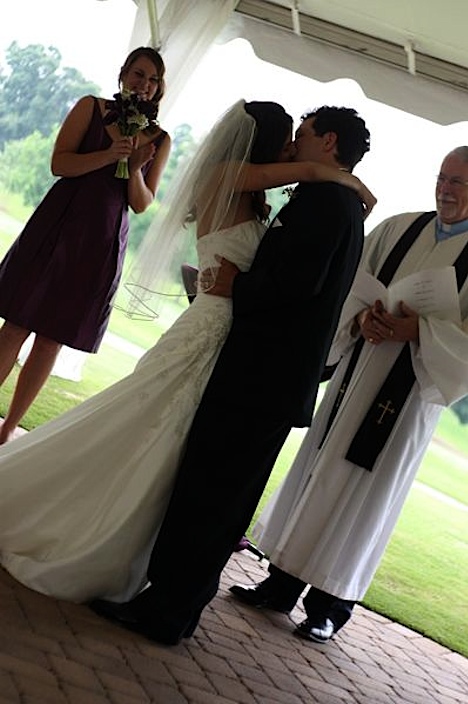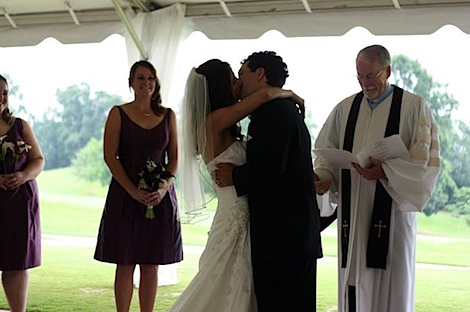 First kiss!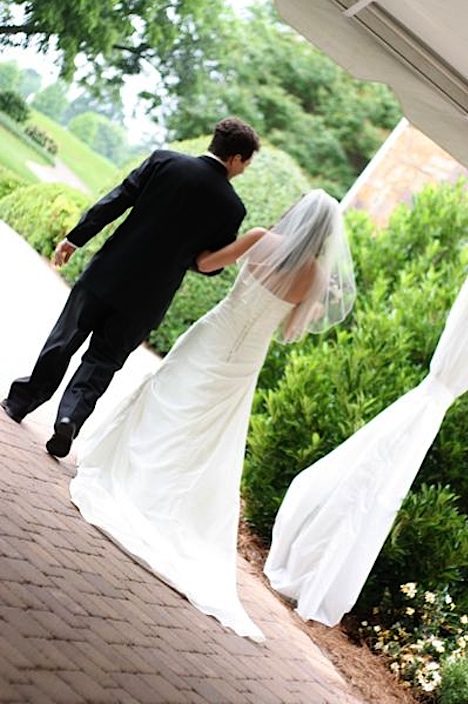 Love this photo!
While the wedding party and family did photos, we enjoyed some snacks: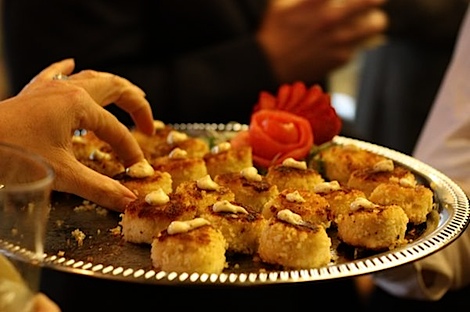 Mini crab cakes – couldn't resist two of these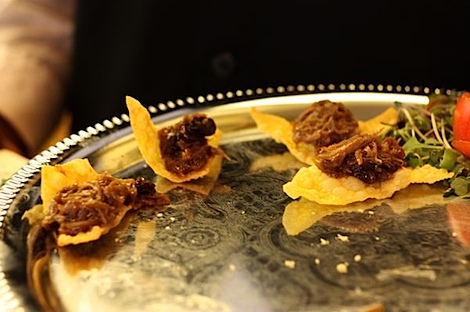 Duck something…forgot!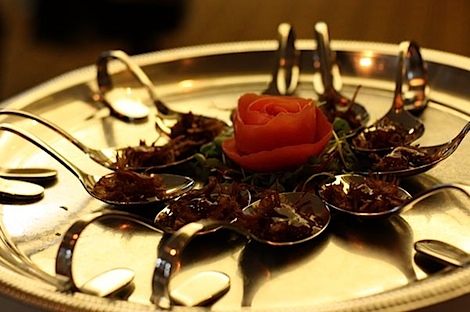 Braised beef with a port reduction.
I had an awkward pregnancy conversation over appetizers. I think I'm at the age now where this will happen a lot.
One of the bridesmaids came up to a few of the girls chatting and brought the topic of kids and asked if anyone was expecting any soon. I knew the girl next to me had just announced that she was so I looked at her like "oh snap! it's you! heeeeey!" and she looked back at me completely regular. So, I thought I had given away her secret and maybe she didn't want people to know, so I looked away awkwardly and then all the girls thought it was ME who was pregnant! Yikes! Luckily, the pregnancy wasn't a secret and she ended up telling them it was her. Phew!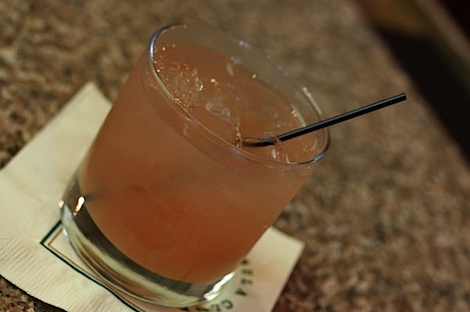 I get so indecisive when it comes to drinking because I really like to commit to my drinks once I pick one. I don't mix alchohols well. I was torn between wine and liquor and ended up trying to order a Malibu Bay Breeze. THe bar didn't have Malibu rum, though…so I decided to wait. Just as I had gone for a glass of red wine, the bartender presented a MBB-esque drink. I asked what was in it, but he said to try it first. Turns out it was delicious! Turns out it had regular rum, triple sec, pineapple juice, cranberry and a splash of cherry juice…and a cherry. Very yum! I drank these all night! Thank goodness for thoughtful bartenders!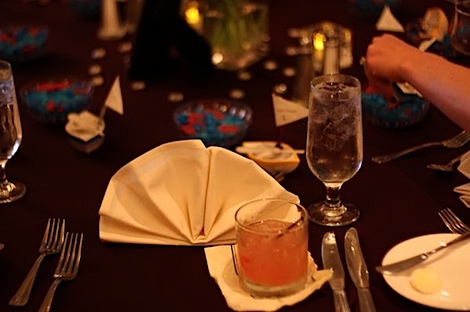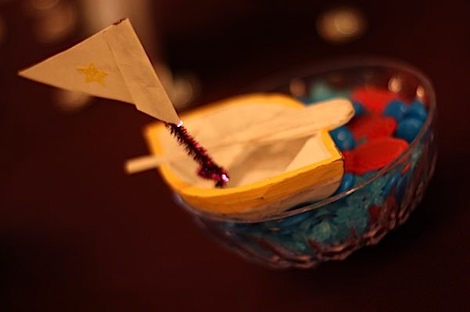 I loved the table settings. We had boats with our names and table numbers. When we got to our table, we got to put our boats in bowls filled with candy that looked like ocean water (rock candy and blue M&Ms) and fish (Swedish fish). So neat!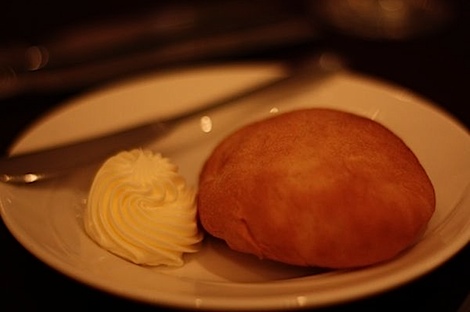 Dinner roll – so tender!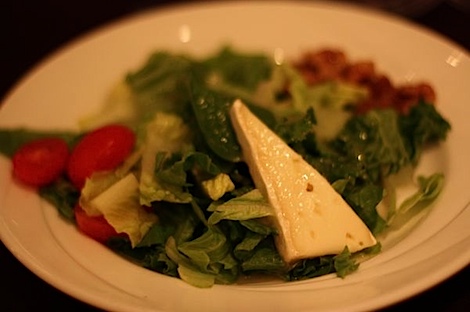 Salad.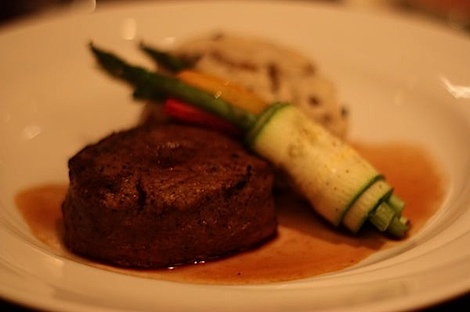 Filet. Wow, soooo tender! I could have used a few more of those veggie rolls, though! lol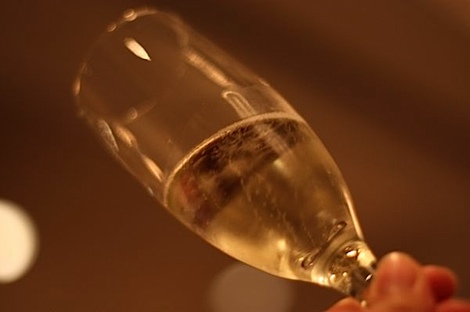 Champagne toast.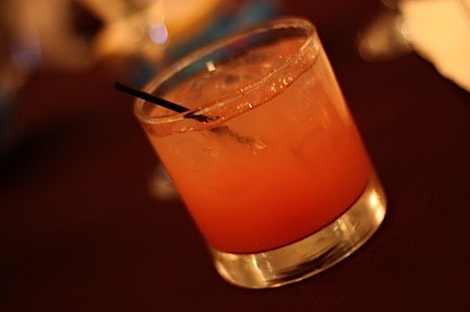 More of my special drinks.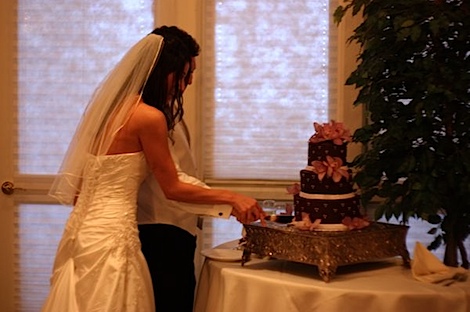 Cutting the cake.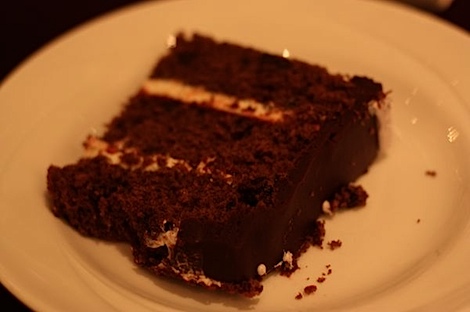 Cake – chocolate wedding cake!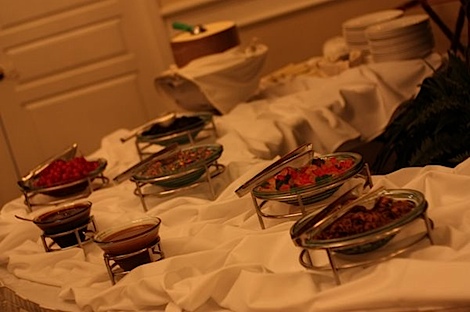 Ice cream bar! So fun…I didn't have any (not a big ice cream person though I do love froyo!) but hubby hit it up in style.
Soon enough, we had lots of fun dancing the night away. It was funny though because every time a song we do in our zumba classes came on I wanted to do the routine! 😆 Once we got into our groove on the dance floor, it didn't even feel like Friday any more!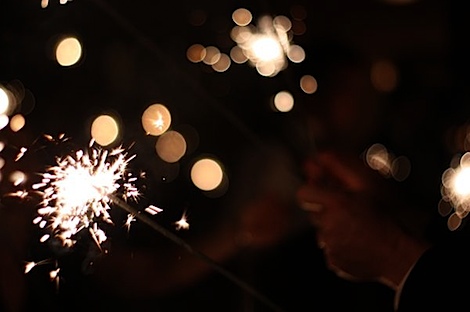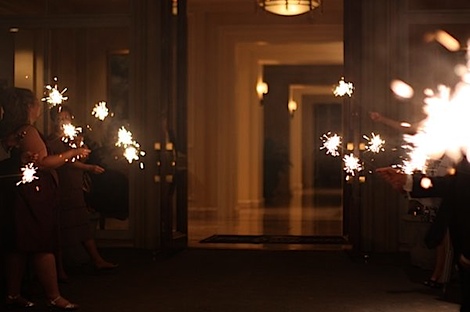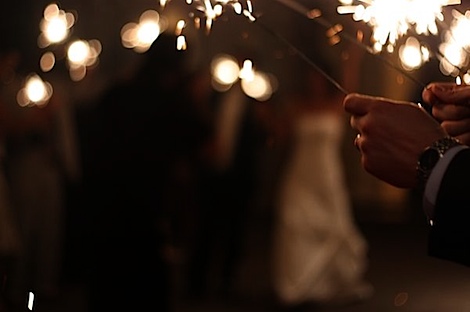 Sparkler farewell!
Congrats to Matt & Ashley!!!