Did anyone catch Glee last night!? Sooo good!
But, this song – I Dreamed a Dream – is haunting me! It's so beautifully sad. I can't get it out of my head!
***
Thank goodness hubby has been setting the coffee maker…I've been dragging this week! lol
Nothing like nice, hot coffee to get me going in the morning.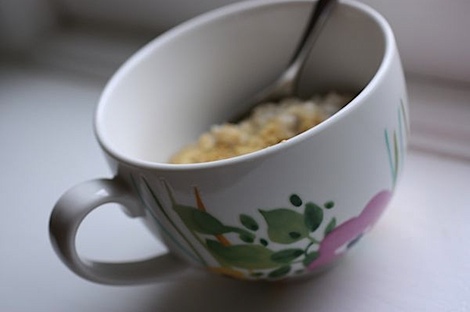 Breakfast = OIAM (Oatmeal in a mu g) – so cozy in a mug, no?!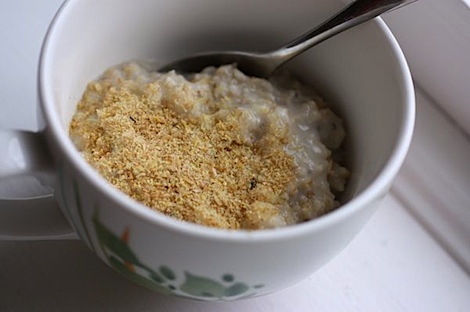 Ever feel like less is more? I made plain old oats with rice milk and topped them with flaxseed meal. Not very sweet, but I liked it.
***
I've been feeling like I haven't had enough veggies, so I had lots of fruits and veggies planned for the day.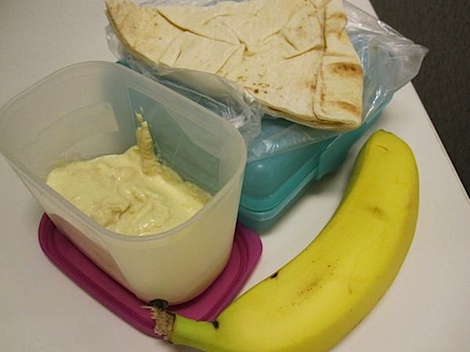 I started my eats with an early snack – hummus and pita bread leftover from dinner plus a banana.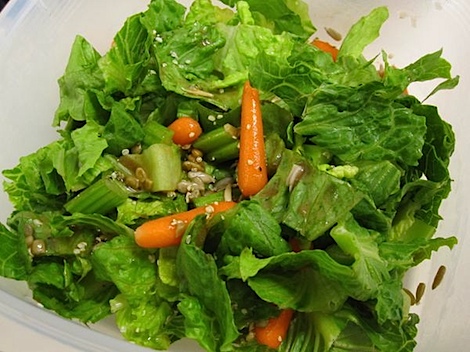 BIG OLE salad – romaine, baby carrots, celery (all organic), sunflower seeds, hemp seeds, Drew's Rosemary balsamic dressing.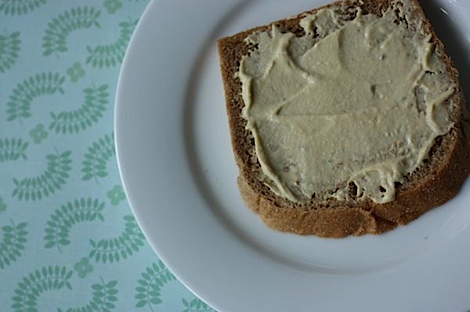 What hummus I didn't finish with the pita I slapped on a piece of Great Harvest honey WW. Hubby got more bread yesterday but I really wanted some Flax Oat Bran…I haven't had that in AGES and I'm CRAVING it now! Gah!
Anywho, the plain old hummus on WW bread was surprisingly delicious. Guess today was like simple-eats day. 😆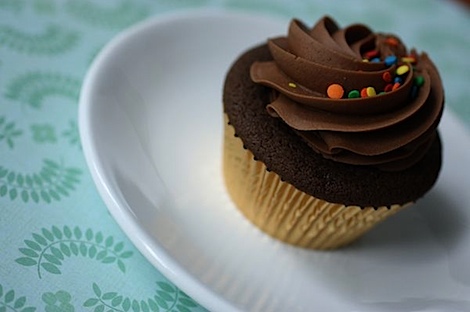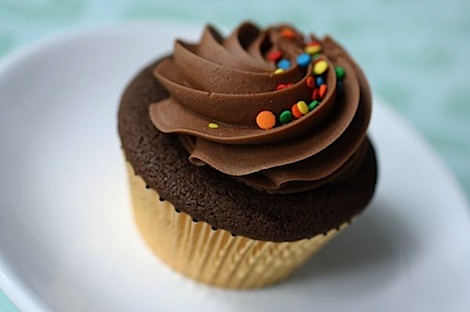 My sweet tooth got the better of me this afternoon and I got hubby and myself sweet treats- cupcakes! I got double-chocolate. Nom nom nom!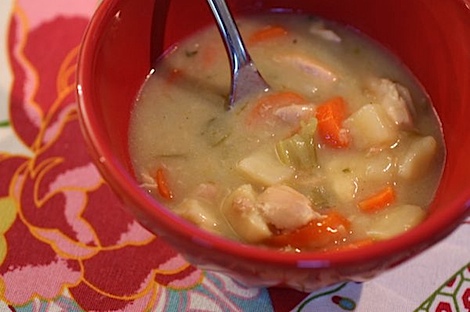 For dinner, I started with some chicken stew, picked up whilst getting groceries at Earthfare. I've been feeling a bit like I may be getting a cold or something, so chicken-noodle-ish soup seemed in order.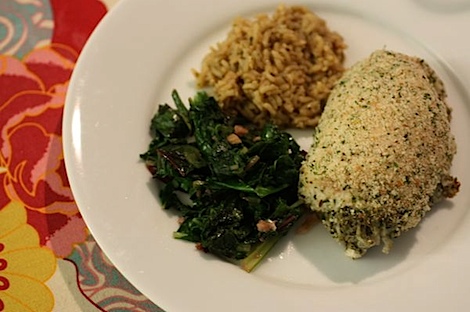 For the main event – a chicken roll up with pesto, rice pilaf, and that swiss chard from the farmer's market.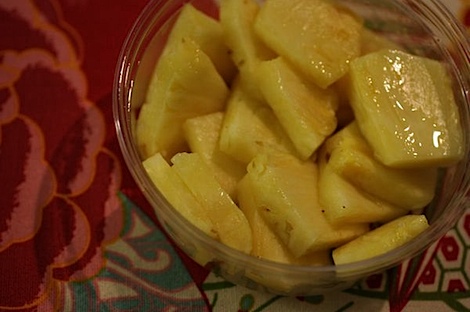 Dessert = pineapple.
Btw, not sure what was sweeter, the pineapple or the cupcake from earlier. Sheesh! I also had a half scoop of Vega health optimizer mixed with some rice milk for extra nutrition.
Hubby and I loaded up on fruits & veggies between yesterday and today:
organic romaine hearts
organic celery
organic baby carrots
(really wanted some organic grape tomatoes, but they've looked old and wrinkly at all the stores…ew!)
organic gala apples
organic navel oranges
(wanted some organic kiwi, but they seemed old and squishy…blech!)
pineapple (oops, ate that already!)
organic pears
(couldn't find any good organic bell peppers – grow Garden grow!)
dates (dried)
So good to have fresh fruits and veggies back in the house! They're more than just good eating…they're great for de-stressing and recovering from exercise, too!
I've been meaning to share these notes with you since I read about them on my Key West trip, but better late than never right…
Use Veggies (and Fruits) to De-Stress!
So, I've been reading Thrive by Brendan Brazier , and thought some of the points from the early chapters were really interesting.
Here are some of my favorite points – at least my interpretation:
The Vicious Cycle of Caving to Cravings:
There are many forms of stress, which can add up to your total stress level.
Stresses cause cravings. Cravings are good because they're your body's way of saying something is wrong (i.e. maybe some nutritious foods would help your body).
Cravings are often for sweets because the body is used to taking care of itself. People used to satisfy sweets by eating fruits, which are nutritious. Now, people eat empty sweets – doughnuts, cookies, etc., which are not nutritious.
Not giving the body good foods can cause nutritional stress on the body. Nutritional stress is like any other stress, which can cause cravings.
See the cycle? Stress causes cravings. If you satisfy the cravings with something nutritionally poor, you are not helping the stress, you're adding to it with nutritional stress, which will cause more cravings!
When You're Busiest (and Most Stressed) Take Out May Be the Worst Idea:
Your body rises to the occasion. When you're under deadlines, you rarely get sick. Once your deadline is met and your stress levels go down, THEN you tend to get sick. Your body knows to re-coop after time of need is over.
When I'm most stressed and short on time, when I'm busiest, is when I tend to be more open to short cuts like take-out. I think, oh I don't have time to cook so I end up getting some unhealthy takeout food.
Take-out is rarely as healthy or nutritious as a home-cooked meal.
Good nutrition, lots of veggies, can help your body.
Elevated stress + unhealthy take-out yields more stress by way of nutritional stress on top of whatever is already causing your stress (work, family, etc.).
Takeout doesn't help you by saving you time, it can hurt you by adding another layer of stress.
So, next time you're freaking out because you're so busy you don't think you have time to cook, think twice before picking up the phone. Your short cut may cause you more harm later by means of nutritional stress. Of course, there are some healthy fast-food alternatives, think salad bars, so make your choices carefully to treat your body the best possible.
Summary Lessons Learned:
Caving to cravings can cause more cravings. Try to fill craving with nutritious solution. Treat the cause, not the symptom.
When most stressed and short on time, good nutrition can help lower your stress level. Take care of yourself instead of taking shortcuts.
FEELING STRESSED? Put down the coffee/cupcake. Pick up an apple. Forget about take-out, get something nutritious! You'll feel better and less stressed for it. 🙂
Myself as a Case Study:
Brendan also talks about how there are different ways for your body to recover after exercise – more sleep, more rest time and also more of a healthful, plant-based diet. I'm usually pretty good about eating heathfully BEFORE my workouts, but I'm just starting to see the importance of proper nutrition AFTER a workout. I tested that theory out a bit this week.
I've exercised twice this week so far.
On Monday, I did an hour of zumba. I was pretty achy after class and my leg was starting to bug me. I had a pasta dinner sans veggie. The next day, I woke up pretty sore and tired. To top if off, my leg was still bothering me.
On Tuesday, I did an hour of zumba. I was really tired after class and my leg was bothing me a bit more. I had a veggie combo dinner and an apple for dessert. The next day, I woke up not too sore, not too tired and with my leg bothering me very little.
Healthy eating, it seems, can gear you up nicely for a workout, but eating well after your workout seems to improve your body's recovery so you feel less achy, less tired, more energetic…and quite possibly, you are less prone to injury. It's almost like fruits and veggies are healing foods! Amazing!
I'm going to keep playing with this and see how things go. I'll definitely keep you guys posted, but so far the results are fascinating! Brendan has mentioned that a plant-based, whole foods diet has allowed him to train harder for his ironman competitions and I'm seeing how this will be especially useful for me now that I'm training to be a dance fitness instructor (especially since more-sleep is not a viable option for me at this point). With proper nutrition, I should be able to practice more and more often! Sweet! 🙂
I hope all the fruits and veggies I had today gear me up for tomorrow!
PS I bought my ticket for the Healthy Living Summit today! I sure hope I can save enough money to go because if I can't, I'm going to have to sell it!!! 🙁 Wish me luck!
Do you focus more on pre or post-workout nutrition? Maybe neither? Which do you focus on, what do you try to eat/do, how does it work for you?