After a quick breakfast of my new fave toast combo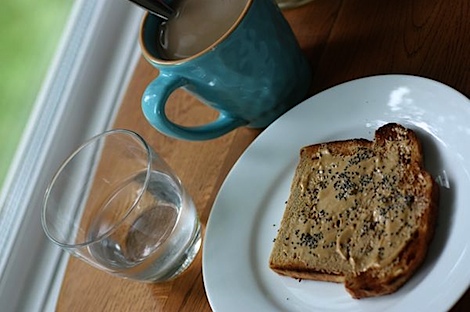 (WW cinnamon chip bread with White Chocolate Wonder PB)…
Hubby and I headed straight to the farmer's market this morning in search of delicious, local eats.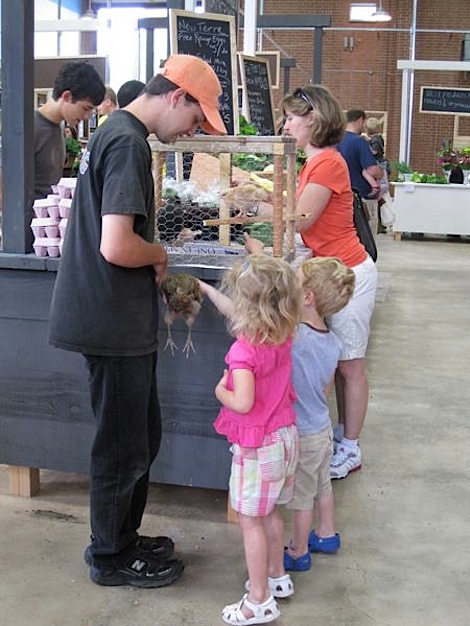 There was a man there letting people pet a live chicken! (I did not pet the chicken)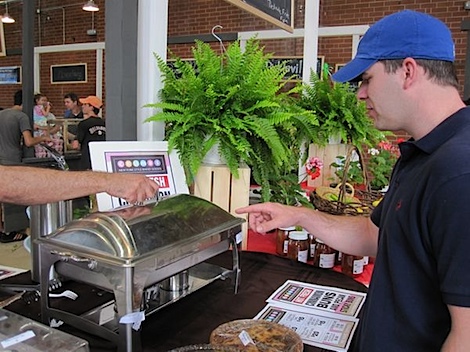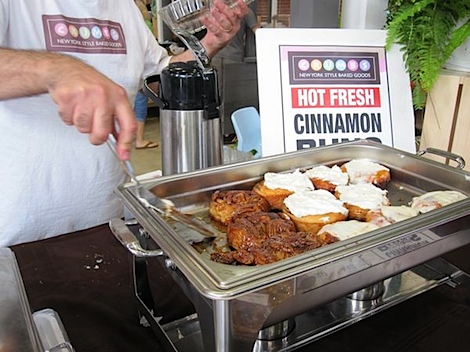 Hubby ended up getting a hot sticky bun for breakfast at the Crumbs New York Style Baked Goods stand.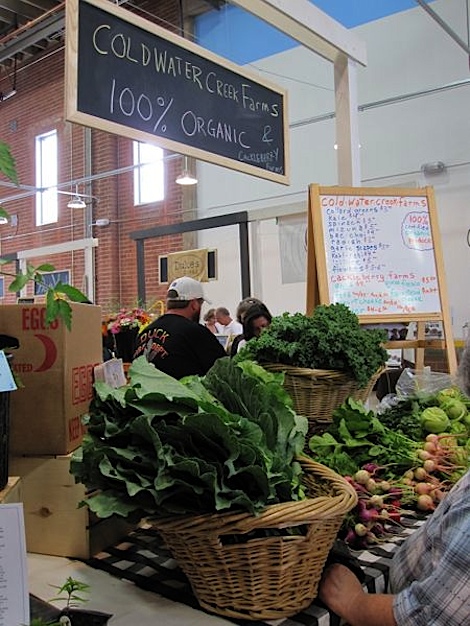 I was more interested in the veggies. There were tons of beautiful, brightly colored goodies there today! Dare I say the selection was luscious? Yippee!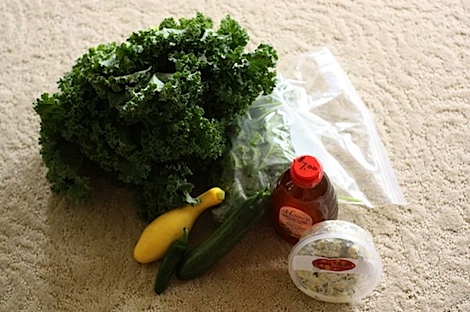 We got some beautiful organic kale, pesticide free zucchini, squash, jalapeno, spinach, local honey and homemade spinach and artichoke dip.
We also got (not pictured) some local shrimp and grass fed ground beef.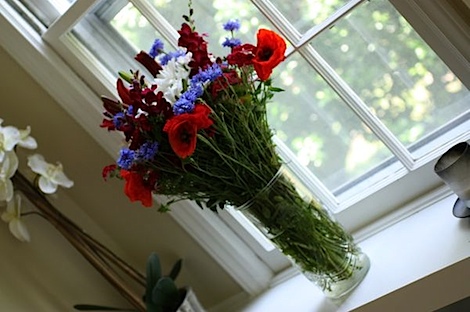 Plus…since we're sort of celebrating our anniversary this weekend, we picked out a beautiful bouquet of flowers. I was immediately drawn to this bouquet because of those gorgeous poppies! I love poppies!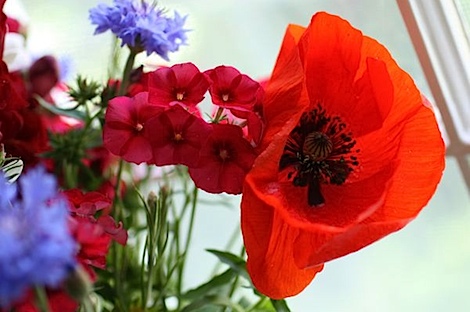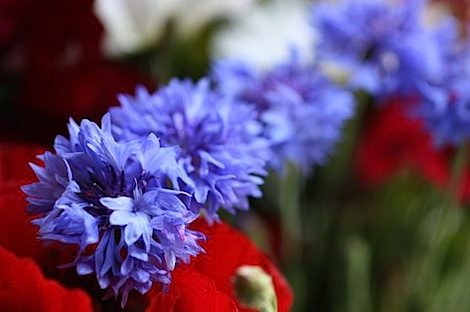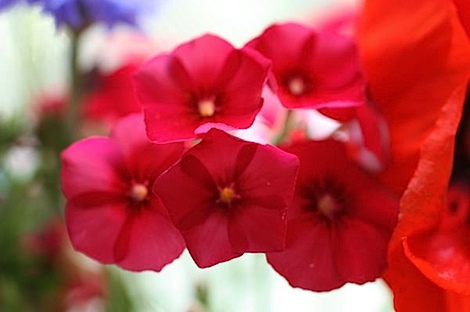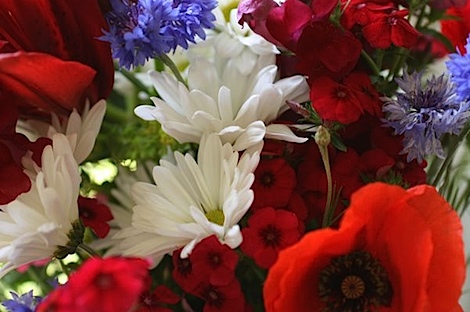 The flowers are gorgeous and make me wish I had more time to plan/start my cutting garden….one day, right?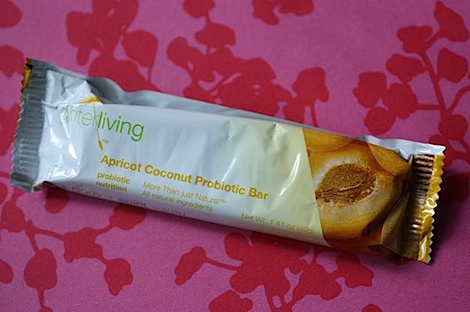 I also tested out the last flavor of the Lighter Living bars (*) today – Apricot Coconut Probiotic Bar.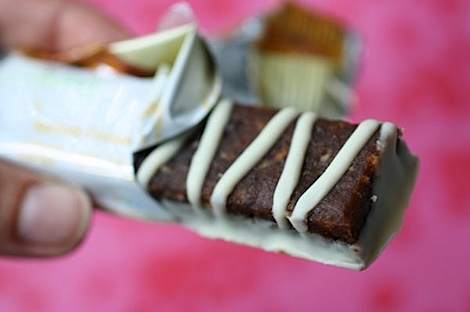 The bar looked just like the others. I kind of wish the bars looked different, but the important thing is that they really do taste like their names suggest. This one was very apricot-y but I didn't taste the coconut as much. Still, it had that same Larabar-esque texture and I like how the size is nice and snack-sized at around 140 calories.
***
Hubby and I went out for a major shopping trip this afternoon.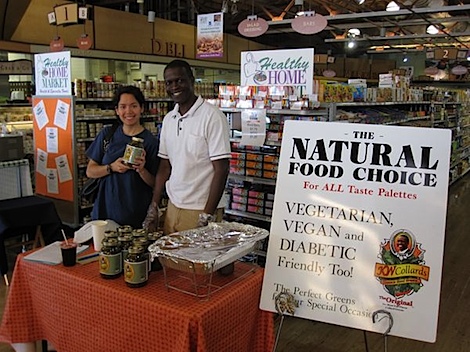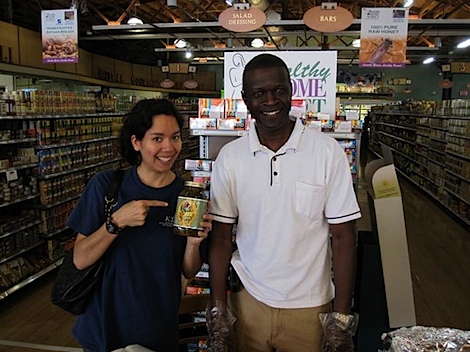 While we were out, we made a quick stop at the grocery store where I met this nice man – Kizito Wademi – President of Slammin' Good Greens. He was at a local grocery store passing out samples of his very-tasty collard greens. They are Vegetarian and vegan and the ingredient list is nice and short and totally readable. I think Mr. Pollan would approve. 🙂
I picked up a jar of his collards and will be blogging more about them when I have the chance to enjoy them with dinner. Oh and Mr. Wademi's web site is currently being built and will be available in about a week. I'll let you guys know when it goes live.
Anywho, our shopping trip was complete when we made a HUGE purchase. One we've been wanting for years now! So excited! 🙂
Can you guess what hubby and I bought? My Facebook friends have already made some great guesses!