Happy Sunday! I can't believe how fast this weekend flew by!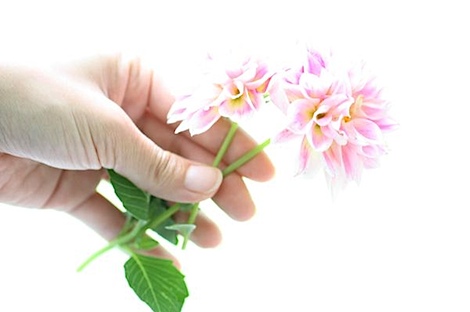 Check out these dahlias from my yard.
Oopsie! Forgot to change my light meter. The photo looks pretty neat, though, so I thought I'd share.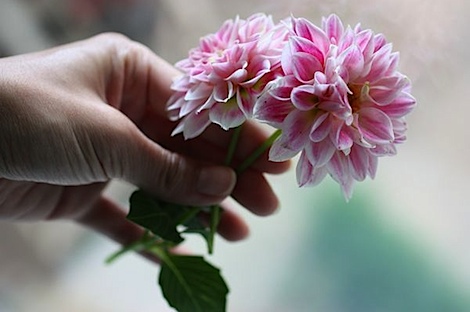 Ah…much better! I've placed these two little blooms in a mini vase in my sunroom so I can see their beauty all day.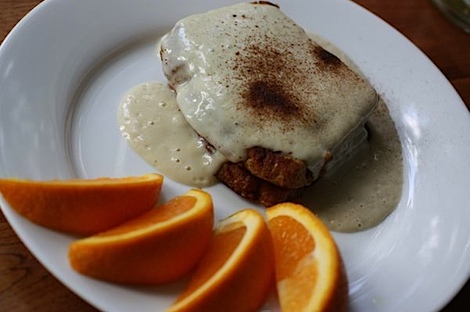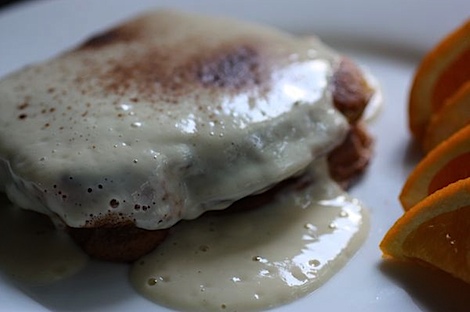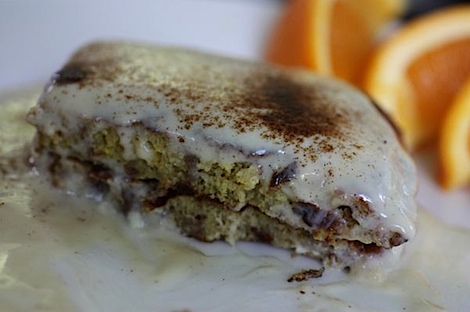 Hubby and Bailey let me sleep in this morning (yay!) but when I got up, I whipped up some french toast using some Great Harvest cinnamon chip WW bread and local, cage-free eggs.
I also made some of Dreena's Celestial Cream sauce and cut up an orange on the side.
***
I spent most of the day just trying to clean and organize. Man, I'm starting to see the benefit of buying a move-in-ready / new house…there's always so much to do! But, I'm still happy with our housing choice. Though there's lots of work, we really love our house and are having fun making it just the way we like.
Anywho, still lots of work to do before our house is housewarming party ready, but we're making our way. As for the housewarming…I'm thinking fiesta or luau themed!! Wouldn't that be FUN?
***
Did you guess what hubby and I bought yesterday?!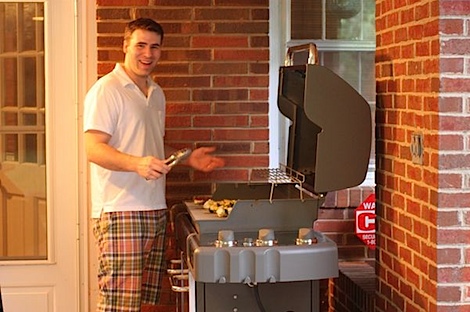 We got a GRILL!
Since hubby and I couldn't really afford to go anywhere for our anniversary, we figured we should at least get something cool for the house. We took our new grill (need to come up with a cool name for it) out on her maiden voyage tonight!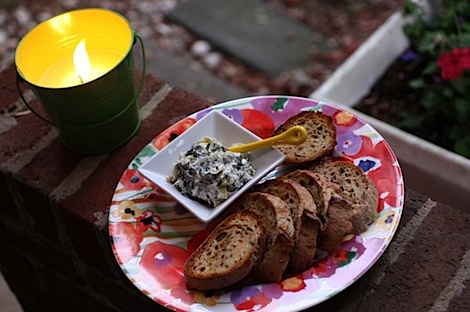 While our food grilled away, hubby and I snacked on some toasted bread slices with some spinach / artichoke dip, which we picked up at the market yesterday.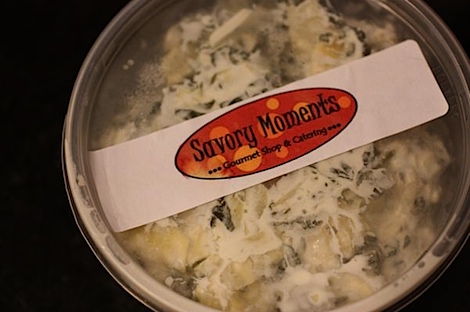 This stuff is made locally!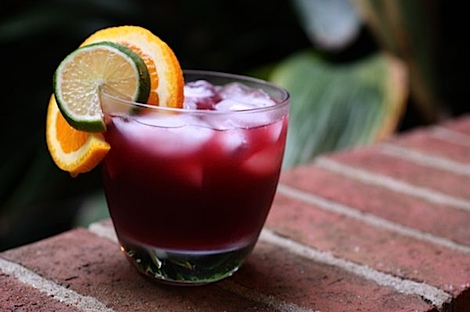 We also enjoyed some homemade sangria! I was going to try out one of the recipes you guys suggested but I didn't have triple sec or peach schnapps in the house and the liquor stores were closed. Boo!
So, I did a play on a couple different recipes:
Chic Rum Sangria
Ingredients:
1 standard-sized bottle of red wine (I used Barefoot cabernet sauvignon)
1 cup orange juice
1 cup spiced rum (I used Captain Morgan)
3-4 tbsp agave nectar
ginger ale – just a pour in each cup to top the sangria
1 sliced lemon
1 sliced lime
1 sliced orange
Directions:
Pour bottle of wine into a pitcher.
Add OJ, sliced fruit (reserve a couple slices for garnish if you'd like), rum, and agave.
Stir to combine.
Place in fridge to cool and let flavors combine. (I was in a rush so I only let mine sit about 15 minutes)
Add ice to serving cups. Pour sangria over ice, leaving space for ginger ale. Add about 3-4 tbsp of ginger ale (to taste). Add garnish. Serve and enjoy!
NOTE: It may be best to get your ingredients cool before concocting your sangria but I just bought all the stuff tonight and didn't have time to cool it and I thought it tasted pretty good.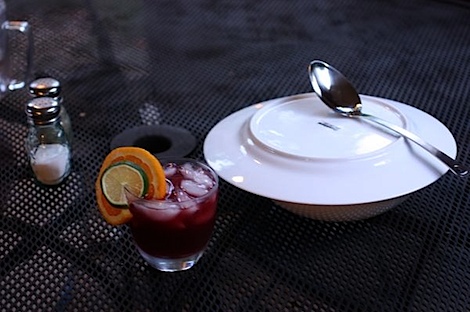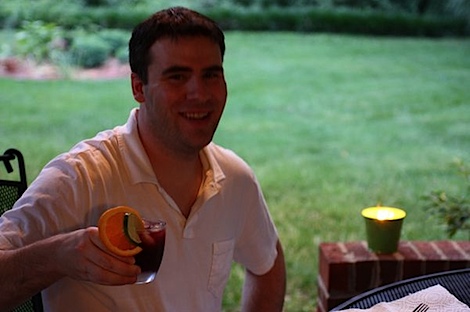 So what would we cook for our first grilled dinner?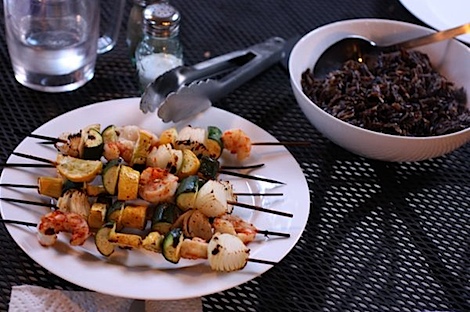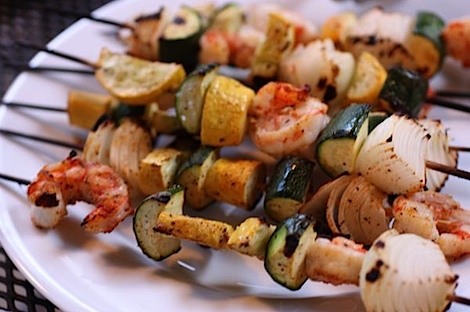 Shrimp skewers with zucchini, squash, and onion – all seasoned with EVOO and Chef of the Future – Not Your Average Cajun Seasoning (*) – now available in my OpenSky shop! The seasoning is nice and subtle. I find you have to be a bit heavy handed with it if you really want to taste it, but since most seasonings are overpowering, this was a nice change of pace. I liked how the seasoning salt made it easy to flavor dinner. I just drizzled the skewers with EVOO and then sprinkled on the seasoning. Grill. Done-zo! No marinating, no multiple ingredients…easy-peesy.
Ooh, and the shrimp, zucchini and squash are all LOCAL. Go local! 🙂
PS please excuse the slightly blurry photos – the lighting was actually really low (almost dusk).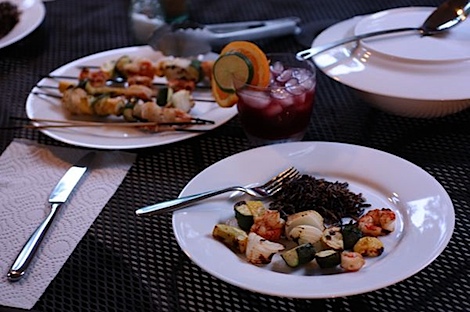 We had wild rice on the side.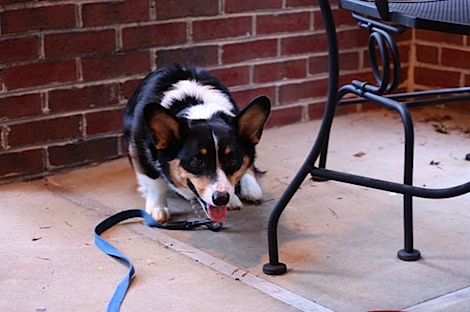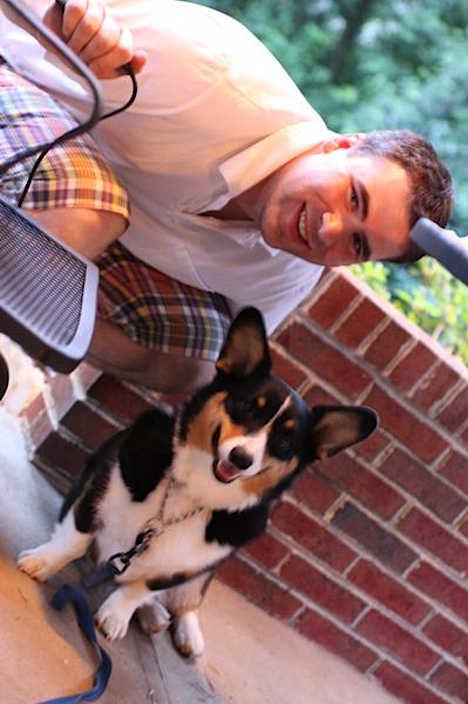 And even Bailey got to hang out with us during our celebratory dinner.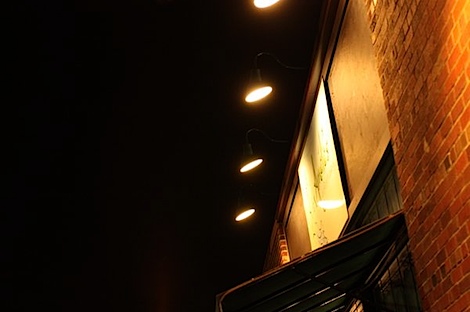 And since we're still sort of in celebrate-anniversary mode, we hit up local bakery Amelie's French Bakery for a sweet post-dinner treat.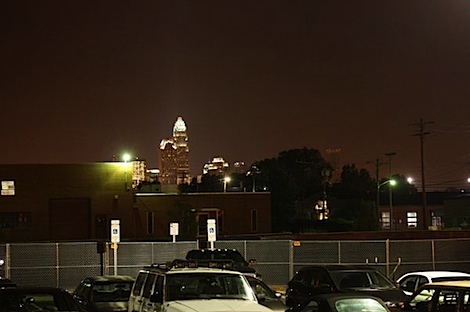 We had a great view of the city skyline from our window seat.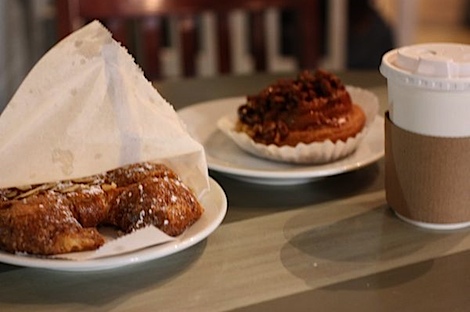 Hubby and I each picked out a sweet and split some decaf coffee.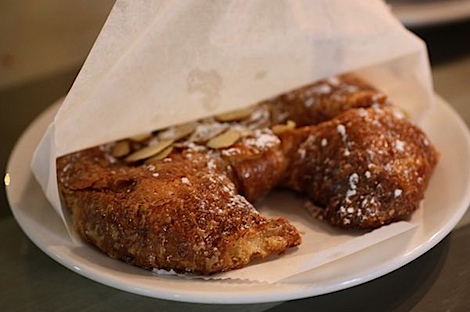 I got the twice-baked croissant.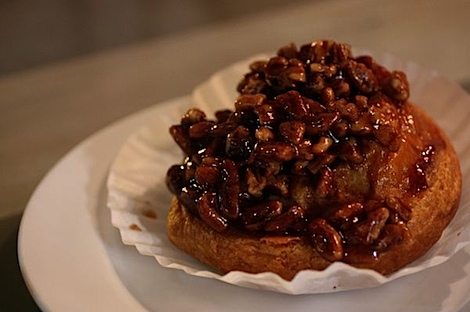 Hubby got the pecan sticky bun. We traded a bite of each other's dessert. I think I liked his more. That chewy, gooey topping was so good!
Any grilling tips for us newbie grillers?? 🙂