Saturday was MADNESS, but I was so excited! Our house warming party was finally here! I feel like hubby and I have been waiting for so long to have friends over for our house to be ready and now it finally is! Here's to many more parties!
From the moment I woke up, it was time to get going and get ready for our house warming!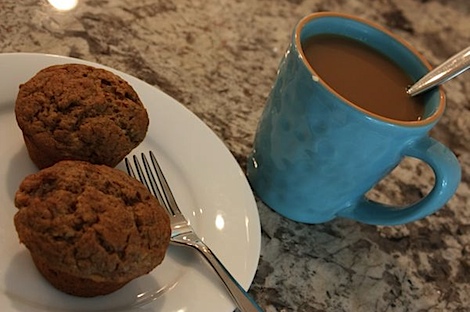 Luckily mom sent sis with sustenance this weekend. I enjoyed some of her homemade banana nut muffins for breakfast with some nice hot coffee.
While I enjoyed breakfast, sis and I strategized. We made a list of what we needed to do when.
The game plan:
9-10am – breakfast/strategize
10-11am – farmers market/groceries
11-12pm – pick up rolls from Great Harvest and being early food prep
12-1pm – eat lunch or use to make up for lost time
1-2pm – clean bathrooms, etc. and get ready
2-3pm – clean sunroom/vacuum
3-4pm – begin late food prep
4-5pm – food prep / get forgotten ingredients
5-midnight – PARTY! 😛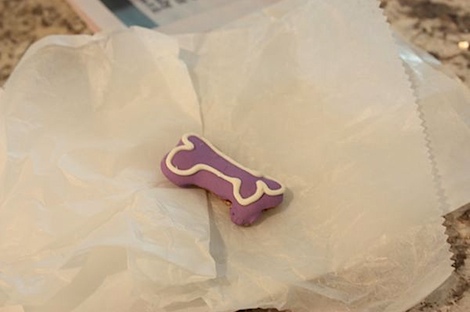 A treat for Bailey later and sis and I were off running grabbing stuff for the housewarming.
Places to visit:
Party City
Farmers Market
Trader Joes
We tackled food prep in 2 sections:
Early Food Prep (stuff that could/needed to be made early)
Late Food Prep (stuff that needed to be made just before people ate it)
Early Prep: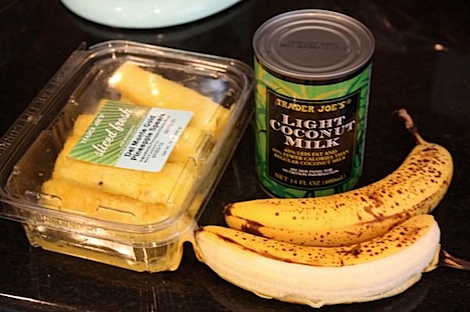 Tropical Chia Seed Popsicles (made from scratch)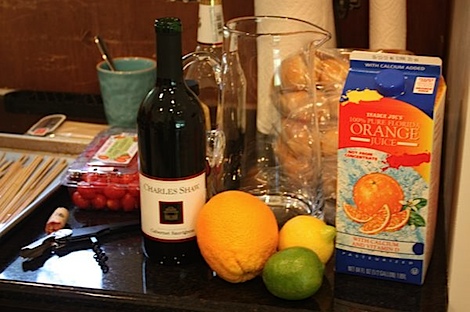 Sangria pitcher #1.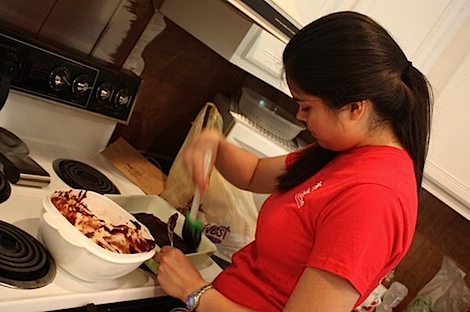 No pudge brownies.
Plus marinating BBQ Chicken skewers (not pictured).
Plus I made simple syrups and teas for our Elixir Bar (for our non-alcohol drinkers). More on this later…
WOW did the time fly by or WHAT?! Sis and I were making food, hubby was with his brother and friends watching the soccer game…Next thing I know people are showing up! I was running around like a madwoman!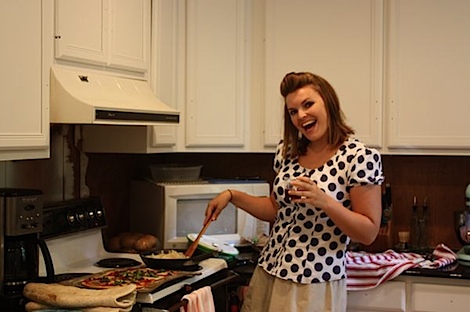 Megan came early to help prep…thank goodness! (she's caramelizing onions here!)
After a frenzy of finishing prepping food (late prep: flatbread, beef sliders, turkey sliders, veggie sliders, toppings, mas sangria)
My signature touch of the evening (and hopefully for all future Chic house parties):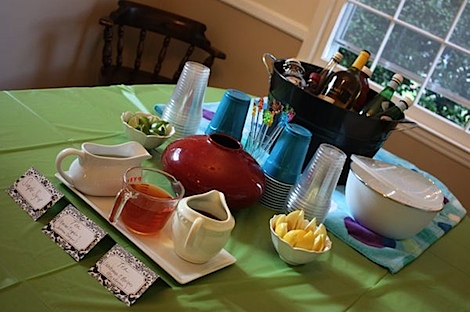 An Elixir Bar!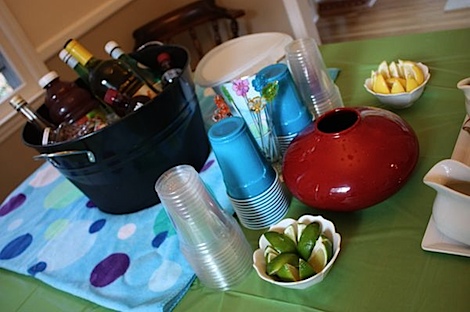 We had cups, ice, lemons, limes…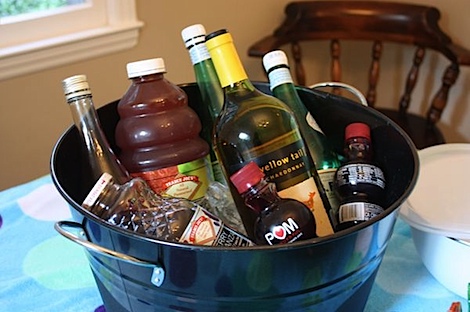 Antioxidant juice: Pom Wonderful (*), Berry Bonanza (TJs) plus pelligrino, plum wine, strawberry kiwi juice, chardonnay.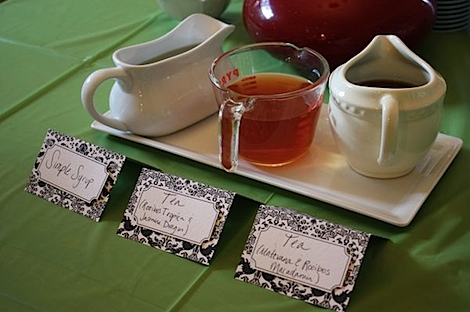 And…simple syrup, and two teas: Rooibos Tropica + Jasmine Dragon Pearls, Matevana + Rooibos Macadamia
The ingredients to make a fabulous and healthful antioxidant drink! I thought this would be fun for my healthful friends and those who don't drink alcohol (non-drinkers should have fun drinks too!)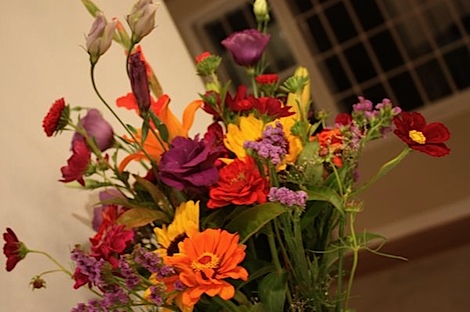 Floral decor – scored these at the farmer's market.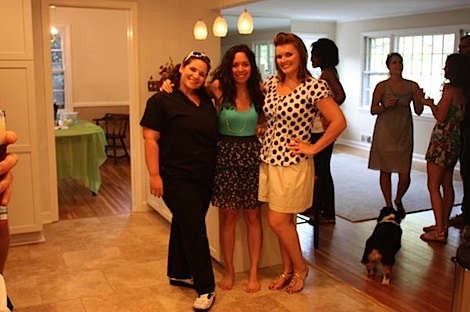 Kat, moi, Megan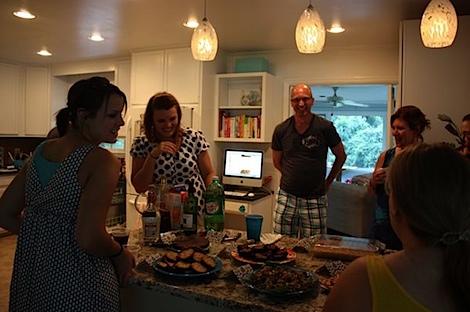 Hanging out at the app/dessert bar.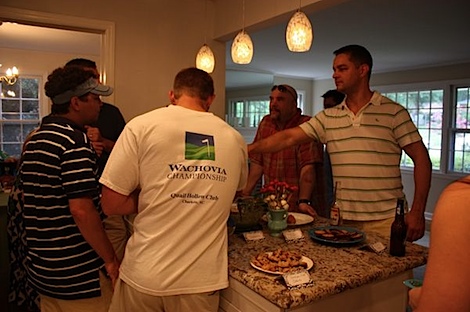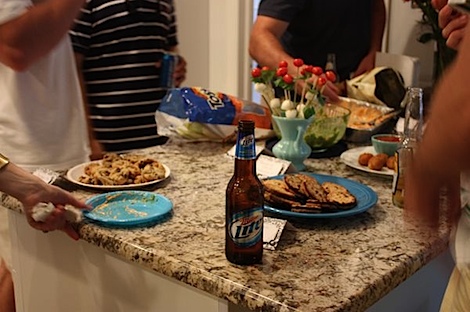 I thought I got better photos of the apps, but I guess I didn't! Oopsie! lol
Megan was a doll and wrote out little namecards for me for each of the food items. I thought it would be nice to label the food and so we used wedding placeholders to help tell people what was what.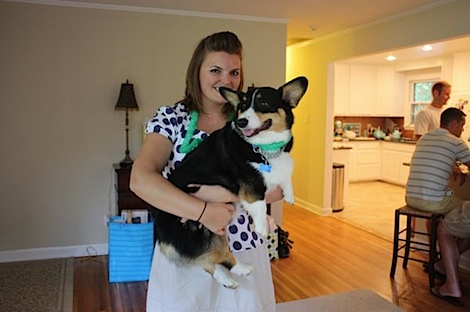 Megan and Bailey had matching leis!
I was running around almost too much to get food! I missed out on most of the apps and finally slowed down enough to eat two sliders and a fabulous Kate-salad!: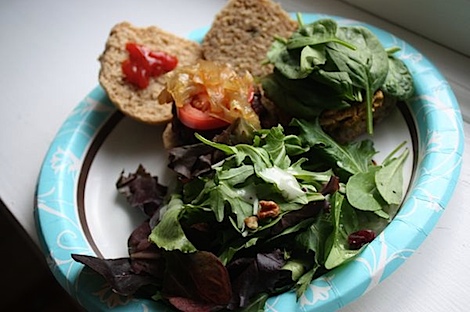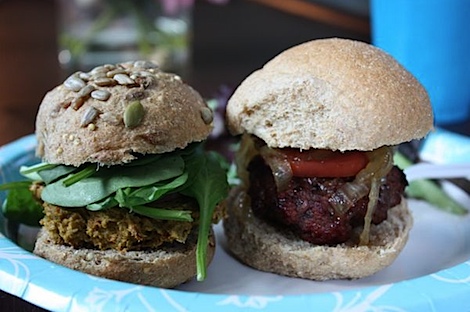 I had an Oh She Glows In a Jiffy Spelt Burger (click for recipe) and one of our beef sliders with tomato and caramelized onions.
We seasoned the beef sliders with Chef of the Future Cajun seasoning (which you can buy in my OpenSky shop – it's great for summer cook-outs!), which was a nice touch to give flavor without overwhelming, so people were free to use different toppings.
Ooh and I had Great Harvest special make me some Dakota in ROLL form! So neat! They were perfect for sliders! We also used honey whole wheat and Virginia rolls.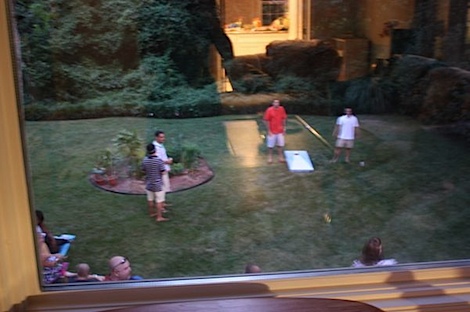 Later in the night, cornhole ensued and people started moving outside. I was SOOOOO thankful it didn't rain because the weather forecast was not looking so hot!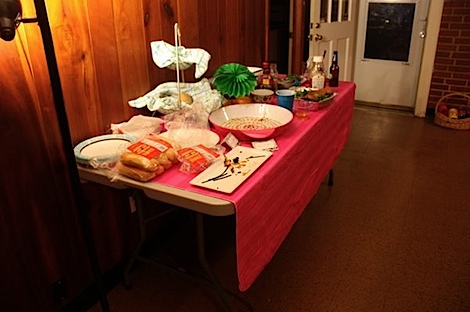 Our devoured main course/sides table.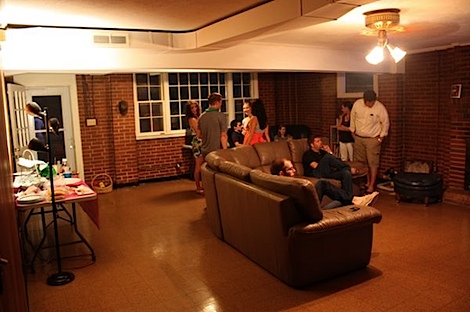 And lookie who I found in the basement! Thank goodness it didn't look like this any more!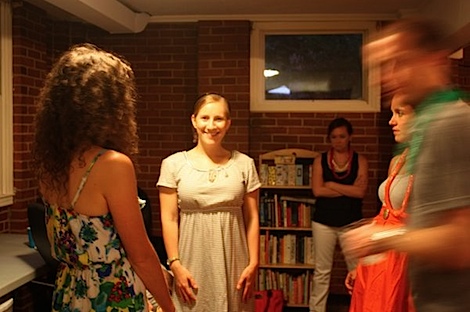 My bloggie friends! It's Kath + Matt, Katie + her SO (I forgot his name! 🙁 ), Emily + Casey, Michelle + Ben, and Jessie + her SO (wow I'm bad at names!)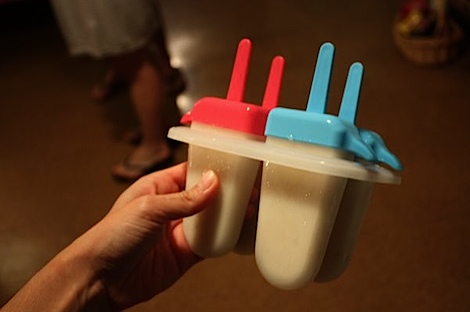 Seeing my healthy foodie friends reminded me I had a healthy foodie dessert in the freezer! Pina Colada Chia Popsicles! (homemade…oh yea!)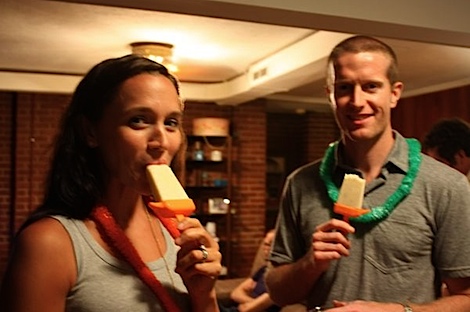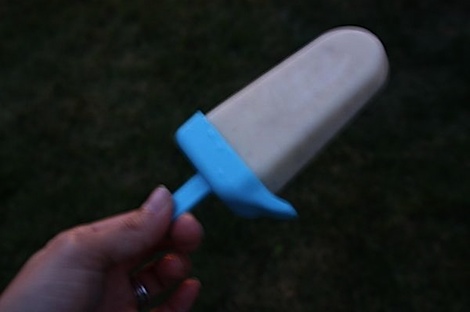 They were fabulous! Nice and not too sweet! I'll be posting a recipe soon (and yes, this makes 4 recipes I owe you! Marinated kale, kale chips, those new vegan tarts and now…pina colada chia pops…gah! 😆 )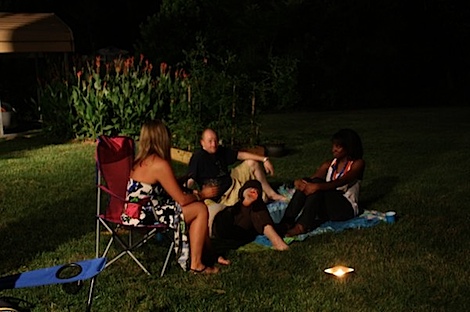 Friends relaxing on my duvet cover turned picnic blanket.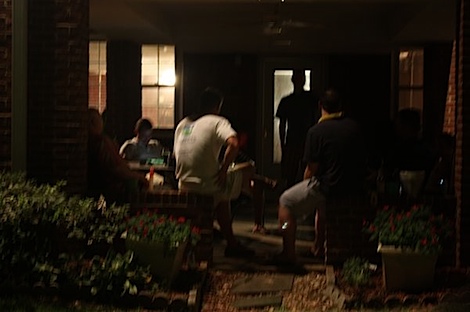 Chatting.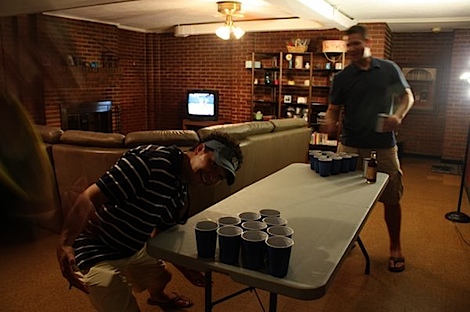 Beer pong!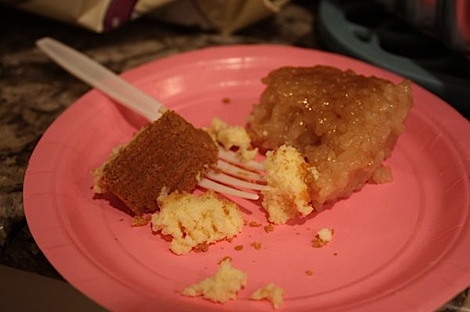 And of course every night has to end with dessert! I had some wonderful cheesecake and some of our family's Filipino sweet rice! Yuuummmm!
Phew, what a full but fun day! I wish I would have taken more photos, but hey…I was busy trying to make sure people were having a good time and I think they did!
I'm feeling so thankful for such great friends, family, and for our fabulous house! We spent a long 4-ish years looking but we're so happy with the one we finally settled on! Yay housewarming! And congrats to all the other new homeowners out there! 🙂